Partner Adrienne Monnier
Queer Places:
1029 Edmondson Ave, Baltimore, MD 21223
First Presbyterian Church, 119 W Commerce St, Bridgeton, NJ 08302
Shakespeare and Co. I, 12 Rue de l'Odéon, 75006 Paris, Francia
Shakespeare and Co. II, 37 Rue de la Bûcherie, 75005 Paris, Francia
Princeton Cemetery, 29 Greenview Ave, Princeton, NJ 08540, Stati Uniti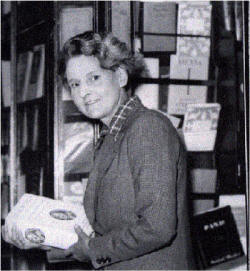 Sylvia Beach (March 14, 1887 – October 5, 1962), born Nancy Woodbridge Beach, was an American-born bookseller and publisher who lived most of her life in Paris, where she was one of the leading expatriate figures between World War I and II. Identified with the Lost Generation. Emma Goldman corresponded with her in the 1920s concerning Goldman's publications as well as their mutual interest in books. Shipping heiress Bryher, the writer born Winifred Ellerman, the only woman in the general milieu of European lesbians richer than Natalie Barney, gave money to Djuna Barnes, Sylvia Beach, Edith Sitwell and Dorothy Richardson, among others.
American and English novelists such as Gertrude Stein and Bryher, poets suche as Hilda Doolittle, and publishers such as Sylvia Beach all developed different and unique ways of expressing themselves both as lesbians and as exiles in the absence of lesbbian literary and artistic traditions in the decades before the Second World War.
Sylvia Beach is known for her Paris bookstore, Shakespeare and Company, where she published James Joyce's controversial book, Ulysses (1922), and encouraged the publication and sold copies of Hemingway's first book, Three Stories and Ten Poems (1923).
Historical homosocial and homosexual communities of expatriate American and English women lived in Paris on the Left Bank of the Seine during the opening decades of the twentieth century. The place and time has captured the imaginations of feminist and queer historians, literary critics, art historians, and cultural theorists. These histories of women and their cultural productions are attractive because they demand a rethinking and rewriting of the canonical histories of masculine modernism. The geographical and spiritual locus for these groups were the literary and artistic salons of Natalie Barney and Gertrude Stein, as well as the bookshops and publishing houses owned by Sylvia Beach and Adrienne Monnier. Congregating at these cultural landmarks, Janet Flanner, Colette, Renée Vivien, Djuna Barnes, Hilda Doolittle, Claude Cahun, Marcel Moore (Suzanne Malherbe), Anaïs Nin, and many others invented new ways of living and representing themselves and each other. Martha Vicinus writes: The most striking aspect of the lesbian coteries of the 1910s and 1920s was their self-conscious effort to create a new sexual language for themselves that included not only words but also gestures, costume and behavior. Lillian Faderman notes that these Parisian communities "functioned as a support group for lesbians to permit them to create a self-image which literature and society denied them."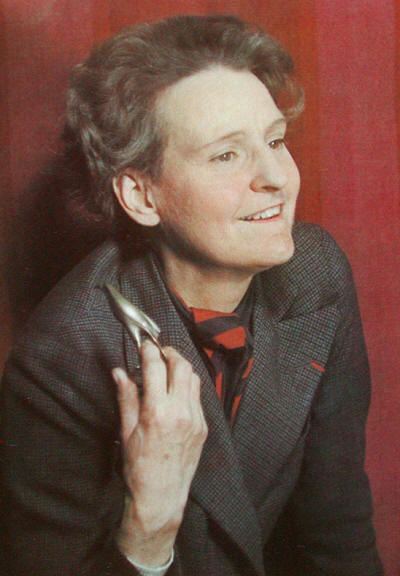 Sylvia Beach, 1938, by Gisèle Freund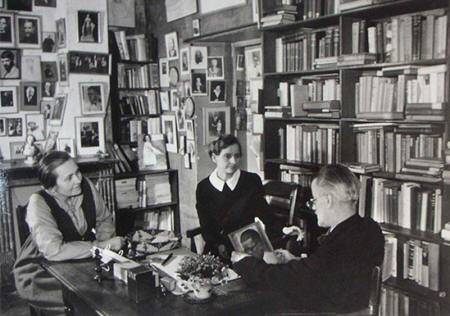 James Joyce with Sylvia Beach and Adrienne Monnier, 1938, , by Gisèle Freund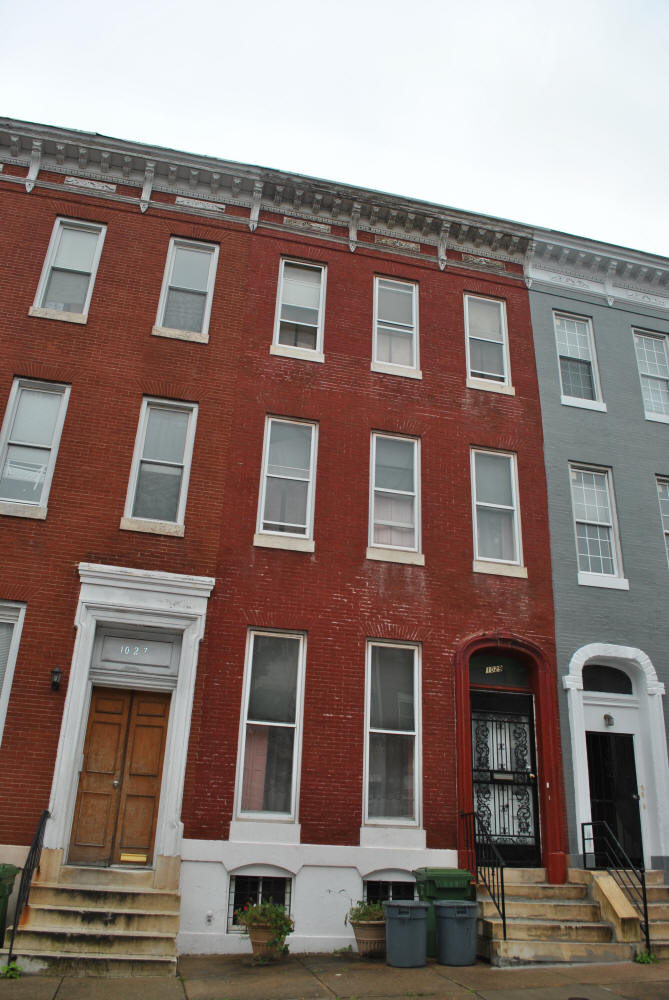 1029 Edmondson Ave, Baltimore, MD 21223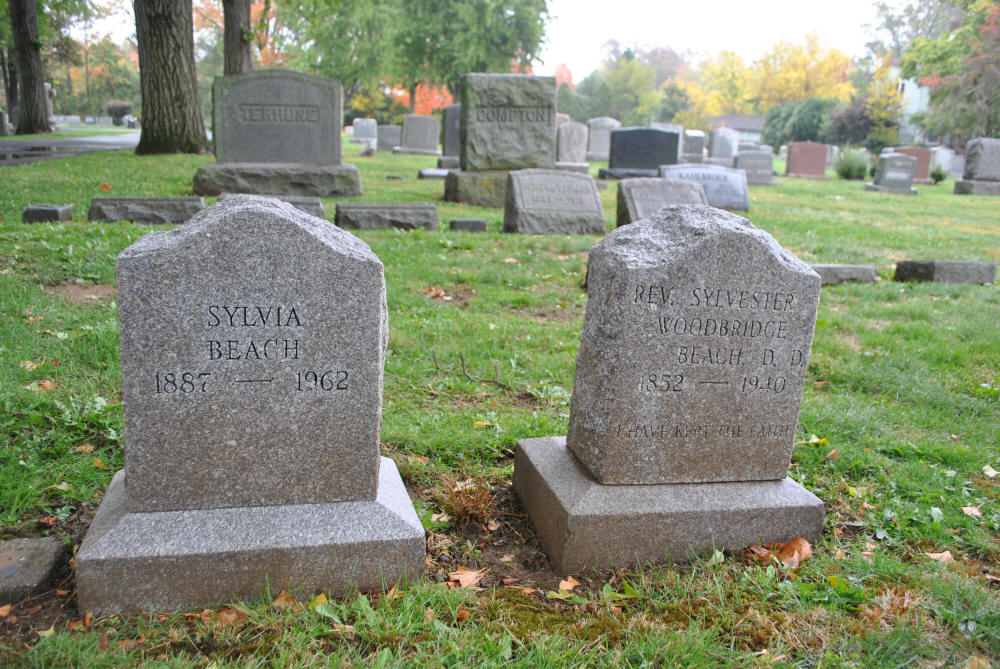 Beach was born in her father's parsonage in Baltimore, Maryland, United States, on March 14, 1887, the second of three daughters of Sylvester Beach and Eleanor Thomazine Orbison. She had an older sister, Holly, and a younger sister, Cyprian.[2] Although named Nancy after her grandmother Orbison, she later decided to change her name to Sylvia. Her maternal grandparents were missionaries to India, and her father, a Presbyterian minister, was descended from several generations of clergymen. When the girls were young the family lived in Baltimore and in Bridgeton, New Jersey. Then in 1901, the family moved to France upon Sylvester Beach's appointment as assistant minister of the American Church in Paris and director of the American student center.
Beach spent the years 1902-1905 in Paris, returning to New Jersey in 1906 when her father became minister of the First Presbyterian Church of Princeton. Beach made several return trips to Europe, lived for two years in Spain, and worked for the Balkan Commission of the Red Cross. During the last years of the Great War, she was drawn back to Paris to study contemporary French literature.
While conducting some research at the Bibliothèque Nationale, Beach found the name of a lending library and bookshop, La Maison des Amis des Livres[3] at 7 rue de l'Odéon, Paris VI, in a French literary journal. There she was warmly welcomed by the owner who, to her surprise, was a plump fair-haired young woman, Adrienne Monnier. Monnier was wearing a garment that looked like a cross between a peasant's dress and a nun's habit, "with a long full skirt … and a sort of tight-fitting velvet waistcoat over a white silk blouse. She was in gray and white like her bookshop." Although Beach was dressed in a Spanish cloak and hat, Monnier knew immediately that she was American. At that first meeting Monnier declared, "I like America very much". Beach replied that she liked France very much. They later became lovers and lived together for 36 years[5] until Monnier's suicide in 1955.
Beach immediately became a member of Monnier's lending library, and when in Paris she regularly attended the readings by authors such as André Gide, Paul Valéry and Jules Romains. Inspired by the literary life of the Left Bank and by Monnier's efforts to promote innovative writing, Beach dreamed of starting a branch of Monnier's book shop in New York that would offer contemporary French works to American readers. Since her only capital was US$3,000 which her mother gave her from her savings, Beach could not afford such a venture in New York. However, Paris rents were much cheaper and the exchange rates favorable, so with Monnier's help, Beach opened an English language bookstore and lending library that she named Shakespeare and Company. Four years beforehand, Monnier had been among the first women in France to found her own bookstore. Beach's bookstore was located at 8 rue Dupuytren, Paris VI.
Beach had plans of her own to open a French bookshop in London, but Harold Monro advised her not to, perhaps fearing competition for his own Poetry Bookshop. Instead, on 17 November 1919, she opened the Anglophone bookshop and lending library Shakespeare and Company, at 8 rue Dupuytren in Paris. Visitors in the first few days included Louis Aragon, André Gide, Léon Fargue, Valéry Larbaud, Georges Duhamel and Jules Romains. On 16 March 1920, Gertrude Stein and Alice B. Toklas came into the shop for the first time. They would remain good friends until Beach published James Joyce's Ulysses in February 1922. Beach and Monnier intermittently attended Natalie Barney's salon, when work allowed, and Barney regularly renewed her subscription to the lending library; but Beach was never convinced that Barney took literature seriously. In the summer of 1920 both Joyce and Ezra Pound materialised in Paris. Wyndham Lewis and T.S. Eliot, too, soon found their way to Shakespeare and Company.
Shakespeare and Company quickly attracted both French and American readers - including a number of aspiring writers to whom Beach offered hospitality and encouragement as well as books. As the franc dropped in value and the favorable exchange rate attracted a huge influx of Americans, Beach's shop flourished and soon needed more space. In May 1921, Shakespeare and Company moved to 12 rue de l'Odéon, just across the street from Monnier's Maison des Amis des Livres. Shakespeare and Company gained considerable fame after it published James Joyce's Ulysses in 1922, as a result of Joyce's inability to get an edition out in English-speaking countries. Beach would later be financially stranded when Joyce signed on with another publisher, leaving Beach in debt after bankrolling, and suffering severe losses from, the publication of Ulysses.
In July, Shakespeare and Company moved to 12 rue de l'Odéon, just across the road from Monnier's La Maison des Amis des Livres. That summer, Thornton Wilder arrived in the shop and made friends with Beach. As she later wrote, 'Adrienne and I were very fond of Wilder and liked to think of him as a member of the family'. Other new arrivals that year included Sherwood Anderson, whom Beach would introduce to James Joyce and Gertrude Stein, and Ernest Hemingway, whom Beach would introduce to Ezra Pound in the shop. Beach met Robert McAlmon and Winifred Ellerman ('Bryher'), husband and wife in a mariage blanc, in May 1921, and made close friends of both. On one festive occasion McAlmon took Beach and Monnier on a tour of the gay bars of Montmartre.
Shakespeare and Company regulars included Eric Satie (although he could not read English), Virgil Thomson, Aaron Copland, Sergei Eisenstein, W.H. Auden and Stephen Spender (in the late 1930s). (Beach had arranged for the publication of an abridged translation of Auden and Christopher Isherwood's The Dog Beneath the Skin in the spring of 1937.) Glenway Wescott and his lover Monroe Wheeler joined the lending library in February 1925. Elizabeth Bishop borrowed books while in Paris for three months in 1936, but she nervously backed out of attending a reception Beach invited her to, at which Joyce and Gide were to be present. Willa Cather visited the shop for the first time in the summer of 1933. Marianne Moore wrote to Bryher (7 November 1936): 'I could not say how fine I thought Sylvia Beach, or how much good it did me to meet her … I was much impressed with her cautious honesty of opinion and gracile youthfulness; and of course with her generosity.'
Shakespeare and Company experienced difficulty throughout the Great Depression of the 1930s, but remained supported by wealthy friends, including Bryher. In 1936 when Beach thought that she would be forced to close her shop, André Gide organized a group of writers into a club called Friends of Shakespeare and Company. Subscribers paid 200 francs a year to attend readings at Shakespeare and Company. Although subscriptions were limited to a select group of 200 people (the maximum number the store could accommodate), the renown of the French and American authors participating in readings during those two years attracted considerable attention to the store. Beach recalled that by then, "we were so glorious with all these famous writers and all the press we received that we began to do very well in business". Violette Leduc describes meeting her and the ambiance of the shop in her autobiography La Bâtarde. Shakespeare and Company remained open after the Fall of Paris, but by the end of 1941, Beach was forced to close. She was interned for six months during World War II at Vittel until Tudor Wilkinson managed to secure her release in February 1942. Beach kept her books hidden in a vacant apartment upstairs at 12 rue de l'Odeon. Ernest Hemingway symbolically "liberated" the shop in person in 1944, but it never re-opened for business.
In the years following Adrienne's death, Sylvia was to maintain two close and long-standing friendships. The first was with Bryher, whom Sylvia had known since the early days of Shakespeare and Company; their friendship had intensified during the war. They corresponded frequently in the 1940s, and after the war Bryher regularly sent Beach money. In these years Sylvia also spent a great deal of time with Camilla Steinbrugge, a woman who had shared a friendship with Adrienne Monnier as well, spending vacations with the two women before Adrienne's death. It was Steinbrugge who filled the space in Sylvia's life left by Adrienne.
In 1956, Beach wrote Shakespeare and Company, a memoir of the inter-war years that details the cultural life of Paris at the time. The book contains first-hand observations of James Joyce, D. H. Lawrence, Ernest Hemingway, Ezra Pound, T. S. Eliot, Valery Larbaud, Thornton Wilder, André Gide, Leon-Paul Fargue, George Antheil, Robert McAlmon, Gertrude Stein, Stephen Benet, Aleister Crowley, Harry Crosby, Caresse Crosby, John Quinn, Berenice Abbott, Man Ray, and many others.
After Monnier's suicide in 1955, Beach had a relationship with Camilla Steinbrugge.[5] Although Beach's income was modest during the last years of her life, she was widely honored for her publication of Ulysses and her support of aspiring writers during the 1920s. She remained in Paris until her death in 1962, and was buried in Princeton Cemetery. Her papers are archived at Princeton University.[5]
American George Whitman opened a new bookshop in 1951 at a different location in Paris (in the rue de la Bûcherie) originally called Le Mistral, but renamed Shakespeare and Company in 1964 in honor of the late Sylvia Beach. Since his death in 2011, it has been run by his daughter Sylvia Beach Whitman, named after Beach.
---
My published books:


---
https://en.wikipedia.org/wiki/Sylvia_Beach
A Lesbian History of Britain: Love and Sex Between Women Since 1500, Rebecca Jennings, Greenwood World Pub., 2007
Gender, Sexuality and Museums (p.260). Taylor and Francis. Edizione del Kindle.
Woods, Gregory. Homintern . Yale University Press. Edizione del Kindle.
Benstock, Shari. Women of the Left Bank (p.207). University of Texas Press. Edizione del Kindle.