Queer Places:
University of Cambridge, 4 Mill Ln, Cambridge CB2 1RZ
Eastbourne College, Old Wish Rd, Eastbourne BN21 4JY, Regno Unito
Malvern College, College Rd, Malvern WR14 3DF, Regno Unito
30 Clarendon Square, Leamington Spa CV32 5QX, Regno Unito
31 Wellington Square, Chelsea, London SW3 4NR, Regno Unito
2 All Souls' Pl, Marylebone, London W1B 3DA, Regno Unito
Hampton, NJ 08827, Stati Uniti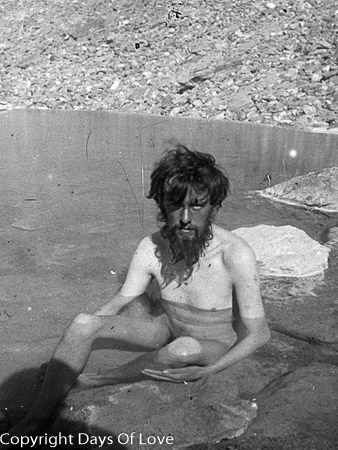 Aleister Crowley (born Edward Alexander Crowley; 12 October 1875 – 1 December 1947) was an English occultist, ceremonial magician, poet, painter, novelist, and mountaineer. He founded the religion of Thelema, identifying himself as the prophet entrusted with guiding humanity into the Æon of Horus in the early 20th century. A prolific writer, he published widely over the course of his life. Dédicace (1898) and Go into the Highways (1898) are cited as examples in Sexual Heretics: Male Homosexuality in English Literature from 1850-1900, by Brian Reade.
Born to a wealthy Plymouth Brethren family in Royal Leamington Spa, Warwickshire, Crowley rejected the fundamentalist Christian faith to pursue an interest in Western esotericism. He was educated at the University of Cambridge, where he focused his attentions on mountaineering and poetry, resulting in several publications. Some biographers allege that here he was recruited into a British intelligence agency, further suggesting that he remained a spy throughout his life. In 1898 he joined the esoteric Hermetic Order of the Golden Dawn, where he was trained in ceremonial magic by Samuel Liddell MacGregor Mathers and Allan Bennett. Moving to Boleskine House by Loch Ness in Scotland, he went mountaineering in Mexico with Oscar Eckenstein, before studying Hindu and Buddhist practices in India. He married Rose Edith Kelly and in 1904 they honeymooned in Cairo, Egypt, where Crowley claimed to have been contacted by a supernatural entity named Aiwass, who provided him with The Book of the Law, a sacred text that served as the basis for Thelema. Announcing the start of the Æon of Horus, The Book declared that its followers should "Do what thou wilt" and seek to align themselves with their True Will through the practice of magick.
After an unsuccessful attempt to climb Kanchenjunga and a visit to India and China, Crowley returned to Britain, where he attracted attention as a prolific author of poetry, novels, and occult literature. In 1907, he and George Cecil Jones co-founded a Thelemite order, the A∴A∴, through which they propagated the religion. After spending time in Algeria, in 1912 he was initiated into another esoteric order, the German-based Ordo Templi Orientis (O.T.O.), rising to become the leader of its British branch, which he reformulated in accordance with his Thelemite beliefs. Through the O.T.O., Thelemite groups were established in Britain, Australia, and North America. Crowley spent the First World War in the United States, where he took up painting and campaigned for the German war effort against Britain, later revealing that he had infiltrated the pro-German movement to assist the British intelligence services. In 1920 he established the Abbey of Thelema, a religious commune in Cefalù, Sicily where he lived with various followers. His libertine lifestyle led to denunciations in the British press, and the Italian government evicted him in 1923. He divided the following two decades between France, Germany, and England, and continued to promote Thelema until his death.

30 Clarendon Square, Leamington Spa

Eastbourne College
Crowley gained widespread notoriety during his lifetime, being a recreational drug experimenter, bisexual and an individualist social critic. He was denounced in the popular press as "the wickedest man in the world" and a Satanist. Crowley has remained a highly influential figure over Western esotericism and the counterculture, and continues to be considered a prophet in Thelema. He is the subject of various biographies and academic studies.
Crowley was bisexual, and exhibited a sexual preference for women, with his homosexual relationships being fewer and clustered in the early part of his life. In particular he had an attraction toward "exotic women", and claimed to have fallen in love on multiple occasions; Kaczynski stated that "when he loved, he did so with his whole being, but the passion was typically short-lived". Even in later life, Crowley was able to attract young bohemian women to be his lovers, largely due to his charisma. During homosexual anal intercourse, he usually played the passive role, which Booth believed "appealed to his masochistic side". Crowley argued that homosexual and bisexual people should not suppress their sexual orientation, commenting that a person "must not be ashamed or afraid of being homosexual if he happens to be so at heart; he must not attempt to violate his own true nature because of public opinion, or medieval morality, or religious prejudice which would wish he were otherwise." On other issues he adopted a more conservative attitude; he opposed abortion on moral grounds, believing that no woman following her True Will would ever desire one.
Biographer Lawrence Sutin stated that "blatant bigotry is a persistent minor element in Crowley's writings". Sutin thought Crowley "a spoiled scion of a wealthy Victorian family who embodied many of the worst John Bull racial and social prejudices of his upper-class contemporaries", noting that he "embodied the contradiction that writhed within many Western intellectuals of the time: deeply held racist viewpoints courtesy of society, coupled with a fascination with people of colour". Crowley insulted his close Jewish friend Victor Neuburg using anti-Semitic slurs and he had mixed opinions about Jews as a group. Although he praised their "sublime" poetry and stated that they exhibited "imagination, romance, loyalty, probity and humanity", he also thought that centuries of persecution had led some Jews to exhibit "avarice, servility, falseness, cunning and the rest". He was also known to praise various ethnic and cultural groups, for instance he thought that the Chinese people exhibited a "spiritual superiority" to the English, and praised Muslims for exhibiting "manliness, straightforwardness, subtlety, and self-respect".
Crowley also exhibited a "general misogyny" that Booth believed arose from his bad relationship with his mother. Sutin noted that Crowley "largely accepted the notion, implicitly embodied in Victorian sexology, of women as secondary social beings in terms of intellect and sensibility". Crowley described women as "moral inferiors" who had to be treated with "firmness, kindness and justice".
In October 1897, following Herbert Charles Pollitt's return to Footlights to perform as Diane de Rougy, Pollitt met Crowley, and the two swiftly entered into a relationship.[1][2] Crowley wrote that "I lived with Pollitt as his wife for some six months and he made a poet out of me."[1] The relationship ultimately failed through Pollitt's unwillingness to take part in Crowley's interest in mysticism.[1] This led to a quarrel, in which Crowley informed Pollitt that he did not fit into his plans for his life. Crowley quickly regretted the break-up, but they did not reconcile, and an accidental snub on Bond Street ultimately estranged Pollitt from his former lover.[1] Crowley remained attached to Pollitt, who inspired a number of sonnets and other poems, and immortalized him in his 1910 book on homosexual love, The Scented Garden of Abdullah the Satirist of Shiraz.[1][7] Finally, in his autobiography The Confessions of Aleister Crowley, he recalled the end of the relationship as a "lifelong regret."[1]
---
My published books:


---
https://en.wikipedia.org/wiki/Aleister_Crowley
Sexual Heretics: Male Homosexuality in English Literature from 1850-1900, by Brian Reade
Dictionnaire historique des homosexuel.le.s célèbres – October 19, 2017 French Edition by Michel Larivière