Partner Elizabeth McCausland
Queer Places:
Ohio State University, Columbus, OH 43210, Stati Uniti
Hotel and Café des Artistes, 1 W 67th St, New York, NY 10023, Stati Uniti
Patchin Place, Patchin Pl, New York, NY 10011, Stati Uniti
50 Commerce St # 1, New York, NY 10014, Stati Uniti
New Blanchard Cemetery, Blanchard, ME 04464, Stati Uniti
Berenice Abbott (July 17, 1898 – December 9, 1991),[2] née Bernice Alice Abbott, was an American photographer best known for her portraits of between-the-wars 20th century cultural figures, New York City photographs of architecture and urban design of the 1930s, and science interpretation in the 1940s to 1960s.
Abbott was born in Springfield, Ohio[3] and brought up there by her divorced mother, née Lillian Alice Bunn (m. Charles E. Abbott in Chillicothe OH, 1886).
She attended Ohio State University for two semesters, but left in early 1918 because her German professor was dismissed because he was a German teaching an English class.[4]
Abbott remembers vividly the "pull" of the Big Apple in 1918 and soon she threw herself from Ohio obscurity into the thriving creative centre of Greenwich Village, living with author Djuna Barnes and teaching Marcel Duchamp and Man Ray to dance. She was described, enchantingly, by the French writer Jean Cocteau (one of her many subjects) as being like "a chess game between light and shadow."
In the spring of 1921, Abbott was advised by her "Dada Baroness" friend Elsa von Freytag-Loringhoven to go to Paris for inspiration, and she boarded a ferry to France, studying sculpture both there and in Berlin. In Paris she became an assistant to Man Ray, who wanted someone with no previous knowledge of photography. She later than got a job at the WPA and photographed pictures of neighborhoods in New York City.[5]
Abbott and Mina Loy crossed paths in 1922 on Abbott's visits to Berlin with other Paris-based ex-pats. Later in 1948, from her nearby studio in Greenwich Village Abbott visited Loy at 5 Stanton Street to photograph the scenes Loy constructed from discarded items in homage to her homeless Bowery neighbors. She asked Abbott to photograph the fragile series, and Abbott in turn suggested an exhibition. Abbot believed Loy made the series "to demonstrate her belief that vision was itself a form of salvation", although Loy doubted anyone unfamiliar with the Bowery would understand it.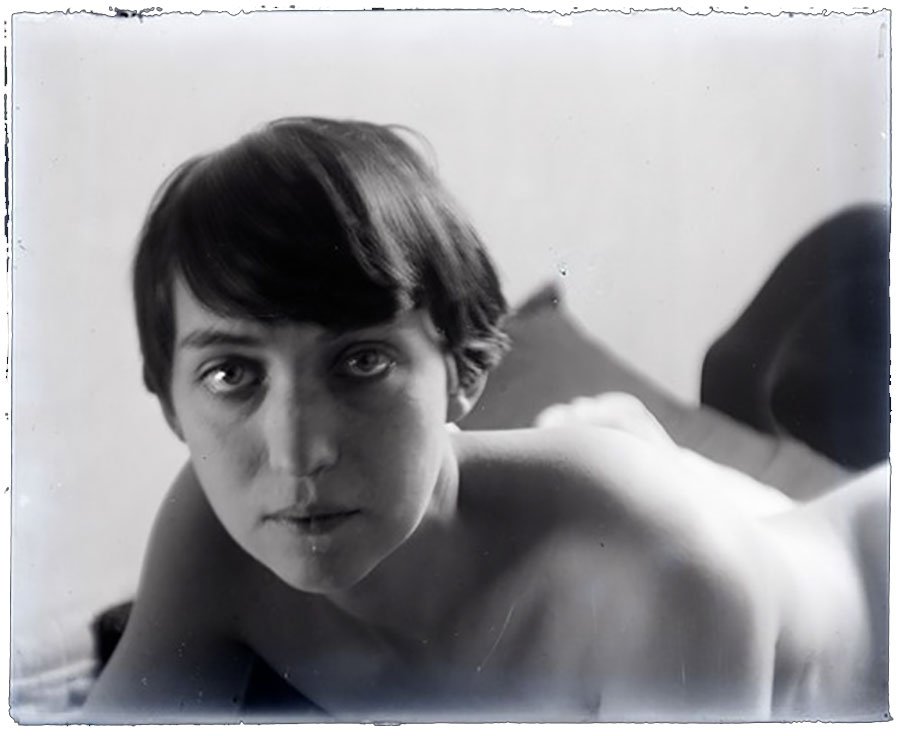 Berenice Abbott by Lotte Jacobi

Peggy Guggenheim by Berenice Abbott

Jane Heap by Berenice Abbott

Janet Flanner by Berenice Abbott

Solita Solano by Berenice Abbott

Princess Eugene Murat by Berenice Abbott

A'Lelia Walker by Berenice Abbott

André Gide by Berenice Abbott

Jean Cocteau by Berenice Abbott

Djuna Barnes by Berenice Abbot

Julian Levy by Berenice Abbot
In 1926 Peggy Guggenheim, who often lent her financial support to the Paris colony of artists and writers, telephoned Man Ray to arrange a studio appointment to have her portrait taken, not by Man Ray himself, but by Berenice. Afterwards Man Ray was livid, he now realized that Berenice had become a serious business rival, and the next day he fired her. Berenice immediately made plans to have a studio of her own and friends of Berenice stepped forward to help her. When she made arrangements to purchase a view camera – Peggy Guggenheim lent her the money to pay for it. As partial repayment, Berenice later photographed Peggy's children. In 1926, she had her first solo exhibition (in the gallery "Au Sacre du Printemps") and started her own studio on the rue du Bac.
In 1928 she took an iconic portrait of Jane Heap. In 1930, A'Lelia Walker sat for her.
The film Berenice Abbott: A View of the 20th Century, which showed 200 of her black and white photographs, suggests that she was a "proud proto-feminist"; someone who was ahead of her time in feminist theory. Before the film was completed she questioned, "The world doesn't like independent women, why, I don't know, but I don't care." She identified publicly as a lesbian.[40]
She lived with her partner, art critic Elizabeth McCausland, for 30 years.[33]
Abbott's life and work are the subject of the 2017 novel The Realist: A Novel of Berenice Abbott, by Sarah Coleman.[41]
Two decades later, Abbott and McCausland traveled US 1 from Florida to Maine, and Abbott photographed the small towns and growing automobile-related architecture.[2] The project resulted in more than 2,500 negatives. Shortly after, Abbott underwent a lung operation. She was told she should move from New York City due to air pollution. She bought a rundown home in Blanchard, Maine along the banks of the Piscataquis River for US$1,000. Later, she moved to nearby Monson, remaining in Maine until her death in 1991. Most of her work is shown in the United States she has a couple in Europe but mostly in the U.S.

Bernice Abbott Studio, NYC_ NY
Abbott's work in Maine continued after that project and after her move to Maine. Her last book was A Portrait of Maine (1968).
---
My published books:

---
https://en.wikipedia.org/wiki/Berenice_Abbott
https://mina-loy.com/biography/berenice-abbott/
https://www.anothermag.com/art-photography/9256/how-berenice-abbott-documented-the-whos-who-of-1920s-paris
http://www.guggenheim-venice.it/inglese/collections/artisti/dettagli/opere_dett.php?id_art=212&id_opera=591