Queer Places:
Boys and Girls High School, 1700 Fulton St, Brooklyn, NY 11213, Stati Uniti
The Art Students League of New York, 215 W 57th St, New York, NY 10019, Stati Uniti
National Academy Museum & School, 1083 5th Ave, New York, NY 10128, Stati Uniti
Montparnasse Cemetery, 3 Boulevard Edgar Quinet, 75014 Paris, Francia
Man Ray (born Emmanuel Radnitzky; August 27, 1890 – November 18, 1976) was an American visual artist who spent most of his career in Paris. He was a significant contributor to the Dada and Surrealist movements, although his ties to each were informal. He produced major works in a variety of media but considered himself a painter above all. He was best known for his photography, and he was a renowned fashion and portrait photographer. Man Ray is also noted for his work with photograms, which he called "rayographs" in reference to himself.[1]
Man Ray took Eugene McCown's portraits in 1922. McCown and the photographer both arrived in Paris in July 1921 and lived on Rue Campagne-Première, just a few steps from the Vavin crossroads, in Paris. No doubt they had already met in New York in the Greenwich Village neighborhood. In early 1922 McCown was hired as a jazz pianist at Beef sur le Toit, a new cabaret where Cocteau and his band used to meet. Unfazed, endowed with a fierce humour and magnetism that seduced women as well as men, McCown soon became the darling of Paris.
Man Ray was forced to return from Paris to the United States due to the Second World War. He lived in Los Angeles from 1940 to 1951 where he focused his creative energy on painting. A few days after arriving in Los Angeles, Man Ray met Juliet Browner, a first-generation American of Romanian-Jewish lineage. She was a trained dancer, who studied dance with Martha Graham,[22] and an experienced artists' model. The two married in 1946 in a double wedding with their friends Max Ernst and Dorothea Tanning. In 1948 Man Ray had a solo exhibition at the Copley Galleries in Beverly Hills, which brought together a wide array of work and featured his newly painted canvases of the Shakespearean Equations series.[23]

Salvador Dalì and Man Ray by Carl Van Vechten

Man Ray by David Hockney

Man Ray by Mina Loy

Autor desconocido: Man Ray, Maud Bonneaud y Óscar Domínguez, París, 1947, Archivo Hugo Westerdahl.

Man Ray, 1967, by Gisèle Freund

Margaret Anderson and Jane Heap, middle standing; Ezra Pound, right standing; Man Ray, with camera; Mina Loy, front center; Tristan Tzara, to her right; and Jean Cocteau, with cane; in Paris

Virginia Woolf, by Man Ray, 1934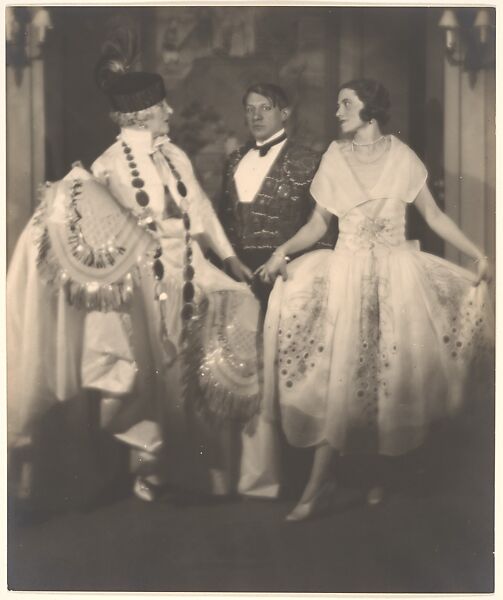 Bal of Etienne de Beaumont ca. 1924 by Man Ray

Eugene McCown by Man Ray

Elsa von Freytag-Loringhoven by Man Ray

Mina Loy and Djuna Barnes by Man Ray

Margaret Anderson. Photo by Man Ray.

Iris Tree by Man Ray

Alice B. Toklas and Gertrude Stein, photographed at home by Man Ray, with part of their collection of Modernist art, Paris, 1922
Man Ray returned to Paris in 1951, and settled with Juliet into a studio at 2 bis rue Ferou near the Luxembourg Gardens in St. Germain des Pres, where he continued his creative practice across mediums.[24] During the last quarter century of his life, he returned to a number of his iconic earlier works, recreating them in new form. He also directed the production of limited-edition replicas of several of his objects, working first with Marcel Zerbib and later Arturo Schwarz.
In 1963, he published his autobiography, Self-Portrait, which was republished in 1999.[25]
He died in Paris on November 18, 1976, from a lung infection. He was interred in the Cimetière du Montparnasse in Paris.[26] Ray's epitaph reads "unconcerned, but not indifferent". When Juliet Browner died in 1991, she was interred in the same tomb. Her epitaph reads "together again". Juliet organized a trust for his work and donated much of his work to museums. Her plans to restore the studio as a public museum proved too expensive; such was the structure's disrepair. Most of the contents were stored at the Pompidou Center.[22]
---
My published books:

---
https://en.wikipedia.org/wiki/Man_Ray
Woods, Gregory. Homintern . Yale University Press. Edizione del Kindle.