Partner Monroe Wheeler
Queer Places:
University of Chicago, 5801 S Ellis Ave, Chicago, IL 60637, Stati Uniti
17 Christopher St, New York, NY 10014
Stone-blossom, Clinton, NJ 08809, Stati Uniti
410 Park Ave, New York, NY 10022, Stati Uniti
Haymeadows, Raven Rock Rosemont Rd, Stockton, NJ 08559, Stati Uniti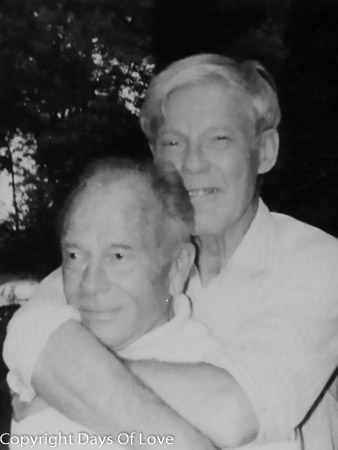 Glenway Wescott (April 11, 1901 – February 22, 1987) was an American poet, novelist and essayist. Identified with the Lost Generation. A figure of the American expatriate literary community in Paris during the 1920s, Wescott was openly gay.[1] His relationship with longtime companion Monroe Wheeler lasted from 1919 until Wescott's death. Wescott and Wheeler were in a menages a trois with George Platt Lynes. Wescott had also an affair with Pierre de Massot. When Wescott wrote The Grandmothers, he created Alwyn Tower in his own queer image. Truman Capote had received advice from Glenway Wescott on how to become 'kept'; one of his eventual keepers was Prince Paul of Greece, who became King Paul I in 1947.

Wescott was born on a farm in Kewaskum, Wisconsin in 1901.[3] His younger brother, Lloyd Wescott, was born in Wisconsin in 1907. Wescott attended West Bend High School, where another teenaged boy helped him discover his sexuality. This friend had dressed the teenaged Wescott as a girl for a masked dance. Much later, in his 1944 diary, Wescott would recall meeting this friend again "who had first kissed me in a bower of mock orange blossom twenty-eight years ago." Twenty-five or thirty years after that meeting, Wescott describes the friend as "a distinguished and amiable creature, and not undistinguished in the simple way of places like Milwaukee; unfortunately not at all attractive physically."
Wescott studied at the University of Chicago,[3] where he was a member of a literary circle including Elizabeth Madox Roberts, Yvor Winters, and Janet Lewis. Independently wealthy, he began his writing career as a poet, but is best known for his short stories and novels, notably The Grandmothers (1927), which received the Harper Novel prize,[3] and The Pilgrim Hawk (1940). While there, he wrote Imagist poetry and joined the poetry club, where another club member who carried around Oscar Wilde poems "fell in love" with him. In January 1919, Wescott met Chicagoan Monroe Wheeler, who was destined to become his life companion, though both would maintain many other relationships throughout their long years together. Back in Chicago, Wescott lived with Monroe Wheeler's family, and Wheeler published a chapbook of a dozen poems by Wescott. In 1921, the pair left the Midwest. Trips to New York and London followed, with a return to New York in 1922.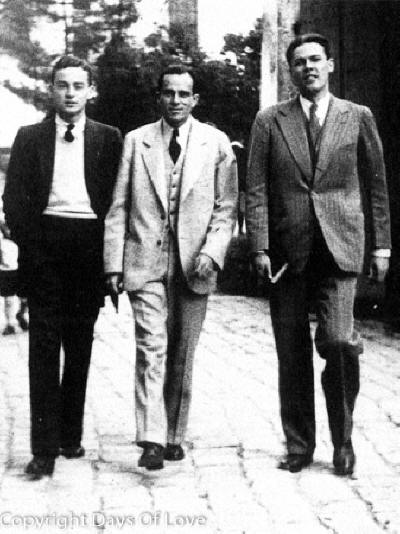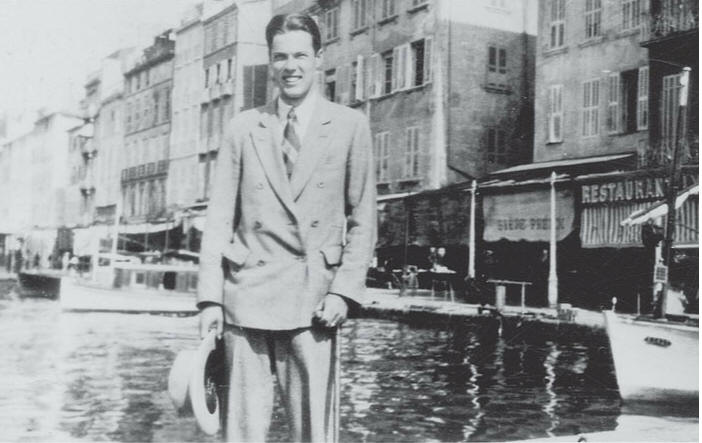 Glenway Wescott in the French village of Villefranche-sur-Mer in 1927. COURTESY OF THE ESTATE OF GLENWAY WESCOTT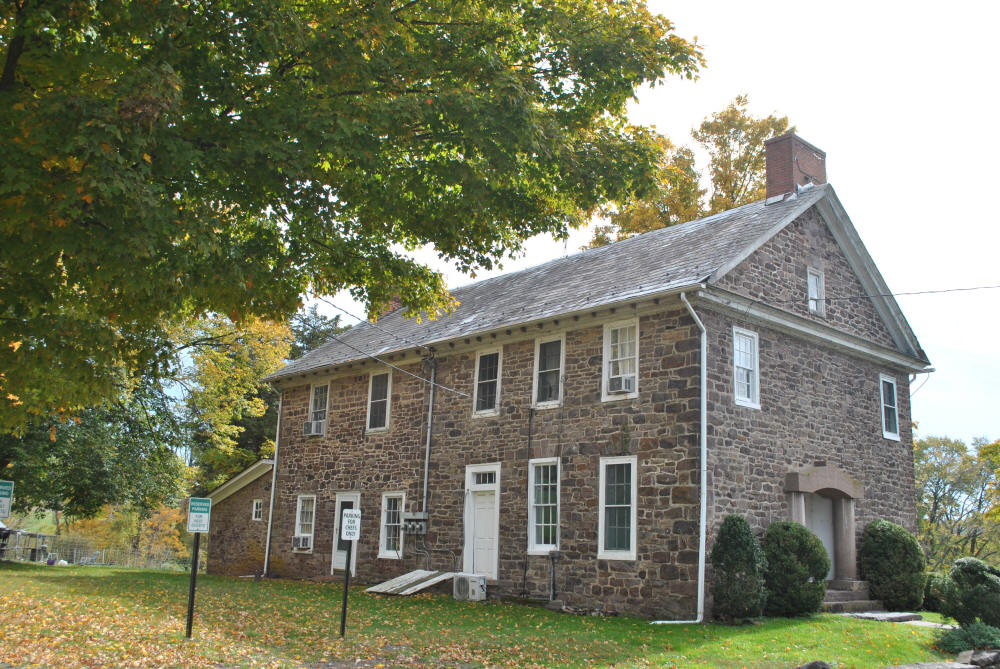 Wescott Farm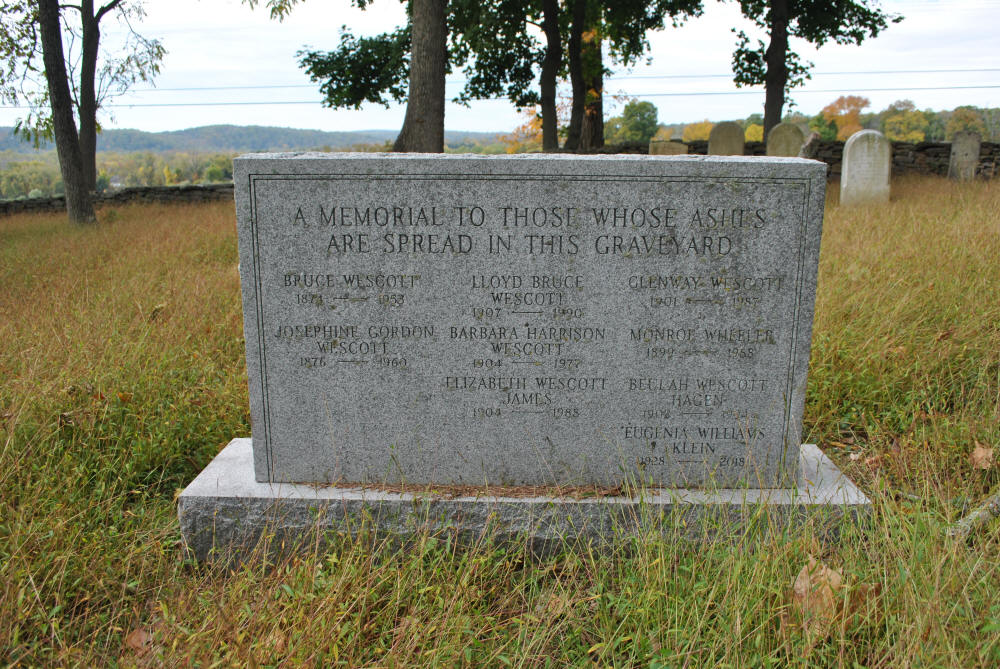 Wescott lived in Germany (1921–22), and in France (c. 1925–33),[3] where he mixed with Gertrude Stein and other members of the American expatriate community. Wescott was the model for the character Robert Prentiss in Ernest Hemingway's The Sun Also Rises. After meeting Prentiss, Hemingway's narrator, Jake Barnes, confesses, "I just thought perhaps I was going to throw up."[1] In the Autobiography of Alice B. Toklas (1933), Gertrude Stein wrote about him, "There was also Glenway Wescott but Glenway Wescott at no time interested Gertrude Stein. He has a certain syrup but it does not pour."
Back to the US from Paris, Glenway Wescott and Monroe Wheeler settled in the Greenwich Village. Along with literary personalities, Wescott and Wheeler experienced the bohemia of Greenwich Village when they moved to the two-room apartment at 17 Christopher Street, where Wescott would complete his first novel, on the second floor. Neightbor Marianne Moore approved: Christopher Street is not a very exposed street and I should think the gas radiators will be enough. The little three story building still stands, its lower-right shop housed the Oscar Wilde Bookstore. Wescott remembered: That year, 1924, I had sex with three people not Monroe. My closest friends in Greenwich Village were Tony Salemme, a sculptor, and his beautiful blond wife Betty. When we lived on Christopher Street, they lived on the top floor of a building next to that church on Washington Square South. Tony was not handsome but a very sexy and attractive Southern Italian, and he seduced me eventually. Betty had an affair with Paul Robenson. Other flings of Wescott that year included a man named Witt Verner and a young German immigrant named George Van Erring, who played the cello.
Wescott's first novel, The Apple of the Eye, published by New York's Dial Press in 1924, features reflections on the rural Wisconsin of his childhood. One chapter deals with latent homosexuality. Back in Europe, Paris was too expensive for Wescott and Wheeler, so they went to Villefranche-sur-Mer in the south, near Nice. The town was home to the well-known French writer Jean Cocteau, who was gay. Both Wescott and Wheeler maintained a correspondence with Cocteau and shared friends. Later, they became friends with writer W. Somerset Maugham, who was divorcing his wife and had established himself in Villefranche with his American partner, whom he had met during the Great War. Wescott and Maugham did not have a great rapport on first meeting, but would later become friends. In Villefranche in 1928, Wescott and Wheeler encountered writer Thornton Wilder, another gay Wisconsin native, whose early years had been spent in Madison.
By 1934, Wescott and Wheeler were permanently in New York, on their way to becoming leading figures in gay America. Their partnership included a multiyear threesome with the photographer George Platt Lynes. Later in life, they assisted Alfred Kinsey in finding homosexual subjects for his research.
When his brother Lloyd moved to a dairy farm in Union Township near Clinton in Hunterdon County, New Jersey in 1936, Wescott along with Wheeler and Lynes took over one of the farmhand houses and called it Stone-Blossom.[4]
His novel, The Pilgrim Hawk: A Love Story (1940), was praised by the critics. Apartment in Athens (1945), the story of a Greek couple in Nazi-occupied Athens who must share their living quarters with a German officer, was a popular success. From then on he ceased to write fiction, although he published essays and edited the works of others. In her essay on The Pilgrim Hawk Ingrid Norton writes, "After...Apartment in Athens, Wescott lived until 1987 without writing another novel: journals (published posthumously as Continual Lessons) and the occasional article, yes, but no more fiction. The Midwest-born author seems to slide into the golden handcuffs of expatriate decadence: supported by the heiress his brother married, surrounded by literate friends, given to social drinking and letter-writing."[5]
In 1959, when his brother Lloyd acquired a farm near the village of Rosemont in Delaware Township, Hunterdon County, New Jersey, Wescott moved into a two-story stone house on the property, dubbed Haymeadows.[4]
Wheeler and Wescott brought the manuscript of Maurice, E.M. Forster's posthumously released gay novel, to America for publication.
In 1987, Wescott died of a stroke at his home in Rosemont and was buried in the small farmer's graveyard hidden behind a rock wall and trees at Haymeadows. Later Monroe Wheeler was buried alongside him.[6]
---
My published books:


---
Woods, Gregory. Homintern . Yale University Press. Edizione del Kindle.
Wagner, R. Richard. We've Been Here All Along . Wisconsin Historical Society Press. Edizione del Kindle.
Glenway Wescott Personally: A Biography, Jerry Rosco, Univ of Wisconsin Press, 23 mar 2010