Partner Mabel Batten and Una Vincenzo, Lady Troubridge, buried together with Batten
Queer Places:
King's College London, Strand, London WC2R 2LS, Regno Unito
Sunny Lawn, 6 Durley Rd, Bournemouth BH2 5JL, Regno Unito
The Forecastle, Hucksteps Row, Church Square, Rye TN31 7HG, Regno Unito
The Mermaid Inn, Mermaid St, Rye TN31 7EY, Regno Unito
Santa Maria, West St, Rye TN31 7ES, UK
Radclyffe Hall and Una Vincenzo, Lady Troubridge House, 8 Watchbell St, Rye TN31 7HA, Regno Unito
Black Boy, 4 High St, Rye TN31 7JE, Regno Unito
502 Dolphin Square East Side, Pimlico, London SW1V, Regno Unito
59 Cadogan Square, Chelsea, London SW1X 0HZ, Regno Unito
22 Draycott Ave, Chelsea, London SW3 3AA, Regno Unito
1 Swan Walk, Chelsea, London SW3 4JJ, Regno Unito
Shelley Court, 56 Tite St, Chelsea, London SW3 4JB, Regno Unito
10 Sterling St, Knightsbridge, London SW7 1HN, Regno Unito
7 Trevor Square, Knightsbridge, London SW7 1DT, Regno Unito
37 Holland St, Kensington, London W8 4LX, Regno Unito
98 St Martin's Ln, London WC2N, Regno Unito
Highgate Cemetery, Swain's Ln, Highgate, London N6 6PJ, Regno Unito
Hall–Carpenter Archives, 230 Bishopsgate, London EC2M 4QH, Regno Unito
Marguerite Radclyffe Hall (12 August 1880 – 7 October 1943) was an English poet and author. She is best known for the novel The Well of Loneliness, a groundbreaking work in lesbian literature. Associate of of Hall and her lover Una Troubridge included Gwen Farrar, an actor, who gave a dance in June 1923 at which they met Teddie Gerard.
Marguerite Radclyffe Hall was born in 1880 at "Sunny Lawn", Durley Road, Bournemouth, Hampshire (now Dorset),[1] to a wealthy philandering father, Radclyffe Radclyffe-Hall, and an unstable mother, Mary Jane Diehl.[2] Her stepfather was the professor of singing Albert Visetti, whom she did not like and who had a tempestuous relationship with her mother.[3][4] Hall was a lesbian[5] and described herself as a "congenital invert", a term taken from the writings of Havelock Ellis and other turn-of-the-century sexologists. Having reached adulthood without a vocation, she spent much of her twenties pursuing women she eventually lost to marriage.
In 1907 at the Bad Homburg spa in Germany, Hall met Mabel Batten, a well-known amateur singer of lieder. Batten (nicknamed "Ladye") was 51 to Hall's 27, and was married with an adult daughter and grandchildren. They fell in love, and after Batten's husband died they set up residence together. Batten gave Hall the nickname John, which she used the rest of her life.[6]

Radclyffe Hall and Una Troubridge at the Ladies' Kennel Club Dog Show, Ranelagh, 1920

Radclyffe Hall and Una Troubrigde at Crufts, 1923

Radclyffe Hall in The Bookman, May 1927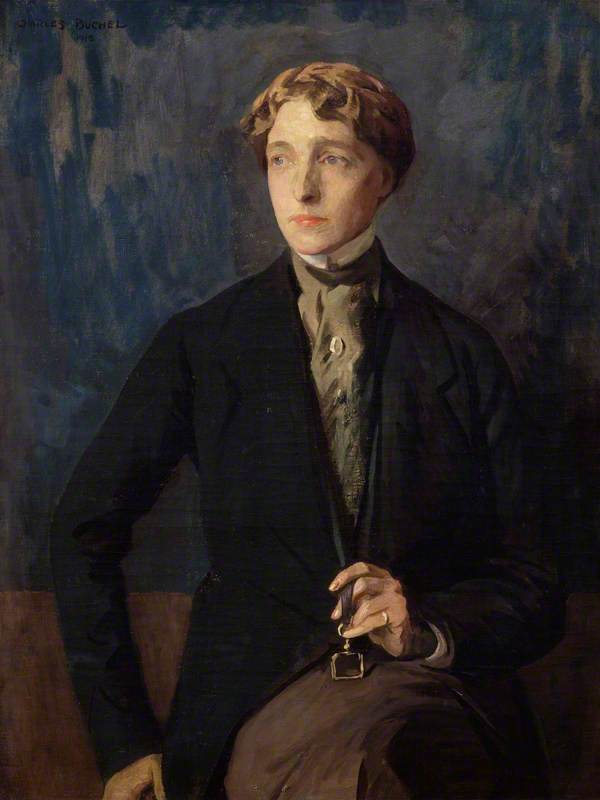 Radclyffe Hall 1918 Charles A. Buchel (1872–1950) National Portrait Gallery, London
In 1915 Hall fell in love with Mabel Batten's cousin Una Troubridge (1887–1963), a sculptor who was the wife of Vice-Admiral Ernest Troubridge, and the mother of a young daughter. When Batten died in 1916, Hall had Batten's corpse embalmed and a silver crucifix blessed by the pope laid on it.[7] Hall, Batten and Troubridge were "undeterred by the Church's admonitions on same-sex relationships. Hall's Catholicism sat beside a life-long attachment to spiritualism and reincarnation."[8] In 1917, Radclyffe Hall and Una Troubridge began living together.[9] From 1924 to 1929 they lived at 37 Holland Street, Kensington, London.[10]
The relationship would last until Hall's death. In 1934 Hall fell in love with Russian émigrée Evguenia Souline and embarked upon a long-term affair with her, which Troubridge painfully tolerated.[11] Hall became involved in affairs with other women throughout the years.[12][13]

Sunny Lawn, 6 Durley Rd, Bournemouth
Hall lived with Troubridge in London and, during the 1930s, in the tiny town of Rye, East Sussex, noted for its many writers, including her contemporary the novelist E. F. Benson. At Rye there were several lesbian households nearby, among them Edith Craig living with Christopher St. John (aka Christabel Marshall ) and Clare "Tony" Atwood; Lady Maud Warrender and Marcia van Dresser; and Mary Allen, pioneer policewoman, with Miss Taggart.
Hall died at age 63 of colon cancer, and is interred at Highgate Cemetery in North London at the entrance of the chamber of the Batten family, where Mabel is buried as well.
In 1930, Hall received the Gold Medal of the Eichelbergher Humane Award. She was a member of the PEN club, the Council of the Society for Psychical Research and a fellow of the Zoological Society.[14] Radclyffe Hall was listed at number sixteen in the top 500 lesbian and gay heroes in The Pink Paper.[15]
---
My published books:

---
https://en.wikipedia.org/wiki/Radclyffe_Hall