Partner Mohammed el Adl, Mattei Radev, Bob Buckingham
Queer Places:
Rooks Nest House, Weston Rd, Stevenage SG1 3RW, UK
Dryhurst, Dry Hill Park Rd, Tonbridge TN10 3BN, UK
Hackhurst Ln, Dorking RH5 6SF, UK
Tonbridge School, High St, Tonbridge TN9 1JP, UK
12 King's Parade, Cambridge CB2 1SJ, UK
3 Trumpington St, Cambridge CB2, UK
University of Cambridge, 4 Mill Ln, Cambridge CB2 1RZ
19 Monument Green, Weybridge KT13 8QT, UK
6 Melcombe Pl, Marylebone, London NW1, UK
11 Drayton Gardens, Kensington, London, UK
Raymond Buildings (5 Gray's Inn Square, Holborn, London WC1R 5AH)
27 Brunswick Square, Bloomsbury, London WC1N 1AW, UK
6 Hammersmith Terrace, London W6 9TS, UK
Arlington Park Mansions, 9 Sutton Ln N, Chiswick, London W4 4LA, UK
Thistle Holborn, 36-37 Bloomsbury Way, London WC1A 2SD, UK
Palazzo Jennings Riccioli, Corso dei Tintori, 7, 50122 Firenze FI, Italia
11 Salisbury Ave, Coventry CV3 5DA, UK
Canley Garden Cemetery & Crematorium, Cannon Hill Rd, Coventry CV4 7DF, UK
Edward Morgan Forster OM CH (1 January 1879 – 7 June 1970) was an English novelist, short story writer, essayist and librettist. Many of his novels examined class difference and hypocrisy in early 20th-century British society, notably A Room with a View (1908), Howards End (1910), and A Passage to India (1924), which brought him his greatest success. He was nominated for the Nobel Prize in Literature in 16 different years.[1][2] He was part of the Cambridge Apostles. He appears as the writer Benjamin Dexter in The Third Man (1950) by Graham Greene.
Hugh Owen Meredith was at Kings College in 1897 and is the H.O.M. to whom 'A Room with a View' was dedicated. Forster started writing 'Maurice', his candid and at the time unpublishable story of homosexual love, in 1913. It was finished in 1914. Hugh Meredith was one of the friends he showed the incomplete manuscript to and it is thought that the character of Clive Durham in the book may have been based on Meredith. Meredith's reaction was apparently disappointing for Forster.
Forster was homosexual, which prompted themes in his works, especially the novel Maurice. Though conscious of his repressed desires, he was twenty-seven before he yielded to them physically. In 1906 he fell in love with Syed Ross Masood, a seventeen-year-old future Oxford student he tutored in Latin. The Indian had more of a romantic, poetic view of friendship, confusing Forster with constant avowals of his love.[31]
On 7 October 1912, Forster set sail from Naples for India, where he made his way to Aligarh to visit Masood, and the two of them went on to Delhi together. In Chhatarpur he met the Maharaja Vishnwarath Singh Bahadur, lover of boys and seeker of Truth. (This was to be J.R. Ackerley's Maharaja of Chhokrapur.) Then, in December, he met the twenty-four-year-old Maharaja of Dewas. In their first conversation, the Maharaja made fun of Forster's sexual interests, which Forster thought ill-bred of him. In January 1913, he rejoined Masood in Bankipore.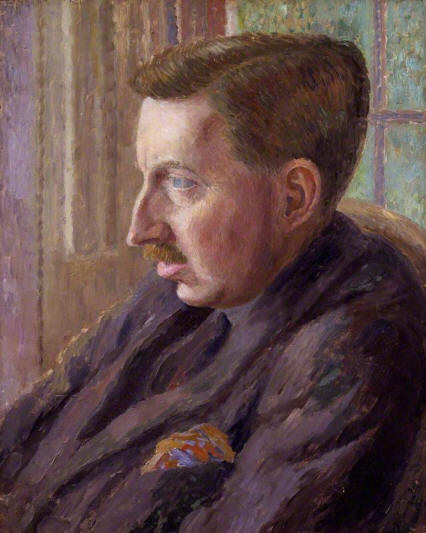 E. M. Forster 1920 Dora Carrington (1893–1932) National Portrait Gallery, London

The Memoir Club (Duncan Grant; Leonard Woolf; Vanessa Bell; Clive Bell; David Garnett; Baron Keynes; Lydia Lopokova; Sir Desmond MacCarthy; Mary MacCarthy; Quentin Bell; E. M. Forster) Vanessa Bell (1879–1961) National Portrait Gallery, London

E.M. Forster and Mattei Radev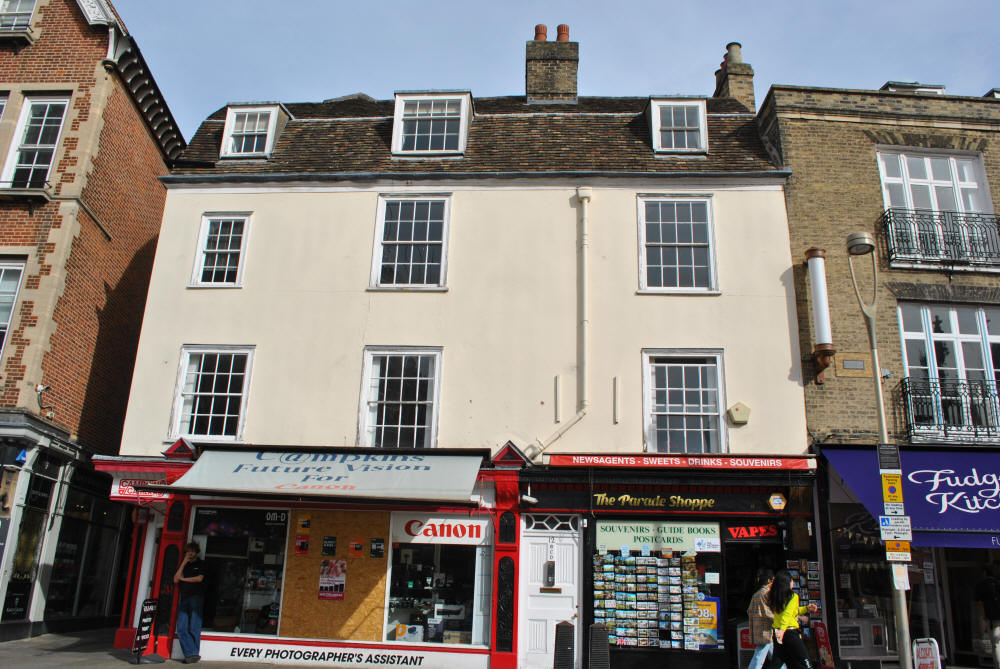 12 King's Parade, Cambridge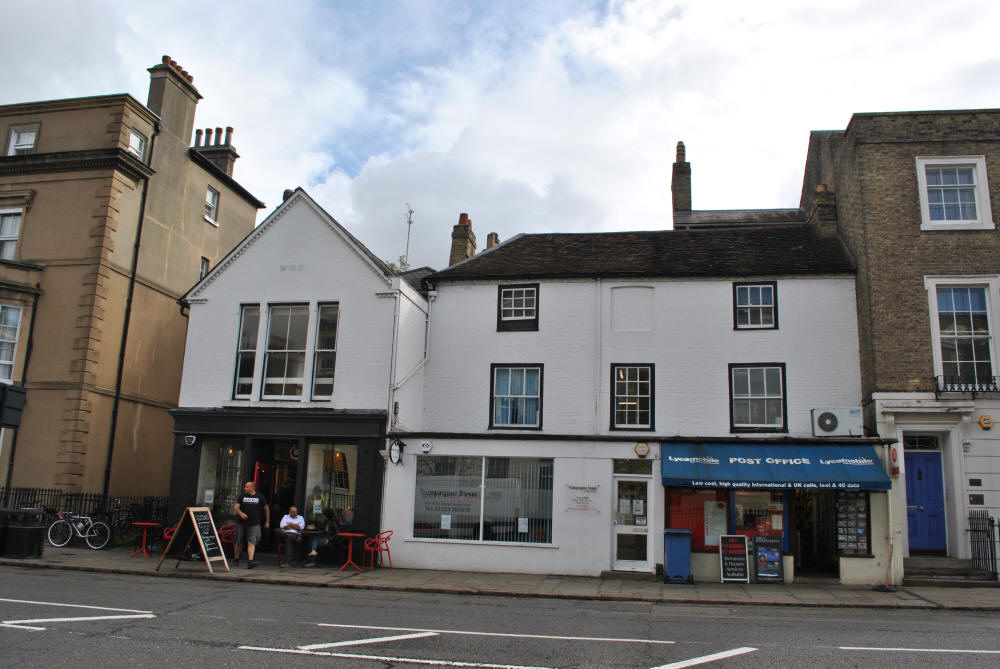 3 Trumpington St, Cambridge
Forster and his mother stayed at Pensione Simi, now Hotel Jennings Riccioli, Florence, in 1901. Forster took inspiration from this sojourn for the Pension Bertolini in A Room with a View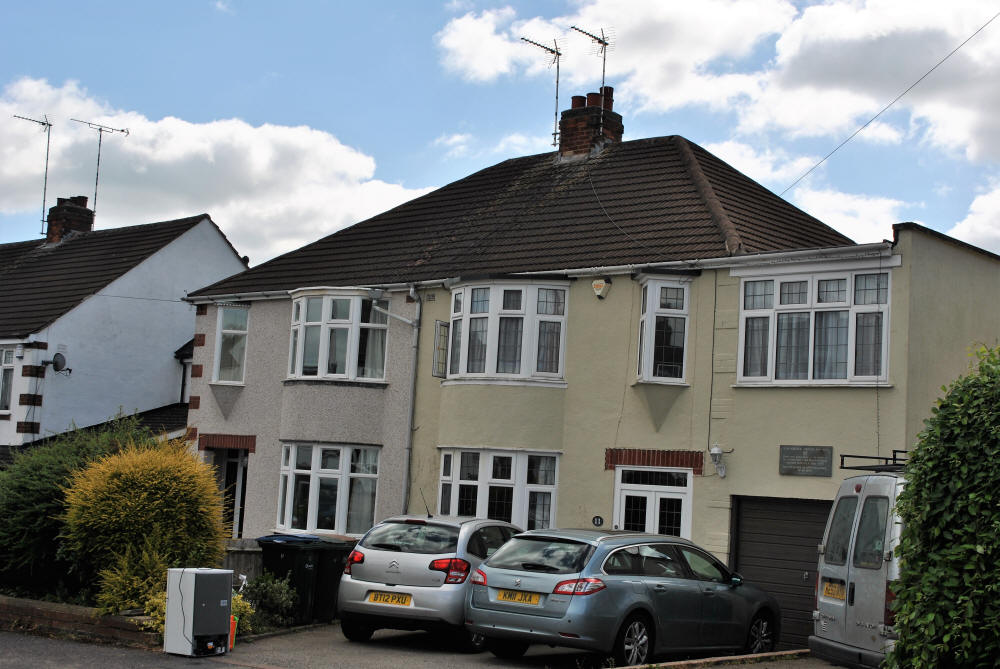 Forster lived in this house, home of his friends Robert and May Buckingham, and died here on 7 June 1970. The sign on the wall above the garage door marks the 100th anniversary of his birth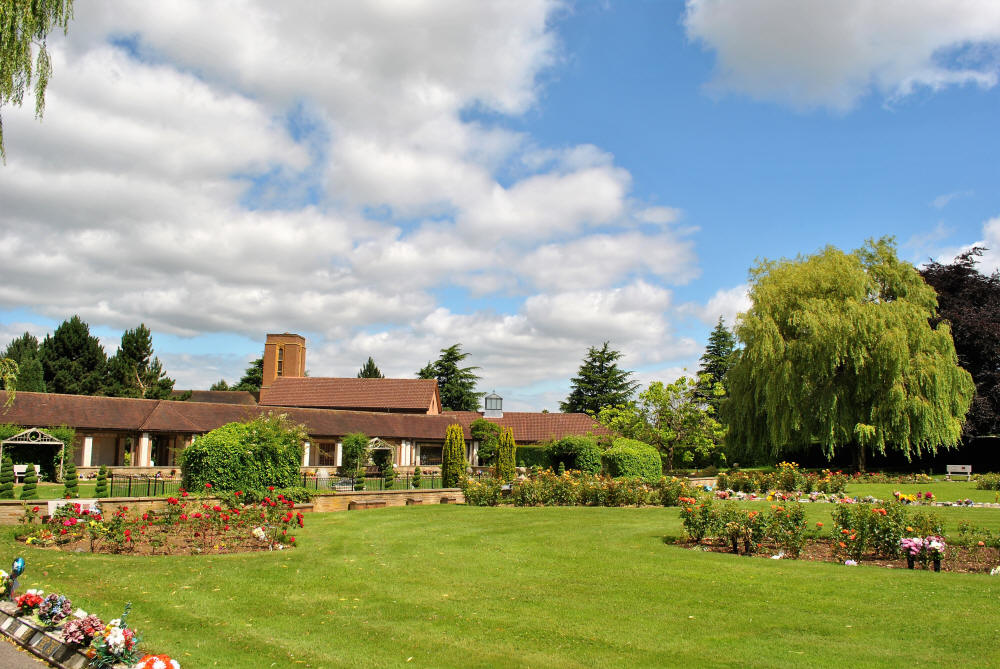 Canley Garden crematorium
E.M. Forster famously recorded the sight of Cavafy in a street in Alexandria, standing absolutely motionless at a slight angle to the universe. Forster had been posted to Egypt in October 1915 as a Red Cross searcher, interviewing the wounded for information about the missing. He landed at Port Said on 20 November and took the train to Alexandria, where he booked into the Majestic Hotel. He had come to Egypt for three months but stayed for three years. Through Greek and Grecophile friends, on 7 March 1916, in the Mohammed Ali Club at 2 rue Rosette (now 2 Fouad, Al Attarin Sharq, Al Attarin, Alexandria Governorate), he met Cavafy. It was Robin Furness – ex of King's College, now of the Press Censorship Department of the Egyptian Civil Service, translator of the Greek Anthology and of Callimachus – who first took Forster to Cavafy's flat on the rue Lepsius.
His spirits were then raised by his friendship with a tram conductor, Mohammed el Adl, aged about seventeen. Forster first spoke to him in January 1917. Matters developed slowly and it was not until May that they first met off the tram, in the Municipal Gardens, before going back to Mohammed's room. Their first kiss took place at the third of their off-the-tram meetings, this time in Forster's room. Obviously proud of himself, Forster wrote of their romance to friends back in England, including Edward Carpenter, Goldsworthy Lowes Dickinson and Lytton Strachey. However, in October 1917, Mohammed had to leave Alexandria, Robin Furness having found him a job with the military on the Suez Canal. Mohammed got married in October 1918. Forster left Alexandria on 2 January 1919 and was back in England by the end of the month.
In 1921, the Maharaja of Dewas invited Forster to spend six months as his secretary. On the way back to England in January 1922, he found Mohammed dying of consumption. He spent a month in Egypt, but seems not to have called on Cavafy. When he left, Mohammed's last words to him were, 'My love to you there is nothing else to say.' On 17 May he heard that Mohammed el Adl had died.
In the 1920s, T. E. Lawrence, who had hardly dared evoke his rape by Turkish soldiers in The Seven Pillars of Wisdom ('the citadel of my integrity was irrecoverably lost'), was delighted by E. M. Forster's 'unpublishable' tales, 'The Life to Come' (1922) and 'Dr Woolacott' (1927). It was not the skilful reticence that excited him but the surprising openness: There is a strange cleansing beauty about the whole piece of writing ['Dr Woolacott']. [. . .] I must confess that it has made me change my point of view. I had not before believed that such a thing could be so presented – and so credited.
Forster was open to his close friends, but not to the public and a lifelong bachelor.[13] He developed a long-term relationship with Bob Buckingham (1904–1975), a married policeman.[14] Forster included Buckingham and his wife May in his circle, which included J. R. Ackerley, a writer and literary editor of The Listener, the psychologist W. J. H. Sprott, and for a time, the composer Benjamin Britten. Other writers with whom Forster associated included Christopher Isherwood, the poet Siegfried Sassoon, and the Belfast-based novelist Forrest Reid.
Forster's third novel, A Room with a View (1908), is his lightest and most optimistic. It was started as early as 1901, before any of his others; its earliest versions are entitled "Lucy". The book explores the young Lucy Honeychurch's trip to Italy with her cousin, and the choice she must make between the free-thinking George Emerson and the repressed aesthete Cecil Vyse. George's father Mr Emerson quotes thinkers who influenced Forster, including Samuel Butler. The book was adapted as a film of the same name in 1985 by the Merchant Ivory team.
Radclyffe Hall wrote The Well of Loneliness in 1928. As usual, it contained sketches of people she knew: Noël Coward as Jonathan Brockett, for instance, and Natalie Barney as Valérie Seymour. Many prominent readers found the book boring or ridiculous. T.E. Lawrence said of it, in a letter to E.M. Forster, 'I read The Well of Loneliness: and was just a little bored. Much ado about nothing.'
In 1930, after dining with various homosexual men, including E.M. Forster and Lytton Strachey, whose conversation strayed on to the topic of attractive youths, Virginia Woolf said she had received 'a tinkling, private, giggling impression. As if I had gone into a men's urinal.' Of Eddy Sackville-West she said, quite simply, 'I can't take Buggerage seriously.' Hermione Lee, her biographer, comments, as follows: 'Like Simone de Beauvoir twenty years later … the feminist in her deplored the fact that gay men seemed to want to be women. And she must also have felt that homosexuality was, for the next generation of writers, an exclusive exclusive passport for literary success.'
In his essay 'What I Believe' (1939), E.M. Forster wrote, 'if I had to choose between betraying my country and betraying my friend, I hope I should have the guts to betray my country.'
Mattei Radev was a lover of the writer E.M. Forster, with whom he began an affair in 1960. Radev's friend Eardley Knollys ran the Storran Gallery in London with his partner Frank Coombs from 1936 and 1944. Coombs was killed in an air raid in Belfast in 1941, which led to Knollys closing the gallery in 1944. Eddy, Lord Sackville-West, who had briefly been Knollys' lover when they were students at Oxford University in the early 1920s, later became a life long friend. In 1945, Knollys, Sackville-West and the music critic Desmond Shawe-Taylor together bought a Georgian rectory at Long Crichel, Dorset, where they held weekend salons, attended by some of the most notable cultural figures of the period, including Benjamin Britten, Nancy Mitford, Graham Greene and Somerset Maugham. Radev often visited; it was there that he met E.M. Forster. In 1965, Eardley Knollys inherited a large collection of artworks from Edward Sackville-West, who began the collection in 1938, which he added to and on his death in 1991, bequeathed to Radev. The collection, now known as The Radev Collection, consists of more than 800 works of Impressionist and Modernist art. One of the notable works is Two Male Nudes (1946) by Keith Vaughan, which was given to E.M. Forster by Christopher Isherwood. Forster later gave it to Radev, who he was in love with.
Forster died of a stroke[20] on 7 June 1970 at the age of 91, at Bob Buckingham' home in Coventry.[16] His ashes, mingled with those of Buckingham, were later scattered in the rose garden of Coventry's crematorium, near Warwick University.[21][22]
---
My published books:


---
https://en.wikipedia.org/wiki/E._M._Forster
Robb, Graham. Strangers: Homosexual Love in the Nineteenth Century . Pan Macmillan. Edizione del Kindle.
Rossini, Gill. Same Sex Love 1700-1957: A History and Research Guide . Pen and Sword. Edizione del Kindle.
Bourne, Stephen. Fighting Proud . Bloomsbury Publishing. Edizione del Kindle.
Woods, Gregory. Homintern . Yale University Press. Edizione del Kindle.
Homosexuals in History, A Study of Ambivalence in Society, Literature and the Arts, by A.L. Rowse, 1977