Husband John Ellingham Brooks, Partner Natalie Clifford Barney
Queer Places:
Académie Colarossi, 10 Rue de la Grande Chaumière, 75006 Paris, Francia
50 Tite St, Chelsea, London SW3 4JA, Regno Unito
15 Cromwell Rd, Kensington, London SW7 2JB, Regno Unito
Villa Cercola, Via Cercola, 80076 Capri NA, Italia
Villa Sant'Agnese, Via di S. Leonardo, 33, 50125 Firenze FI, Italia
11 Rue des Ponchettes, 06300 Nice, Francia
Cimetière de Caucade - Nice, 06, Alpes Maritimes
Romaine Brooks, born Beatrice Romaine Goddard (May 1, 1874 – December 7, 1970), was an American painter who worked mostly in Paris and Capri. Brooks specialized in portraiture and used a subdued tonal palette keyed to the color gray. Brooks and several other contemporary notable lesbians are portrayed (unsympathetically, as "odd women") in Extraordinary Women (1928) by Compton Mackenzie; Olympia Leigh is Romaine. Radclyffe Hall based Venetia Ford, the artist in The Forge (1924), on Romaine, who was so displeased with this "portrait" that she became a lifelong enemy of the author; Hall had described her as "beautiful with an elusive, inward kind of beauty difficult to describe." Djuna Barnes wrote a lively bagatelle called Ladies Almanack (1928); Natalie Barney featured here as Dame Evangeline Musset; Romaine Brooks as Cynic Sal; Lily de Gramont as the Duchesse Clitoressa of Natescourt; Una Troubridge as Lady Buck-and-Balk; Radclyffe Hall as Tilly Tweed-in-blood; Mina Loy as Patience Scalpel; Mimì Franchetti as Senorita Fly-About; and Janet Flanner and Solita Solano as Nip and Tuck. The book was privately published by Robert McAlmon.
Brooks ignored contemporary artistic trends such as Cubism and Fauvism, drawing on her own original aesthetic inspired by the works of Charles Conder, Walter Sickert, and James McNeill Whistler. Her subjects ranged from anonymous models to titled aristocrats. She is best known for her images of women in androgynous or masculine dress, including her self-portrait of 1923, which is her most widely reproduced work.[1] One of the most unusual aspects of the Stettheimers' salon was the large number of their gay, bisexual, and lesbian friends and acquaintances, who were comfortable being their authentic selves among their straight friends. Several of the sisters' closest friends, including Charles Demuth, Marsden Hartley, Henry McBride, Virgil Thomson, and Baron Adolph de Meyer (married to a lesbian, Olga Carracciolo) were homosexual; Carl Van Vechten, Cecil Beaton, and Georgia O'Keeffe were bisexual; Natalie Barney and Romaine Brooks were lesbians; and Alfred Stieglitz, Marcel Duchamp, Gaston Lachaise, Marie Sterner, and Leo Stein were heterosexual. This open, natural mix of friends with different sexual preferences continued when Stettheimer held salons in her studio in the Beaux Arts building in midtown Manhattan, although later in life she also had parties where most of the guests were strong feminist women.
Brooks was the daughter of Ella Waterman and Major Harry Goddard of Philadelphia. Brooks had an unhappy childhood after her alcoholic father abandoned the family; her mother was emotionally abusive and her brother mentally ill. By her own account, her childhood cast a shadow over her whole life. At six years old, her mother abandoned her in New York, and her mother's family placed her in St. Mary's Hall, an Episcopal Boarding School in New Jersey. Later she was enrolled for two years in a convent school in Italy and a private finishing school in Geneva.

Self Portrait, 1900

Self-portrait, 1912

Natalie and Romaine in Geneva, ca. 1915

Self Portrait, 1923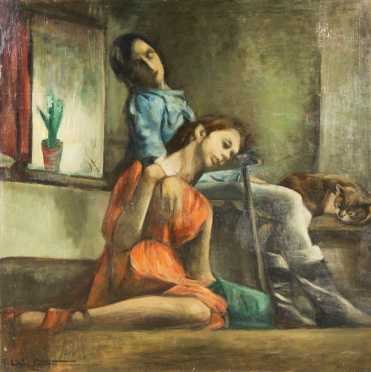 Lillian Cotton, (1901-1962). Boston, New York, Paris. Possibly Natalie Barney and Romaine Brooks

Villa Sant'Agnese, Via di S. Leonardo
She spent several years in Italy and France as a poor art student, then inherited a fortune upon her mother's death in 1902. Wealth gave her the freedom to choose her own subjects. She often painted people close to her, such as the Italian writer and politician Gabriele D'Annunzio, the Russian dancer Ida Rubinstein, and her partner of more than 50 years, the writer Natalie Barney.
On 13 June 1903 Goddard married her friend John Ellingham Brooks, an unsuccessful pianist and translator who was in deep financial difficulty. He was homosexual and Goddard never revealed exactly why she married him. Her first biographer Meryle Secrest suggests that she was motivated by concern for him and a desire for companionship, rather than the need for a marriage of convenience. They quarreled almost immediately when she cut her hair and ordered men's clothes for a planned walking tour of England; he refused to be seen in public with her dressed that way. Chafing at his desire for outward propriety, she left him after only a year and moved to London. He frightened her because he kept making references to "our" money.[9] She left him and went to London, where she bought a house on Tite Street in Chelsea. When her husband tracked her down, she would not let him in. He went back to Capri, where, for a while, he shared a house with the novelist E. F. Benson,[10] author of the Mapp and Lucia novels. He would die on the island in 1929.
Brooks bought herself a house on the avenue du Trocadéro in Paris in 1905. She had an affair with Renée Vivien in 1907, and then with Winnaretta Singer.
After her first solo exhibition, in May 1910, she received commissions for portraits from Gabriele d'Annunzio and Ida Rubinstein. She rented a villa near Arcachon in the summer of 1910, living there with d'Annunzio while he wrote The Martyrdom of Saint Sebastian, in which Rubinstein was to star in the title role; but she found his life too troubled and left early. After the première of the play at the Théâtre du Châtelet on 22 May 1911, Brooks began an affair with Rubenstein. She painted her in varying degrees of nakedness. Brooks met Natalie Barney in 1915.
In 1916, Brooks returned to Italy to be near Gabriele D'Annunzio, whom she had met in Paris in 1910 and with whom she shared a long friendship and a brief but passionate romance.
The longest and most important relationship of Brooks' life was her three-way partnership with Natalie Clifford Barney, an American-born writer, and Lily de Gramont, a French aristocrat. She formed a trio with them that lasted the rest of their lives.
Barney was notoriously non-monogamous, a fact that the other two women had to accept. Brooks met Barney in 1916, at a time when the writer had already been involved for about seven years with Duchess Élisabeth de Gramont, also known as Lily or Elisabeth de Clermont-Tonnerre. She was married and the mother of two daughters. After a brief dust-up that resulted in Barney's offering Gramont a marriage contract while at the same time refusing to give up Brooks, the three women formed a stable lifelong triangle in which none was a third wheel. Gramont, one of the most glamorous taste-makers and aristocrats of the period, summed up their values when she said, "Civilized beings are those who know how to take more from life than others."[2] Gender fluidity and sexual freedom were paramount among women of Brooks' circle. Barney hosted a literary salon on Paris's Left Bank.
Brooks tolerated Barney's casual affairs well enough to tease her about them, and had a few of her own over the years. She could become jealous when a new love became serious. Usually she simply left town, but at one point she gave Barney an ultimatum to choose between her and Dolly Wilde—relenting once Barney had given in.[26] At the same time, while Brooks was devoted to Barney, she did not want to live with her full-time. She disliked Paris, disdained Barney's friends, and hated the constant socializing on which Barney thrived. She felt most fully herself when alone.[27] To accommodate Brooks's need for solitude, the women built a summer home consisting of two separate wings joined by a dining room, which they called Villa Trait d'Union, the "hyphenated villa". Brooks spent part of each year in Italy or traveling elsewhere in Europe, away from Barney.[28] The relationship lasted for more than 50 years.
Brooks's portrait of Barney has a softer look than her other paintings of the 1920s. Barney sits, swathed in a fur coat, in the house at 20 Rue Jacob where she lived and held her salon. In the window behind her, the courtyard is seen dusted with snow. Brooks often included animals or models of animals in her compositions to represent the personalities of her sitters;[29] she painted Barney with a small sculpture of a horse, alluding to the love of riding that had led Remy de Gourmont to nickname her "the Amazon". The paper on which the horse stands may be one of Barney's manuscripts.[30]
In the 1920s the painter Romaine Brooks courted Radclyffe Hall for a while, but to no avail. Undeterred, she invited Hall and Una Vincenzo, Lady Troubridge to visit her in the Villa Cercola on Capri. But Hall and Troubridge both liked Romaine Brooks, even if Brooks was upset by the portrayal of herself in Hall's first novel, The Forge (1924), and even if Troubridge hated the portrait Brooks painted of her.
From 1920 to 1924, most of Brooks's subjects were women who were in Barney's social circle or who visited her salon. Truman Capote, who toured Brooks's studio in the late 1940s, may have been exaggerating when he called it "the all-time ultimate gallery of all the famous dykes from 1880 to 1935 or thereabouts",[31] but Brooks painted many of them. Barney's lover of the moment was Elizabeth Eyre de Lanux; her own lover Renata Borgatti; Una Vincenzo, Lady Troubridge, the partner of Radclyffe Hall; and the artist Gluck (Hannah Gluckstein). Another of Brooks' lovers was the wildly eccentric Marchesa Luisa Casati, whose portrait she painted in 1920 while on Capri.[32]
Several of these paintings depict women who had adopted some elements of male dress. While in 1903 Brooks had shocked her husband by cutting her hair short and ordering a suit of men's clothes from a tailor, by the mid-1920s bobbed and cropped hairstyles were "in" for women and wearing tailored jackets—usually with a skirt—was a recognized fashion, discussed in magazines as the "severely masculine" look.[33] Women such as Gluck, Troubridge, and Brooks used variations of the masculine mode, not to pass as men, but as a signal—a way of making their sexuality visible to others. At the time these paintings were made, however, it was a code that only a select few knew how to read.[34] To a mainstream audience, the women in these paintings probably just looked fashionable.
Gluck, an English artist whom Brooks painted around 1923, was noted in the contemporary press as much for her style of dress as for her art. She pushed the masculine style further than most by wearing trousers on all occasions, which was not considered acceptable in the 1920s. Articles about her presented her cross-dressing as an artistic eccentricity or as a sign that she was ultra-modern.[35] Brooks' portrait shows Gluck in a starched white shirt, a silk tie, and a long black belted coat that she designed and had made by a "mad dressmaker";[36] her right hand, at her waist, holds a man's hat. Brooks painted these masculine accoutrements with the same attention she had once given to the parasols and ostrich plumes of La Belle Époque. But while many of Brooks' early paintings show sad and withdrawn figures "consumed by petticoats, veiled hats and other period trappings of femininity",[37] Gluck is self-possessed and quietly intense—an artist who insists on being taken seriously.[38] Her appearance is so androgynous that it would be difficult to identify her as a woman without help from the title, and the title itself—Peter, a Young English Girl—underscores the gender ambiguity of the image.[39]
Brooks's 1923 self-portrait has a somber tone. Brooks—who also designed her own clothes[40]—painted herself in a tailored riding coat, gloves, and top hat. Behind her is a ruined building rendered in gray and black, underneath a slate-colored sky. The only spots of strong color are her lipstick and the red ribbon of the Legion of Honor that she wears on her lapel, recalling the Red Cross insignia in The Cross of France.[41] Her eyes are shaded by the brim of her hat, so that, according to one critic, "she's watching you before you get close enough to look at her. She's not passively inviting your approach; she's deciding whether you're worth bothering with."[42]
Although she lived until 1970, it is mistakenly thought that she painted very little after 1925 despite evidence to the contrary.[2] She made a series of drawings during the 1930s, using an "unpremeditated" techniques predating automatic drawing. She spent time in New York City in the mid 1930s and completed portraits of Carl Van Vechten and Muriel Draper. Many of her works are unaccounted for but photographic reproductions attest to her on-going art making thought to have culminated in her 1961 portrait of Duke Uberto Strozzi.[2]
Compton Mackenzie published Extraordinary Women in 1928. Brooks is recognizable in the character of the composer Olimpia Leigh. Other two principal characters, Cleo Gazay and Rosalba Donsante, are recognizable as Renata Borgatti and Mimi Franchetti.
In 1930 Barney and Brooks had a villa built in a forest near St-Tropez, big enough for Brooks to isolate herself in her half while Barney surrounded herself with friends in hers. But this approximate approach to shared domesticity did not work. They drifted apart until the Second World War forced them together again – in Florence, where both were happily pro-fascist – but Barney returned alone to Paris in May 1946. When Barney showed Brooks' deserted studio, still full of portraits, to Truman Capote, he called it 'the all-time ultimate gallery of famous dykes' and 'an international daisy chain'.
She died in Nice, France, in 1970 at the age of 96. Brooks is buried in the old English Cemetery in Nice, in a family plot with her mother and her brother St. Mar.[58]
| | | | | | | | |
| --- | --- | --- | --- | --- | --- | --- | --- |
| Carl Van Vechten, 1936 | Catherine, Baroness d'Erlanger, 1924 | Elisabeth de Gramont, 1920 | Elsie De Wolfe, 1914-1915 | Madame Errazuris, 1908 | Gabrile d'Annunzio, 1912 | Gluck, 1923-1924 | Ida Rubinstein, 1911 |
| Jean Cocteau, 1912 | John Fothergill | Madame Legrand, 1912 | Princesse Lucien Murat, 1910 | Luisa Casati, 1920 | Muriel Draper, 1936 | Natalie Clifford Barney, 1920 | Renata Borgatti, 1920 |
| Duke Uberto Strozzi, 1961 | Una Vincenzo, 1924 | | | | | | |
| | | | | | | | |
---
My published books:

---
https://en.wikipedia.org/wiki/Romaine_Brooks
Woods, Gregory. Homintern . Yale University Press. Edizione del Kindle.
Rupp, Leila J.. Sapphistries (Intersections) (pp.173-174). NYU Press. Edizione del Kindle.