Wife Faith Stone
Queer Places:
University of Oxford, Oxford, Oxfordshire OX1 3PA
St Paul's School, Lonsdale Rd, Barnes, London SW13 9JT, Regno Unito
The Albany, Albany Court Yard, Mayfair, London W1J, Regno Unito
Villa Solitaria, Via del Pizzolungo, 80076 Capri NA
Eolaigearraidh, Cille Bharra, Eoligarry, Isle of Barra HS9 5YE, Regno Unito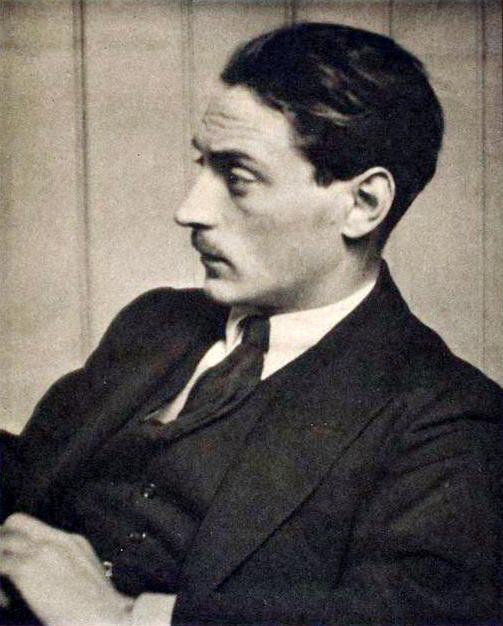 Sir Compton Mackenzie, OBE (born Edward Montague Compton Mackenzie, 17 January 1883 – 30 November 1972) was an English-born Scottish writer of fiction, biography, histories and a memoir, as well as a cultural commentator, raconteur and lifelong Scottish nationalist. He was one of the co-founders in 1928 of the Scottish National Party along with Hugh MacDiarmid, RB Cunninghame Graham and John MacCormick. He was knighted in 1952.
The 1920s were boom years for lesbian literature, seeing the publication of a large range of texts from virulently anti-lesbian works, such as Compton MacKenzie's Extraordinary Women (1928), through relatively traditional celebrations of romantic friendship, such as Elizabeth Bowen's The Hotel (1927), to radical modernist texts with encoded lesbian themes, such as Virginia Woolf's Orlando (1928).
Between 1913 and 1920 he lived with his wife, Faith, on Capri at Villa Solitaria, and returned to visit in later years. This Italian island near Sorrento was known to be tolerant not just of foreigners in general, but of artists and homosexuals in particular. He became friends with the writer Somerset Maugham, a frequent visitor to the island. Faith had an affair with the Italian pianist Renata Borgatti,[22] who was connected to Romaine Brooks. Although – and because – his wife was with him, Mackenzie bought himself a cottage in which to meet his boyfriends or to lend to friends for the same purpose.
Compton Mackenzie's observations on the local life of the Italian islanders and foreign residents led to at least two novels, Vestal Fire (1927) (dedicated to John Ellingham Brooks) and Extraordinary Women (1928) (dedicated to Normam Douglas).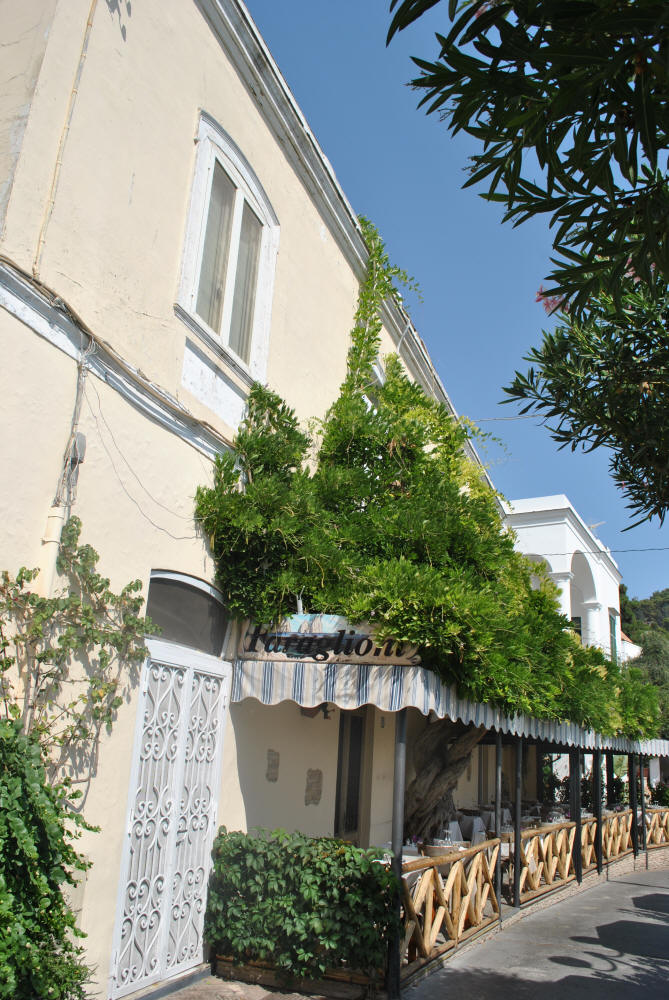 Pensione Faraglioni, Capri
The central theme of Vestal Fire was the infatuation of two American lesbians (real life Kate Wolcott Perry and Saidee Wolcott Perry) for a French pederast and drug-addict (real life Jacques d'Adelswärd-Fersen) – not at all an easy subject to present explicitly in 1926. Furthermore three other important characters – Vernon Andrews ('Nigel Dawson'), Norman Douglas ('Duncan Maxwell') and Godfrey Thornton ('Anthony Burlingham') – were also homosexual. In portraying events which had occurred before his own arrival in 1913 he relied heavily on John Ellingham Brooks, who had been a shrewd observer of the Capri scene since 1895. Mackenzie dedicated Vestal Fire to Brooks in 'memory of the hours you have spent listening to other stories of mine in the making, to many a long talk under the moon and many a long walk in the sun, to the bottles of wine and the glasses of vermouth we have drunk together, to the music and the scandal we have enjoyed, but perhaps most of all to the laughs we have had, of which I hope you will hear a faint echo as you turn over the pages of this book'.
Extraordinary Women, a roman à clef about a group of lesbians arriving on the island of Sirene, a fictional version of Capri,[23][24] was published in Britain in the same year as two other ground-breaking novels with lesbian themes, Virginia Woolf's love letter to Vita Sackville-West, Orlando, and Radclyffe Hall's controversial polemic, The Well of Loneliness, but Mackenzie's satire did not attract legal attention.[25] He was a friend of Axel Munthe, who built Villa San Michele, and Edwin Cerio, who later became mayor of Capri.[26] In Capri Mackenzie had an affair with Luigi Ruggiero, brother of garden designer Mimì Ruggiero, who did the gardens at La Solitaria.
Mackenzie was married three times. On 30 November 1905, he married Faith Stone in St Saviour's, Pimlico: they remained married for more than 50 years, until her death.[28] In 1962, he married Christina MacSween, who died the following year. Lastly, he married his dead wife's sister, Lilian MacSween in 1965.[29]
Filmed in the summer and fall of 1935, Sylvia Scarlett, by a novel of Compton Mackenzie, was the story of a girl (Katharine Hepburn) disguised as a boy who teams up with a con man (Cary Grant) and falls in love for an artist. It was Hepburn's idea. She brought the story to George Cukor; he liked its naughty challenge to traditional male-female relationships. For screenwriter, they engaged John Collier, a British novelist recently brought to Hollywood. It was a sympatico collaboration, despite the fact that Collier was straight. "He was fascinated, just fascinated, by the queer world," said Don Bachardy, who, with his lover Christopher Isherwood, often hosted Collier at their Santa Monica home. "He wasn't the least bit gay, but he'd pump Chris for information about parties or dates he'd gone on."
Mackenzie was a keen supporter of West Bromwich Albion Football Club. Although from the north east of England, he "was influenced in the choice of Albion as 'my' team by the fact that their ground was romantically called The Hawthorns and that they were nicknamed the Throstles".[30]
He was also a keen fan of the game of snooker, and gave an account of the origin of the game's name in 'The Billiard Player' magazine of 1939, describing how young lieutenant Neville Chamberlain (not the former British Prime Minister) was experimenting on the officers' mess table with the existing game of 'Black Pool' featuring 15 red balls and a black.[31][32] He presented the World Championship trophy to Joe Davis at the 1939 Championships.
He converted to Roman Catholicism in 1914. He died on 30 November 1972, aged 89, in Edinburgh and was interred at Eoligarry on the Isle of Barra.
Identities of characters and places described in Compton Mackenzie's 'Vestal Fire' and 'Extraordinary Women'
'Vestal Fire'
| | |
| --- | --- |
| Real Name | Pseudonym |
| Edith Page Andrews | Elsie Neave |
| William Page Andrews | Joseph Rutger Neave |
| Alice Tweed Andrews | Mrs Dawson |
| Vernon Andrews | Nigel Dawson |
| The Misses Baker | Rachel and Hannah Bilton |
| Edna Blake | Marian de Feltre |
| Rev. Francis Burra | Rev. Cyril Alcott |
| The Misses Calvert | The Misses Cooper |
| Edwin Cerio | Enrico Jones |
| Giorgio Cerio | Alberto Jones |
| Nino Cesarini | Carlo di Fiore |
| Gilbert Clavel | Martel, the Belgian hunchback |
| Christina | Fortunata |
| Charles Caryl Coleman | Christopher Goldfinch |
| Dr Pasquale de Gennaro | Dr Squillace |
| Marquis de Julien | Marquis de la Tour des Bois |
| Don Giuseppe de Nardis | Don Pruno |
| Olga de Tschélischeff | Anastasia Sarbécoff |
| Doris, niece of Emilie Fraser | Phyllis Allerton |
| Norman Douglas | Duncan Maxwell |
| Mrs Edwardes | Adelaide Edwardes |
| Costanzo Federico | Agostino |
| Baron Jacques (Jack) d'Adelswärd-Fersen | Count Robert (Bob) Marsac-Lagerström |
| Horace Fisher | Francis Cartwright |
| Emelie Fraser | Mrs Hector Macdonnell |
| Giovanni Galatà | Peter Amrbogio |
| Gwendolen Galatà | Maud Ambrogio |
| Ferdinando Gamboni | Maestro Perella |
| Rev. Henry Gepp | Rev. William Wills |
| Mrs Ginsberg | Mrs Kafka |
| Alexander (Sandie) Grahame | Archibald (Archie) Macadam |
| Sophie Grahame | Effie Macadam |
| Alfredo Green | Arturo Westall |
| Morgan Heiskell | Harry Menteith |
| Mrs Hindle | Mrs Rosebotham |
| Thomas Spencer Jerome | John Scudamore |
| Miss Kennedy | Beatrice Mewburn |
| Isabel Kennedy | Dorothy Daynton |
| Pietro Lamberti | Cataldo |
| Lady Mackinder | Mrs Onslow |
| Don Giuseppe Morgano | Don Luigi Zampone |
| Donna Lucia Morgano | Donna Maria Zampone |
| Mariano Morgano | Ferdinando Zampone |
| Rose O'Neill | Sheila Macleod |
| Ouloen | Ibsen |
| Col. Bryan Palmes | Major Natt |
| Pretore Pestalozza | Numa Fogolare |
| Mimì Ruggiero | Gigi Gasparri |
| Henrietta (Yetta) S. Rupp | Nita |
| San Costanzo | San Mercurio |
| Sant'Antonio da Padova | San Bonzo |
| Federico Serena | Don Cesare Rocco |
| Margarete Sinibaldi | Madame Minieri |
| Mrs Spottiswood | Mrs Gibbs |
| Jan Styka | Zygmunt Konczynski |
| Godfrey Henry Thornton | Anthony Burlingham |
| Bertha Trower | Carrie Bookman |
| Harold Trower | Herbert Bookham |
| Anita Vedder | Angela Pears |
| Elihu Vedder | Simon Pears |
| Maestro Vito | Maestro Supino |
| Mrs Watts | Mrs Arkwright-Hughes |
| Annie Webb | Mrs Pape |
| Kathryn (Kate) Wolcott Perry | Virginia Pepworth-Norton |
| Saidee Wolcott Perry | Maimie Pepworth-Norton |
| William Woodsworth | Henry Mewburn |
| Count and Countess Zukov | Prince and Princess Marlinsky |
'Extraordinary Women'
---
My published books:


---
https://en.wikipedia.org/wiki/Compton_Mackenzie
A Lesbian History of Britain: Love and Sex Between Women Since 1500, Rebecca Jennings, Greenwood World Pub., 2007
Woods, Gregory. Homintern . Yale University Press. Edizione del Kindle.
Money, James. Capri: Island of Pleasure (p.225). Faber & Faber. Edizione del Kindle.