Queer Places:
Harvard University (Ivy League), 2 Kirkland St, Cambridge, MA 02138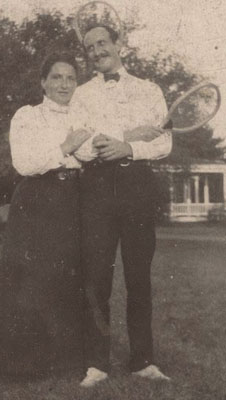 Leo Stein (May 11, 1872 – July 29, 1947) was an American art collector and critic. He was born in Allegheny City (now in Pittsburgh), the older brother of Gertrude Stein. He became an influential promoter of 20th-century paintings. One of the most unusual aspects of the Stettheimers' salon was the large number of their gay, bisexual, and lesbian friends and acquaintances, who were comfortable being their authentic selves among their straight friends. Several of the sisters' closest friends, including Charles Demuth, Marsden Hartley, Henry McBride, Virgil Thomson, and Baron Adolph de Meyer (married to a lesbian, Olga Carracciolo) were homosexual; Carl Van Vechten, Cecil Beaton, and Georgia O'Keeffe were bisexual; Natalie Barney and Romaine Brooks were lesbians; and Alfred Stieglitz, Marcel Duchamp, Gaston Lachaise, Marie Sterner, and Leo Stein were heterosexual. This open, natural mix of friends with different sexual preferences continued when Stettheimer held salons in her studio in the Beaux Arts building in midtown Manhattan, although later in life she also had parties where most of the guests were strong feminist women.
Beginning in 1892, Leo Stein studied at Harvard University in Cambridge, Massachusetts, for two years. The following year, he traveled the world with his cousin, Fred. In 1897, he transferred to Johns Hopkins University in Baltimore, Maryland, where he graduated with a Bachelor of Arts degree in 1898. Stein spent a number of years living in Paris with his sister. In 1914, the two split due to Leo's resentment of Gertrude's infatuation with Alice B. Toklas, whom he described as "a kind of abnormal vampire".[1] Stein returned to America to work as a journalist but eventually settled near Florence, Italy, with his long-time love interest, Nina Auzias. They eventually married in 1921.[2] Stein died of cancer in 1947 in Florence. Auzias committed suicide two years later.
---
My published books:


---
https://www.irequireart.com/blog/2017/07/19/imagine-the-fun-florine-stettheimer-would-have-with-donald-trump-the-artist-as-feminist-democrat-and-chronicler-of-her-time-by-barbara-bloemink/