Queer Places:
École des Beaux-Arts, 14 Rue Bonaparte, 75006 Paris
7 MacDougal Alley, New York, NY 10011
The Grosvenor, 35 5th Ave, New York, NY 10003
Indian Point Rd & ME-127, Georgetown, ME 04548
Ferncliff Cemetery and Mausoleum Hartsdale, Westchester County, New York, USA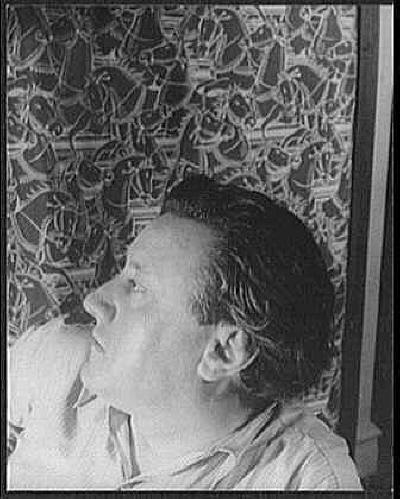 Gaston Lachaise (March 19, 1882 – October 18, 1935) was an American sculptor of French birth, active in the early 20th century. One of the most unusual aspects of the Stettheimers' salon was the large number of their gay, bisexual, and lesbian friends and acquaintances, who were comfortable being their authentic selves among their straight friends. Several of the sisters' closest friends, including Charles Demuth, Marsden Hartley, Henry McBride, Virgil Thomson, and Baron Adolph de Meyer (married to a lesbian, Olga Carracciolo) were homosexual; Carl Van Vechten, Cecil Beaton, and Georgia O'Keeffe were bisexual; Natalie Barney and Romaine Brooks were lesbians; and Alfred Stieglitz, Marcel Duchamp, Gaston Lachaise, Marie Sterner, and Leo Stein were heterosexual. This open, natural mix of friends with different sexual preferences continued when Stettheimer held salons in her studio in the Beaux Arts building in midtown Manhattan, although later in life she also had parties where most of the guests were strong feminist women.
A native of Paris, Lachaise was most noted for his female nudes such as Standing Woman. Gaston Lachaise was taught the refinement of European sculpture while living in France. He met a young American woman, Isabel Nagel, and the pair moved to America, where his craft reached maturity and he was influenced and inspired by American ways. Lachaise helped redefine the female nude in a new and powerful manner. His drawings also reflected his new style of the female form.
Born in Paris, Lachaise was the son of a cabinetmaker.[1] At age 13 he entered a craft school, the École Municipale Bernard Palissy, where he was trained in the decorative arts, and from 1898 to 1904 he studied sculpture at the École des Beaux-Arts under Gabriel-Jules Thomas. He began his artistic career as a designer of Art Nouveau decorative objects for the French jeweler René Lalique.
Around 1902 or 1903 he met and fell in love with Isabel Dutaud Nagle (1872–1957), a married American woman of French Canadian descent (she eventually was divorced from her husband and married Lachaise).[2] When she returned to her home near Boston in 1904, Lachaise vowed to follow her. After briefly working for the master jewelry and glass designer René Lalique in order to pay for his passage, he arrived in America in 1906, never to return to his native land. For the next fifteen years he earned a living as a sculptor's assistant. In Boston he worked for H. H. Kitson, an academic sculptor producing primarily military monuments.[3] In 1912 Lachaise went to New York City helping Kitson in his studio at 7 MacDougal Alley. Soon after, he went to work as an assistant to the sculptor Paul Manship, while also creating his own art. His association with Paul Manship lasted until 1921; the work of both sculptors can be seen at Rockefeller Center. In the early 1920s Lachaise bought a summer home and studio in Georgetown, Maine, Marsden Hartley being a frequent visitor.[4] In America, Lachaise matured into his unique style and portrayal of the female nude. He worked mostly in bronze. Lachaise's nudes were seen as strong yet gentle, husky but curvy, and seem to be referring to fertility as well. "The breasts, the abdomen, the thighs, the buttocks—upon each of these elements the sculptor lavishes a powerful and incisive massiveness, a rounded voluminousness, that answers not to the descriptions of nature but to an ideal prescribed by his own emotions."[5]

Georgia O'Keeffe (marble), by Gaston Lachaise, 1927, Metropolitan Museum of Art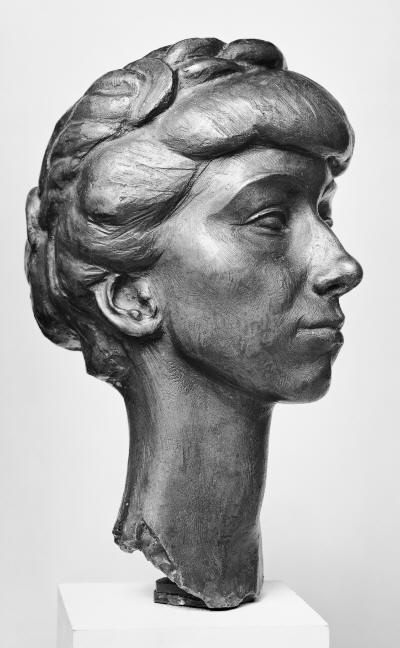 Marianne Moore, by Gaston Lachaise, Metropolitan Museum of Art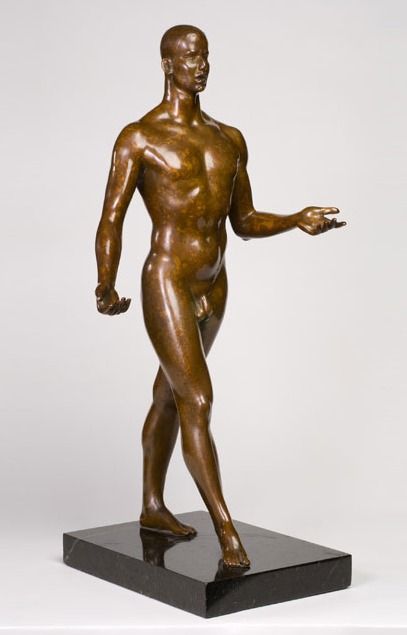 Lincoln Kirstein, by Gaston Lachaise
Lachaise's personal idiom was developed during the first decade of the twentieth century with his encounter with Isabel. But it was not until his arrival in New York, that he realized his principal manifesto: his concept of "Woman" as a force of nature based on his wife's image. In his own words he described his many sculpted images of the female nude in contrasting terms: vigorous, robust, and massive yet in repose, serene and eternal. In 1918, (eight months after he became an American citizen and married Isabel), Lachaise began his meteoric rise in the New York art world with his first solo show, held at the Bourgeois Galleries, which featured his challenging, heroic-sized Woman (Elevation). Lachaise's most famous work, Standing Woman (modeled 1928–30, copyrighted 1932, cast ca. 1933, Museum of Modern Art, New York), typifies the image that Lachaise worked and reworked: a voluptuous female nude with sinuous, tapered limbs. Lachaise was also known as a portraitist. He executed busts of famous artists and literary celebrities, such as Georgia O'Keeffe, John Marin, Marianne Moore and Lincoln Kirstein. In 1935 the Museum of Modern Art in New York City held a retrospective exhibition of Lachaise's work, the first at that institution for any American sculptor.[6] Gaston Lachaise was an extremely versatile sculptor, technically expert in several media and accomplished with both ideal and commercial effort. His work was chosen for several major New York architectural commissions – including the AT&T Building and Rockefeller Center. And the more commercial aspect of his sculptural output – the production of fountains and decorative bronzes, primarily depicting animals – offered him some financial relief. Yet Lachaise's artistic legacy is closely bound to his depictions of "Woman." His late works, which are extreme in their manipulation of his ideal of the human anatomy, are erotic and emotional and avant-garde. Called by ARTnews the "greatest American sculptor of his time", he played a critical role in the birth of American Modernism, pushing the boundaries of nude figuration with his innovative explorations of the human body. His artistic career was cut short by his unexpected death from acute leukemia on October 18, 1935.
In 1963, Lachaise's widow Isabel established the Lachaise Foundation with the intention of perpetuating Gaston Lachaise's the artistic legacy for the public benefit.[7] In 2015, the Lachaise Foundation entered an agreement with Findlay Galleries, and since then the gallery has been the exclusive representative of the Lachaise Estate.[8]
---
My published books:


---