Queer Places:
147 W 55th St, New York, NY 10019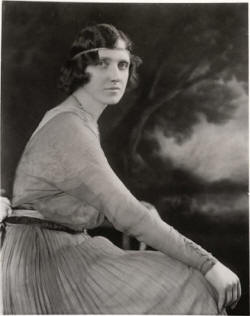 Marie Sterner (1880 – July 1, 1953) was an art dealer in New York. One of the most unusual aspects of the Stettheimers' salon was the large number of their gay, bisexual, and lesbian friends and acquaintances, who were comfortable being their authentic selves among their straight friends. Several of the sisters' closest friends, including Charles Demuth, Marsden Hartley, Henry McBride, Virgil Thomson, and Baron Adolph de Meyer (married to a lesbian, Olga Carracciolo) were homosexual; Carl Van Vechten, Cecil Beaton, and Georgia O'Keeffe were bisexual; Natalie Barney and Romaine Brooks were lesbians; and Alfred Stieglitz, Marcel Duchamp, Gaston Lachaise, Marie Sterner, and Leo Stein were heterosexual. This open, natural mix of friends with different sexual preferences continued when Stettheimer held salons in her studio in the Beaux Arts building in midtown Manhattan, although later in life she also had parties where most of the guests were strong feminist women.
Sterner was instrumental in advancing the cause of American Artists in the early 20th century. Opened her first gallery in 1920. Until her retirement in 1950 she continued to display the works of many artists who would became widely acclaimed. She was one of those who introduced the work of Paul Cezanne in the United States. Her gallery was eventually bought by Leonard Clayton. Sterner was also founder of the Art Patrons of America in 1921. The organization promoted the acquisition of contemporary art by the general public.
Marie Sterner was born in Brooklyn, NY, the daughter of Henry and Fredericka Walther, and was a talented pianist. At one time she taught piano as assistant to William Mason. She first married Albert Sterner, an artist, and joined the firm of Knoedler & Co. in 1912. She acted as an intermediary between the Florine Stettheimer and the gallerist for a solo exhibition in 1916. The show consisted of a number of new works, derivative of Matisse, painted with bright, pure colors, thick impasto, and heavy contours.[a] When nothing sold, she was, as her friend, the art critic Henry McBride, noted, "vaguely dissatisfied."
Stettheimer wrote poems on little scraps of paper. Her poems show an awareness of contemporary consumer culture and offer an acerbic indictment of marriage, as her poem dedicated to Marie Sterner, "who intended to be a musician/ but Albert married her."
Marie Sterner established her own gallery under the name of Marie Sterner Galleries in 1920. The Sterner Gallery was one of the first to exhibit the works of Eli Nadelman, Sandy Calder, Rockwell Kent, Isamu Noguchi, Donald Oenslager, and Jo Mielziner.
After she was a widow of Albert Sterner, Marie Sterner married Edward Bernard Lintott, a British born artist, in 1932. She had two children, Harold Sterner and Mrs LeRoy Chadbourne. She lived at 147 West 55th Street, New York.
---
My published books:


---
The Brooklyn Daily Eagle Brooklyn, New York 02 Jul 1953, Thu • Page 7