Queer Places:
210 W 14th St, New York, NY 10011
Cimitière Monumental de Rouen, Rue du Mesnil Gremichon, 76000 Rouen
Henri-Robert-Marcel Duchamp (28 July 1887 – 2 October 1968) was a French-American painter, sculptor, chess player, and writer whose work is associated with Cubism, Dada, and conceptual art.[2][3][4] He was careful about his use of the term Dada[5] and was not directly associated with Dada groups. When Frank Lloyd Wright tried to tar Modernism with the brush of homosexuality, asking his audience – at the Western Round Table on Modern Art, in 1949 – 'if this movement which we call modern art and painting has been greatly, or is greatly in debt to homosexualism', Marcel Duchamp responded: 'I believe that the homosexual public has shown more interest or curiosity for modern art than the heterosexual'.
One of the most unusual aspects of the Stettheimers' salon was the large number of their gay, bisexual, and lesbian friends and acquaintances, who were comfortable being their authentic selves among their straight friends. Several of the sisters' closest friends, including Charles Demuth, Marsden Hartley, Henry McBride, Virgil Thomson, and Baron Adolph de Meyer (married to a lesbian, Olga Carracciolo) were homosexual; Carl Van Vechten, Cecil Beaton, and Georgia O'Keeffe were bisexual; Natalie Barney and Romaine Brooks were lesbians; and Alfred Stieglitz, Marcel Duchamp, Gaston Lachaise, Marie Sterner, and Leo Stein were heterosexual. This open, natural mix of friends with different sexual preferences continued when Stettheimer held salons in her studio in the Beaux Arts building in midtown Manhattan, although later in life she also had parties where most of the guests were strong feminist women.
Duchamp is commonly regarded, along with Pablo Picasso and Henri Matisse, as one of the three artists who helped to define the revolutionary developments in the plastic arts in the opening decades of the 20th century, responsible for significant developments in painting and sculpture.[6][7][8][9] Duchamp has had an immense impact on twentieth-century and twenty first-century art, and he had a seminal influence on the development of conceptual art. By World War I, he had rejected the work of many of his fellow artists (such as Henri Matisse) as "retinal" art, intended only to please the eye. Instead, Duchamp wanted to use art to serve the mind.[10]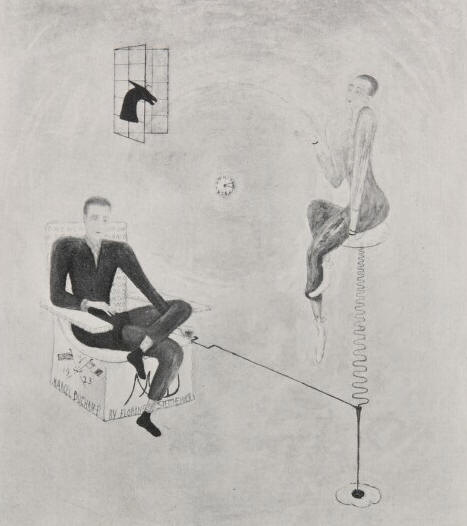 Marcel Duchamp and Rosa Selavy by Florine Stettheimer

Marcel Duchamp, Francis Picabia, and Beatrice Wood at the Broadway Photo Shop, New York City, 1917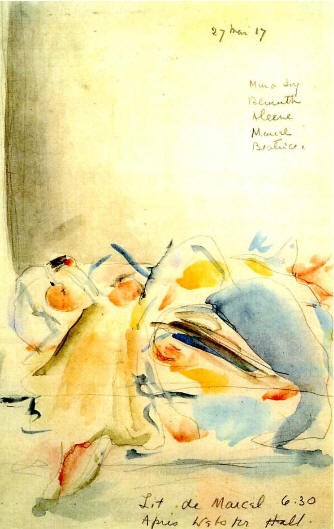 Lit de Marcel [Marcel's Bed] (1917): watercolor (Beatrice Wood, Marcel Duchamp, Charles Demuth, Aileen Dresser, and Mina Loy)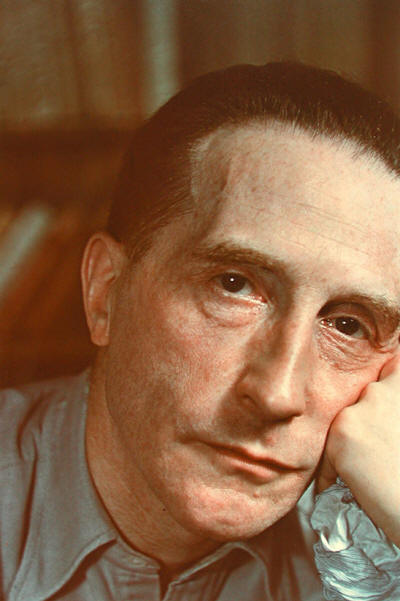 Marcel Duchamp, 1939, by Gisèle Freund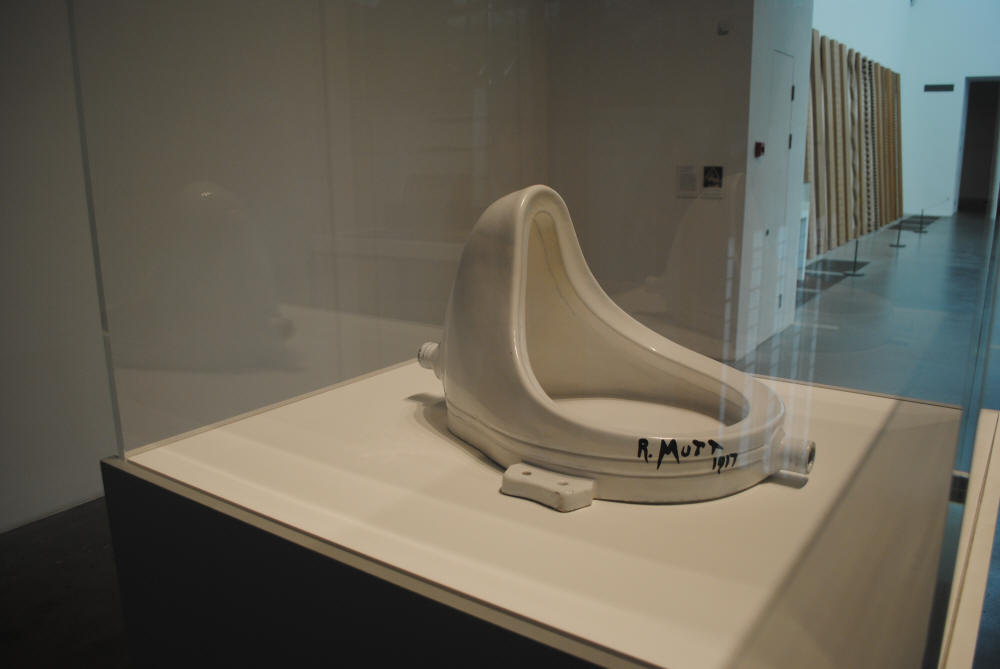 Tate Modern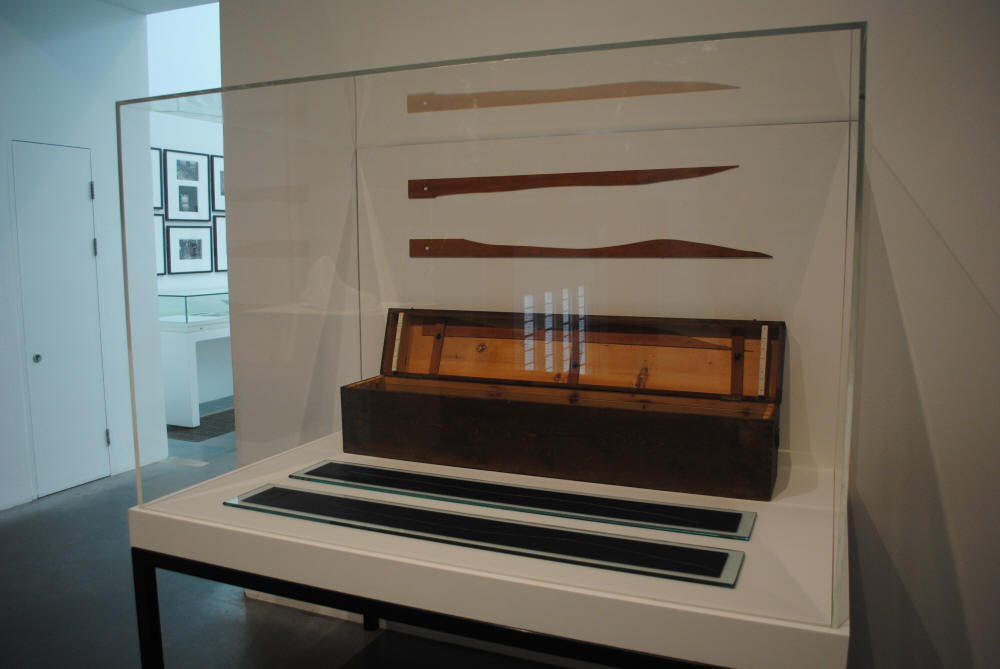 In June 1927, Duchamp married Lydie Sarazin-Lavassor; however, they divorced six months later. It was rumored that Duchamp had chosen a marriage of convenience, because Sarazin-Lavassor was the daughter of a wealthy automobile manufacturer. Early in January 1928, Duchamp said that he could no longer bear the responsibility and confinement of marriage, and they were soon divorced.[59]
By the mid 1940s Jean Connolly had dropped Clement Greenberg and was involved with Laurence Vail, the Surrealist artist and former husband of Peggy Guggenheim, heiress, angel of expatriate European artists, and owner of Art of This Century Gallery. With bohemian aplomb, however, it was the two women who began living together in Guggenheim's duplex at East 61st Street, New York. Thank to this arrangement, Rupert Barneby and Dwight Ripley found themselves frequently in New York at the center of Upper Bohemia. "Jean Connolly, Dwight Ripley, Matta, Marcel Duchamp were around a great deal," recalled Lee Krasner, the painter who was Jackson Pollock's wife. "They were at all the parties." Rupert and Dwight were at the now famous party during which Pollock's Mural was first shown and Pollock relieved himself in the fireplace. Barneby remembered Marcel Duchamp, the avatar of cool in the art world today, as a "pompous pundit." He recalled Guggenheim herself as "mean"; she "dressed like a hag," her stagy consersational asides were "like a dagger in the heart."
Between 1946 and 1951 Maria Martins was Duchamp's mistress.[60] In 1954, he and Alexina "Teeny" Sattler married. They remained together until his death. Duchamp became a United States citizen in 1955.[58]
Duchamp died suddenly and peacefully in the early morning of 2 October 1968 at his home in Neuilly-sur-Seine, France. After an evening dining at home with his friends Man Ray and Robert Lebel, Duchamp retired at 1:05 am, collapsed in his studio, and died of heart failure.[64] Duchamp was an atheist.[65] He is buried in the Rouen Cemetery, in Rouen, France, with the epitaph, "D'ailleurs, c'est toujours les autres qui meurent" ("Besides, it's always the others who die").
---
My published books:


---
Woods, Gregory. Homintern . Yale University Press. Edizione del Kindle.