Queer Places:
Pennsylvania Academy of the Fine Arts, 118-128 N Broad St, Philadelphia, PA 19102, Stati Uniti
Drexel University, 3141 Chestnut St, Philadelphia, PA 19104, Stati Uniti
Académie Julian, Passage des Panoramas, Paris, Francia
Académie Colarossi, 10 Rue de la Grande Chaumière, 75006 Paris, Francia
Demuth Museum, 120 E King St, Lancaster, PA 17602, Stati Uniti
Lancaster Cemetery, 205 E Lemon St, Lancaster, PA 17602, Stati Uniti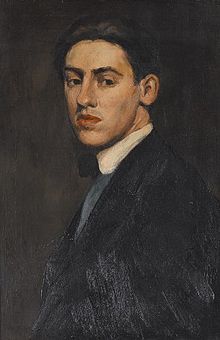 Charles Henry Buckius Demuth (November 8, 1883 – October 23, 1935) was an American watercolorist who turned to oils late in his career, developing a style of painting known as Precisionism. One of the most unusual aspects of the Stettheimers' salon was the large number of their gay, bisexual, and lesbian friends and acquaintances, who were comfortable being their authentic selves among their straight friends. Several of the sisters' closest friends, including Charles Demuth, Marsden Hartley, Henry McBride, Virgil Thomson, and Baron Adolph de Meyer (married to a lesbian, Olga Carracciolo) were homosexual; Carl Van Vechten, Cecil Beaton, and Georgia O'Keeffe were bisexual; Natalie Barney and Romaine Brooks were lesbians; and Alfred Stieglitz, Marcel Duchamp, Gaston Lachaise, Marie Sterner, and Leo Stein were heterosexual. This open, natural mix of friends with different sexual preferences continued when Stettheimer held salons in her studio in the Beaux Arts building in midtown Manhattan, although later in life she also had parties where most of the guests were strong feminist women.
"Search the history of American art," wrote Ken Johnson in The New York Times, "and you will discover few watercolors more beautiful than those of Charles Demuth. Combining exacting botanical observation and loosely Cubist abstraction, his watercolors of flowers, fruit and vegetables have a magical liveliness and an almost shocking sensuousness."[2]
Demuth was a lifelong resident of Lancaster, Pennsylvania. The home he shared with his mother is now the Demuth Museum,[3] which showcases his work. He graduated from Franklin & Marshall Academy before studying at Drexel University and at Philadelphia's Pennsylvania Academy of Fine Arts. While he was a student at PAFA, he participated in a show at the Academy, and also met William Carlos Williams at his boarding house. The two were fast friends and remained close for the rest of their lives.
He later studied at Académie Colarossi and Académie Julian in Paris, where he became a part of the avant garde art scene. The Parisian artistic community was accepting of Demuth's homosexuality. After his return to America, Demuth retained aspects of Cubism in many of his works.[4]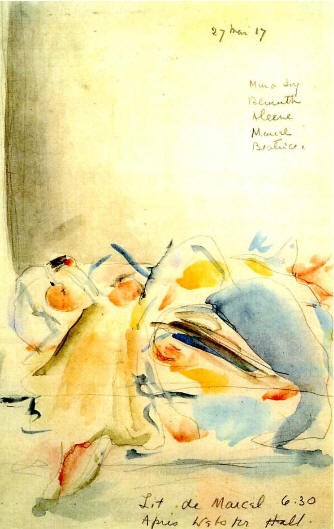 Lit de Marcel [Marcel's Bed] (1917): watercolor (Beatrice Wood, Marcel Duchamp, Charles Demuth, Aileen Dresser, and Mina Loy)
In Beatrice Wood's memoir, I Shock Myself, the actress cum artist recounts the events that took place after the infamous Blindman's Ball on May 25, 1917. According to Wood, several attendees returned to Walter and Louise Arensbergs' apartment, en route to Marcel Duchamp's one-room studio, located above their salon at the 33 West 67th street building, which had by 1915 become a key center of New York dada. Wood and Duchamp, together with Charles Demuth, Aileen Dresser, and Mina Loy, proceeded to wedge themselves into the narrow confines of the artist's single bed. Always the "host," remarked Wood, "Marcel . . . took the least space and squeezed himself tight against the wall, while I tried to stretch out in the two inches left between him and the wall, an opportunity of discomfort that took me to heaven because I was so close to him." In the days that followed, Wood produced a small 8 ¾ x 5 ¾" watercolor sketch commemorating the intimate encounter, which she titled Marcel's Bed (Lit de Marcel) (1917).
Charles used the Lafayette Baths as his favorite haunt. His 1918 homoerotic self-portrait set in a Turkish bathhouse was likely set there.[12] Demuth spent most of his life in frail health. By 1920, the effects of diabetes had begun to severely drain Demuth of artistic energy. He died at his residence in Lancaster at the age 51 of complications from diabetes. He is buried at the Lancaster Cemetery.
During the early 20th-century, Demuth resided within an 18th-century building, now restored to early 20th-century appearance by the Demuth Foundation. He created many works within a small studio located on the second floor of this building, at 120 East King Street. One of the oldest homes in the area, it originally served as an 18th-century tavern, eventually repurposed as Demuth's home and studio.[4]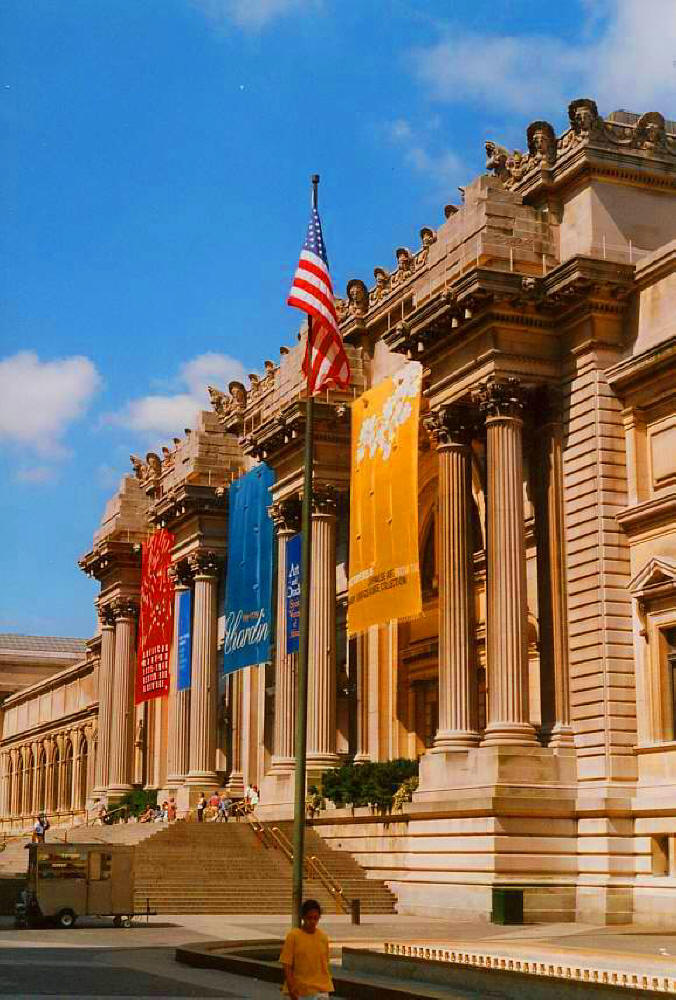 Metropolitan Museum of Art, NYC
---
My published books:


---
https://en.wikipedia.org/wiki/Charles_Demuth
Hidden Histories, 20th Century Male Same Sex Lovers in the Visual Arts, by Michael Petry
Dictionnaire historique des homosexuel.le.s célèbres – October 19, 2017 French Edition by Michel Larivière