Queer Places:
Lower Pontalba Building, New Orleans, LA 70119
624 Pirate's Alley, New Orleans, LA 70116
William Spratling Museum (Museo Guillermo Spratling), Calle Porfirio A. Delgado 1, Centro, 40200 Taxco, Gro., Mexico
Panteón Municipal San Celso Taxco, Taxco de Alarcón Municipality, Guerrero, Mexico
William Spratling (September 22, 1900 – August 7, 1967) was an American-born silver designer and artist, best known for his influence on 20th century Mexican silver design. According to Phillip Gordon, Spratling was an openly gay man. In one of the sketches William Faulkner wrote for the Times-Picayune while he was living in New Orleans, "Out of Nazareth," the narrator, David, a stand-in for Faulkner, recounts joining a character named Spratling in Jackson Square for some cruising. Spratling scores a young vagrant who loves A.E. Housman's collection A Shropshire Lad. Spratling told stories about numerous artists, sculptors, and writers from New Orleans, often offering brief accounts of them, such as for Sam Gilmore, who "had come to NO in 1921. He wrote exquisite poetry, was a homosexual."
Spratling was born in 1900 in Sonyea, Livingston County, New York, the son of epileptologist William P. Spratling. Spratling's father ran a hospital for epileptics in upstate New York and he was born there, but his parents died when he was young and he was passed around among his father's Southern relatives, where he picked up the accent that one friend said was pretty much identical to William Faulkner's Mississippi drawl. The nearest thing he had to a home was the family farm near Auburn, Alabama; he went to high school there and then to the local college (what later became Auburn University), where his drawing ability was such that he found himself teaching in the architecture department while still an undergraduate./p>
Although he left Auburn in 1921 without a degree, Tulane hired him to teach graphics, freehand and cast drawing, architectural history, and a life class (including lectures on anatomy with "all the major bones and muscles named and illustrated on the blackboard"). While teaching at Tulane, Spratling shared a house with writer William Faulkner.[13] The Orleans Alley apartment he rented from Natalie Scott ("in spite of discreet insinuations from older members of the faculty" that living in the Quarter wasn't quite the thing) came with his very social landlady's services as cicerone. Spratling and the decade-older woman became fast friends, and in a matter of weeks he was mentioned in her newspaper column as a newcomer whose "apartment has already taken its place as one of the chosen nuclei of the Quarter." Less than three years later the Item-Tribune Magazine described Spratling as "prominent in the art life of the 'old quarter.'" His place was "a rendezvous for a small group of friends … occupied in artistic and scientific pursuits," young Freddie Oechsner wrote, obviously pleased to be one of the group, and Oliver La Farge recalled that writers who visited New Orleans also turned up there, "as everyone did."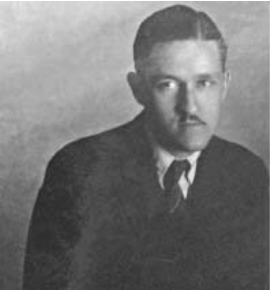 Portrait by Pops Whitesell
Unlike his future housemate Bill Faulkner, Spratling was perfectly at ease with art lovers and patrons who were merely onlookers; Natalie Scott observed that gatherings at his place included not just "those who know how to take art and intellectuality pleasantly," but also "some of the social world who find such atmosphere congenial." "A party of the unique kind which only the French Quarter at its best can produce" included Lyle Saxon, Sherwood Anderson and his wife, some other Famous Creoles, and a Scandinavian sculptor, but also some socially prominent Orleanians who could be described as hangers-on. The article that reported that also gushed about Spratling's décor, "a pleasant harmony of things chosen with discriminating taste." William C. "Cicero" Odiorne wrote that his friend was "an artist to his fingertips," especially with "human material," an artist whose greatest talent lay in "directing the activity of others."
When Faulkner arrived in the spring of 1925, Spratling rented him a spare room, and the two Bills lived briefly on Orleans Alley before they headed off to Europe together for the summer. Spratling painted for a while on Majorca with Ronald Hargrave and Conrad Albrizio before rejoining Faulkner in Paris. Spratling would have a homosexual affair in a jail cell in Europe, for which Faulkner would forgive him. The two checked out la vie bohème with Cicero Odiorne and Harold Levy, and Spratling picked up a copy of Ulysses, which he smuggled through U.S. customs and proudly showed to his students in the fall. Back in New Orleans, Spratling and Faulkner moved around the corner to another of Natalie Scott's properties, where Spratling converted a fourth-floor attic to an apartment-studio (Spratling "likes high art," New Orleans Life joked).
The evidence suggests that Faulkner and Spratling shared more than just a mutual living space. They performed together a model of gay identity that struck their own friends as gay, though the hyperbole of LaFarge's defense of Spratling also suggests that no one was taking these accusations too seriously. Faulkner could safely perform a gay identity in the Vieux Carre with Spratling, and if that identity included sex with Spratling as a lover, so be it, though gay identity exceeds the actions of the bedroom.
When lecturing at the National University of Mexico's Summer School in 1926-1928, Spratling quickly integrated himself into the Mexican art scene and became a friend and a strong proponent of the work of muralist Diego Rivera, for whom he organized an exhibition at the Metropolitan Museum of Art in New York. Using money received from commissions he organized for Rivera, Spratling bought a home in Taxco, Mexico in 1928, where he began work on a book, Little Mexico, about this small mountain town.[2] Spratling was gay, but most accounts of his life mention this only indirectly if at all.[17][18] Spratling amassed a large collection of pre-Columbian figurines from Remojadas, Veracruz, which he donated, in large part, to the museum of the National Autonomous University of Mexico in 1959. Photographed by Manuel Álvarez Bravo, several of these works were published in More Human Than Divine.[19] Spratling also donated hundreds of pre-Columbian objects to a museum in Taxco that today bears his name.[20]
Spratling was killed in an automobile accident outside of Taxco on August 7, 1967, at the age of 66, and was buried with many honors in Taxco.[21] Sabina Leof (aka Tibby Leof, wife of noted Pre-Columbian art collector and preeminent dentist Dr Milton Arno Leof) commented on her friendship with Spratling: "He had no political views, was not dedicated to anything special. He believed in humanity. He was an ardent American, but had a great love for the Mexican people."[22][nb 3] William Spratling's File on Spratling: An Autobiography was published in 1967 by Little, Brown and Company, in Boston.
In 1926 Pelican Bookshop Press, New Orleans, published "William Spratling and William Faulkner, Sherwood Anderson and Other Famous Creoles: A Gallery of Contemporary New Orleans", issued in 250 copies. The "Famous Creoles" (with ages in 1926) werep>
Conrad Albrizio, 27, New York-born, serious artist, Spratling's neighbor, Arts and Crafts Club stalwart
Sherwood Anderson, 50, "Lion of the Latin Quarter," eminence gris, generous to respectful younger writers (LGBTQ friendly)
Marc Antony and Lucille Godchaux Antony, both 28, Love-match between heiress and lower-middle-class boy, local artists
Hamilton "Ham" Basso, 22, Star-struck recent Tulane grad, aspiring writer, good dancer (LGBTQ friendly)
Charles "Uncle Charlie" Bein, 35, Director of Arts and Crafts Club's art school; lived with mother, sister, and aunt (GAY)
Frans Blom, 33, Danish archeologist of Maya, Tulane professor, colorful resident of Quarter
Roark Bradford, 30, Newspaperman, jokester, hit pay dirt with Negro dialect stories
Nathaniel Cortlandt Curtis, 45, Tulane architecture professor, preservationist, recorded old buildings
Albert Bledsoe Dinwiddie, 55, President of Tulane, Presbyterian
Marian Draper, 20, Ziegfeld Follies alum, Tulane cheerleader, prize-winning architecture student
Caroline "Carrie" Wogan Durieux, 30, Genuine Creole, talented artist living in Cuba and Mexico, painted by Rivera
William "Bill" Faulkner, 29, Needs no introduction, but wrote the one to Famous Creoles (LGBTQ friendly)
Flo Field, 50, French Quarter guide, ex-journalist, sometime playwright, single mother
Louis Andrews Fischer, 25, Gender-bending Mardi Gras designer, named for her father (LGBTQ friendly)
Meigs O. Frost, 44, Reporter's reporter; lived in Quarter; covered crime, revolutions, and arts
Samuel Louis "Sam" Gilmore, 27, Greenery-yallery poet and playwright, from prominent family (GAY)
Moise Goldstein, 44, Versatile and successful architect, preservationist, active in Arts and Crafts Club
Weeks Hall, 32, Master of and slave to Shadows-on-the-Teche plantation, painter, deeply strange (GAY)
Ronald Hargrave, 44, Painter from Illinois formerly active in Quarter art scene, relocated to Majorca
R. Emmet Kennedy, 49, Working-class Irish boy, collected and performed Negro songs and stories
Grace King, 74, Grande dame of local color literature and no-fault history, salonnière
Alberta Kinsey, 51, Quaker spinster, Quarter pioneer, indefatigable painter of courtyards
Richard R. Kirk, 49, Tulane English professor and poet, loyal Michigan Wolverine alumnus
Oliver La Farge, 25, New England Brahmin, Tulane anthropologist and fiction-writer, liked a party
Harold Levy, 32, Musician who ran family's box factory, knew everybody, turned up everywhere
Lillian Friend Marcus, 35, Young widow from wealthy family, angel and manager of Double Dealer (LGBTQ friendly)
John "Jack" McClure, 33, Poet, newspaper columnist and reviewer, Double Dealer editor, bookshop owner
Virginia Parker Nagle, 29, Promising artist, governor's niece, Arts and Crafts Club teacher
Louise Jonas "Mother" Nixon, 70, A founder of Le Petit Theatre and its president-for-life, well-connected widow
William C. "Cicero" Odiorne, 45, Louche photographer, Famous Creoles' Paris contact (GAY)
Frederick "Freddie" Oechsner, 24, Recent Tulane graduate, ambitious cub reporter, amateur actor
Genevieve "Jenny" Pitot, 25, Old-family Creole, classical pianist living in New York, party girl
Lyle Saxon, 35, Journalist, raconteur, bon vivant, host, preservationist, bachelor (GAY)
Helen Pitkin Schertz, 56, Clubwoman, civic activist, French Quarter guide, writer, harpist
Natalie Scott, 36, Journalist, equestrian, real-estate investor, Junior Leaguer, social organizer (LGBTQ friendly)
William "Bill" Spratling, 25, Famous Creoles illustrator, Tulane teacher, lynchpin of Quarter social life (GAY)
Keith Temple, 27, Australian editorial cartoonist, artist, sometimes pretended to be a bishop
Fanny Craig Ventadour, 29, Painter, Arts and Crafts Club regular, lately married and living in France
Elizebeth Werlein, 39, Suffragette with colorful past, crusading preservationist, businessman's widow
Joseph Woodson "Pops" Whitesell, 50, Photographic jack-of-all-trades, French Quarter eccentric, inventor (GAY)
Daniel "Dan" Whitney, 32, Arts and Crafts Club teacher, married (two) students, beauty pageant judge
Ellsworth Woodward, 65, Artistic elder statesman, old-fashioned founder of Newcomb art department
---
My published books:


---
Reed, John Shelton. Dixie Bohemia: A French Quarter Circle in the 1920s (Walter Lynwood Fleming Lectures in Southern History) (p.236). LSU Press. Edizione del Kindle.
Gordon, Phillip. Gay Faulkner (p.43). University Press of Mississippi. Edizione del Kindle.