Queer Places:
Shadows on the Teche Plantation New Iberia, Iberia Parish, Louisiana, USA
William Weeks Hall (October 31, 1894 - June 27, 1958) was the last private owner of Shadows on the Teche Plantation. In 1927 New Orleans Life magazine had a two-part feature on "Popular Bachelors of New Orleans." Seven were famous creoles, and three or four of those - William Spratling, Weeks Hall, Sam Gilmore, and probably one other - were homosexual, or at least not exclusively heterosexual. The same could be said of Lyle Saxon, William C. "Cicero" Odiorne, and Pops Whitesell - at least a half-dozen famous creoles altogether. Some - Spratling and Saxon - were very discreet. Weeks Hall and Sam Gilmore were another matter.
Lyle Saxon was a respected New Orleans writer and journalist who reported for The Times-Picayune. Homosexual characters or subjects do not appear anywhere in his published work. Saxon is his most unguarded in letters he exchanged with his friend, artist Weeks Hall. Saxon was having characteristic fun as he privately wrote, "As for the miasmas rising from the Teche, I cannot bring myself to think that the effluvia does aught stir indiscreet thoughts, and, alas, perhaps, indiscreet actions as well. I remember in my own case, on certain summer evenings . . . but why speak of our gaudy youth, dear Coz, as we approach Life's Sunset?"
From the time he reached maturity to his last days, Weeks Hall (son of Gilbert Lewis Hall (1835–1909) and Mary "Lily" Weeks Hall (1851–1918)) was acutely aware of and responsive to his obligations to the past and to the future for both the memory of his family and the preservation of his family home. Indeed, that "delightful airy house" newly completed and commanding some 158 acres in 1834 was , in 1894, the year of Weeks' birth, a somewhat unfashionable sixty year-old house on a rapidly shrinking landscape being surrounded by a growing town. During Weeks Hall's occupancy, the place would be fronted by gasoline stations, a post office, fruit stands, and an automobile repair garage on the west side, with a transcontinental highway just outside the front gates. When Weeks Hall purchased his aunt's half ownership of the homestead in 1919 for $7,500, he became its sole owner at the age of 25.
After his father's death, Weeks Hall lived what he called "an adult childhood." He lived with his mother and Misses Florence and Emma Zacharie in New Orleans, where he attended high school, but "was never able to graduate" (according to his own words). Despite not graduating from high school, an early interest in and talent for art won him several scholarships to study at the Pennsylvania Academy of the Fine Arts in Philadelphia, which he attended from 1913 to 1918. There he won additional scholarships to study in Europe, which he deferred owing to World War I, until 1920 to 1922, when he studied in Paris and London. Upon completion of such studies, Weeks returned to New Iberia to his family home, by now called The Shadows-on-the-Teche, after the Bayou Teche which borders the rear of the property. With only few short interruptions, Weeks Hall literally remained at the Shadows until his death in 1958.

Summer House, Weeks Hall, Richard Koch. Last of the Weeks Family, William was famous for the gay parties he threw there in the 1930-40s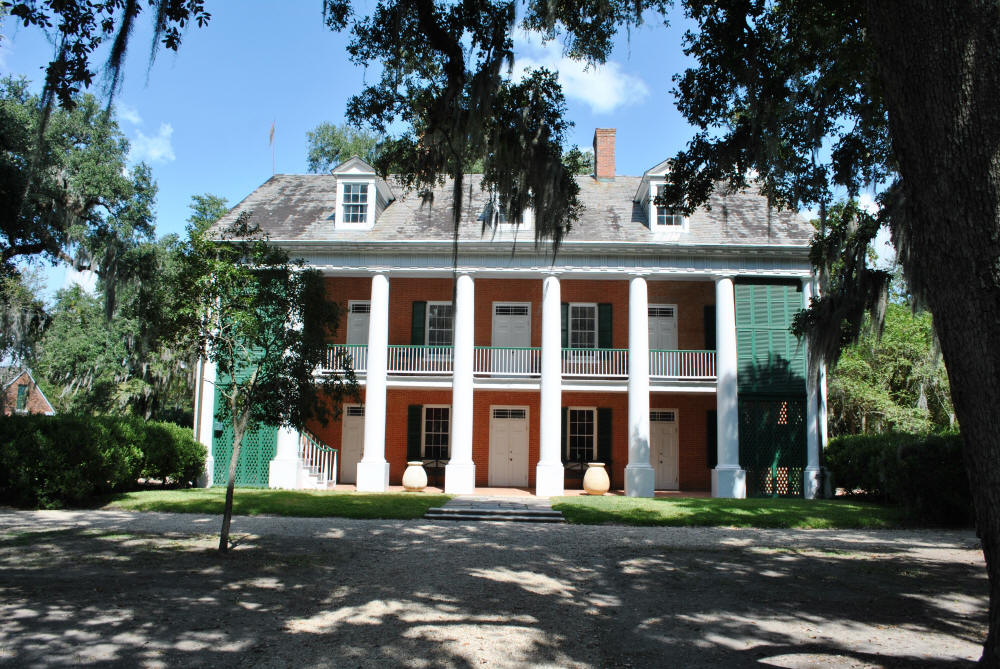 Shadows on the Teche Plantation
Soon after his return, Weeks restored his home and created the magnificent gardens surrounding the property… a landscape canvas in which he lived. Weeks tried to allay the growing progress surrounding his home by incorporating into the gardens a bamboo hedge around the skirt of the property. He also attempted to prevent the "Path of Progress" by finding a suitable national agency to which he could bequeath the house, certain that it would be preserved for future generations. He contacted various organizations, including the National Park Service, to no avail. Finally he sought out the company of the wealthy and famous of his day and invited them to visit his home. Many came. Among them, artists, writers, and filmmakers. Henry Miller, Lyle Saxon, Cecil B. DeMille, Emily Post, D.W. Griffith and Walt Disney were all impressed with what he had done to preserve the house, enthralled with the setting he created, and charmed by his captivating personality. Finally, in 1958 shortly before Hall's death, the National Trust for Historic Preservation accepted the home and property he bequeathed them for preservation and opened the site to the public in 1961.
In 1926 Pelican Bookshop Press, New Orleans, published "William Spratling and William Faulkner, Sherwood Anderson and Other Famous Creoles: A Gallery of Contemporary New Orleans", issued in 250 copies. The "Famous Creoles" (with ages in 1926) were
Conrad Albrizio, 27, New York-born, serious artist, Spratling's neighbor, Arts and Crafts Club stalwart
Sherwood Anderson, 50, "Lion of the Latin Quarter," eminence gris, generous to respectful younger writers (LGBTQ friendly)
Marc Antony and Lucille Godchaux Antony, both 28, Love-match between heiress and lower-middle-class boy, local artists
Hamilton "Ham" Basso, 22, Star-struck recent Tulane grad, aspiring writer, good dancer (LGBTQ friendly)
Charles "Uncle Charlie" Bein, 35, Director of Arts and Crafts Club's art school; lived with mother, sister, and aunt (GAY)
Frans Blom, 33, Danish archeologist of Maya, Tulane professor, colorful resident of Quarter
Roark Bradford, 30, Newspaperman, jokester, hit pay dirt with Negro dialect stories
Nathaniel Cortlandt Curtis, 45, Tulane architecture professor, preservationist, recorded old buildings
Albert Bledsoe Dinwiddie, 55, President of Tulane, Presbyterian
Marian Draper, 20, Ziegfeld Follies alum, Tulane cheerleader, prize-winning architecture student
Caroline "Carrie" Wogan Durieux, 30, Genuine Creole, talented artist living in Cuba and Mexico, painted by Rivera
William "Bill" Faulkner, 29, Needs no introduction, but wrote the one to Famous Creoles (LGBTQ friendly)
Flo Field, 50, French Quarter guide, ex-journalist, sometime playwright, single mother
Louis Andrews Fischer, 25, Gender-bending Mardi Gras designer, named for her father (LGBTQ friendly)
Meigs O. Frost, 44, Reporter's reporter; lived in Quarter; covered crime, revolutions, and arts
Samuel Louis "Sam" Gilmore, 27, Greenery-yallery poet and playwright, from prominent family (GAY)
Moise Goldstein, 44, Versatile and successful architect, preservationist, active in Arts and Crafts Club
Weeks Hall, 32, Master of and slave to Shadows-on-the-Teche plantation, painter, deeply strange (GAY)
Ronald Hargrave, 44, Painter from Illinois formerly active in Quarter art scene, relocated to Majorca
R. Emmet Kennedy, 49, Working-class Irish boy, collected and performed Negro songs and stories
Grace King, 74, Grande dame of local color literature and no-fault history, salonnière
Alberta Kinsey, 51, Quaker spinster, Quarter pioneer, indefatigable painter of courtyards
Richard R. Kirk, 49, Tulane English professor and poet, loyal Michigan Wolverine alumnus
Oliver La Farge, 25, New England Brahmin, Tulane anthropologist and fiction-writer, liked a party
Harold Levy, 32, Musician who ran family's box factory, knew everybody, turned up everywhere
Lillian Friend Marcus, 35, Young widow from wealthy family, angel and manager of Double Dealer (LGBTQ friendly)
John "Jack" McClure, 33, Poet, newspaper columnist and reviewer, Double Dealer editor, bookshop owner
Virginia Parker Nagle, 29, Promising artist, governor's niece, Arts and Crafts Club teacher
Louise Jonas "Mother" Nixon, 70, A founder of Le Petit Theatre and its president-for-life, well-connected widow
William C. "Cicero" Odiorne, 45, Louche photographer, Famous Creoles' Paris contact (GAY)
Frederick "Freddie" Oechsner, 24, Recent Tulane graduate, ambitious cub reporter, amateur actor
Genevieve "Jenny" Pitot, 25, Old-family Creole, classical pianist living in New York, party girl
Lyle Saxon, 35, Journalist, raconteur, bon vivant, host, preservationist, bachelor (GAY)
Helen Pitkin Schertz, 56, Clubwoman, civic activist, French Quarter guide, writer, harpist
Natalie Scott, 36, Journalist, equestrian, real-estate investor, Junior Leaguer, social organizer (LGBTQ friendly)
William "Bill" Spratling, 25, Famous Creoles illustrator, Tulane teacher, lynchpin of Quarter social life (GAY)
Keith Temple, 27, Australian editorial cartoonist, artist, sometimes pretended to be a bishop
Fanny Craig Ventadour, 29, Painter, Arts and Crafts Club regular, lately married and living in France
Elizebeth Werlein, 39, Suffragette with colorful past, crusading preservationist, businessman's widow
Joseph Woodson "Pops" Whitesell, 50, Photographic jack-of-all-trades, French Quarter eccentric, inventor (GAY)
Daniel "Dan" Whitney, 32, Arts and Crafts Club teacher, married (two) students, beauty pageant judge
Ellsworth Woodward, 65, Artistic elder statesman, old-fashioned founder of Newcomb art department
---
My published books:


---
https://www.shadowsontheteche.org/william-weeks-hall
Gender, Sexuality and Museums: A Routledge Reader Amy K. Levin Routledge, Sep 13, 2010
A Passion to Preserve: Gay Men as Keepers of Culture Will Fellows Univ of Wisconsin Press, Aug 26, 2005
Dixie Bohemia: A French Quarter Circle in the 1920s John Shelton Reed LSU Press, Sep 17, 2012