Queer Places:
Paul Morphy House, 417 Royal St, New Orleans, LA 70130
George Washington Cable House, 1313 Eighth St, New Orleans, LA 70115
Metairie Cemetery New Orleans, Orleans Parish, Louisiana, USA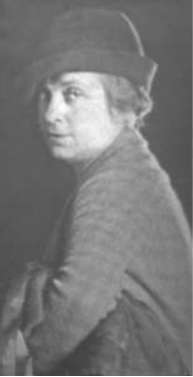 Flora "Flo" Field (May 21, 1876 - September 30, 1972) was a French Quarter guide, ex-journalist, sometime playwright, single mother. She claimed to be the first French Quarter guide whose tours were enlivened with colorful stories like one about a beautiful Creole maiden who fell in love with a mulatto footman and threw herself from a particularly attractive balcony. She also liked to point out one derelict Quarterite as a former premiere danseuse at the French Opera House driven insane by the loss of her baby. She and her friend Lyle Saxon "not only studied the legends," she recalled, "but if there were any missing, we supplied them."
Flo's widowed mother, Martha Smallwood pen name Catherine Cole, had been a pioneering newspaperwoman, a popular columnist and the first woman staffer on the Picayune. "Little Flo," as her mother called her in print, had spent many hours sitting in her mother's office, watching her write, so journalism was in her blood. In the early 1890s she made her debut, dropped out of school, and published her first article in the Times-Democrat. She spent the next several years caring for her mother, who had Parkinson's disease, but continued to write in her mother's sickroom, with such success that she was included in a Leslie's Weekly article, "Southern Women Who Have Made Their Mark in Journalism." The article noted that she was "petite, blond, and pretty," and praised the "wit and quaint philosophy" of her writing.
After her mother's death, Field moved to Greenwich Village to pursue a literary career. Cosmopolitan published her first short stories, and there were rumors of a romance with O. Henry, but he was already married. In 1905 she married another, but that marriage failed after a few years and she returned to New Orleans with her maiden name, a young son named Sydney, and a pressing need for income. (She sometimes intimated that her son's father was O. Henry, although the baby was conceived some four years after her marriage.) She joined the Times-Picayune, where she wrote a daily women's column called "Eve Up to Date" and a variety of feature stories, including one in 1916 on Ellsworth Woodward's program to document the old ironwork of New Orleans. She supplemented her $15 weekly salary by writing verse and short stories for magazines like Harper's Bazaar and the Delineator (for which she wrote several "darky" stories based on an old Negro man she had known as a child) and working as a press agent for the Philharmonic Society. When the Double Dealer got going, she wrote for it and served on its advisory council, although it did nothing to address her chronic insolvency.
For $10 a month, Field rented the slave quarters of the old Morphy house, just a two-minute walk up Royal Street from Lyle Saxon's place. Saxon and George Favrot, Times-Picayune reporters like her, were "years younger than I, as all men always seem to have been," but the three were inseparable friends, eating 35-cent suppers at a small restaurant in the Quarter, "swing[ing] down Royal Street, singing La Boheme, ecstatic over every dim and dusky fanlight," and retiring to her second-floor gallery to swat mosquitoes and talk until all 1920s portrait by Pops Whitesell hours. It was Saxon and Favrot who talked her into the guide business; Saxon told her all she had to say was, "Oh, my God, look at that balcony!"
When Field's play A la Creole premiered at Le Petit Theatre in March 1927, the author was one of several Famous Creoles in the cast or otherwise involved. The play also featured four "negro waif musicians" called the Tin Pan Kings, who had been playing on Royal Street when Flo discovered them. When a visiting Philadelphia millionaire engaged the group for his New Year's Eve party and hired Flo to go north with them, it made the national news.
Field's activities brought her recognition—as early as 1927 she was made an honorary member of the prestigious Orleans Club, like Grace King and Mrs. James Oscar Nixon before her, and later she was made a life member of Le Petit Salon—but her letters reveal her constant, and well-founded, worry about money. She tried unsuccessfully to book the Tin Pan Kings at New York's Palace, and she arranged a Philadelphia try-out for A la Creole, hoping for commercial success, but the play apparently didn't travel well, although Louisiana community theater groups revived it several times and it was staged by a community theater in Pasadena, of all places. (A limited-edition publication of the script in 1953 was dedicated to Sydney.) In 1931, she visited Bill Spratling at his new Mexican home, returning with silver and dance masks to sell, and Spratling was helping her financially as late as the 1960s, when a letter said he would be sending some "folding money." She kept a typewriter near her bed (she said she couldn't think in longhand) and she continued to write, everything from an article accepted by the New York Times to a short story rejected by True. Her 1930 booklet, Rue Royal, gives a taste of her style as a guide.
In the early 1930s she moved to George Washington Cable's former house in the Garden District, but continued to lead tours of the Quarter for clients including Bertrand Russell, Fiorello LaGuardia, the German ambassador, and often scores of nonpaying tourists who simply attached themselves to paying groups. "Whole conventions would turn their women and children over to her," her son reported, and she was such a hit with one group that she was made an honorary mail clerk for life. She stayed active in historic preservation, speaking to community groups on its importance and working often with her friend Clay Shaw. (When Shaw was falsely accused of conspiring to assassinate President Kennedy, she stood by him staunchly.) And the honors, if not the money, continued to come in. In 1950 Alberta Kinsey and Natalie Scott (visiting from Mexico) were among a couple of dozen sponsors of a luncheon in Flo's honor, and in the 1960s Mayor Victor Schiro named her the city's "official historian." When the New Orleans Pharmacy Museum opened on Chartres Street, she worked as its assistant curator.
She took great pride in Sydney's literary career, which she had promoted as early as the 1920s by sending his teenage poetry to magazine editors she knew. He went on to work at Esquire and Reader's Digest, and in 1953 published The American Drink Book, dedicated "To Flo Field, a great woman—and to all the others who care about the charming and beautiful things." By the late 1950s, Flo was dividing her time between New Orleans and Sydney's place in Manhattan, enjoying being a grandmother. She died in a New Orleans nursing home shortly after her ninety-sixth birthday party, where she drank champagne with relatives and old friends, and made a ten-minute speech. For an epitaph she would have been content with what she once told an interviewer: "I never had any sense except a sense of humor."
In 1926 Pelican Bookshop Press, New Orleans, published "William Spratling and William Faulkner, Sherwood Anderson and Other Famous Creoles: A Gallery of Contemporary New Orleans", issued in 250 copies. The "Famous Creoles" (with ages in 1926) were
Conrad Albrizio, 27, New York-born, serious artist, Spratling's neighbor, Arts and Crafts Club stalwart
Sherwood Anderson, 50, "Lion of the Latin Quarter," eminence gris, generous to respectful younger writers (LGBTQ friendly)
Marc Antony and Lucille Godchaux Antony, both 28, Love-match between heiress and lower-middle-class boy, local artists
Hamilton "Ham" Basso, 22, Star-struck recent Tulane grad, aspiring writer, good dancer (LGBTQ friendly)
Charles "Uncle Charlie" Bein, 35, Director of Arts and Crafts Club's art school; lived with mother, sister, and aunt (GAY)
Frans Blom, 33, Danish archeologist of Maya, Tulane professor, colorful resident of Quarter
Roark Bradford, 30, Newspaperman, jokester, hit pay dirt with Negro dialect stories
Nathaniel Cortlandt Curtis, 45, Tulane architecture professor, preservationist, recorded old buildings
Albert Bledsoe Dinwiddie, 55, President of Tulane, Presbyterian
Marian Draper, 20, Ziegfeld Follies alum, Tulane cheerleader, prize-winning architecture student
Caroline "Carrie" Wogan Durieux, 30, Genuine Creole, talented artist living in Cuba and Mexico, painted by Rivera
William "Bill" Faulkner, 29, Needs no introduction, but wrote the one to Famous Creoles (LGBTQ friendly)
Flo Field, 50, French Quarter guide, ex-journalist, sometime playwright, single mother
Louis Andrews Fischer, 25, Gender-bending Mardi Gras designer, named for her father (LGBTQ friendly)
Meigs O. Frost, 44, Reporter's reporter; lived in Quarter; covered crime, revolutions, and arts
Samuel Louis "Sam" Gilmore, 27, Greenery-yallery poet and playwright, from prominent family (GAY)
Moise Goldstein, 44, Versatile and successful architect, preservationist, active in Arts and Crafts Club
Weeks Hall, 32, Master of and slave to Shadows-on-the-Teche plantation, painter, deeply strange (GAY)
Ronald Hargrave, 44, Painter from Illinois formerly active in Quarter art scene, relocated to Majorca
R. Emmet Kennedy, 49, Working-class Irish boy, collected and performed Negro songs and stories
Grace King, 74, Grande dame of local color literature and no-fault history, salonnière
Alberta Kinsey, 51, Quaker spinster, Quarter pioneer, indefatigable painter of courtyards
Richard R. Kirk, 49, Tulane English professor and poet, loyal Michigan Wolverine alumnus
Oliver La Farge, 25, New England Brahmin, Tulane anthropologist and fiction-writer, liked a party
Harold Levy, 32, Musician who ran family's box factory, knew everybody, turned up everywhere
Lillian Friend Marcus, 35, Young widow from wealthy family, angel and manager of Double Dealer (LGBTQ friendly)
John "Jack" McClure, 33, Poet, newspaper columnist and reviewer, Double Dealer editor, bookshop owner
Virginia Parker Nagle, 29, Promising artist, governor's niece, Arts and Crafts Club teacher
Louise Jonas "Mother" Nixon, 70, A founder of Le Petit Theatre and its president-for-life, well-connected widow
William C. "Cicero" Odiorne, 45, Louche photographer, Famous Creoles' Paris contact (GAY)
Frederick "Freddie" Oechsner, 24, Recent Tulane graduate, ambitious cub reporter, amateur actor
Genevieve "Jenny" Pitot, 25, Old-family Creole, classical pianist living in New York, party girl
Lyle Saxon, 35, Journalist, raconteur, bon vivant, host, preservationist, bachelor (GAY)
Helen Pitkin Schertz, 56, Clubwoman, civic activist, French Quarter guide, writer, harpist
Natalie Scott, 36, Journalist, equestrian, real-estate investor, Junior Leaguer, social organizer (LGBTQ friendly)
William "Bill" Spratling, 25, Famous Creoles illustrator, Tulane teacher, lynchpin of Quarter social life (GAY)
Keith Temple, 27, Australian editorial cartoonist, artist, sometimes pretended to be a bishop
Fanny Craig Ventadour, 29, Painter, Arts and Crafts Club regular, lately married and living in France
Elizebeth Werlein, 39, Suffragette with colorful past, crusading preservationist, businessman's widow
Joseph Woodson "Pops" Whitesell, 50, Photographic jack-of-all-trades, French Quarter eccentric, inventor (GAY)
Daniel "Dan" Whitney, 32, Arts and Crafts Club teacher, married (two) students, beauty pageant judge
Ellsworth Woodward, 65, Artistic elder statesman, old-fashioned founder of Newcomb art department
---
My published books:


---
Reed, John Shelton. Dixie Bohemia: A French Quarter Circle in the 1920s (Walter Lynwood Fleming Lectures in Southern History) (p.104). LSU Press. Edizione del Kindle.