Queer Places:
Metairie Cemetery New Orleans, Orleans Parish, Louisiana, USA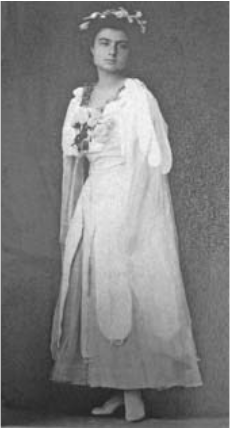 Lillian Friend Marcus (January 15, 1891 - April 25, 1974) was a young widow from a wealthy family, angel and manager of The Double Dealer.
Lillian Friend grew up in New Orleans, the oldest of the four children of a cotton broker, originally from Wisconsin, and an energetic, philanthropic clubwoman from Mississippi. At Newcomb College she was active in drama and was captain of the basketball team her senior year. Two years after her 1911 graduation, she married Clarence Marcus, a cloth manufacturer from Cincinnati, and moved to his home state, but his death in 1921 left her widowed with two young sons, so she moved back to New Orleans to live with her parents near Loyola University. Eventually she rented a place that was a five-minute walk from them.
Although her younger brother Julius and some of his friends started the Double Dealer and graced its masthead, no less an observer than William Spratling insisted that the "guiding hand" behind the magazine was Lillian's. Julius put a good deal of his own money into the project, and Lillian may well have done the same; certainly Newcomb College graduation picture she provided everything from the first typewriter to her (unpaid and uncredited) services as manager and fund-raiser. The young widow greatly admired editor Basil Thompson, an aspiring poet who received no sympathy from his father, a Philistine insurance agent, or his wife, an interpretive dancer and party girl who had never read a book. Thompson basked in Marcus's admiration, and the two formed an attachment that lasted until Thompson's death from binge-induced pneumonia in 1924.
Marcus befriended Sherwood Anderson when he first came to New Orleans, and when he returned in 1924 with his new wife, Elizabeth, and his teenage son, Robert, she found the family a three-room furnished apartment on the second floor of the upper Pontalba building. As manager of the "Modernist Lecture Bureau" (at the same address as the Double Dealer) she started lining up speaking engagements for Anderson. Later, she went on the famous Lake Pontchartrain excursion, and everyone agrees that she was the model for one of the characters in William Faulkner's Mosquitoes, although they disagree about which one. Gay men may have liked Marcus more than other women did. Although Sam Gilmore saw her as "brilliant and original, … powerful and determined," and Spratling said she had a marvelous personality with "no humbug" and would never let you down, a female relative by marriage told Faulkner's biographer that Marcus was "a bitch" and Elizabeth Anderson said that she "insisted on being the center of contention at all times" and "considered herself to be a social and literary arbiter and did not care to be challenged or corrected." "Miss Elizabeth," who had her own aspirations to arbitership, offered a catty description of Marcus's "birdlike face in which everything came to a point," adding that "whenever I talked to her I half expected her to peck at me." For her part, Marcus remembered Sherwood as "like a nice brown little bear … sweet simple and overflowing with the joy of life," and claimed that Elizabeth "was his undoing, as a writer."
When the Double Dealer ceased publication and the Famous Creoles began to disperse, Marcus seems to have been left at loose ends. After an impulsive and brief second marriage in 1931, she played with the idea of a career in social work, but soon retired into private life. She traveled with her grandchildren, summered in New England, and cared for her aging mother, whose example she may have found intimidating: Ida Weis Friend, sometime president of the National Council of Jewish Women and one of New Orleans Life magazine's "Women Builders of New Orleans" (along with Helen Pitkin Schertz, Mrs. James Oscar Nixon, and Dorothy Dix), remained, as one observer put it, "the presiding genius of the household" until her death in 1963. In any event, when Marcus died in 1974, the Times-Picayune listed her name under "Deaths," with no further elaboration. Over the years, when various Faulkner scholars sought her out, she insisted that Bill was "a very shallow person taken up mostly with the nasty details of life" and that his Nobel Prize was "a farce."
In 1926 Pelican Bookshop Press, New Orleans, published "William Spratling and William Faulkner, Sherwood Anderson and Other Famous Creoles: A Gallery of Contemporary New Orleans", issued in 250 copies. The "Famous Creoles" (with ages in 1926) were
Conrad Albrizio, 27, New York-born, serious artist, Spratling's neighbor, Arts and Crafts Club stalwart
Sherwood Anderson, 50, "Lion of the Latin Quarter," eminence gris, generous to respectful younger writers (LGBTQ friendly)
Marc Antony and Lucille Godchaux Antony, both 28, Love-match between heiress and lower-middle-class boy, local artists
Hamilton "Ham" Basso, 22, Star-struck recent Tulane grad, aspiring writer, good dancer (LGBTQ friendly)
Charles "Uncle Charlie" Bein, 35, Director of Arts and Crafts Club's art school; lived with mother, sister, and aunt (GAY)
Frans Blom, 33, Danish archeologist of Maya, Tulane professor, colorful resident of Quarter
Roark Bradford, 30, Newspaperman, jokester, hit pay dirt with Negro dialect stories
Nathaniel Cortlandt Curtis, 45, Tulane architecture professor, preservationist, recorded old buildings
Albert Bledsoe Dinwiddie, 55, President of Tulane, Presbyterian
Marian Draper, 20, Ziegfeld Follies alum, Tulane cheerleader, prize-winning architecture student
Caroline "Carrie" Wogan Durieux, 30, Genuine Creole, talented artist living in Cuba and Mexico, painted by Rivera
William "Bill" Faulkner, 29, Needs no introduction, but wrote the one to Famous Creoles (LGBTQ friendly)
Flo Field, 50, French Quarter guide, ex-journalist, sometime playwright, single mother
Louis Andrews Fischer, 25, Gender-bending Mardi Gras designer, named for her father (LGBTQ friendly)
Meigs O. Frost, 44, Reporter's reporter; lived in Quarter; covered crime, revolutions, and arts
Samuel Louis "Sam" Gilmore, 27, Greenery-yallery poet and playwright, from prominent family (GAY)
Moise Goldstein, 44, Versatile and successful architect, preservationist, active in Arts and Crafts Club
Weeks Hall, 32, Master of and slave to Shadows-on-the-Teche plantation, painter, deeply strange (GAY)
Ronald Hargrave, 44, Painter from Illinois formerly active in Quarter art scene, relocated to Majorca
R. Emmet Kennedy, 49, Working-class Irish boy, collected and performed Negro songs and stories
Grace King, 74, Grande dame of local color literature and no-fault history, salonnière
Alberta Kinsey, 51, Quaker spinster, Quarter pioneer, indefatigable painter of courtyards
Richard R. Kirk, 49, Tulane English professor and poet, loyal Michigan Wolverine alumnus
Oliver La Farge, 25, New England Brahmin, Tulane anthropologist and fiction-writer, liked a party
Harold Levy, 32, Musician who ran family's box factory, knew everybody, turned up everywhere
Lillian Friend Marcus, 35, Young widow from wealthy family, angel and manager of Double Dealer (LGBTQ friendly)
John "Jack" McClure, 33, Poet, newspaper columnist and reviewer, Double Dealer editor, bookshop owner
Virginia Parker Nagle, 29, Promising artist, governor's niece, Arts and Crafts Club teacher
Louise Jonas "Mother" Nixon, 70, A founder of Le Petit Theatre and its president-for-life, well-connected widow
William C. "Cicero" Odiorne, 45, Louche photographer, Famous Creoles' Paris contact (GAY)
Frederick "Freddie" Oechsner, 24, Recent Tulane graduate, ambitious cub reporter, amateur actor
Genevieve "Jenny" Pitot, 25, Old-family Creole, classical pianist living in New York, party girl
Lyle Saxon, 35, Journalist, raconteur, bon vivant, host, preservationist, bachelor (GAY)
Helen Pitkin Schertz, 56, Clubwoman, civic activist, French Quarter guide, writer, harpist
Natalie Scott, 36, Journalist, equestrian, real-estate investor, Junior Leaguer, social organizer (LGBTQ friendly)
William "Bill" Spratling, 25, Famous Creoles illustrator, Tulane teacher, lynchpin of Quarter social life (GAY)
Keith Temple, 27, Australian editorial cartoonist, artist, sometimes pretended to be a bishop
Fanny Craig Ventadour, 29, Painter, Arts and Crafts Club regular, lately married and living in France
Elizebeth Werlein, 39, Suffragette with colorful past, crusading preservationist, businessman's widow
Joseph Woodson "Pops" Whitesell, 50, Photographic jack-of-all-trades, French Quarter eccentric, inventor (GAY)
Daniel "Dan" Whitney, 32, Arts and Crafts Club teacher, married (two) students, beauty pageant judge
Ellsworth Woodward, 65, Artistic elder statesman, old-fashioned founder of Newcomb art department
---
My published books:


---