Queer Places:
Metairie Cemetery New Orleans, Orleans Parish, Louisiana, USA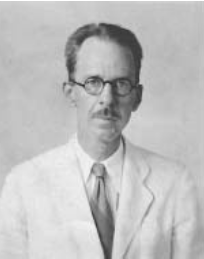 Charles W. Bein (August 23, 1891 - June 24, 1966) was the Director of Arts and Crafts Club's art school in New Orleans. He was a Tulane graduate and painter. Charles Bein was the founding director of the Arts and Crafts Club and remained in charge for 10 years.
Charles Bein was a 1912 graduate of Tulane University where he took as many courses related to architecture that he could in the School of Technology. Bein was able to get into Columbia's graduate school in architecture, and while there attended classes at the Art Students League. Afterward he studied at the Atelier Heimann in Munich and the Atelier Colarossi and Académie Grande Chaumière in Paris.
Bein returned to the United States in 1917 to head up the new Tulane School of Architecture, replacing Nathaniel Courtland Curtis. By 1919 Tulane began to develop architecture into something to rival the University of Virginia's new school of architecture, established in 1919. Albert Bledsoe Dinwiddie, a graduate of the University of Virginia, with three degrees from the institution, had become president of Tulane by 1918 and was well aware of the need for Tulane to rival the University of Virginia, his alma mater. Despite some rave reviews throughout the city according to local newspapers, three years later, Bein gave up as chairman and professor at the Tulane School of Architecture in order to become an artist.
Lyle Saxon, a personal friend of Bein's, wrote for the The Times Picayune an article about Bein that explained a bit about the fledging school of architecture at Tulane at that time. Entitled Tulane's College For Architects Has High Rank. Increasing Number of Students Makes Two Professors Necessary, the article revealed the terrible lack of funding for the Tulane School of Architecture. Tradition in New Orleans has it that when the University of Virginia School of Architecture was established in 1919, headed by Fiske Kimble of Boston who graduated from Harvard and had a Ph.D. from the University of Michigan, Tulanians became jealous and determined to forge ahead with a bona fide architecture school. That is when William Woodward who also taught at Newcomb Art School, Colonel Allison Owen and Richard Koch stepped in, once more, by the fall of 1920, to be paid less than "plasterers and bricklayers."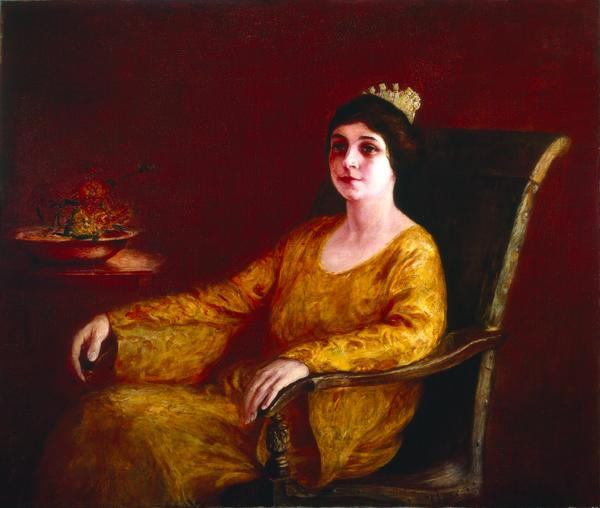 Olive Boullemet Lyons, by Charles Bein
In the summer of 1923 Bein journeyed through Spain and Italy and down to Tangiers. The fruits of this jaunt (consisting of about 12 oils and 20 or 30 water colors) were exhibited at the Arts and Crafts club and later at the New Galleries in New York in January of 1924. In February of 1925 in New York Bein was "having a first one man show in the New Gallery" of his paintings. Irene Cooper wrote in a New Orleans newspaper about a 1925 exhibition of Bein's work. "Mr. Bein has handled his subjects with feeling and an indisputable knowledge of technique. Mr. Bein was named in the New York Times only a few months ago as one of the five foremost water colorists in the United states and one senses the touch of the master in these pictures executed with skill and sureness."
Bein's friend and associate at Tulane, William Spratling, who also taught architecture at Tulane as well as sketching at the School of Art at the Arts and Crafts Club traveled down to Mexico where he found his true métier at Taxco working with silver and retraining the natives in the art and craft of silver making. Bein followed Spratling to Mexico in 1925 along with Caroline Durieux and Natalie Scott to hear the new head of the Middle American Research Institute at Tulane, Frans Blom, lecture. Bein returned to Mexico to paint at Orizaba in 1930.
In 1927 Bein won the Blanche Benjamin award offered annually for the past four years, since 1923 at the Delgado Museum for the best painting of a Louisiana landscape. Conrad Albrizio and James Gibert were honorably mentioned. In the first year of the competition Charles Woodward Hutson was the winner, while in 1925 Paul Frolich, Philadelphia artist, won and Weeks Hall in 1926.
Meanwhile in 1927 Bein begun serving as the first director of the Arts and Crafts Club at the old Seignouret-Brulatour House and Courtyard at 520 Royal Street. Classes at the school on Royal Street under Bein's direction included painting, sculpture, drawing, printmaking pottery and architecture. The objective of the Arts and Crafts Club according to artists and professors at Newcomb College Art School, Will Henry Stevens and Ellsworth Woodward, was "to attract artists and to revitalize the oldest part of New Orleans." The first issue of the "Arts and Crafts Review" was dedicated to Charlie Bein: "To one from whom in daily contact we have learned the true meaning of nobleness; to one who has typified all that is denoted by unselfishness; to one who has been in every sense of the word a teacher and a friend, we the students of the New Orleans Art School dedicate the first issue of our school paper." After developing one of the most important institutions in the art and culture of New Orleans and the South, Bein resigned in 1936 to devote full time to painting.
Bein left "stocks, bonds, security or cash then remaining in the National Bank of Commerce of New Orleans to the National Museum of Art in Washington D.C. subject to the condition that the proceeds. . . shall be used . . . to acquire a work or works of art, paintings, sculpture, ceramic or bronze." This was before the establishment of the Smithsonian's National Galleryof Art.
In 1926 Pelican Bookshop Press, New Orleans, published "William Spratling and William Faulkner, Sherwood Anderson and Other Famous Creoles: A Gallery of Contemporary New Orleans", issued in 250 copies. The "Famous Creoles" (with ages in 1926) were
Conrad Albrizio, 27, New York-born, serious artist, Spratling's neighbor, Arts and Crafts Club stalwart
Sherwood Anderson, 50, "Lion of the Latin Quarter," eminence gris, generous to respectful younger writers (LGBTQ friendly)
Marc Antony and Lucille Godchaux Antony, both 28, Love-match between heiress and lower-middle-class boy, local artists
Hamilton "Ham" Basso, 22, Star-struck recent Tulane grad, aspiring writer, good dancer (LGBTQ friendly)
Charles "Uncle Charlie" Bein, 35, Director of Arts and Crafts Club's art school; lived with mother, sister, and aunt (GAY)
Frans Blom, 33, Danish archeologist of Maya, Tulane professor, colorful resident of Quarter
Roark Bradford, 30, Newspaperman, jokester, hit pay dirt with Negro dialect stories
Nathaniel Cortlandt Curtis, 45, Tulane architecture professor, preservationist, recorded old buildings
Albert Bledsoe Dinwiddie, 55, President of Tulane, Presbyterian
Marian Draper, 20, Ziegfeld Follies alum, Tulane cheerleader, prize-winning architecture student
Caroline "Carrie" Wogan Durieux, 30, Genuine Creole, talented artist living in Cuba and Mexico, painted by Rivera
William "Bill" Faulkner, 29, Needs no introduction, but wrote the one to Famous Creoles (LGBTQ friendly)
Flo Field, 50, French Quarter guide, ex-journalist, sometime playwright, single mother
Louis Andrews Fischer, 25, Gender-bending Mardi Gras designer, named for her father (LGBTQ friendly)
Meigs O. Frost, 44, Reporter's reporter; lived in Quarter; covered crime, revolutions, and arts
Samuel Louis "Sam" Gilmore, 27, Greenery-yallery poet and playwright, from prominent family (GAY)
Moise Goldstein, 44, Versatile and successful architect, preservationist, active in Arts and Crafts Club
Weeks Hall, 32, Master of and slave to Shadows-on-the-Teche plantation, painter, deeply strange (GAY)
Ronald Hargrave, 44, Painter from Illinois formerly active in Quarter art scene, relocated to Majorca
R. Emmet Kennedy, 49, Working-class Irish boy, collected and performed Negro songs and stories
Grace King, 74, Grande dame of local color literature and no-fault history, salonnière
Alberta Kinsey, 51, Quaker spinster, Quarter pioneer, indefatigable painter of courtyards
Richard R. Kirk, 49, Tulane English professor and poet, loyal Michigan Wolverine alumnus
Oliver La Farge, 25, New England Brahmin, Tulane anthropologist and fiction-writer, liked a party
Harold Levy, 32, Musician who ran family's box factory, knew everybody, turned up everywhere
Lillian Friend Marcus, 35, Young widow from wealthy family, angel and manager of Double Dealer (LGBTQ friendly)
John "Jack" McClure, 33, Poet, newspaper columnist and reviewer, Double Dealer editor, bookshop owner
Virginia Parker Nagle, 29, Promising artist, governor's niece, Arts and Crafts Club teacher
Louise Jonas "Mother" Nixon, 70, A founder of Le Petit Theatre and its president-for-life, well-connected widow
William C. "Cicero" Odiorne, 45, Louche photographer, Famous Creoles' Paris contact (GAY)
Frederick "Freddie" Oechsner, 24, Recent Tulane graduate, ambitious cub reporter, amateur actor
Genevieve "Jenny" Pitot, 25, Old-family Creole, classical pianist living in New York, party girl
Lyle Saxon, 35, Journalist, raconteur, bon vivant, host, preservationist, bachelor (GAY)
Helen Pitkin Schertz, 56, Clubwoman, civic activist, French Quarter guide, writer, harpist
Natalie Scott, 36, Journalist, equestrian, real-estate investor, Junior Leaguer, social organizer (LGBTQ friendly)
William "Bill" Spratling, 25, Famous Creoles illustrator, Tulane teacher, lynchpin of Quarter social life (GAY)
Keith Temple, 27, Australian editorial cartoonist, artist, sometimes pretended to be a bishop
Fanny Craig Ventadour, 29, Painter, Arts and Crafts Club regular, lately married and living in France
Elizebeth Werlein, 39, Suffragette with colorful past, crusading preservationist, businessman's widow
Joseph Woodson "Pops" Whitesell, 50, Photographic jack-of-all-trades, French Quarter eccentric, inventor (GAY)
Daniel "Dan" Whitney, 32, Arts and Crafts Club teacher, married (two) students, beauty pageant judge
Ellsworth Woodward, 65, Artistic elder statesman, old-fashioned founder of Newcomb art department
---
My published books:


---
https://architecture.tulane.edu/sites/architecture.tulane.edu/files/news/2014/charles_bein.pdf