Queer Places:
Pontalba Buildings, 500 St Ann St, New Orleans, LA 70116
Woodland Cemetery Quincy, Adams County, Illinois, USA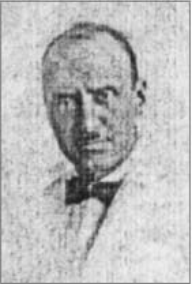 William Henry Cunningham Odiorne (October 12, 1881 - March 1, 1978) was a talented photographer, who frequented artistic and literary circles in both New Orleans and Paris in the 1920's. According to Joel Williamson, "William Spratling introduced William Faulkner to William Odiorne, a highly talented photographer and mysterious person from New Orleans who did indeed catch some marvelous images of the budding writer. Everyone called Odiorne 'Cicero,' and he and Faulkner became good friends. Odiorne was homosexual, and, sadly, limped because of a club foot" (William Faulkner and Southern History). He and Faulkner browsed the bookstalls along the Seine together, drank at a sidewalk table outside the Deux Magots, and often stopped near the Place de l'Odéon to catch a glimpse of James Joyce, whom they never dared approach.
In 1927 New Orleans Life magazine had a two-part feature on "Popular Bachelors of New Orleans." Seven were famous creoles, and three or four of those - William Spratling, Weeks Hall, Sam Gilmore, and probably one other - were homosexual, or at least not exclusively heterosexual. The same could be said of Lyle Saxon, William C. "Cicero" Odiorne, and Pops Whitesell - at least a half-dozen famous creoles altogether. Some - Spratling and Saxon - were very discreet. Weeks Hall and Sam Gilmore were another matter.
William Henry Cunningham Odiorne was the son of William Henry Odiorne (1845–1921) and Addie E. Hendricks (1855–1902). He married Florence Woodhead (1886–1943).
In "William Spratling and William Faulkner, Sherwood Anderson and Other Famous Creoles: A Gallery of Contemporary New Orleans", Spratling drew Cicero Odiorne seated at the Café du Dome in Paris, a Left Bank gathering place for the expatriate literary colony. (In the background is a pissoir, an inexhaustible source of amusement for Americans in Paris.) In 1925 Spratling and Faulkner had been sitting at the café with him.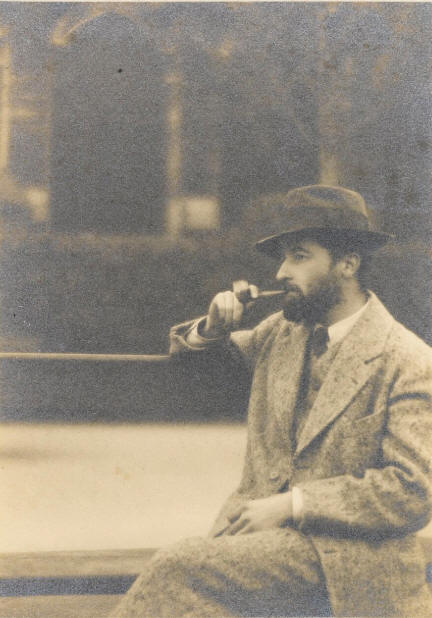 William Faulkner by Cicero Odiorne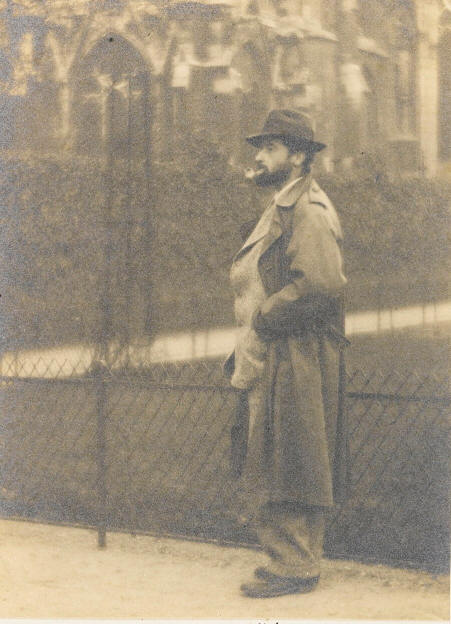 William Faulkner by Cicero Odiorne
Spratling had known Odiorne since the early 1920s, when the gay, club-footed photographer had a studio in the upper Pontalba building. As a youth Odiorne had gone from Barry, Illinois, where his father ran a clothing store, to Chicago, where he worked as a stenographer while he studied photography with the accomplished portraitist Eugene Hutchinson. He had also worked in Boston and New York before coming to New Orleans in 1917, where he supplemented his studio income by doing society photographs for the newspapers. He got his nickname when his Pontalba neighbor Louis Andrews (later, Fischer) asked him what his middle initial stood for. He told her to guess, and when she suggested Cicero he told her she was right. Although in fact it stood for Cunningham, he was Cicero forever after.
When Spratling and Faulkner went to Paris in 1925, Spratling took Faulkner by Odiorne's cold-water flat in Montparnasse, a sort of New Orleans consulate in Paris, with friends and friends of friends from the Quarter constantly dropping in. Odiorne was doing fashion photography for the Fairchild Magazine Company to pay the bills, and discovering that the murky, atmospheric style he had honed in the courtyards of New Orleans worked just fine with Parisian subject matter. (Harold Levy—another New Orleans friend who dropped by—found the results so striking that he urged Cicero to exhibit his work in New York.) Odiorne and Faulkner hit it off. Faulkner posed for a portrait in the Luxembourg Gardens looking like an Impressionist painter, and the two took long walks together. "We used to roam the streets at night, from one end of Paris to the other," Cicero recalled in 1950. "We discussed many things (books mostly)."
The Fairchild Company went under in the Depression, so Odiorne came back to the United States in 1932 and opened a commercial studio in New York, where he also worked for the Metropolitan Museum. But things did not go well for him. By 1942 he was back in Chicago, sixty years old and taking pictures for the portrait studio in Goldblatt's Department Store. In the late 1940s he moved to San Francisco, and then, in the mid-1950s, to Los Angeles, where he settled into a furnished room and worked as a retoucher for a Beverly Hills photographic studio. Faulkner was working in Hollywood at the time; one day he and Odiorne ran into each other on the street and found that they didn't have much to say to one another.
Odiorne did stay in touch with a few of his New Orleans friends, although in the 1960s his letters (many of them to Sam Gilmore) began to wander off into strange byways populated by Bilderbergers, Zionists, and "international bankers" (his quotation marks). He worked on his memoirs, but had no luck finding a publisher. It must have been gratifying when, in 1977, his ninetyfifth year, a respected Los Angeles gallery put together an exhibit entitled "Odiorne's Paris." He died the next year.
In 1926 Pelican Bookshop Press, New Orleans, published "William Spratling and William Faulkner, Sherwood Anderson and Other Famous Creoles: A Gallery of Contemporary New Orleans", issued in 250 copies. The "Famous Creoles" (with ages in 1926) were
Conrad Albrizio, 27, New York-born, serious artist, Spratling's neighbor, Arts and Crafts Club stalwart
Sherwood Anderson, 50, "Lion of the Latin Quarter," eminence gris, generous to respectful younger writers (LGBTQ friendly)
Marc Antony and Lucille Godchaux Antony, both 28, Love-match between heiress and lower-middle-class boy, local artists
Hamilton "Ham" Basso, 22, Star-struck recent Tulane grad, aspiring writer, good dancer (LGBTQ friendly)
Charles "Uncle Charlie" Bein, 35, Director of Arts and Crafts Club's art school; lived with mother, sister, and aunt (GAY)
Frans Blom, 33, Danish archeologist of Maya, Tulane professor, colorful resident of Quarter
Roark Bradford, 30, Newspaperman, jokester, hit pay dirt with Negro dialect stories
Nathaniel Cortlandt Curtis, 45, Tulane architecture professor, preservationist, recorded old buildings
Albert Bledsoe Dinwiddie, 55, President of Tulane, Presbyterian
Marian Draper, 20, Ziegfeld Follies alum, Tulane cheerleader, prize-winning architecture student
Caroline "Carrie" Wogan Durieux, 30, Genuine Creole, talented artist living in Cuba and Mexico, painted by Rivera
William "Bill" Faulkner, 29, Needs no introduction, but wrote the one to Famous Creoles (LGBTQ friendly)
Flo Field, 50, French Quarter guide, ex-journalist, sometime playwright, single mother
Louis Andrews Fischer, 25, Gender-bending Mardi Gras designer, named for her father (LGBTQ friendly)
Meigs O. Frost, 44, Reporter's reporter; lived in Quarter; covered crime, revolutions, and arts
Samuel Louis "Sam" Gilmore, 27, Greenery-yallery poet and playwright, from prominent family (GAY)
Moise Goldstein, 44, Versatile and successful architect, preservationist, active in Arts and Crafts Club
Weeks Hall, 32, Master of and slave to Shadows-on-the-Teche plantation, painter, deeply strange (GAY)
Ronald Hargrave, 44, Painter from Illinois formerly active in Quarter art scene, relocated to Majorca
R. Emmet Kennedy, 49, Working-class Irish boy, collected and performed Negro songs and stories
Grace King, 74, Grande dame of local color literature and no-fault history, salonnière
Alberta Kinsey, 51, Quaker spinster, Quarter pioneer, indefatigable painter of courtyards
Richard R. Kirk, 49, Tulane English professor and poet, loyal Michigan Wolverine alumnus
Oliver La Farge, 25, New England Brahmin, Tulane anthropologist and fiction-writer, liked a party
Harold Levy, 32, Musician who ran family's box factory, knew everybody, turned up everywhere
Lillian Friend Marcus, 35, Young widow from wealthy family, angel and manager of Double Dealer (LGBTQ friendly)
John "Jack" McClure, 33, Poet, newspaper columnist and reviewer, Double Dealer editor, bookshop owner
Virginia Parker Nagle, 29, Promising artist, governor's niece, Arts and Crafts Club teacher
Louise Jonas "Mother" Nixon, 70, A founder of Le Petit Theatre and its president-for-life, well-connected widow
William C. "Cicero" Odiorne, 45, Louche photographer, Famous Creoles' Paris contact (GAY)
Frederick "Freddie" Oechsner, 24, Recent Tulane graduate, ambitious cub reporter, amateur actor
Genevieve "Jenny" Pitot, 25, Old-family Creole, classical pianist living in New York, party girl
Lyle Saxon, 35, Journalist, raconteur, bon vivant, host, preservationist, bachelor (GAY)
Helen Pitkin Schertz, 56, Clubwoman, civic activist, French Quarter guide, writer, harpist
Natalie Scott, 36, Journalist, equestrian, real-estate investor, Junior Leaguer, social organizer (LGBTQ friendly)
William "Bill" Spratling, 25, Famous Creoles illustrator, Tulane teacher, lynchpin of Quarter social life (GAY)
Keith Temple, 27, Australian editorial cartoonist, artist, sometimes pretended to be a bishop
Fanny Craig Ventadour, 29, Painter, Arts and Crafts Club regular, lately married and living in France
Elizebeth Werlein, 39, Suffragette with colorful past, crusading preservationist, businessman's widow
Joseph Woodson "Pops" Whitesell, 50, Photographic jack-of-all-trades, French Quarter eccentric, inventor (GAY)
Daniel "Dan" Whitney, 32, Arts and Crafts Club teacher, married (two) students, beauty pageant judge
Ellsworth Woodward, 65, Artistic elder statesman, old-fashioned founder of Newcomb art department
---
My published books:


---