Queer Places:
628 Toulouse St, New Orleans, LA 70130
823 Royal St, New Orleans, LA 70116
Riverside Cemetery West Milton, Miami County, Ohio, USA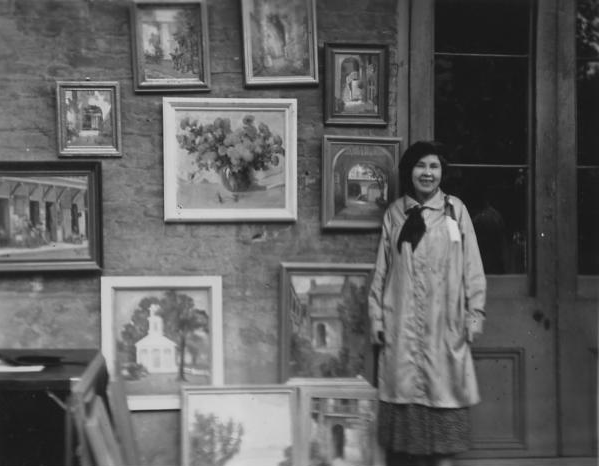 Alberta Kinsey (1875 - April 23, 1952), a modest Quaker schoolteacher from the Midwest, fell in love with the French Quarter the first day she arrived in 1918. She is credited with inventing the enduring "courtyard" genre of painting—widely copied scenes of the picturesque interior green spaces common in the Spanish-colonial buildings of the Vieux Carré. She was among the first artists to live in the then dangerous and derelict Quarter, encouraging and paving the way for others by renting studio space, and cofounding the Arts and Crafts Club of New Orleans in 1922, an organization which provided art training and exhibition space and hosted guest lecturers on current art topics.
Kinsey was born in 1875 on a small farm in Milton, Ohio, the first child of David and Lydia Kinsey, and attended school in a rural one-room schoolhouse with her three younger brothers. Kinsey began her adult life as a teacher in a similar school, and after training at the Cincinnati Art Academy in Ohio and the Chicago Art School in Illinois she taught studio courses at Lebanon University in Lebanon, Ohio. In 1918, when the college was forced to close during World War I, Kinsey moved to New Orleans. Although she was said to have had a scholarship from Newcomb College, Kinsey recalled that her attraction to the city was because "the name pleased me" and that "it was warm here." Kinsey's taking up residence in the French Quarter in the late 1910s was a rarity for a single woman of her background. The neighborhood was largely a slum inhabited by newly arrived immigrants, with many rowdy saloons that catered to sailors and wharf laborers, but Kinsey remained there for thirty-three years as a staunch advocate of its restoration.
Kinsey's earliest supporter was Lyle Saxon, a writer and journalist for the Times-Picayune and a stalwart crusader for the rehabilitation the French Quarter. Saxon envisioned the creation of an art colony and invited his friends, artists, and writers to join him. Kinsey's early years in New Orleans were difficult, but she remained unswerving in her artistic vision: "When I came to New Orleans, I wanted to paint," she said. "I didn't have a great talent or the genius for it, but I did have the desire. It was love at first sight, even before I had seen a patio or mounted a creaky stair in the old houses I love so much."
Kinsey's studio at 628 Toulouse Street was the site of the first formal art class among the burgeoning bohemian art colony in the French Quarter. It was organized by artists Harry Nolan and Robert Grafton, both Indiana transplants. This was the start of the long-lived Arts and Crafts Club of New Orleans, which subsequently found a more permanent home in the old Maison Seignouret at 520 Royal Street. Kinsey later bought and renovated the landmark Daniel Clark Home at 823 Royal Street.
Kinsey's style was usually a loose painterly realism with a respect for underlying form. Her palette was natural, with warm, saturated color. After her travels in Europe in the 1920s, and as a response to modern art movements, she experimented with conventionalized form and flattened space to the point of abstraction in some paintings. Of this change in style, she explained, "I've painted about every patio in the Quarter, but once a year I just must try contemporary painting. I just love the patios, like you feel for an old sweetheart — but nonobjective art is like a new beau. Those paintings don't mean anything. If I put a line here, it calls for another one there — and then another one over there. I hope the change of pace will help me do a better job on the patios."
Always the advocate for the arts, Alberta Kinsey is credited with inspiring the Cane River primitive painter Clementine Hunter. Kinsey was a frequent guest at Melrose Plantation, the home of John Hampton and Cammie Henry, where she painted her favorite magnolia blooms and the surrounding countryside. In 1940, she apparently had left out her paints and brushes, an oversight prompting Hunter to pursue painting. From Kinsey's correspondence, however, it is clear that she gave Clementine some instruction and a lot of encouragement.
When the Arts and Crafts Club of New Orleans closed its doors in 1951, it was the end of an era, yet Kinsey could look upon her beloved French Quarter and see it revitalized. From her early and daring commitment to living in the Vieux Carré and her personal restoration of a landmark, she labored constantly to preserve the colonial district from destruction. When she died the following year in New Orleans, she was remembered as a preservationist, the founding figure of the city's art colony, and as the creator of one of the most enduring subjects of French Quarter art, the courtyard scene. Her art may be found in the New Orleans Museum of Art, The Historic New Orleans Collection, and the Ogden Museum of Southern Art in New Orleans.
She died in New Orleans in 1952, and was buried in her native West Milton, Ohio.
In 1926 Pelican Bookshop Press, New Orleans, published "William Spratling and William Faulkner, Sherwood Anderson and Other Famous Creoles: A Gallery of Contemporary New Orleans", issued in 250 copies. The "Famous Creoles" (with ages in 1926) were
Conrad Albrizio, 27, New York-born, serious artist, Spratling's neighbor, Arts and Crafts Club stalwart
Sherwood Anderson, 50, "Lion of the Latin Quarter," eminence gris, generous to respectful younger writers (LGBTQ friendly)
Marc Antony and Lucille Godchaux Antony, both 28, Love-match between heiress and lower-middle-class boy, local artists
Hamilton "Ham" Basso, 22, Star-struck recent Tulane grad, aspiring writer, good dancer (LGBTQ friendly)
Charles "Uncle Charlie" Bein, 35, Director of Arts and Crafts Club's art school; lived with mother, sister, and aunt (GAY)
Frans Blom, 33, Danish archeologist of Maya, Tulane professor, colorful resident of Quarter
Roark Bradford, 30, Newspaperman, jokester, hit pay dirt with Negro dialect stories
Nathaniel Cortlandt Curtis, 45, Tulane architecture professor, preservationist, recorded old buildings
Albert Bledsoe Dinwiddie, 55, President of Tulane, Presbyterian
Marian Draper, 20, Ziegfeld Follies alum, Tulane cheerleader, prize-winning architecture student
Caroline "Carrie" Wogan Durieux, 30, Genuine Creole, talented artist living in Cuba and Mexico, painted by Rivera
William "Bill" Faulkner, 29, Needs no introduction, but wrote the one to Famous Creoles (LGBTQ friendly)
Flo Field, 50, French Quarter guide, ex-journalist, sometime playwright, single mother
Louis Andrews Fischer, 25, Gender-bending Mardi Gras designer, named for her father (LGBTQ friendly)
Meigs O. Frost, 44, Reporter's reporter; lived in Quarter; covered crime, revolutions, and arts
Samuel Louis "Sam" Gilmore, 27, Greenery-yallery poet and playwright, from prominent family (GAY)
Moise Goldstein, 44, Versatile and successful architect, preservationist, active in Arts and Crafts Club
Weeks Hall, 32, Master of and slave to Shadows-on-the-Teche plantation, painter, deeply strange (GAY)
Ronald Hargrave, 44, Painter from Illinois formerly active in Quarter art scene, relocated to Majorca
R. Emmet Kennedy, 49, Working-class Irish boy, collected and performed Negro songs and stories
Grace King, 74, Grande dame of local color literature and no-fault history, salonnière
Alberta Kinsey, 51, Quaker spinster, Quarter pioneer, indefatigable painter of courtyards
Richard R. Kirk, 49, Tulane English professor and poet, loyal Michigan Wolverine alumnus
Oliver La Farge, 25, New England Brahmin, Tulane anthropologist and fiction-writer, liked a party
Harold Levy, 32, Musician who ran family's box factory, knew everybody, turned up everywhere
Lillian Friend Marcus, 35, Young widow from wealthy family, angel and manager of Double Dealer (LGBTQ friendly)
John "Jack" McClure, 33, Poet, newspaper columnist and reviewer, Double Dealer editor, bookshop owner
Virginia Parker Nagle, 29, Promising artist, governor's niece, Arts and Crafts Club teacher
Louise Jonas "Mother" Nixon, 70, A founder of Le Petit Theatre and its president-for-life, well-connected widow
William C. "Cicero" Odiorne, 45, Louche photographer, Famous Creoles' Paris contact (GAY)
Frederick "Freddie" Oechsner, 24, Recent Tulane graduate, ambitious cub reporter, amateur actor
Genevieve "Jenny" Pitot, 25, Old-family Creole, classical pianist living in New York, party girl
Lyle Saxon, 35, Journalist, raconteur, bon vivant, host, preservationist, bachelor (GAY)
Helen Pitkin Schertz, 56, Clubwoman, civic activist, French Quarter guide, writer, harpist
Natalie Scott, 36, Journalist, equestrian, real-estate investor, Junior Leaguer, social organizer (LGBTQ friendly)
William "Bill" Spratling, 25, Famous Creoles illustrator, Tulane teacher, lynchpin of Quarter social life (GAY)
Keith Temple, 27, Australian editorial cartoonist, artist, sometimes pretended to be a bishop
Fanny Craig Ventadour, 29, Painter, Arts and Crafts Club regular, lately married and living in France
Elizebeth Werlein, 39, Suffragette with colorful past, crusading preservationist, businessman's widow
Joseph Woodson "Pops" Whitesell, 50, Photographic jack-of-all-trades, French Quarter eccentric, inventor (GAY)
Daniel "Dan" Whitney, 32, Arts and Crafts Club teacher, married (two) students, beauty pageant judge
Ellsworth Woodward, 65, Artistic elder statesman, old-fashioned founder of Newcomb art department
---
My published books:


---
Reed, John Shelton. Dixie Bohemia: A French Quarter Circle in the 1920s (Walter Lynwood Fleming Lectures in Southern History) (p.207). LSU Press. Edizione del Kindle.