Partner Lord Alfred Douglas
Queer Places:
Oscar Wilde Centre, 21 Westland Row, Dublin 2, Irlanda
American College Dublin, 2 Marino Park, Merrion Square West, Dublin, Irlanda
Portora Royal School, Derrygonnelly Rd, Enniskillen BT74 7EY, Regno Unito
Trinity College Dublin, College Green, Dublin 2, Co. Dublin, Irlanda
University of Oxford, Oxford OX1 2JD, Regno Unito
13 Salisbury St, Marylebone, London NW8 8DE, UK
34 Tite St, Chelsea, London SW3 4JA, Regno Unito
44 Tite St, Chelsea, London SW3, Regno Unito
10 St James's Pl, St. James's, London SW1A 1NP, Regno Unito
Fielden House, 13 Little College St, Westminster, London SW1P 3SH, Regno Unito
80 Strand, London WC2R 0ZA, UK
2 Courtfield Gardens, Earls Court, London SW5 0PA, Regno Unito
9 Carlos Pl, Mayfair, London W1K 3AT, Regno Unito
Belmond Cadogan Hotel, 75 Sloane St, London SW1X 9SG, UK
Hotel Café Royal, 68 Regent St, London W1B 4DY, Regno Unito
Brown's Hotel, Albemarle St, Mayfair, London W1S 4BP, Regno Unito
The Savoy, Strand, London WC2R 0EU, Regno Unito
Hôtel d'Alsace, 13 Rue des Beaux Arts, 75006 Paris, Francia
Albergo Victoria, Corso Umberto, 81, 98039 Taormina ME
Père Lachaise Cemetery, 16 Rue du Repos, 75020 Paris, Francia
Westminster Abbey, 20 Deans Yd, Westminster, London SW1P 3PA, Regno Unito
Oscar Fingal O'Flahertie Wills Wilde (16 October 1854 – 30 November 1900) was an Irish poet and playwright. After writing in different forms throughout the 1880s, he became one of London's most popular playwrights in the early 1890s. He is best remembered for his epigrams and plays, his novel The Picture of Dorian Gray, and the circumstances of his imprisonment and early death. Wasted Days (1877) and The Portrait of Mr. W.H. (1889-95) are cited as examples in Sexual Heretics: Male Homosexuality in English Literature from 1850-1900, by Brian Reade.
Wilde's parents were successful Anglo-Irish intellectuals in Dublin. Their son became fluent in French and German early in life. At university, Wilde read Greats; he proved himself to be an outstanding classicist, first at Dublin, then at Oxford. He became known for his involvement in the rising philosophy of aestheticism, led by two of his tutors, Walter Pater and John Ruskin. After university, Wilde moved to London into fashionable cultural and social circles.
As a spokesman for aestheticism, he tried his hand at various literary activities: he published a book of poems, lectured in the United States and Canada on the new "English Renaissance in Art" and interior decoration, and then returned to London where he worked prolifically as a journalist. Known for his biting wit, flamboyant dress and glittering conversational skill, Wilde became one of the best-known personalities of his day. At the turn of the 1890s, he refined his ideas about the supremacy of art in a series of dialogues and essays, and incorporated themes of decadence, duplicity, and beauty into what would be his only novel, The Picture of Dorian Gray (1890). The opportunity to construct aesthetic details precisely, and combine them with larger social themes, drew Wilde to write drama. He wrote Salome (1891) in French while in Paris but it was refused a licence for England due to an absolute prohibition on the portrayal of Biblical subjects on the English stage. Unperturbed, Wilde produced four society comedies in the early 1890s, which made him one of the most successful playwrights of late-Victorian London.

NAPOLEON SARONY (1821-1896) Oscar Wilde. Albumen print, the image measuring 139.7x98.4 mm; 5 1/2x3 7/8 inches, the Sarony mount 165.1x111.1 mm; 6 1/2x4 3/8 inches, with Sarony's printed credit and address, and the sitter's credit, in ink, in an unknown hand, on mount recto, and the Culver Pictures label, bar code, and hand stamp, on mount verso. 1882. This photograph was part of the 1882 portrait sitting Oscar Wilde did at Sarony's studio when he began his American lecture tour. During the portrait sitting, Wilde posed for at least 27 pictures in various attire which he anticipated would be distributed to cities in advance of his arrival. It is likely that this was his preferred image, which he described as "the photograph of me with my head looking over my shoulder."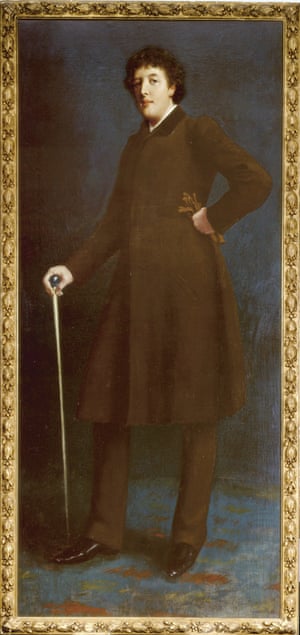 by Robert Goodloe Harper Pennington, c. 1884

Oscar Wilde by Napoleon Sarony

10 St James's Pl, St. James's, London

The Savoy, London

Westminster Abbey, London
Today, Frank Miles is best known as a friend of Oscar Wilde whom he met at Oxford in 1874 or 1875, where Miles had family connections to the colleges and friends. Miles introduced Wilde to Lillie Langtry, and to his friend and patron Lord Ronald Gower, who later became the model for the worldly Lord Henry Wotton in Wilde's novel The Picture of Dorian Gray and Gower's circle was the inspiration for The Portrait of Mr. W.H. (1889). Miles and Wilde took up a residence together in Tite Street.
If some historians are to be believed, until 1877 Wilde had had no same-sex intimacies, and would not until he had a relationship with Robert Ross in 1886.
At the height of his fame and success, while The Importance of Being Earnest (1895) was still being performed in London, Wilde had the Marquess of Queensberry prosecuted for criminal libel. The Marquess was the father of Wilde's lover, Lord Alfred Douglas. The libel trial unearthed evidence that caused Wilde to drop his charges and led to his own arrest and trial for gross indecency with men.
Even after the shocking revelations of a homosexual underworld, there was widespread support for Wilde. An Anglican clergyman paid half of his bail; the other half was paid by the Marquis of Queensberry's eldest surviving son. A Jewish businessman offered him the free use of his yacht as a means of escape. The servants of his friends the Leversons expressed sympathy with 'poor Mr Wilde'. The painter Louise Jopling exchanged a 'sorrowful' glance with the newsboy who told her of the verdict. W. B. Yeats, whose father urged him to testify for Wilde, brought letters of support from several Irish writers. 'Cultivated London', said Yeats, 'was now full of his advocates.' When Wilde gave his moving speech on 'the Love that dare not speak its name', the hissing from the public gallery was drowned out by applause.
After the trial, there were letters to the press protesting at Wilde's treatment. The popular journalist W. T. Stead pointed out that Wilde's 'unnatural' propensities were not unnatural for him, and that if he had committed adultery with his friend's wife or corrupted young girls instead of boys, 'no one could have laid a finger upon him'. Even The Illustrated Police Budget was sorry that 'one of the most brilliant wits, epicures, and epigrammatists we have seen in England for years' had 'passed from the light of freedom'.
After two more trials Oscar Wilde was convicted and sentenced to two years' hard labour, the maximum penalty, and was jailed from 1895 to 1897. In Paris, the French-American poet Stuart Merrill drew up a petition asking for the sentence to be reduced. Almost everyone refused to sign, including Émile Zola. A British petition, prepared by More Adey, was even less successful. Magnus Hirschfeld had wider aims and a more diverse audience and was consequently more effective. He and his journalist friend Leo Berg sent letters of protest to the newspapers and Hirschfeld set to work on the first of his many books: Sappho und Sokrates, or 'How can one explain the love of men and women for people of the same sex?' It was published pseudonymously by a young Leipzig publisher called Max Spohr. Spohr had already published two pro-homosexual works and was to prove remarkably resistant to prosecution.
During his last year in prison, he wrote De Profundis (published posthumously in 1905), a long letter which discusses his spiritual journey through his trials, forming a dark counterpoint to his earlier philosophy of pleasure. On his release, he left immediately for France, never to return to Ireland or Britain. There he wrote his last work, The Ballad of Reading Gaol (1898), a long poem commemorating the harsh rhythms of prison life.
After his release from prison, Oscar Wilde was persuaded by Ernest Dowson to visit a prostitute in Dieppe in order to acquire 'a more wholesome taste'. When he emerged from the brothel, a small crowd, supposedly, had gathered in the street. He whispered to Dowson, 'The first these ten years, and it shall be the last. It was like chewing cold mutton!' Then, in a louder voice: 'But tell it in England, for it will entirely restore my character!'
In 1898 Sergei Diaghilev toured Berlin, London and Paris, borrowing works of art to exhibit in St Petersburg. In Paris he sought out the exiled Oscar Wilde. Diaghilev was already a striking sight, tall and elegant, with an early white streak in his hair; the pair of them must have gone rather well together. Seeing them walking arm in arm, the women prostitutes are said to have stood on café chairs to hurl abuse at two such obvious threats to their business.
He died destitute in Paris at the age of 46.
David Diamond's Psalm, an orchestral piece of that year, was inspired by a visit to Oscar Wilde's grave in Père Lachaise and dedicated to André Gide.
---
My published books:

---
https://en.wikipedia.org/wiki/Oscar_Wilde
Robb, Graham. Strangers: Homosexual Love in the Nineteenth Century . Pan Macmillan. Edizione del Kindle.
Bachelors of a Different Sort, Queer Aesthetics, Material Culture and the Modern Interior in Britain, by John Potvin
Rossini, Gill. Same Sex Love 1700-1957: A History and Research Guide . Pen and Sword. Edizione del Kindle.
Woods, Gregory. Homintern . Yale University Press. Edizione del Kindle.
Homosexuals in History, A Study of Ambivalence in Society, Literature and the Arts, by A.L. Rowse, 1977
Sexual Heretics: Male Homosexuality in English Literature from 1850-1900, by Brian Reade