Wife Dolores del Rio
Queer Places:
Art Students League of New York
757 Kingman Ave, Santa Monica, CA 90402
Calvary Cemetery, East Los Angeles
Austin Cedric Gibbons (March 23, 1890 – July 26, 1960) was an Irish-American art director and production designer for the film industry. He also made a significant contribution to motion picture theater architecture from the 1930s to 1950s. Gibbons designed the Oscar statuette in 1928, but tasked the sculpting to George Stanley, a Los Angeles artist.[1][2] He was nominated 39 times for the Academy Award for Best Production Design and won the Oscar 11 times, both of which are records.[3] Marriage between gay men and lesbian women were common in Hollywood. Such marriages included those between MGM's chief art director Cedric Gibbons and Dolores del Rio, or Edmund Lowe and Lilyan Tashman, or Rudolph Valentino and Jean Acker (the lover of Grace Darmond and, at another time, of Alla Nazimova), or Janet Gaynor (later the lover of Mary Martin) and costume designer Adrian, or Barbara Stanwyck and Robert Taylor. According to Frank Lysinger, the companion of set dresser Richard Pefferle, most of the property department at MGM considered Gibbons to be homosexual.
Cedric Gibbons was born in New York City[4][5] in 1890[6][5] or 1893[7] (although conflicting reports have him born in Dublin, Ireland)[8] to architect Austin P. Gibbons and Veronica Fitzpatrick Simmons.[9] The couple raised him in the Brooklyn borough moving to New York City after the birth of their third child.[10] Cedric studied at the Art Students League of New York in 1911.[11] He began working in his father's office as a junior draftsman, then in the art department at Edison Studios under Hugo Ballin in New Jersey in 1915. He was drafted and served in the US Navy Reserves during World War I at Pelham Bay in New York.[12] He then joined Goldwyn Studios, and began a long career with Metro-Goldwyn-Mayer in 1924, when the studio was founded.[13]
Inspired by the landmark Exposition des Arts Décoratifs in Paris in 1925, Gibbons had brought the Art Deco style to MGM films, and consequently, to American architecture. Yet, although he was the son of an architect, he wasn't one himself. Rather, like Travis Banton and Adrian, he studied art and commercial design at the Art Students League.
In 1925, when he was first working in the art department at MGM, he was in competition with another talent, Romain De Tirtoff, for a more substantial position, while working with Joseph Wright, Merrill Pye and Richard Day on some 20 films.[14] Tirtoff is better known as Erte. When studio executive Irving Thalberg summoned Gibbons to work on Ben Hur (1925), he used knowledge of the up-and-coming art moderne (that was to become known as art deco) to advance in the MGM art department.[14] Gibbons was one of the original 36 founding members of The Academy of Motion Picture Arts and Sciences and designed the Academy Awards statuette in 1928.[2] A trophy for which he himself would be nominated 39 times, winning 11.[15] The last time for Best Art Direction for Somebody Up There Likes Me (1956). He retired from MGM as art director and the head of the art department on April 26, 1956 due to ill health with over 1,500 films credited to him; however, other designers did major work on these films, some credited, some were not, during Gibbons tenure as head of the art department.[14] Even so, his actual hands-on art direction is considerable and his contributions lasting.[16][17]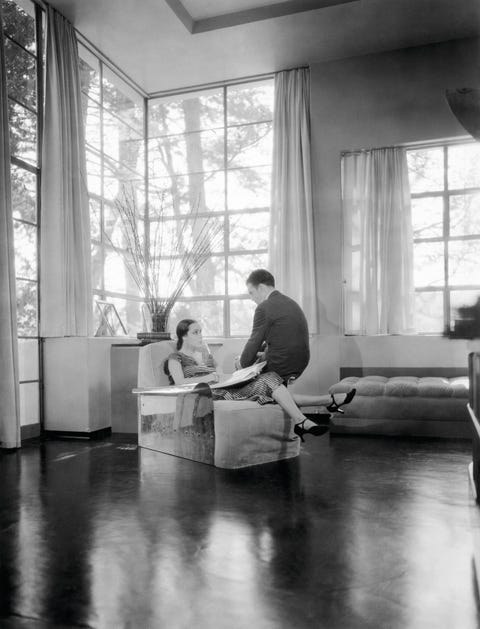 Extraordinarily handsome and well dressed, he was, for many years, a bachelor. His secreatary, according to MGM research chief Elliot Morgan, was a very obvious lesbian.
In 1930, Gibbons married actress Dolores del Rio and co-designed their house with Douglas Honnold[18] in Santa Monica, an intricate Art Deco residence influenced by Rudolf Schindler.[19][20] The gay screenwriter DeWitt Bodeen, who made it a point to knew the stories of everyone in Hollywood, would later write about the Gibbons-Del Rio march: "He was a shy man, 12 years older than she, but their engagement was announced only a few weeks after they had met, and shortly thereafter they were married in the chapel of the historic Santa Barbara Mission. Gibbons' marriage to one of Hollywood's most beautiful women took many by surprise." Shortly after the marriage, Del Rio (about whome there were also rumors) suffered a nervous breakdown. Despire married for many years, they weren't shy to admit to reporters that they slept in separate bedrooms. They divorced in 1941.
At MGM the set dressers were under the immediate supervision of property chief Edwin B. Willis. Willis was briefly married and adopted a daughter. By 1920, however, he shared a home with his sister, helping to raise her children. Starting as an actor, Willis would move over to the prop department at Goldwyn by the late Teens, remaining through the 1924 merger. His staff knew he was gay, but, like Cedric Gibbons, he rarely fraternized with them. "I always found him very attractive," said Frank Lysinger. "Not handsome. Sexy. Big and masculine." Departmental records do reveal a close working relationship between Gibbons and Willis, however.
Considering the work of classic Hollywood's gay directors and gay producers, a small but vital subset of the studio system, suggests "queer cinema" might not be such a modern postulate. Occasionally, a convergence of director, producer, writer, and star came together, such as happened with Camille (1937). The gay writer DeWitt Bodeen said that Camille "represents a meeting of talents that were perfect for its interpretation." In fact, wags like to call the picture a rare "all-gay" studio production, and in some ways it comes close: producer David Lewis, director George Cukor, screenwriter Zoe Akins. Greta Garbo, too, and Mercedes de Acosta had a hand in the early draft of the script before Akins took over. Robert Taylor, who played a stunningly beautiful Armand, was rumored to be having an affair with the film's set decorator, Jack Moore. There was also Adrian on costumes and Sydney Guilaroff doing hair. Rex O'Malley infused his Gaston with a natural feyness, a quality perhaps intended by Cukor and Akins, and another gay actor, Rex Evans, played several bit parts. ("Who is that big man and what part is he playing?" Garbo asked Cukor. "That man is Rex Evans," the director replied, "and he's playing the part of a friend who needs a job.") Cukor also manuevered the hiring of another friend, and another gay man, as the picture's true art director, supplanting the ubiquitous Cedric Gibbons, whose contract nonetheless decreed screen credit. This was Oliver Messel, esteemed scenic and costume designer from the London stage, whose outsider status evoked suspicion in the competitive world of the Hollywood studios. It wasn't Messel's first encounter with the studio bureaucracy; in 1935, during the filming of Romeo and Juliet, Cukor had caused a near war by insisting Messel design the costumes instead of Adrian, whom Cukor, according to several friends, viewed as pompous and pretentious. Cukor, as discreet as he was, never tried to obfuscate either his Jewishness or his gayness in the way Adrian did. "I get annoyed with statements that call George "closeted",", said his longtime friend and Los Angeles Times film critic Kevin Thomas. "George was never closeted. He never pretended to be anything he wasn't. He lived according to the rules of his time, that's all."
In October 1944, Gibbons married actress Hazel Brooks,[21] with whom he remained until his death.[22] Gibbons niece Veronica "Rocky" Balfe was Gary Cooper's wife and briefly an actress known as Sandra Shaw.[23][24] Gibbons' second cousin, Frederick "Royal" Gibbons—a musician, orchestra conductor, and entertainer[25] who worked with him at MGM—was the father of Billy Gibbons of the rock band ZZ Top.[26][27] On July 26, 1960, after a long illness, Gibbons died in Los Angeles at age 70, and was buried under a modest marker, at the Calvary Cemetery, East Los Angeles.[28] Dorothy Kilgallen, journalist and gossip columnist, also friend of his second wife, reported his age as 65 at the time of his death.
---
My published books:

---
Woods, Gregory. Homintern . Yale University Press. Edizione del Kindle.
Behind the Screen: How Gays and Lesbians Shaped Hollywood, 1910-1969, William J. Mann, 2001