Wife Jean Acker, Natacha Rambova
Queer Places:
Villa Valentino, Hollywood Fwy, Exit 9A, Los Angeles, CA, Stati Uniti
Falcon Lair, Bella Dr, Beverly Hills, CA 90210, Stati Uniti
Hotel and Café des Artistes, 1 W 67th St, New York, NY 10023, Stati Uniti
Hollywood Forever Cemetery, 6000 Santa Monica Blvd, Los Angeles, CA 90038, Stati Uniti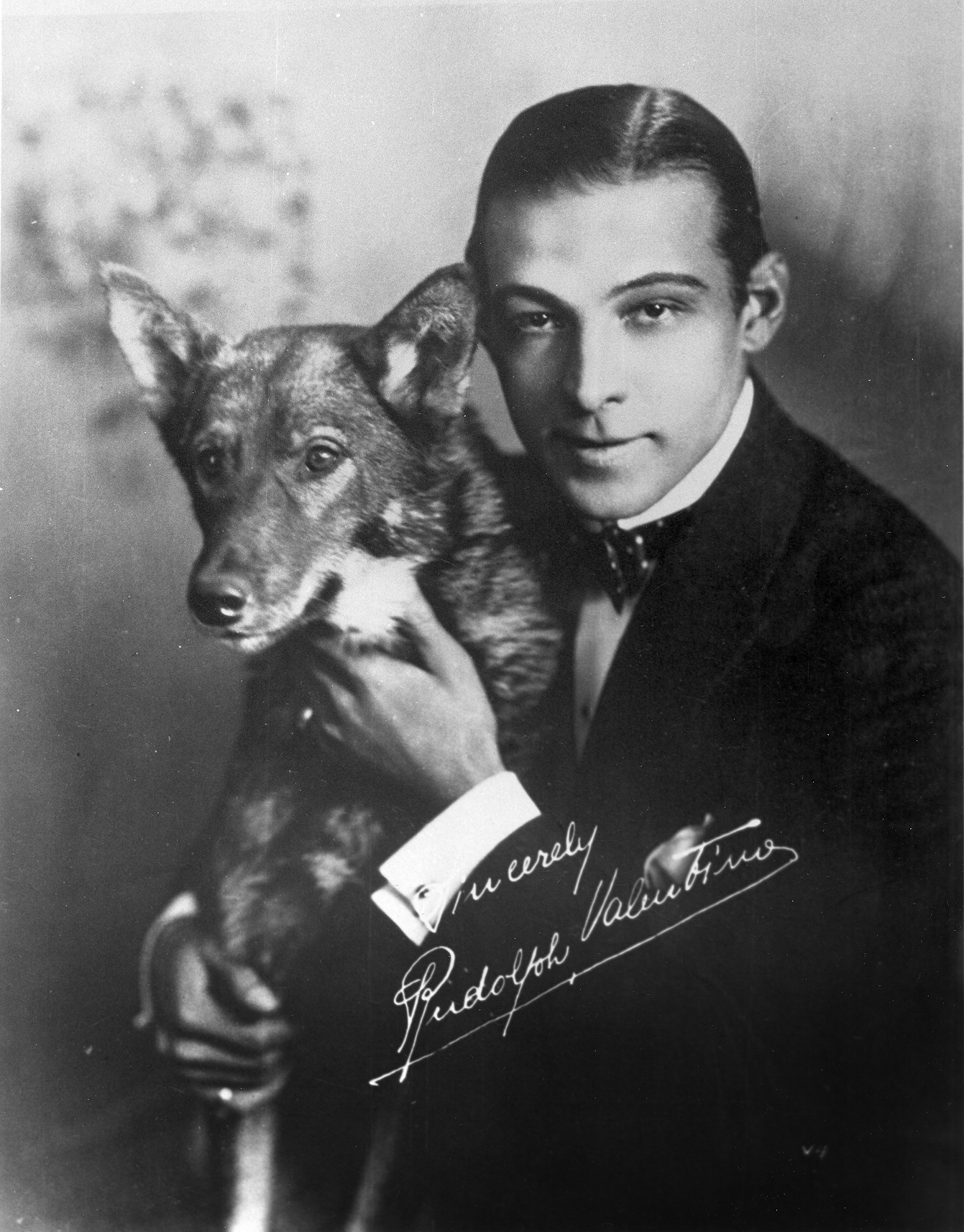 Rodolfo Alfonso Raffaello Pierre Filibert Guglielmi di Valentina d'Antonguella (May 6, 1895 – August 23, 1926), professionally known as Rudolph Valentino, was an Italian actor in America who starred in several well-known silent films including The Four Horsemen of the Apocalypse, The Sheik, Blood and Sand, The Eagle, and The Son of the Sheik.
He was an early pop icon, a sex symbol of the 1920s, who was known as the "Latin lover" or simply as "Valentino".[1] His premature death at the age of 31 caused mass hysteria among his female fans and further propelled him to iconic status.
In 1919—just before the rise of his career—Valentino impulsively married actress Jean Acker, who was involved with actresses Grace Darmond and Alla Nazimova. Acker became involved with Valentino in part to remove herself from the lesbian love triangle, quickly regretted the marriage, and locked Valentino out of their room on their wedding night. The couple separated soon after, and the marriage was never consummated.[4] The couple remained legally married until 1921, when Acker sued Valentino for divorce, citing desertion.[21] The divorce was granted, with Acker receiving alimony. She and Valentino eventually renewed their friendship, and remained friends until his death.[4]
Valentino first met Winifred Shaughnessy, known by her stage name, Natacha Rambova—an American silent film costume and set designer, art director, and protégée of Nazimova—on the set of Uncharted Seas in 1921. The two worked together on the Nazimova production of Camille, by which time they were romantically involved.[60] They married on May 13, 1922, in Mexicali, Mexico, which resulted in Valentino's arrest for bigamy, since he had not been divorced for a full year, as required by California law at the time. Days passed and his studio at the time, Famous Players-Lasky, refused to post bail. Eventually, a few friends were able to post the cash bail.[61] He was also investigated for a possible violation of the Mann Act.[62]
Having to wait the year or face the possibility of being arrested again, Rambova and Valentino lived in separate apartments in New York City, each with their own roommates. On March 14, 1923, they legally remarried at the Lake County Court House in Crown Point, Indiana.[63]
Many of Valentino's friends disliked Rambova and found her controlling.[46] During his relationship with her, he lost many friends and business associates, including June Mathis. Towards the end of their marriage, Rambova was banned from his sets by contract. Valentino and Rambova divorced in 1925. The end of the marriage was bitter, with Valentino bequeathing Rambova one dollar in his will.[21]
From the time he died in 1926 until the 1960s, Valentino's sexuality was not generally questioned in print.[64][65] At least four books, including the notoriously libelous Hollywood Babylon, suggested that he may have been gay despite his marriage to Rambova.[66][67][68][69] [70] For some, the marriages to Acker and Rambova, as well as the relationship with Pola Negri, add to the suspicion that Valentino was gay and that these were "lavender marriages."
Such books gave rise to claims that Valentino had a relationship with Ramón Novarro, despite Novarro stating they barely knew each other.[64][67] Hollywood Babylon recounts a story that Valentino had given Novarro an art deco dildo as a gift, which was found stuffed in his throat at the time of his murder. No such gift existed.[64][66][67] These books also gave rise to claims that he may have had relationships with both roommates Paul Ivano and Douglas Gerrad, as well as Norman Kerry, openly gay French actor Jacques Herbertot, and André Daven.[71] However, Ivano maintained that it was untrue and both he and Valentino were heterosexual.[22] Biographers Emily Leider and Allan Ellenberger generally agree that he was most likely straight.[72][73]
There was further supposed evidence that Valentino was gay; documents in the estate of the late author Samuel Steward indicated that Valentino and Steward were sexual partners.[74] However, evidence found in Steward's claim was subsequently found to be false, as Valentino was in New York on the date Steward claimed a sexual encounter occurred in Ohio.[75]
Shortly before his death, Valentino was dating Ziegfeld Follies showgirl Marion Wilson Benda[76] while he was also involved in a relationship with actress Pola Negri. Upon his death, Negri made a scene at his funeral, claiming they had been engaged, in spite of the fact that Valentino had never mentioned this engagement to anyone himself.[56]
On August 15, 1926, Valentino collapsed at the Hotel Ambassador on Park Avenue in Manhattan. He was hospitalized at the New York Polyclinic Hospital. Following an examination, he was diagnosed with appendicitis and gastric ulcers, and surgery was performed immediately. (His condition was referred to as "Valentino's syndrome"--perforated ulcers mimicking appendicitis.) After surgery, Valentino developed peritonitis. On August 18, his doctors were optimistic about his prognosis. The media was told that unless Valentino's condition deteriorated, no updates would be given.[77] However, his condition worsened on August 21. He was stricken with a severe relapse of pleuritis, which developed rapidly in his left lung due to his weakened condition.[77] The doctors realized that Valentino was going to die, but as was common at the time, chose to withhold this information. Valentino reportedly believed that he would recover. During the early hours of Monday, August 23, Valentino was briefly conscious and chatted with his doctors about his future, but soon lapsed into a coma. He died a few hours later at the age of 31.[21][77]
Valentino left his estate to his brother, sister, and Rambova's aunt Teresa Werner, who was left the share originally bequeathed to Rambova.[84] His Beverly Hills mansion, Falcon Lair, was later owned by heiress Doris Duke. Duke died there in 1993. The home was later sold and underwent major renovations. The main building of the estate was razed in 2006, and the property was then put back on the market.[81]
---
My published books:


---
https://en.wikipedia.org/wiki/Rudolph_Valentino
Dictionnaire historique des homosexuel.le.s célèbres – October 19, 2017 French Edition by Michel Larivière