Husband Hugo Rumbold, Partner Jobyna Howland
Queer Places:
6350 Franklin Ave, Los Angeles, CA 90028
San Gabriel Cemetery, 601 W Roses Rd, San Gabriel, CA 91775, Stati Uniti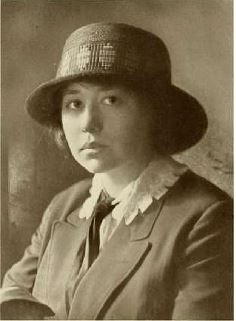 Zoe Byrd Akins (October 30, 1886 – October 29, 1958) was an American playwright, poet, and author. Emma Goldman recalled her as "exotic and vivacious…a strange American product," a young Bohemian from a conservative well-to-do family who visited Goldman frequently in her hotel when she was in St. Louis. Beside Isabelle McClung and Edith Lewis, Willa Cather had close relationships with a number of other women, including the writers Elizabeth Shepley Sargent, Dorothy Canfield Fisher, Zoe Atkins, and Sarah Orne Jewett, who was Cather's literary mentor. Dorothy Arzner's collaboration with Zoe Akins on films offered surprisingly feminist messages.
Zoe Byrd Akins was born in Humansville, Missouri, second of three children of Thomas Jasper Akins and Sarah Elizabeth Green. Her family was heavily involved with the Missouri Republican Party, and for several years her father served as the state party chairman. Through her mother, Zoe Akins was related to prominent figures like George Washington and Duff Green.[1] Her family moved to St. Louis, Missouri when Zoe was in her early teens. She was sent to Monticello Seminary in nearby Godfrey, Illinois for her education and later Hosmer Hall preparatory school in St. Louis. While at Hosmer Hall she was a classmate of poet Sara Teasdale, both graduating with the Class of 1903. It was at Monticello Seminary that Akins wrote her first play, a parody of a Greek tragedy. Following graduation Akins began writing a series of plays, poetry and criticism for various magazines and newspapers[2] as well as occasional acting roles in St. Louis area theatre productions.
She wrote stories and essays for a local literary magazine and in 1909 moved to New York, determined to find her way to the stage. To pay her bills, she wrote for several magazines, becoming in the process a protégé of Willa Cather, then editor of McClure's. Cather helped Akins publish her first collection of verse, Interpretations (1911), and they remained lifelong friends.
Her first major dramatic work was Papa, written in 1914. The comedy failed even though it greatly impressed both H.L. Mencken and George Jean Nathan,[3] and she continued to write.[4] She followed up with two other plays, The Magical City and Déclassée. The latter play, which starred Ethel Barrymore, was not only a great success but "something of a sensation, and her days of waiting were over." [5] Zoe, the ugly duckling, would admit to having had a girlish crush on the comely, aristocratic actress. In 1920, at the height of their collaboration in "Declassée, Akins published an unabashed love poem to Barrymore in Vanity Fair. "The face is like a flower abloom in May, The head is lifted for a wreath of bay, The steady eyes, of what world are they?" and so on, concluding with, "O, in a world of sadness and despair, 'Tis good to find a gracious thing and fair, A face serene, nor restless with old fears, Set calm and star-like toward the coming years!" Barrymore, for her part, would recall seeing Zoe for the first time with Jobyna Howland, and asking Howland later who "the little Polish woman" was.
During this time several of her early plays were adapted for the screen. These adaptations were mostly failures, released as silent films in a time when the industry was transitioning to sound. While some "talkie" stars had notable roles in the films (Walter Pidgeon and a young Clark Gable), most of the films are now believed to be lost.
The editors of Poetry, Harriet Monroe and Alice Corbin Henderson included in their 1917 selection for The New Poetry: An Anthology poems by Zoe Atkins. According to Adrienne Munich and Melissa Bradshaw, authors of Amy Lowell, American Modern, what connects these poets is their appartenance to the queer sisterhood.
During this time, Akins was rumoured to be in a long-term relationship with Jobyna Howland, which lasted until Howland's death in 1936. According to Anita Loos, the two squabbled often, "But such gibes actually held the key to their devotion." [8]
Zoe gave her friend's career a boost in 1922 when she wrote "The Texas Nightingale" especially for her. Joby scored terrificc reviews playing the part of a temperamental opera diva. A few years later, when Zoe's health caused her to move to California, Joby followed. Letters from friends reveal the depth of devotion between them. One of their closest friends was the Austrian filmmaker and stage director Leontine Sagan, whose film Madchen in Uniform (1931) caused an international uproar for its frank, sympatethic depiction of a lesbian love story. Tellingly, Sagan would write to Akins of how much she admired her relationship with Joby. Their home bustled with famous folk: in addition to Arzner, where was Ethel Barrymore, Judith Anderson, Gilmor Brown, Billie Burke, Peggy Wood, W. Somerset Maugham, and George Cukor. Writing about his first visit to the film colony in Vogue in 1931, Cecil Beaton singled out for distinction "the house shared by Misses Zoe Akins and Jobyna Howland, full of the most exquisite objects, full of charming and literary personalities.
"She thought she was a grand lady," said Elliot Morgan, a friend and head of the research department at MGM. "She came from a prominent background and had prominent friends, but she was so silly, even a little dizzy. She gave wonderful parties, Norma Shearer and Fannie Brice, just everybody. I said to her once, "Zoe, this is such a wonderful party." She said, "Oh, I don't know who's here. I've just shaken hand with a waiter."" She loved the good life but was forever just this close to the poorhouse. "She had a beautiful emerald ring," recalled another friend, the producer David Lewis. "When it was on her finger you knew she was in the chips, so beware. But when it was absent, you knew it was in the hock shop and she was desperate to get it out."
In 1930, Akins had another great success with her play, The Greeks Had a Word For It, a comedy about three models in search of rich husbands [6]
The early George Cukor has a sly impulse to tweak the prevailing culture. That's part of the reason he so adored Zoe Akins, turning to her story, "Girls About Town," for the freewheeling knockout of a picture starring Kay Francis and Lilyan Tashman in 1931. One review called Girls About Town "very gay, very gay," adding, "Naughty, but nice enough to get by Papa Hays and the censors."
In the early 1930s, Akins became more active in film, writing several screenplays as well as continuing to sell the rights to plays such as The Greeks Had a Word for It (1930), which was adapted for the movies three times, in 1932 (as The Greeks Had a Word for Them), 1938 (as Three Blind Mice), and 1953 (How to Marry a Millionaire). Two highlights of this period were the films Sarah and Son (1930) and Morning Glory (1933), the latter remade as Stage Struck. Both films earned their respective female leads (Ruth Chatterton and Katharine Hepburn) Academy Award nominations for Best Actress (Hepburn won). In 1933 Akins wrote Christopher Strong directed by Dorothy Arzner with Katharine Hepburn.
In March 1932, she married Hugo Rumbold (in the last year of his life), a British painter and set designer. He was from an old British aristocratic family, the brother of the ambassador to Berlin, and about as effete as they come. "Zoe just loved saying, "You know, my sister-in-law is Lady Rumbold,"" said her firiend Elliot Morgan. "Oh, yes, the marriage to Hugo was one of convenience, Zoe's convenience in becoming an aristocrat." They were married at Zoe's home in Pasadena, with a reception hosted by Noel Coward, George Cukor, William Haines, and Tallulah Bankhead. After the marriage, of course, Joby and Zoe no longer lived together, with Joby taking a home in Beverly Hills. There, she pointedly told an interviewer her only companion was a Pomeranian she'd namaed Zoe. Billie Burke, around the time of her affair with Dorothy Arzner, wrote to the new bride urging her to find happiness with Hugo. He was someone, Burke said, who could appreciate and understand her. But in November, Rumbold wrote in frustation that he had expected an idyllic married life, but he'd discovered instead that his wife wrote better love scenes for the screen than she did for her own husband. Just a few days after he sent this letter, poor Hugo was dead. Reports of the cause of death varied from a heart attack to lingering injuries he'd sustained in WWI.
Soon the papers were back to reporting that Zoe and Joby showed up "arm-in-arm" at Hollywood functions. In 1935, Joby starred in Zoe's play "O Evening Star," based on the life of Marie Dressler. It came close to being an all-gay production: Zoe, Joby, the director Leontine Sagan, scenic designer Stewart Chaney, and at least one actor in the cast, Zoe's food chum Anderson Lawler.
After several Hollywood films, she returned to writing plays and spending time with her family.[7]
In 1935, she was awarded the Pulitzer Prize for Drama for her dramatization of Edith Wharton's The Old Maid, a melodrama set in New York City and written in five episodes stretching across time from 1839 to 1854. The play was adapted for a 1939 film starring Bette Davis.
In 1936, Akins co-wrote the screenplay for Camille, adapted from Alexandre Dumas's play and novel, La dame aux camélias The film starred Greta Garbo, Robert Taylor, and Lionel Barrymore, and earned Garbo her third Oscar nomination.
Considering the work of classic Hollywood's gay directors and gay producers, a small but vital subset of the studio system, suggests "queer cinema" might not be such a modern postulate. Occasionally, a convergence of director, producer, writer, and star came together, such as happened with Camille (1937). The gay writer DeWitt Bodeen said that Camille "represents a meeting of talents that were perfect for its interpretation." In fact, wags like to call the picture a rare "all-gay" studio production, and in some ways it comes close: producer David Lewis, director George Cukor, screenwriter Zoe Akins. Greta Garbo, too, and Mercedes de Acosta had a hand in the early draft of the script before Akins took over. Robert Taylor, who played a stunningly beautiful Armand, was rumored to be having an affair with the film's set decorator, Jack Moore. There was also Adrian on costumes and Sydney Guilaroff doing hair. Rex O'Malley infused his Gaston with a natural feyness, a quality perhaps intended by Cukor and Akins, and another gay actor, Rex Evans, played several bit parts. ("Who is that big man and what part is he playing?" Garbo asked Cukor. "That man is Rex Evans," the director replied, "and he's playing the part of a friend who needs a job.") Cukor also manuevered the hiring of another friend, and another gay man, as the picture's true art director, supplanting the ubiquitous Cedric Gibbons, whose contract nonetheless decreed screen credit. This was Oliver Messel, esteemed scenic and costume designer from the London stage, whose outsider status evoked suspicion in the competitive world of the Hollywood studios. It wasn't Messel's first encounter with the studio bureaucracy; in 1935, during the filming of Romeo and Juliet, Cukor had caused a near war by insisting Messel design the costumes instead of Adrian, whom Cukor, according to several friends, viewed as pompous and pretentious. Cukor, as discreet as he was, never tried to obfuscate either his Jewishness or his gayness in the way Adrian did. "I get annoyed with statements that call George "closeted",", said his longtime friend and Los Angeles Times film critic Kevin Thomas. "George was never closeted. He never pretended to be anything he wasn't. He lived according to the rules of his time, that's all."
When Joby died of a heart attack in 1936, Zoe was listed among her survivors as her "intimate friend", seated in a "place of honor" at the funeral. Leontine Sagan would write of being touched by Zoe's care for Joby at the end; but 1938 Sagan is asking after the nice Hungarian girl Zoe had with her in London, observing that it speaks highly of their relationship that they were still together.
Despite the fame afforded her, Akins didn't pursue a screenwriting career beyond her early successes. Akins died in her sleep on the eve of her 72nd birthday in Los Angeles.
---
My published books:


---
https://en.wikipedia.org/wiki/Zoe_Akins
Behind the Screen: How Gays and Lesbians Shaped Hollywood, 1910-1969, William J. Mann, 2001