Partner Glesca Marshall
Queer Places:
Moscow Art Theatre, Kamergerskiy Pereulok, 3, Moskva, Russia, 125009
King St, Port Chester, NY
8152 Sunset Blvd, Los Angeles, CA 90046
Forest Lawn Memorial-Parks & Mortuaries, 1712 S Glendale Ave, Glendale, CA 91205, Stati Uniti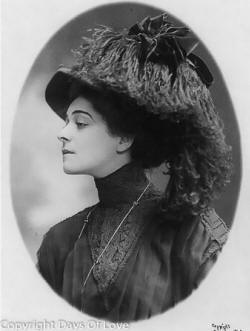 Alla Nazimova (born Marem-Ides Leventon; June 3 [O.S. May 22] , 1879 – July 13, 1945) was a Russian actress who immigrated to the United States in 1905. She has been romantically linked to Jean Acker, Natacha Rambova, Eva Le Gallienne, Mercedes De Acosta, Dolly Wilde, Bridget Bate Tichenor, Glesca Marshall, Grace Darmond, Dorothy Arzner, Maude Adams. Emma Goldman befriended and managed her under the pseudonym E.G. Smith. In 1906 her troop gave a benefit performance to raise money to launch Goldman's journal Mother Earth.
Although Nazimova's accepted birth year is 1879, that is far from certain since there are different sources that indicate 1878 or even 1876 [3](an October 1905 passenger list gives her age 29).
On Broadway, she was noted for her work in the classic plays of Ibsen, Chekhov and Turgenev. Her efforts at silent film production were less successful, but a few sound-film performances survive as a record of her art.
Nazimova openly conducted relationships with women, and her mansion on Hollywood's Sunset Boulevard was believed to be the scene of outlandish parties. She is credited with having originated the phrase "sewing circle" as a discreet code for lesbian or bisexual actresses.
In 1899 she married Sergei Golovin, a fellow actor.[4] While still in Russia and before coming to America in 1905, Nazimova may have given birth to a child. The father has been speculated to be either her husband Golovin or her lover Orlenev.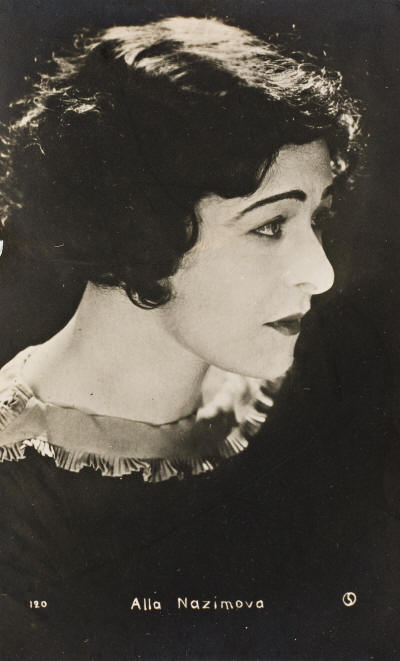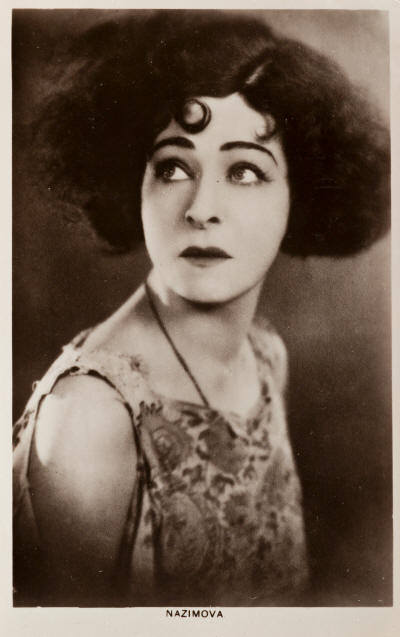 (ALLA NAZIMOVA, 1879-1945) A group of 12 real photo postcards related to the trailblazing actress. A group of photo postcards, 11 depicting the celebrated Russian-born actress Alla Nazimova, and one depicting her residence in Los Angeles ("the Garden of Alla"), five with color in the image. Silver prints (10) and photogravures (2) on carte-postale paper, the images measuring approximately 140x89 mm; 5 1/2x3 1/2 inches, and the reverse, all with the subject's name and five with the studio credit, on the recto. 1910s-30s. Alla Nazimova was a notable silent film star in the early 1900s and one of the first female producers and directors in Hollywood. During a financial crisis, Nazimova turned the area around her Los Angeles residence (nicknamed the "Garden of Alla") and well-known for its parties, into a hotel where numerous stars visited and lived. Nazimova was known for coining the usage of the phrase "sewing circle" in the 1910s to 1950s to indicate queer women in Hollywood, who were not public with their sexuality.
From 1912 to 1925 Nazimova maintained a "lavender marriage" with Charles Bryant (1879–1948),[12] a British-born actor.[4][13] In order to bolster this arrangement with Bryant, Nazimova kept her marriage to Golovin secret from the press, her fans and even her friends. In 1923, she arranged to divorce Golovin without traveling to the Soviet Union. Her divorce papers, which arrived in the United States that summer, stated that on May 11, 1923, the marriage of "citizeness Leventon Alla Alexandrovna" and Sergius Arkadyevitch Golovin, "consummated between them in the City Church of Boruysk June 20, 1899," had been officially dissolved. A little over two years later, on November 16, 1925, Charles Bryant, then 43, surprised the press, Nazimova's fans and Nazimova herself by marrying Marjorie Gilhooley, 23, in Connecticut. When the press uncovered the fact that Charles had listed his current marital status as "single" on his marriage license, the revelation that the marriage between Alla and Charles had been a sham from the beginning embroiled Nazimova in a scandal that damaged her career.[14]:265–66; 285
From 1917 to 1922, Nazimova wielded considerable influence and power in Hollywood.[4] When Metro brought Nazimova to Hollywood, at an unheard-of salary of $13.000 per week, it was as a rival to Theda Bara, but Nazimova decimated poor Bara. Her passion was barely contained, in liefe or on the screen. And, at least after 1918, after a passionate affair with Mercedes de Acosta, it was lesbian passion.
It's fitting confluence that Dorothy Arzner began her career as a script girl to Alla Nazimova: the most famous lesbian of the silent era mentoring the young woman who would go on to become the "sole distaff-side director" of Hollywood's Golden Age. Arzner had an affair with Nazimova during the making of Stronger Than Death in 1919. Gavin Lambert, Nazimova's biographer, believed the story to be true. He sourced George Cukor, who was friends with both Nazimova and Arzner, and who scrupulously "separated falsehood from truth before passing on a story."
In Camille (1921), Nazimova is cold and aloof to her Armand, Rudolph Valentino, then just breaking into stardom, and only really comes alive in the scenes with her friend Nichette, played by the young ingenue Patsy Ruth Miller. Nazimova's twist on Dumas was heralded in an opening intertitle, "Why not a Camille of today?", her idea, but the interpretation was so twisted that even Eva LeGallienne, herself a lesbian, was reported to be "shocked."
In 1925 or 1926, Dolly Wilde had a brief affair with the film star Alla Nazimova (later Nancy Reagan's godmother).
Nazimova helped start the careers of both of Rudolph Valentino's wives, Jean Acker and Natacha Rambova. Although she was involved in an affair with Acker,[15] it is debated as to whether her connection with Rambova ever developed into a sexual affair. Nevertheless, there were rumors that Nazimova and Rambova were involved in a lesbian affair (they are discussed at length in Dark Lover, Emily Leider's biography of Rudolph Valentino) but those rumors have never been definitely confirmed. She was very impressed by Rambova's skills as an art director, and Rambova designed the innovative sets for Nazimova's film productions of Camille and Salomé (1923).[16] Today the sylized film Salome is high camp and has gone down in legend as an "all-gay" production, supposedly Nazimova's homage to its author, Oscar Wilde. What is unusual was the casting of drag queens to mix in among the court ladies, and the gay sexual subplot: the lust between a Roman soldier, in a sleeveless lamé armor, and a Syrian captain, painted nipples and black tights.
Nazimova lived with Glesca Marshall, an actress she met at Eva Le Gallienne's Civic Repertory Theatre, from 1929 until her death in 1945.[14] :289 It is believed that Nazimova coined the phrase "sewing circle" as code to refer to lesbian or bisexual actresses of her day who concealed their true sexuality.[17][19]
Of those Nazimova is confirmed to have been involved with romantically, the list includes actress Eva Le Gallienne, director Dorothy Arzner, writer Mercedes de Acosta, and Oscar Wilde's niece, Dolly Wilde.[17] Bridget Bate Tichenor, a Magic Realist artist and Surrealist painter, was also rumored to be one of Nazimova's favored lovers in Hollywood during the World War II years of 1940 to 1942.[18] The two had been introduced by the poet and art collector Edward James, and according to Tichenor, their intimate relationship angered Nazimova's longtime companion, Glesca Marshall.[18] However, the fact that Tichenor was pregnant most of 1940, giving birth to her son on Dec. 21, 1940, along with the 40-year age gap between the two women, casts some doubt on this rumor.
On July 13, 1945 Nazimova died of a coronary thrombosis, age 66,[2] in the Good Samaritan Hospital in Los Angeles.[13] Her ashes were interred in Forest Lawn Memorial Park Cemetery in Glendale, California.[21] Her contributions to the film industry have been recognized with a star on the Hollywood Walk of Fame.
---
My published books:


---
https://en.wikipedia.org/wiki/Alla_Nazimova
https://www.autostraddle.com/10-old-hollywood-stars-who-enjoyed-scissoring-343227/
Woods, Gregory. Homintern . Yale University Press. Edizione del Kindle.
Behind the Screen: How Gays and Lesbians Shaped Hollywood, 1910-1969, William J. Mann, 2001