Queer Places:
Judith Anderson Theatre, 412 W 42nd St, New York, NY 10036
San Ysidro Rd, Montecito, CA 93108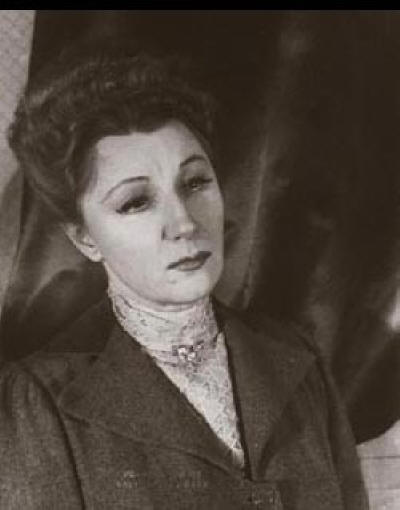 Dame Frances Margaret Anderson, AC, DBE (10 February 1897 – 3 January 1992[2]), known professionally as Judith Anderson, was an Australian-born British actress who had a successful career in stage, film and television. A preeminent stage actress in her era, she won two Emmy Awards and a Tony Award and was also nominated for a Grammy Award and an Academy Award. She is considered one of the 20th-century's greatest classical stage actors.
She was born Frances Margaret Anderson-Anderson in Australia, the fourth and youngest child of James Anderson-Anderson and Jessie Margaret Saltmarsh.
In 1928 she replaced Lynn Fontanne as Nina Leeds in Eugene O'Neill's Strange Interlude. Her performance as Lavina Mannon in Mourning Becomes Electra in 1932 caught the attention of Guthrie McClintic who cast Anderson first as Gertrude in Hamlet (1936), opposite John Gielgud, then as the Scottish Lady opposite Laurence Olivier's Macbeth at the Old Vic in 1937.
The hallmark of her acting career came in 1947 when she played Medea under Gielgud's direction in a new adaptation of the tragedy written for Anderson by Robinson Jeffers.
Anderson appeared in many feature films, often as a dark, wicked character, such as the dyke-like Mrs. Danvers in Alfred Hitchcock's Rebecca. Her other films include Lady Scarface, Kings Row with Ronald Reagan, Laura with Clifton Webb, Salom, The Ten Commandments, Cat on a Hot Tin Roof, Cinderfella, and Star Trek III. When asked if she had ever wished to play softer roles, she dismissed the question. Eva Le Gallienne said of her: "She cannot by nature play wall flowers."
Though she lived quietly in Santa Barbara, it was no secret in Hollywood that Anderson was a lesbian. After she played Big Mama in the film version of Cat on a Hot Tin Roof she said, "Tennessee Williams informed me that all his gentlemen friends were convinced it was a stretch for me to play a heterosexual."
Anderson was married twice and declared that "neither experience was a jolly holiday":[35]
Benjamin Harrison Lehmann (1889–1977), an English professor at the University of California at Berkeley;[36] they wed in 1937 and divorced in August 1939. By this marriage she had a stepson, Benjamin Harrison Lehmann, Jr. (born 1918).[37][38]
Luther Greene (1909–1987), a theatrical producer; they were married in July 1946 and divorced in 1951.[39]
Boze Hadleigh wrote: "Guthrie McClintic told Alexander Woollcott, "Judith may never find someone manlier than herself to act with or engage."" When Hadleigh asked Anderson if it would bother her to be thought of as a lesbian, she responded, "Many people already do... it doesn't bother me, it's the people who ask who bother me." When pressed to divulge her "romantic orientation," she replied, "I am no romantic! That is my orientation!... But I wouldn't "come out" in a million years."
Anderson loved Santa Barbara, California, and spent much of her life there. She died there, of pneumonia, in 1992, aged 94.[2][40]
---
My published books:


---
https://en.wikipedia.org/wiki/Judith_Anderson
Behind the Screen: How Gays and Lesbians Shaped Hollywood, 1910-1969, William J. Mann, 2001