Partner William Hewitt
Queer Places:
134 West 4th Street, New York, NY 10012
4 East 12th Street, New York
Chelten Hills Cemetery, 1701 E Washington Ln, Philadelphia, PA 19138, Stati Uniti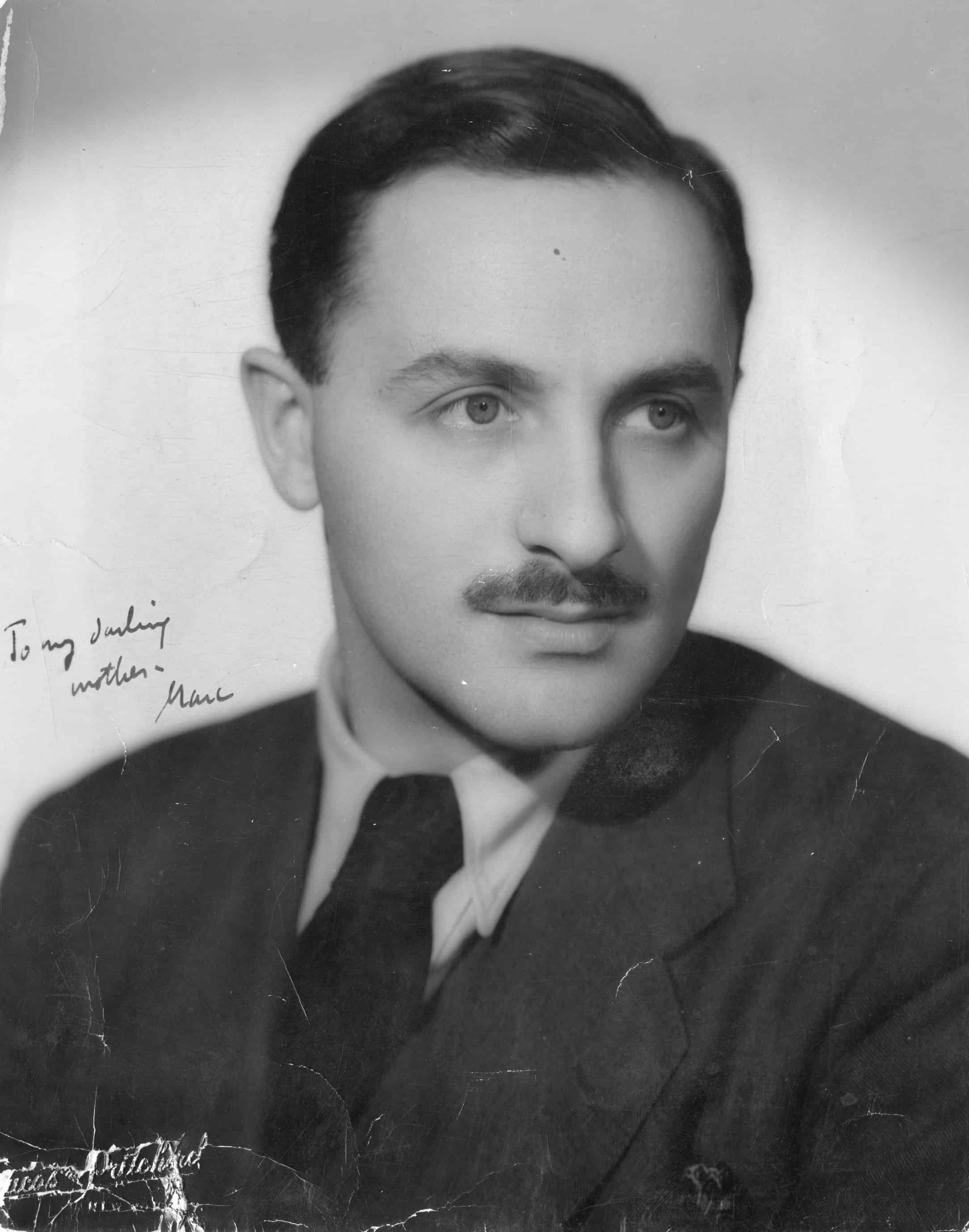 Marcus Samuel Blitzstein (March 2, 1905 – January 22, 1964), was an American composer, lyricist, and librettist.[1] He won national attention in 1937 when his pro-union musical The Cradle Will Rock, directed by Orson Welles, was shut down by the Works Progress Administration. He is known for The Cradle Will Rock and for his Off-Broadway translation/adaptation of The Threepenny Opera by Bertolt Brecht and Kurt Weill. The composer and lyricist Marc Blitzstein once said to Ned Rorem, 'sooner or later all queers meet each other'.
Blitzstein's works also include the opera Regina, an adaptation of Lillian Hellman's play The Little Foxes; the Broadway musical Juno, based on Seán O'Casey's play Juno and the Paycock; and No for an Answer. He completed translation/adaptations of Brecht's and Weill's musical play Rise and Fall of the City of Mahagonny and of Brecht's play Mother Courage and Her Children with music by Paul Dessau. Blitzstein also composed music for films, such as Surf and Seaweed (1931) and The Spanish Earth (1937), and he contributed two songs to the original 1960 production of Hellman's play Toys in the Attic.
Addressing the post-WWI period in his enormous overview of twentieth-century music, but without the ulterior agenda of the anti-gay conspiracy theorists, Alex Ross writes: Homosexual men, who make up approximately 3 to 5 percent of the general population, have played a disproportionately large role in composition of the last hundred years. Somewhere around half of the major American composers of the twentieth century seem to have been homosexual or bisexual: Aaron Copland, Virgil Thomson, Leonard Bernstein, Samuel Barber, Marc Blitzstein, John Cage, Harry Partch, Henry Cowell, Lou Harrison, Gian Carlo Menotti, David Diamond, and Ned Rorem, among many others.
A number of composers who were both Jewish and gay had something else in common. In their youth, they had been to Paris to study composition under Nadia Boulanger: Aaron Copland in the early 1920s, Virgil Thomson in the mid-1920s (while there he met his lover, the painter Maurice Grosser), Marc Blitzstein in the late 1920s (his Russian-born lover, the conductor Alexander Smallens accompanied him to Europe in 1924), David Diamond in 1936 (his Psalm, an orchestral piece of that year, was inspired by a visit to Oscar Wilde's grave in Père Lachaise and dedicated to André Gide).
Blitzstein was openly gay.[7] He wrote to his sister in 1929, regarding prior attempts to suppress or hide his orientation, "it is absurd to assume there are no sins; there are definitely Cardinal sins -- sins against oneself, against one's law. My sin is, has been... the willingness to corrupt my nature."[8] His first lover was the conductor Alexander Smallens, with whom he traveled to Europe in 1924.[9][5] Blitzstein nevertheless married novelist Eva Goldbeck on March 2, 1933. They had no children. His mother-in-law was Berlin-born musical star and opera singer Lina Abarbanell. He dedicated a number of works, including Romantic Piece for Orchestra (1930), String Quartet, 'The Italian' (1930), the ballet Cain (1930), and the Serenade for String Quartet (1932) to his wife-to-be. She died of anorexia in 1936, and his grief prompted him to throw himself into the work of creating The Cradle Will Rock.[10]
For a time in the late 1940s Blitzstein openly introduced his lover, William Hewitt, an American Technical Sergeant and a Ninth Air Force radio gunner on a Marauder, whom Blitzstein had met in London during the World War Second. They lived together for about two years. They spent the summer of 1945 at the home Jo and Ed Davis had purchased the previous year in Pennsylvania's Brandywine Valley at Chadds Ford, residing below the main house in a stone spring cottage that they painted pink and black. In the fall of 1946, they took an apartment at 134 West 4th Street, New York, and spent part of that winter at the estate of Motty and Bess Eitingon in Greenwich, Connecticut, where Blitzstein completed the Airborne Symphony. In 1946, the two moved into a modest studio apartment at 4 East 12th Street, New York, that would serve Blitzstein as home for the rest of his life, and that was equipped with a galley kitchen, bath, terrace, and large multipurpose room where the composer kept his bed, piano, and work-table. He and Hewitt summered in 1946 at the guest cottage of Mina Curtiss in Ashfield, Massachusetts, and in 1947 at the country house of writer Donald Ogden Stewart and his wife Ella Winter Stewart in Upper Jay in New York's Adirondack Moantains, near the home of artist and writer Rockwell Kent—asocial circle bound by communist sympathies.
Blitzstein and Hewitt presumably maintained some romantic involvement throughout this time, although they were never monogamous: Blitzstein continued to cruise trysting places, while Hewitt maintained his relationship with Luellen Bowles, whom he will marry in 1949. In the fall of 1946, Hewitt took a job as a cutter in Motty Eitingon's fur business, but that did not last. When Hewitt returned with Blitzstein to New York in the fall of 1947, he moved out on his own. For a short while, Hewitt roomed with Blitzstein's nephew Christopher Davis. David Diamond observed Hewitt's flirtatiousness with Leonard Bernstein and himself.
Blitzstein died in Fort-de-France, Martinique, where he was wintering, in 1964, a few hours after being robbed and beaten by three sailors.
---
My published books:


---
https://en.wikipedia.org/wiki/Marc_Blitzstein
Woods, Gregory. Homintern . Yale University Press. Edizione del Kindle.