Queer Places:
East Lawn Palms Mortuary, 5801 E Grant Rd, Tucson, Az 85712, Tucson, AZ 85712, Stati Uniti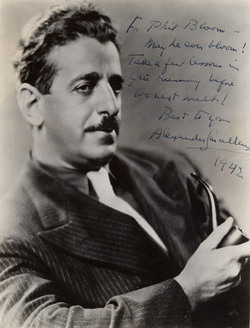 Alexander Smallens (January 1, 1889 – November 24, 1972) was a Russian-born American conductor and music director.[1]
A number of composers who were both Jewish and gay had something else in common. In their youth, they had been to Paris to study composition under Nadia Boulanger: Aaron Copland in the early 1920s, Virgil Thomson in the mid-1920s (while there he met his lover, the painter Maurice Grosser), Marc Blitzstein in the late 1920s (his Russian-born lover, the conductor Alexander Smallens accompanied him to Europe in 1924), David Diamond in 1936 (his Psalm, an orchestral piece of that year, was inspired by a visit to Oscar Wilde's grave in Père Lachaise and dedicated to André Gide).
Smallens was born in Saint Petersburg, Russia, and emigrated to the United States as a child, becoming an American citizen in 1919. He studied at the New York Institute of Musical Art until 1909, when he traveled to France to study at the Conservatoire de Paris.[2] [3] [4] [5] [6]
Returning to the United States, Smallens was a conductor or music director at several American music organizations including the Boston Opera Company (1911–1914), the Anna Pavlova Ballet Company (1917–1919), the Chicago Opera Company (1919–1923), the Philadelphia Civic Opera Company (1924–1930), the Philadelphia Orchestra (1928–1934) and the Radio City Music Hall (1947–1950).
In addition, Smallens worked briefly on Broadway, conducting the premieres of Thomson's Four Saints in Three Acts in 1934 and Gershwin's Porgy and Bess the next year. (Both works were operas, not the musicals normally expected in Broadway theatres.) Smallens also conducted the Porgy and Bess revivals on Broadway in 1942 and 1953, as well as the famous 1952 world tour of the work, which culminated in that 1953 Broadway production.
Smallens also conducted orchestras for music as part of several documentary films in the late 1930s and early 1940s. He retired from music in 1958 and moved to Sicily. In 1972, Smallens died in Tucson, Arizona and is buried there.
In 1924, Smallens was involved in an affair with composer Marc Blitzstein during a trip the two took in Europe; this was the latter's first relationship.[7][8] Smallens had a son who worked in radio. Smallens' grandson, also named Alexander Smallens, played bass in the band Too Much Joy. Alexander or 'Sandy' also has a son who plays bass.
---
My published books:


---
https://en.wikipedia.org/wiki/Alexander_Smallens
Woods, Gregory. Homintern . Yale University Press. Edizione del Kindle.