Queer Places:
329 W Seneca St, Ithaca, NY 14850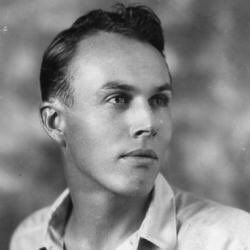 Harry Partch (June 24, 1901 – September 3, 1974) was an American composer, music theorist, and creator of musical instruments. He had a romantic relationship with the film actor Ramon Novarro (Ramón Samaniego).[22] Addressing the post-WWI period in his enormous overview of twentieth-century music, but without the ulterior agenda of the anti-gay conspiracy theorists, Alex Ross writes: Homosexual men, who make up approximately 3 to 5 percent of the general population, have played a disproportionately large role in composition of the last hundred years. Somewhere around half of the major American composers of the twentieth century seem to have been homosexual or bisexual: Aaron Copland, Virgil Thomson, Leonard Bernstein, Samuel Barber, Marc Blitzstein, John Cage, Harry Partch, Henry Cowell, Lou Harrison, Gian Carlo Menotti, David Diamond, and Ned Rorem, among many others.
While at the University of Wisconsin (1944 - 1947), Harry gave one lecture and numerous performances. The most significant part of this residency was the publication of the first edition of Partch's book, Genesis of a Music.
Partch stayed at a ranch owned by Gunnar and Lorraine Johansen in Gualala, California (1948 - 1951), where he renovated an old smithy to serve as his studio. Partch built his Bass Marimba, Cloud-Chamber Bowls, and Spoils of War while in Gualala, and Ben Johnston moved to the ranch to work with him.
Partch's one-year residency at Mills College (1951 - 1952) was established for the premiere of his King Oedipus, which took place in April of 1952. Shortly after, Harry revised the work, retitling it simply Oedipus.
In Sausalito, California (1953 - 1955), Partch again found success without academic support at his Gate 5 studio. While working in this space, his issued recordings of Plectra and Percussion Dances and Oedipus, the latter of which followed successful performances of the work assisted by poet and artist Gerd Stern who served as his ensemble manager.
At the University of Illinois (1956 - 1957), Harry mounted a major production of his recently-composed total-theater work, The Bewitched. Although he considered the production an abject failure, he also made a recording which was much more successful. During this time, Harry met Danlee Mitchell, who would become his ensemble manager and eventual heir.
Interested in collaborating with a film artist, Partch prepared a script for U.S. Highball, which was met with enthusiasm by filmmaker Madeline Tourtelot. He moved to Chicago (1957 - 1958) to work on this project, but when she was showing some of her films to him, Partch was captivated by the imagery and proposed that he first write music for one of her works in progress. This would become Windsong, the first of three films shot during this time (the other two being the planned U.S. Highball, and Music Studio, a documentary).
Partch returned to the University of Illinois (1959 - 1962) and was awarded a grant to compose a new total-theater work to be produced at UI. This grant allowed him to write Revelation at the Courthouse Park, which he had been considering for some time, and its premiere was very well-received. While at the University of Illinois, Harry also wrote and premiered Rotate the Body in All Its Planes and Water! Water!
After many years in the American Midwest, Harry returned to California, where he settled the instruments into an abandoned chick hatchery in Petaluma, California (1962 - 1964). Here he undertook major repairs of most of his instruments, built new ones, and composed And on the Seventh Day Petals Fell in Petaluma. Unfortunately, this studio was sold and scheduled for demolition, which ultimately began during the recording sessions for Petals.
In anticipation of a residency at the University of California at San Diego, Partch moved from Petaluma to Del Mar in 1964, but the residency would not come together for another two years. While in various studios and cities, Harry completed Petals, wrote Delusion of the Fury, and met Emil Richards and Betty Freeman, both of whom would prove invaluable in the coming years. Shortly afterwards he also met Dean Drummond, who would become curator of Partch's instruments decades later.
In 1966, the University of California at San Diego provided Harry a studio and financial support, and the following year hired him to give a series of seminars about his own life and work. Partch found the experience draining and exhausting, but continued to be affiliated with UCSD in a non-teaching and non-salaried role, even while he and his instruments were at UCLA.
While not an official residency, this one-year stay at UCLA (1968 - 1969) saw the recording of the album The World of Harry Partch, the premiere of Delusion of the Fury, and the creation of the film of the same work by Madeline Tourtelot.
In 1969 - 1972, in Encinitas, California, Partch built four new instruments (three of which were new versions of instruments he had previously built), completed the Second Edition of Genesis of a Music, and wrote music for the film The Dreamer That Remains, a project of filmmaker Stephen Pouliot which was produced by Betty Freeman.
The instruments were brought to San Diego State University by Danlee Mitchell, who was on the SDSU faculty as Professor of Music - Music Theory/World Music/Percussion Studies. Some rehearsals and recording for the film The Dreamer That Remains took place here, and when production of the film had completed, the instruments had made SDSU their unofficial home. Partch, though living nearby, had no connection with the university. Harry died in 1974, a few months before scheduled performances of The Bewitched.
After Partch's death and his instruments stayed at SDSU for another fifteen years under the control of Danlee Mitchell. The production of The Bewitched went on as planned, and major performances occured regularly from then on, including noteworthy productions of U.S. Highball, Castor & Pollux, Barstow, another production of The Bewitched for the Berlin New Music Festival, and two separate productions of Revelation in the Courthouse Park. San Diego State University remains the longest-lasting residency of the Harry Partch instruments.
In 1991, Partch's journals from June 1935 to February 1936 were discovered and published—journals that Partch had believed to have been lost or destroyed.[16] In 1998, musicologist Bob Gilmore published a biography of Partch.
Harry's instruments, under the custodianship of Dean Drummond since 1990, were brought to Montclair State University in 1999, moving through multiple spaces during their 15-year stay. Montclair hosted only one production of a Partch total-theater work during this time, Oedipus in 2005, but there were productions in New York City of Delusion of the Fury and The Wayward, which took place in 2007 and 2014, respectively. After Drummond died in 2013, his former student Charles Corey was appointed custodian of the instruments by Danlee Mitchell, and continued the program at Montclair.
In 2014, the Partch instruments began a new residency at University of Washington, Seattle, under the direction of Charles Corey.
---
My published books:


---
Woods, Gregory. Homintern . Yale University Press. Edizione del Kindle.