Queer Places:
Cornish College of the Arts, 710 E Roy St, Seattle, WA 98102
Yaddo, 312 Union Ave, Saratoga Springs, NY 12866
Villa Gress, Marienborg Gods, Hollænderivej 7, 4780 Stege, Denmark
Damsholte Churchyard Damsholte, Vordingborg Kommune, Sjælland, Denmark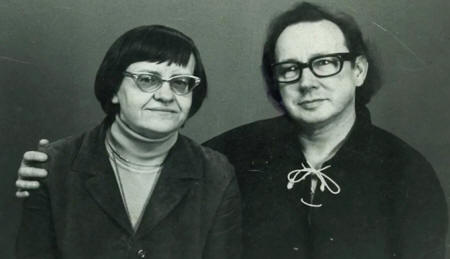 Clifford Wright (November 19, 1919 - September 30, 1999) was an American artist. In an article for "The Gay & Lesbian Review," (2005), Edward Field noted that the openly gay Ralph Pomeroy was accepted by Yaddo 1955, "where he scandalized the sedate arts colony by having an open affair with painter Clifford Wright."
Described in one exhibition as the painter of the grotesque, Clifford Wright studied in Seattle at the Cornish School and with Mark Tobey from 1937 to 1943. He exhibited at the Seattle Art Museum and the Museum of Modern Art. Wright lived in New York where he married Elsa Gress, a leading feminist writer of Denmark, and went there to live with her and their children on the Island of Mon south of Copenhagen. He did designs for the Royal Danish Opera and has also illustrated books.
"The Lavender Palette: Gay Culture and the Art of Washington State" at the Cascadia Museum in Edmonds was a packed art show and a powerful history lesson. Museum curator David F. Martin put together artwork by dozens of gay men and women who often, just a few short decades ago, had to hide who they were in order to express themselves artistically. The exhibit closed on January 26, 2020. The featured artists included Edmonds native Guy Anderson, illustrator Richard Bennett, Ward Corley, Thomas Handforth, Mac Harshberger, Jule Kullberg, Delbert J. McBride, Orre Nelson Nobles, Malcolm Roberts, potter Lorene Spencer, Sarah Spurgeon, ceramicist Virginia Weisel, Clifford Wright, and also one-time Woodway resident Morris Graves, Leo Kenney, Mark Tobey, Lionel Pries, Leon Derbyshire, and Sherrill Van Cott.
Charles Clifford Wright was born Oswald Kallunki in Washington State, on November 19, 1919. His biological parents were finnish immigrant, lumberjack Arvid Kallunki and his wife Edith Pekkanen. The name Charles Clifford Wright was given by the foster parents he grew up with near Seattle, carpenter Charles P. Wright and wife Bertha May Hill. He had no knowledge of his biological parents until, as an adult, encouraged by friends from the Yaddo artist colony in Saratoga Springs, he contacted the Red Cross in the hope that they could help find the parents. Several years later, he suddenly got a phone call from California from his biological father, who explained that he had put his children in care when his wife, Clifford's mother, died, and had since lost contact with the foster parents because of bureaucratic clutter.
After befriending several of the prominent gay artists in Seattle, including Tobey and Morris Graves, Wright was given a position as an assistant at the Seattle Art Museum in the early 1940s. In 1947 he was awarded his first residency at Yaddo. His stay was so successful that he returned the following year to be the assistant to Elizabeth Ames, who was the executive director at Yaddo from 1924 until 1969. Edward Field, Clifford Wright's friend, described thus Wright's early years at Yaddo: "Arriving at the back door of the Yaddo mansion, I was met by Clifford Wright, a large, fair-haired, Scandinavian American painter who served as the host, greeting new guests and making them comfortable, in return for which he got room and board plus a tiny stipend for his art supplies... The ritual of the Yaddo day was much like that on an ocean liner. And as on a sea voyage there were sudden love affairs that often ended in broken hearts before the arrival in port. Clifford Wright, resident stud, helped to console these unfortunates by listening to their miseries or, if possible, with his fat prick."
By the end of the 1940s, Clifford Wright was beginning to be collected by distinguished art professionals, such as Arthur Everett "Chick" Austin, Jr., the prescient director of the Wadsworth Atheneum, as well as by fellow artists, including Seattle friends Tobey and Graves, each of whom was at the height of his national career. Wright's open attitude about sex, perhaps informed by his Seattle artist friends, like Morris Graves, whose polyamorous nonconformity is well documented, led him to physical intimacy with both men and women. Some of his conquests, like poet Ralph Pomeroy, formed an emotional and sexual attachment to Wright, while others, like the British writer Marc Brandel, had kinky leanings that were not to Wright's tastes. Wright's undated diary entry about Brandel stated, "My red headed novelist colleague has flown his colors and it was discovered that he was the favorite tart in his English boy's school, that he was brought to America by the secretary to Neville Chamberlain (from whom he swiped one thousand bucks and whipped off to Mexico), that he is sadistic with women (he brought his jointed whipping cane with him), that he offers to make me do until a suitable female arrives. Though he is a jolly companion, I gently rejected his kind proposal."
In the summer of 1952, Wright met the Danish essayist Elsa Gress, who was at Yaddo on a fellowship. The two formed a close bond and became good friends. In 1955, Wright returned to the West Coast at the behest of his biological father, who gave him enough money to travel to Finland to meet family members and become acquainted with his cultural heritage. In a lapse of judgement, he embarked on his journey with a hunky make lover, who unfortunately abandoned him and stole most of his money, leaving Wright stranded in Scandinavia. He contacted his friend Elsa Gress, who was then living in a small apartment on Teglgardsstraede in central Copenaghen. Within weeks, the two were married. In 1957 the couple rented an apartment on the Amagerbrogade on Copenaghen's island of Amager. After a few years, the family moved to an abandoned village schoolhouse in Aso. Inspired by their time at Yaddo, they developed an artist residency that they named "De-center", which was self-funded but soon ran out of money. In 1972, Count Peter Moltke offered them the use of a house at his estate Marienborg on the island of Moen, where they remained until 1981, when they moved to another donated space. In 1989, Clifford Wright completed his final project, decorating the railroad station in Sonderborg.
Clifford Wright died on September 30, 1999 in Damsholte, Møn.
---
My published books:/p>


---
The Lavender Palette: Gay Culture and the Art of Washington (2020), David F. Martin