Partner Holland Robinson, Horace H. Terrell
Queer Places:
Steinway Building, 111 W 57th St, New York, NY 10019
Pratt Institute in Brooklyn
234 E 52nd St, New York, NY 10022
7 Sawmill Rd, Weston, CT 06883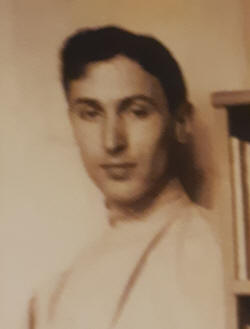 Mac Harshberger (July 28, 1901 - July 25, 1975) was an American artist. "The Lavender Palette: Gay Culture and the Art of Washington State" at the Cascadia Museum in Edmonds was a packed art show and a powerful history lesson. Museum curator David F. Martin put together artwork by dozens of gay men and women who often, just a few short decades ago, had to hide who they were in order to express themselves artistically. The exhibit closed on January 26, 2020. The featured artists included Edmonds native Guy Anderson, illustrator Richard Bennett, Ward Corley, Thomas Handforth, Mac Harshberger, Jule Kullberg, Delbert J. McBride, Orre Nelson Nobles, Malcolm Roberts, potter Lorene Spencer, Sarah Spurgeon, ceramicist Virginia Weisel, Clifford Wright, and also one-time Woodway resident Morris Graves, Leo Kenney, Mark Tobey, Lionel Pries, Leon Derbyshire, and Sherrill Van Cott. Mac Harshberger's illustrations for "Loose Lyrics of Lovely Ladies," was made for his boyfriend, Holland Robinson's, sheet music from the 1920s. Mac Harshberger was friends with Delbert J. McBride and Thomas Handforth. While Orre Nelson Nobles was still in college, Harshberger and Handforth followed the advice of Seattle artist John Davidson Butler, the leading painter in Seattle since the previous decade. Butler had moved to France following service in WWI and encouraged his young acolytes to follow suit. Butler, even before leaving for Europe, had been highly influenced by the English illustrator Aubrey Beardsley, and Butler's drawings were often seen in regional publications. Both Handforth and Harshberger adapted the Beardsley style as filtered through Butler. In Paris the two younger men were free to express their interest in homoerotic imagery. Harshberger created an extremely daring series of erotic watercolors in Paris, while simultaneously painting decorative watercolors of beautiful women wearing haute couture designs. Handforth created highly acclaimed figurative and landscape erchings but also privately produced drawings of male erotica. Harshberger and Handforth's erotic and sexual imagery was likely derived not from personal experience but from the pornographic art photography of Wilhelm von Gloeden and Guglielmo Pluschow. Harshberge, who had a life partner named Holland Robinson, did not have the same restless spirit (and libido) as Handforth and Nobles.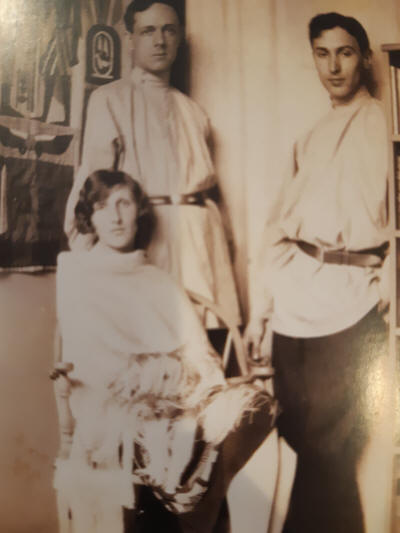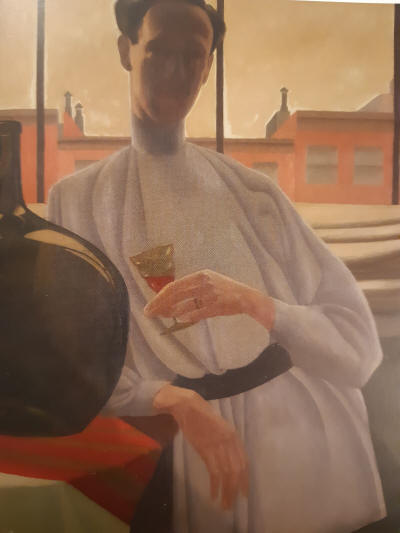 Hollande Robinson by Mac Harshberger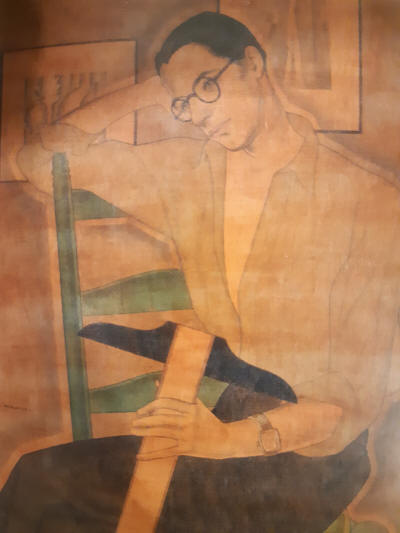 Horace H. Terrell by Mac Harshberger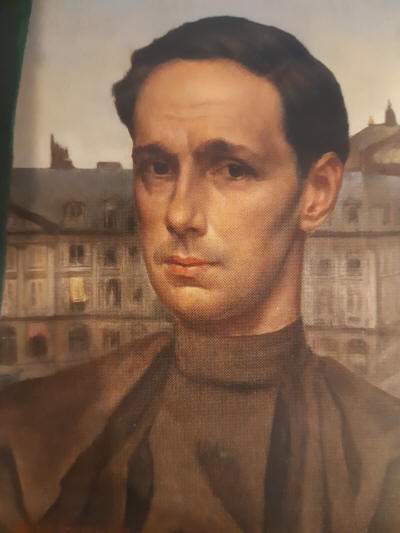 Holland Robinson by Orland Campbell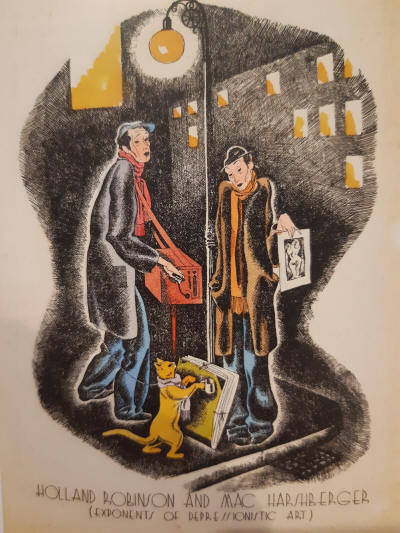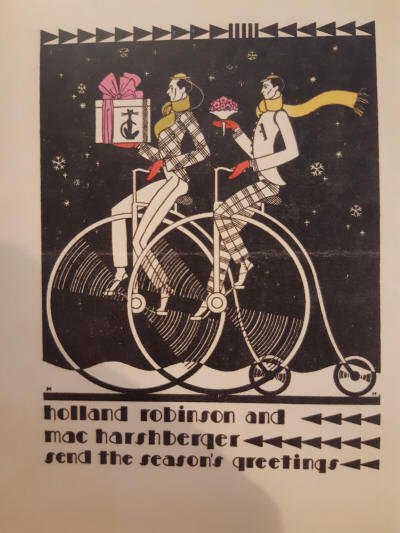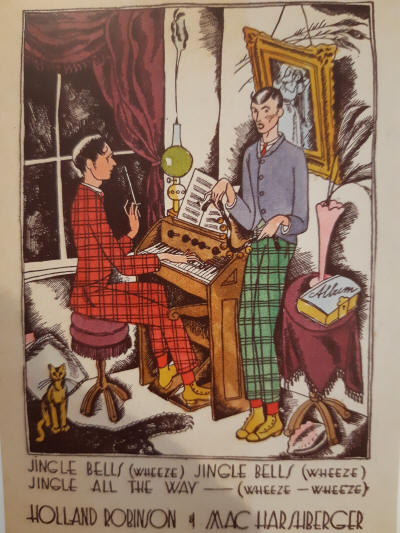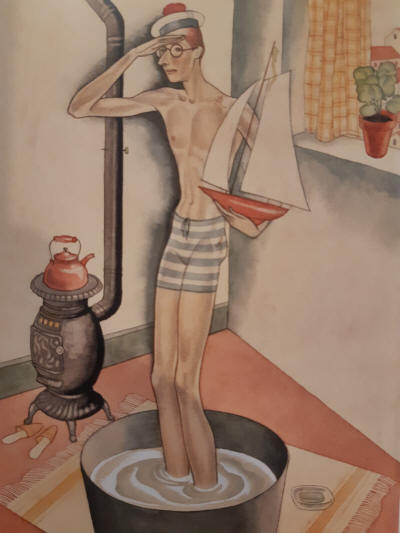 Horace H. Terrell in bathtub by Mac Harshberger
Frank McCoy "Mac" Harshberger was one of four children born in Tacoma to Frank M. Harshberger, a prominent local attorney, and Arloa Richardson Harshberger. He was raised in an artistically inclined family.
Mac attended Tacoma High School (later renamed Stadium High School) in Tacoma and produced illustrations for the school's yearbook, the Tacoma. His senior yearbook photograph was accompanied with the statement, "A Brilliant Artist with Brush or Pen, He will make his way in the world of men."
After graduating in 1919, he attended the University of Washington and studied primarily under Ambrose Patterson. He became involved with the school's drama clubs and designed stage sets for productions by Glenn Hughes. He also provided illustrations for student publications. Around this time, he met musician Harry Gye Robinson who was born in Urbana, Ohio, to Oscar Sidney Robinson. Harry moved to the Northwest at an early age, settling initially in Yakima, where he was employed as an organist. He eventually made his way to Tacoma, where he developed a successful career in regional vaudeville circuits as early as 1907, when he received recognition as the piano accompanist for dancer Nina Payne, a Tacoma native.
How Robinson and Harshberger met is not known, but the two became lovers and had a productive joint career that spanned several decades. By 1921, Robinson was already active in New York, where some of his musical compositions were published. He was likely there working with Payne, who first appeared on the New York stage in 1910 in La Somnambule at the American Music Hall and would later travel to Cuba to perform.
By this time, Harry began using the pseudonym Hollande Robinson, with a variation of sometimes omitting the "e" at the end of the given name. When Nina Payne completed her run with the Keith and Orpheum circuits, she and Hollande left for Paris in 1921. Nina was soon dancing with American expatriate Harry Pilcer, before signing with the Folies Bergère the following year.
Following Mac's studies at the UW, he left for Paris in 1922 to join Hollande, and they began living together. Hollande was now flourishing in Paris with Payne, writing music for her, designing some of her stage sets and costumes, and writing and illustrating her sheet music. He even designed a futuristic sketch of her used to create a Nina Payne doll.
Harry had now started using the acronym "Hagyro" for his artistic signature, taking the first two letters of his first, middle, and last names. Nina Payne, although forgotten today, was a major entertainer in Paris during the 1920s. She was known for her modernist or "Futurist" dances and elaborate costumes. One of the featured performers at the Folies Bergère, she befriended the legendary lesbian American expatriate Loie Fuller, the "Electric Salome" of the Belle Epoque, as well as Josephine Baker, whose revue she eventually joined. Payne traveled in artistic circles that exposed Mac and Hollande to some of the great talents of the era. She dated composer Vladimir Dukelsky, who was involved with Sergei Diaghilev's Ballet Russes and the extraordinary dancers, artists, and composers associated with the legendary entrepreneur. Dukelsky later changed his name to Vernon Duke and went on to compose some of the great standard songs of the twentieth century, including "April in Paris" and "Autumn in New York."
Mac (and possibly Hollande) studied at the Academie Ranson under Maurice Denis and Francois Quelvee. As a result of his firsthand exposure to the Ballet Russes, Mac became highly influenced by the work of the companys designer, Léon Bakst, as well as by the illustrations of Aubrey Beardsley. Mac and Hollande rented a studio in the Parc Montsouris district of Paris, where their Tacoma friends Allan Clark and Thomas Handforth's next to Handforth also had studios, with Handforth's next to George Braque's. After a year in Paris, Mac returned to the Northwest, but went back to P iris in 1923 with Hollande, who had been briefly in New York. In Paris, Mac received commercial commissions as well as working with Holland and Payne.
Mac and Hollande moved to New York in 1925 and secured a studio in the Steinway Building, on Fifty-Seventh Street near Carnegie Hall, to resume their careers in music and graphic arts. That year, Hollande wrote and illustrated a satiric but disturbing book titled Nursery Rhymes for the Petits Francais that he had begun in Paris. The text was created by using articles about violent crimes and murders found in the newspaper Le Journal and stylized after popular children's stories like "Jack and Jill," accompanied by his gruesome, decorative illustrations.
Also in 1925, they self-published a book titled Carcassonne and Company, a whimsical chronicle of their travels throughout France by train, which featured Mac's beautifully designed illustrations. The following year they began an association with the Albert and Charles Boni Publishing Company and collaborated with Mac's sister Kay on several titles.
Katharine "Kay" Harshberger (1893-1974) was known in Northwest art circles as a writer, collector, and benefactor, and promoted many artists in Seattle and Tacoma but especially her brother Mac. Although the siblings came from a reasonably successful family, Kay's resources greatly expanded when she married Count Jean de Landry, a wealthy heir who subsidized many travel expenses for Kay, Mac, and Hollande.
Robinson's light-classical songs and other compositions were very popular with a wide range of concert performers. He even occasionally performed himself on radio and in theater. He appeared in a 1928 revue at New York's Selwyn Theatre, sharing the stage with Cornelia Otis Skinner, the Denishawn Dancers, and Radiana Pazmor.
The following year, with the stock market crash and the ensuing economic depression, Harshberger's and Robinson's careers took a downturn.
Mac had developed a relatively successful career in commercial advertising and eventually accepted a position at the Pratt Institute in Brooklyn, where he taught decorative and commercial illustration from 1937 to 1960. While teaching, he also became employed by the firm Jenter Design out of New Jersey. This association led to him designing a mural and decorative panels for two pavilions at the 1939 New York World's Fair.
These projects, including a large mural for the South Carolina Building, were described in the Seattle Daily Times on May 28, 1939: "Instead of the statistic-ornamented dioramas depicting state after state in the usual fair exhibit style, very high interior wall panels are used as backgrounds for streamlined single figures (you know, the kind you cut out in rows from folded papers). Each bears a scene typical of a region or industry. . . . Another of Mac's outstanding designs is the exhibit of Wonder Bread which extends the childhood theme of balloons into the whole fantastic and colorful world of Alice in Wonderland."
By now, Harshberger and Robinson were living apart but not too far from each other, and they maintained a close friendship. Robinson started to decline physically and emotionally, but had one last honor when some of his music was performed at a "Victory Concert" at the Metropolitan Museum on January 10, 1943. Mina Hager performed selections from his "Zoological Soliloquies" on a program that also featured the music of Wagner, Poulenc, and Bach. Unfortunately, the high-profile concert never led to any additional jobs.
In a desperate letter to a Mr. Dies of the G. Schirmer company dated July 4, 1943, Mac wrote, "I am writing in the interest of a friend of mine, Holland Robinson, who, I believe, met you at the time you were doing jury duty together. Naturally during this very cursory acquaintanceship you could not know him personally nor have any interest in him. But I have known him for twenty years and know him to be a person of great talent both in serious and lighter music as well as a person of brilliant mind and an extraordinarily refined and sensitive person. Years ago, he had an amazingly interesting life but in the last twelve years the succession of misfortune after misfortune has finally beaten him down—and he is now flat. Naturally this has affected his personality. You might say—if this is true it must be his own fault. Perhaps but certainly in no tangible way. He has sold his Steinway grand piano, his typewriter and all his fine books. He was dispos-sessed from his apartment and in the meantime has come to stay with me in my apartment but is unhappy here in his indigent condition. He goes out each day to employment offices but is quite discouraged not to get even a typing job or a night clerk in a small hotel which naturally he is not fitted for in the least. Nov, the reason that I am writing you is that Holland told me of meeting you and I just can not sit by and watch the destruction of a really brilliant personality without doing something to try to salvage that valuable personality and that talent. All he needs is some insignificant job which would give him just enough to support himself and give him back some self respect. He is too humiliated and broken to let anyone know his present condition. So he will go only to the usual business employment agencies and it is only natural they have nothing for him. The only thing I want to ask of you is if you should happen to know by any chance any one he might go to or any place he might find a job-with only enough salary to give him that economical security which is necessary to every man- where his exceptional musical edge and intelligence may be used to advantage."
Mac assisted Hollande as much as possible, but there are no records of Robinson's life after this letter was written. Around this time Mac had developed another relationship with close friend Horace H. Terrell, who had graduated from Pratt in 1927. Terrell had maintained a very good career in New York as an interior decorator and was a positive support after the stress from Hollande's declining condition. The two moved into Terrell's home at Weston, Connecticut, around 1950 and remained there until Mac's death in 1975.
The Harshberger-Robinson legacy was solidified when Mac's cousin William Whitney inherited Mac and Kay's artistic estates. He arranged for a 1986 exhibition titled Mac Harshherger: Art Deco Americain at the Fine Arts Museum of San Francisco, Achenbach Foundation for Graphic Arts. He also left a bequest of some of Mac's art to that institution's permanent collection.
In 1989, Whitney, with the assistance of Mitchell Wolfson jr., sponsored a musical revue titled Goodbye Tacoma that presented the music of Hollande Robinson and the art of Mac Harshberger. The story revolved around the four Tacomans Kay and Mac Harshberger, Hollande Robinson, and Nina Payne during their success in Paris during the 1920s. The production benefited San Francisco's Art Deco Society and was held at several venues in San Francisco.
A representative collection of works by Harshberger and Robinson is now part of the permanent collection of the Wolfsonian-Florida International University, Miami Beach, Florida.
---
My published books:


---
The Bridgeport Post Bridgeport, Connecticut 26 Jul 1975, Sat • Page 16
The Lavender Palette: Gay Culture and the Art of Washington (2020), David F. Martin