Queer Places:
136 Melrose Ave E, Seattle, WA 98102
319 36th Ave, Seattle, WA 98122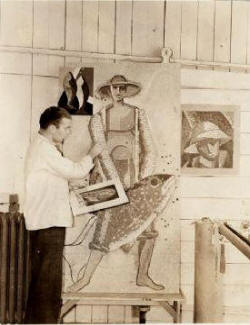 Malcolm McNair Roberts (April 1, 1913 - August 19, 1990) was an American artist. He studied at the Chicago Art Institute, the University of Washington and in Europe. He was credited as Seattle's first Surrealist and exhibited frequently at the Northwest Annuals at the Seattle Art Museum. He produced paintings in oil and gouache for the WPA as well as lithographs. Roberts utilized elements of the northwest landscape in his surreal compositions, especially coast and shoreline related material such as shells, driftwood and beach detritus. Some of his art reflects his homosexual orientation and he was connected romantically with other male artist's including Morris Graves and Guy Anderson. His later work of the 50's and 60's turned away from Surrealism.
"The Lavender Palette: Gay Culture and the Art of Washington State" at the Cascadia Museum in Edmonds was a packed art show and a powerful history lesson. Museum curator David F. Martin put together artwork by dozens of gay men and women who often, just a few short decades ago, had to hide who they were in order to express themselves artistically. The exhibit closed on January 26, 2020. The featured artists included Edmonds native Guy Anderson, illustrator Richard Bennett, Ward Corley, Thomas Handforth, Mac Harshberger, Jule Kullberg, Delbert J. McBride, Orre Nelson Nobles, Malcolm Roberts, potter Lorene Spencer, Sarah Spurgeon, ceramicist Virginia Weisel, Clifford Wright, and also one-time Woodway resident Morris Graves, Leo Kenney, Mark Tobey, Lionel Pries, Leon Derbyshire, and Sherrill Van Cott.
Malcolm Roberts began art instruction in 1928 at the classes of the Seattle Fine Arts Society under Mark Tobey. In the late 1930s, Roberts was in a romantic but open relationship with painter Morris Graves. In 1939 they moved into a home on Melrose Avenue East, on Seattle's Capitol Hill, with composer John Cage and his beard wife, Xenia. Roberts' high-strung personality was at odds with that of the mischievous Graves, so their living arrangement soon came to an end.
In 1940, Roberts collaborated with Jane Givan and Robert Iglehart to produce stage and costume designs for Bonnie Bird's newly formed American Dance Theatre at Cornish. The dances utilized diverse music selections, including Bach's Third English Suite, John Cage's America Was Promises (set to Archibald MacLeish's poem), and Any Man's Safa by George McKay. The soloist included Bonnie Bird, then head of Cornish's dance department, as well as Syvilla Fort and Dorothy Herrman.
When Roberts' father died, he left Malcolm with a trust fund that would enable him to live comfortably and indulge his artistic pursuits. The following year, he married a lesbian friend named Ann Erickson (October 21, 1913 - July, 1991) in Pasadena, where she had moved the previous year from Seattle. Ann was part of the cultural circle Roberts traveled in, and the two had been very close friends for several years. Altought they gave birth to a child, the marriage soon ended.
Malcolm Roberts developed a fine reputation in Southern California, even designing a large home for mobster Mickey Cohen. According to Roberts' friend Ivar Haglund, Cohen ordered Roberts to "furnish the home entirely with antiques, but they had to be new antiques." He complied and, drawing on his Surrealist past, created a bust of Queen Victoria with a state-of-the-art FM radio hidden inside.
In the early 1970s he formed a design business with Seattle decorators Barbara Thomas and Jean Anderson. He lived the remainder of his life in a small, elegant apartment and never returned to painting again.
---
My published books:

---
The Lavender Palette: Gay Culture and the Art of Washington (2020), David F. Martin,