Husband Ralph Edward Spencer, Ruth Henry
Queer Places:
Spencer Pottery, 5023 S 144th St, Seattle, WA 98168
201 E Southern Ave, Apache Junction, AZ 85119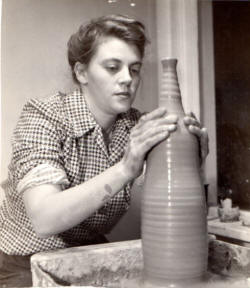 Lorene Spencer (February 28, 1923 - 2016) was an American potter. "The Lavender Palette: Gay Culture and the Art of Washington State" at the Cascadia Museum in Edmonds was a packed art show and a powerful history lesson. Museum curator David F. Martin put together artwork by dozens of gay men and women who often, just a few short decades ago, had to hide who they were in order to express themselves artistically. The exhibit closed on January 26, 2020. The featured artists included Edmonds native Guy Anderson, illustrator Richard Bennett, Ward Corley, Thomas Handforth, Mac Harshberger, Jule Kullberg, Delbert J. McBride, Orre Nelson Nobles, Malcolm Roberts, potter Lorene Spencer, Sarah Spurgeon, ceramicist Virginia Weisel, Clifford Wright, and also one-time Woodway resident Morris Graves, Leo Kenney, Mark Tobey, Lionel Pries, Leon Derbyshire, and Sherrill Van Cott.
Born in Spirit Lake, Idaho, to George Forrest Spencer and Emma Anna Bailey. Lorene Rhua Flower met Ralph E. Spencer while he was serving in the Coast Guard at Astoria, Oregon, and they soon married. In her later years, Lorene explained that both she and Ralph were aware of their homosexual orientations but, like many gay people of their generation, they had innocently thought that if they married and had children, these feelings would resolve and change to heterosexual orientation, which, naturally, did not happen. However, they decided not to act on their same-sex attractions and remained a couple. After their marriage, Ralph and Lorene worked in a family business running a fishing resort on the Umpqua River in Oregon, where they built boats and manufactured docks. After a few years, in 1948, they sold their share of the business and moved to Newberg, Oregon, where they made their first ceramic works. After some initial success, they started marketing their work through the Meier & Frank department store in Portland. Newberg's largely conservative political leanings became too stressful and so the family headed for Seattle in 1951, there establishing the Spencer Pottery business. The Spencers were active members of the Clay Club, founded in 1948 in Seattle. Other Clay Club members included Virginia Weisel and architect Robert Shields.
Upon relocating to the Washington State area, they opened Spencer Pottery, a pottery supply shop and studio in the family's new home, which many of us will recognize as the tall, angular building at the bottom of Brummer's Hill (144th and 51st), more recently Bonsai Northwest and now Forever Roofing. Lorene and Ralph Spencer produced a variety of stoneware bowls, vases, plates, mugs, etc. Lorene also produced "painted" ceramic tiles that often used impressions from a modified printing block. The Pottery was known for its high quality local sourced clays and the glazes mixed from Washington State minerals gathered by Ralph Spencer.
Pottery was a family enterprise, with Ralph collecting the high-quality, locally sourced clay and minerals used in the glazes, as well as constructing equipment for the studio. Their highly prized work was shown in galleries and exhibitions throughout the Pacific Northwest and across the country. In addition to pottery, Lorene also created paintings and sculptures, some of which are in the permanent collection of the Museum of History and Industry (MOHAI) in Seattle. Spencer Pottery sold high-quality clay and glazes to other artists and Seattle public schools. During their heyday, Spencer Pottery would receive visits from their friends from the Seattle arts scene, including painters William Cumming (a 1934 Foster High graduate), Kenneth Callahan, sculptor George Tsutakawa, and pottery master Shoji Hamada. A newspaper article about the couple noted, "The more highly automated our world becomes, the more necessary are artists like the Spencers, who demonstrate that man still can think, and create for himself" And a woman for herself.
Although Lorene and Ralph Spencer were both gay, they maintained their marriage until Ralph's death in 1973. Afterward, Lorene and her life partner, Ruth Henry, had a close friendship with Bud McBride and Richard Scheneider, who sold Lorene's work along with their own Crow Valley pottery, as well as work by other talented artists, until their retirement in 1995.
In later years, Lorene Spencer first lived in Olympia, and then, in 2008, moved to Apache Junction, Arizona, where Ruth and her remained until their respective deaths.
---
My published books:


---
The Lavender Palette: Gay Culture and the Art of Washington (2020), David F. Martin