Partner Clark W. Brott
Queer Places:
Nisqually Farm, 422 Nisqually Cut Off Rd SE, Olympia, WA 98513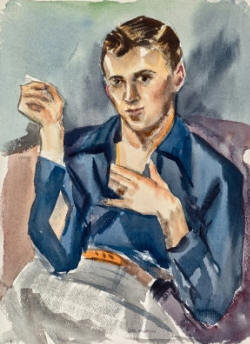 Delbert John McBride (May 16, 1920 - July 19, ​1998) was an artist, historian, curator, museum promoter, cultural ambassador, researcher, writer, and educator, of Spokane and Olympia, Wash. Early in his life, Richard Schneider and his lifelong partner, Albert (Bud) McBride, Delbert McBride and Oliver Tiedemann started the Nisqually Valley Klee Wyk Studio, which specialized in Native American art design. From 1961-1966 Del McBride served as curator of art at Eastern Washington State Historical Society's Cheney Cowles Memorial Museum in Spokane. Delbert McBride is one of the artists featured in The Lavender Palette: Excerpts, which is a selection of works from our original exhibition The Lavender Palette: Gay Culture and the Art of Washington State. Museum curator David F. Martin put together artwork by dozens of gay men and women who often, just a few short decades ago, had to hide who they were in order to express themselves artistically. The exhibit closed on January 26, 2020. The featured artists included Edmonds native Guy Anderson, illustrator Richard Bennett, Ward Corley, Thomas Handforth, Mac Harshberger, Jule Kullberg, Delbert J. McBride, Orre Nelson Nobles, Malcolm Roberts, potter Lorene Spencer, Sarah Spurgeon, ceramicist Virginia Weisel, Clifford Wright, and also one-time Woodway resident Morris Graves, Leo Kenney, Mark Tobey, Lionel Pries, Leon Derbyshire, and Sherrill Van Cott.
Born in Olympia, Washington, Delbert J. McBride is known as an important Northwest historian. He was Curator of Art at The Cheney Cowles Museum in Spokane (now Northwest Museum of Arts and Culture) and curator at the Washington State Capital Museum in Olympia for many years. Lesser known is the fact that McBride also produced original works of art in several mediums. As a painter, McBride exhibited in local museums and institutions such as the Seattle Art Museum, Tacoma Art Museum, and the University of Puget Sound. In the design field, McBride founded Klee Wyk Studios along with cousin Oliver Tiedeman and brother Bud McBride. They were later joined by Bud's life partner Richard Schneider. The studio was located in the Nisqually Flats, north of Olympia, beginning in the early 1950s. The name Klee Wyk was a homage based on Canadian artist Emily Carr's memoir Klee Wyck of 1941. For ten years, Klee Wyk Studios produced architectural and decorative tile murals as well as utilitarian objects that were among the finest mid-century designs. The artists' use of Northwest Native American motifs reflects the McBrides' Quinault and Cowlitz heritage. McBride and Klee Wyk Studios were the subjects of several retrospectives at the Washington State History Museum in Tacoma. Their reputations were established and preserved largely through the efforts of Northwest art historian Maria Pascualy.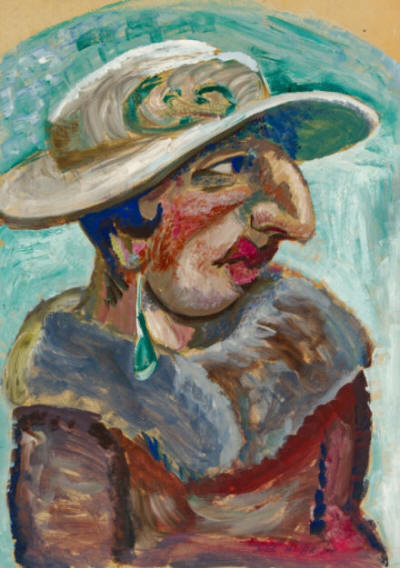 An oil portrait of a drag queen
Personal and professional papers of Delbert McBride amassed from childhood until just before his death in 1998 -- Includes papers and stories passed down from family members, work-related documentation, correspondence, organizational minutes and newsletters, personal notations on a variety of topics, drawings and sketches, research material, and newspaper clippings. The first portion of the collection is arranged to reflect McBride's life, starting with his family and family associated groups such as the Cowlitz and Quinault, moving to his education, essays and other writings, and job applications. The second portion follows his career: The Klee Wyk Studio, Cheney Cowles Museum, State Capitol Museum, and activities as curator emeritus. The papers from his years at the State Capitol Museum include research material and notes gathered for exhibits. Includes personal correspondence with friends (1935-1998), providing insight into McBride's personal life as a gay man, artist, and activist. Includes papers reflecting organizational membership, arranged alphabetically by name of organization, of which McBride may or may not have been a member; flyers, posters, magazines, newsletters, and other materials on a variety of topics reflecting his various interests, particularly art, artists, Native Americans, and the Nisqually Valley.
Due to the repressive social attitudes toward homosexuality in the 1950s, McBride sought out discreet national publications and organizations aimed at gay men and their suppressed libidos. He collected erotic photographs from various studios, including Bob Mizer's Athletic Model Guild (AMG), whose nearly naked models were promoted under the guise of aesthetic source material or as role models for the attainment of a physical ideal. According to Del's brother Bud, McBride made an erotic film accompanied with graphic illustrations that were submitted to AMG, but neither the film or any record of publications containing his illustrations had been located. Del also belonged to the Frontier Athletic Club based out of San Diego and Tijuana, Mexico, and received their awkward, handmade, mimeographed newsletter that promoted the sale of erotic photographs of sexy men. He would later subscribe to the post-Stonewall International Phallic Society newsletter, based out of Las Vegas, another venue for male erotica.
Around 1959, Del McBride met the esteemed scholar and archeologist Clark W. Brott, who became his close friend, confidant, model, professional peer, and sexual partner. Brott was curator and director for the Washington State Historical Society (WSHS) in Tacoma from 1960 to 1962, but also became involved in the Klee Wyk Studio as a photographer. Although married with children, he was primarily attracted to men, which was a source of personal conflict for many years. Judging by their lifelong correspondence in McBride's archive at WSHS, he was also McBride's most significant love. Although McBride would confide in Brott when interested in other men, whether for relationships or sexual conquests, his emotional attachment seemed most centered on his relationship with Brott, even after their physical relationship had ended.
In 1966 Del McBride returned to Thurston County to become curator of the Washington State Capitol Museum in Olympia.
After he retired in 1982 continued to act as consultant on issues ranging from Native American native art and culture to historic preservation for numerous agencies and organizations.
Cowlitz/Quinault artist Del McBride's work was preserved by his family, whereas the nieces and nephews of other gay artists did not often keep sketches of their uncles' lovers. Del McBride changed the world of local craft by incorporating elements of his Native American heritage into a range of contemporary designs for artistic and utilitarian purposes.
---
My published books:


---
Delbert McBride papers, 1922-1998. (Washington State Historical Society). WorldCat record id: 759171546
The Lavender Palette: Gay Culture and the Art of Washington (2020), David F. Martin
https://researchworks.oclc.org/archivegrid/data/759171546