Partner Aurilla Doerner
Queer Places:
410 Plum Tree Ct, Sonoma, CA 95476
Lake View Cemetery Seattle, King County, Washington, USA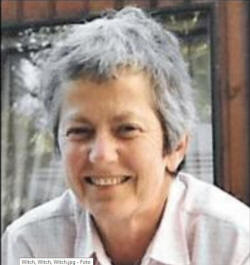 Virginia Weisel (May 27, 1923 - June 28, 2017) was an accomplished ceramic artist and sculptor in the Pacific Northwest for many decades. "The Lavender Palette: Gay Culture and the Art of Washington State" at the Cascadia Museum in Edmonds was a packed art show and a powerful history lesson. Museum curator David F. Martin put together artwork by dozens of gay men and women who often, just a few short decades ago, had to hide who they were in order to express themselves artistically. The exhibit closed on January 26, 2020. The featured artists included Edmonds native Guy Anderson, illustrator Richard Bennett, Ward Corley, Thomas Handforth, Mac Harshberger, Jule Kullberg, Delbert J. McBride, Orre Nelson Nobles, Malcolm Roberts, potter Lorene Spencer, Sarah Spurgeon, ceramicist Virginia Weisel, Clifford Wright, and also one-time Woodway resident Morris Graves, Leo Kenney, Mark Tobey, Lionel Pries, Leon Derbyshire, and Sherrill Van Cott.
Virginia Weisel attended the University of Washington from 1942 through 1944, but interrupted her education to serve in the Women's Army Corps during WWII. She reentered the military in the 1950s and served as an area crafts supervisor, Special Services, in Ascom City, South Korea. During this time, she began a relationship with another service member whom she met through the Red Cross, Aurilla Marie Doerner, who was originally from San Francisco. The two women moved to Oakland in 1963, but returned to the Seattle area in 1967.
The Kiln was owned and operated by Virginia Weisel and her life partner, Aurilla Doerner. The women had been together for nearly ten years before establishing their own business where Virginia, a seasoned ceramic artist, was in charge of production and "Rilla" provided the financial stability for their success. They offered classes through the studio and participated in all the region's finest crafts exhinitions. Virginia was known for her classically inspired modern stoneware and especially for her unique and innovative glazes. Her exquisite ceramic forms, superb craftsmanship and high-intensity glazes gained her a loyal following, garnered many awards and saw her work exhibited at art galleries and museums in Seattle, Portland, Oakland and San Francisco. She began creating sculpture in the 1970s, and her beautiful and graceful forms in wood, stone and metal are found in many private and corporate collections in the Northwest. She was represented by the Foster/White Gallery in Seattle and San Francisco. Her piece "Magnetic Tension" remains on public display at the Bellevue City Center Lobby and several of her ceramic pots are on permanent display at the Cascadia Art Museum in Edmunds, Washington.
While Virginia pursued her ceramic production, Rilla created a sound financial base for the couple by working for Nordstrom's department store and becoming a successful insurance professional with Mutual of Omaha. Because of Rilla's sound financial investments, the two women were able to move in 1982 to Sonoma, California, where they built a house with a studio large enough to accommodate Virginia's sculpting. In 1996, after suffering from health problems, Rilla shockingly ended her own life, resulting in Virginia falling into a deep depression that put an end to her artistic output.
Virginia spent the final three decades of her life in Sonoma, CA, where she died on June 28, 2017 at the age of 94. At Virginia's request, she was cremated, with half her ashes buried along with her family at Lakeview Cemetery in Seattle. The remaining ashes were scattered on Puget Sound, where Rilla's ashes had been released after her death. Her friends and family released her remains at Three Tree Point on August 3, 2018, with a vodka toast to a life well lived.
---
My published books:


---
The Lavender Palette: Gay Culture and the Art of Washington (2020), David F. Martin
The Seattle Times on Jul. 29, 2017