Partner Amanda K. Hebeler, Ramona Solberg
Queer Places:
Harvard University (Ivy League), 2 Kirkland St, Cambridge, MA 02138
E Eighth Av, Ellensburg, WA 98926 (between C Street and N Wildcat Way).
Sarah Spurgen Gallery, 400 E University Way, Ellensburg, WA 98926
Harlan Cemetery Harlan, Shelby County, Iowa, USA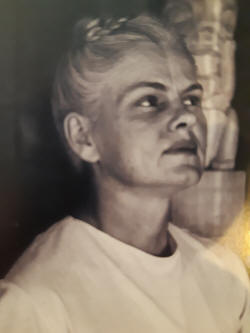 Sarah Spurgeon (October 30, 1903 - October, 1985) moved to Ellensburg, WA, from Iowa in 1939 and joined the art department at the college the same year. She took a hiatus from her work at Central Washington College of Education during World War II when she went to work for Boeing as an artist. Following the war, she returned to Ellensburg and continued as a professor until her retirement in 1971. "The Lavender Palette: Gay Culture and the Art of Washington State" at the Cascadia Museum in Edmonds was a packed art show and a powerful history lesson. Museum curator David F. Martin put together artwork by dozens of gay men and women who often, just a few short decades ago, had to hide who they were in order to express themselves artistically. The exhibit closed on January 26, 2020. The featured artists included Edmonds native Guy Anderson, illustrator Richard Bennett, Ward Corley, Thomas Handforth, Mac Harshberger, Jule Kullberg, Delbert J. McBride, Orre Nelson Nobles, Malcolm Roberts, potter Lorene Spencer, Sarah Spurgeon, ceramicist Virginia Weisel, Clifford Wright, and also one-time Woodway resident Morris Graves, Leo Kenney, Mark Tobey, Lionel Pries, Leon Derbyshire, and Sherrill Van Cott.
Edna May "Sarah" Spurgeon was born in Harlan, Iowa, where her father was a successful businessman and partner in the Trans-Mississippi Grain Elevator in Galva, Iowa. She graduated from Galva High School and then attended the Universitv of lowa, where she received her bachelor of arts degree and certificate of education in 1927 and, in 1931, a master of arts degree in the combined fields of graphic and plastic arts and in art history. Her thesis was titled "Decorative Figure Arrangement (a painted thesis)."
At the university, all four of her primary instructors were women: Ellen Thornberg, Irma Bratton, Catherine McCartney, and Alma Held.
Spurgeon continued her education at Harvard University under a Carnegie Fellowship for two summers in 1929 and 1930. At Harvard she attended one of the country's earliest museum studies programs under Paul J. Sachs. Around this time she also attended the Grand Central School of Art in New York, studying with George Oberteuffer and with George Bridgman, known for his expertise in life drawing.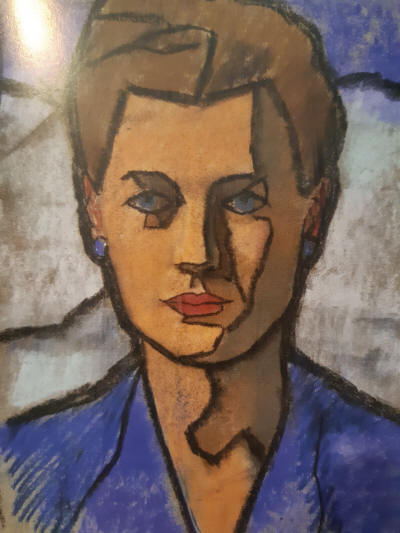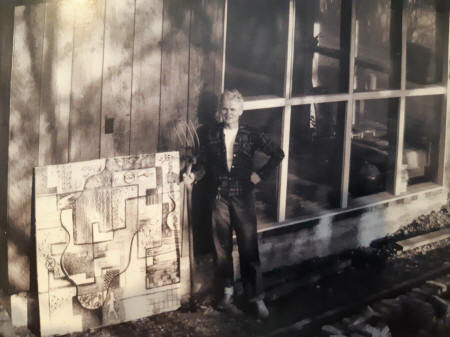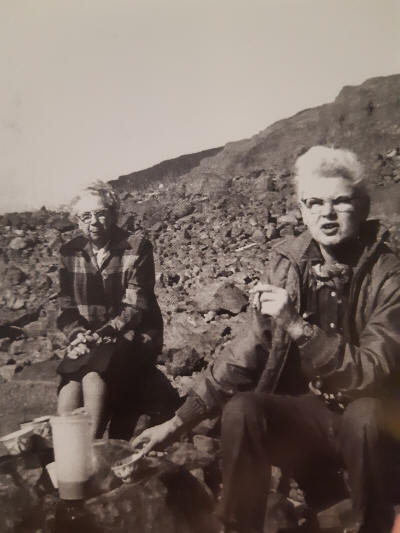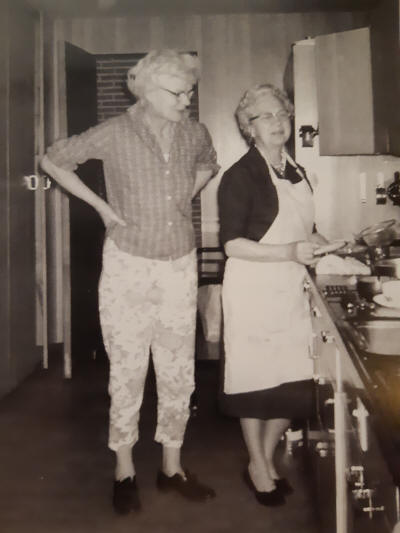 She then went on to teach at the University of Iowa for four years. During her time there she exhibited her oil paintings in national and regional exhitions including the Corcoran Gallery, the Kansas City Art Institute, and the Joslyn Museum in Omaha, Nebraska as well as winning several regional awards. In 1933, Spurgeon attended the Chicago World's Fair, A Century of Progress International Exposition. It was there that she first saw the paintings of Thomas Hart Benton, whose work she admired and was later influenced by, especially in the use of tempera as an artistic medium.
Her work was noticed by famed Iowa artist Grant Wood, and he hired her to assist him, along with other talented young artists, to create a series of murals for the Iowa State University library in Ames, Iowa, in 1934. The murals were commissioned under the Civil Works Administration as part of President Roosevelt's emergency employment New Deal programs. She also modeled for a few of the female figures in the murals. As she recalled, "All the boys put on jeans and I had an apron made out of old-fashioned dark blue calico... Most of the people on the project were men. In fact I don't recall another woman besides myself being there in Iowa City."
In a 1964 interview recalling her time with Grant Wood she stated: "He was sort of chubby and colorless in appearance and a very quiet, very gentle person. His suggestions I'm sure were almost always well received because he was aggressive in his promotion or criticism." Many of the techniques that she learned from the senior gay artist she continued to use in her own work and imparted to her students. One of the visiting artists invited by Wood to view the progress of the murals was Jean Chariot, an extremely talented muralist, who had worked primarily in Mexico and was admired and encouraged by Diego Rivera. Chariot's interaction with Spurgeon and the other young artists also made a lasting impression on her.
She told her interviewer, "I've lost Grant's recipe for priming and I wish I hadn't, because it was brilliantly white. I've never found anything to equal it. It was composed of zinc white in a powder form. Then it involved ammonia, and it was USP ammonia; it wasn't household ammonia, it was the pure quill. This was all put together hot... So, that was one thing I learned—the mechanics of preparing a canvas. And that stayed with me. I have my students do that now. I don't have them buy a ready-prepared canvas. I have them build their own stretchers and put the canvas on, and then prime it. I feel that that [mural] experience was a very valuable introduction to the technology of painting. It meant a lot to my teaching, to my students. They get a lot out of that actual physical contact with the dimension and the size. Long before they paint on it; and I find that's one of the best rounte into composition. it's a more natural route into composition than the design route." Following her experience with Wood, she produced her own mural, a mar of Iowa City for the University Demonstration School that covered two walls measuring approximately 22-by-8 feet.
In 1935, Spurgeon was hired to teach English at Buena Vista College in Storm Lake, Iowa. The school was only eighteen miles from her parents' home and both were suffering, from serious health problems that concerned her. At the time, the school had no art department and she endeavored to start one. She became the only faculty member of the department and struggled to establish it, even doing some of the construction work for making the gallery into a space for exhibiting art. Since there were no funds available from the school, she used her own money to purchase basic art supplies for the students.
In I939, Spurgeon moved to Ellensburg, Washington, to accept a position in the Art Department of Central Washington College of Education (now University). Around this time she began using Sarah as her given name, although she never legally changed it. In 1942 she took a two-and-a-half-year leave of absence to work for the Boeing Company as a production illustrator on the B-17 and B-29 aircrafts. She had attempted to join the military to serve in the war but was rejected. In Seattle she joined Women Painters of Washington and became involved in their exhibitions and lectures.
After the war, she returned to Ellensburg and resumed her position at the college. Sometime in the 1940s Spurgeon met fellow CWCE professor Amanda K. Hebeler, who had joined the faculty in 1924. Hebeler had earned her BS and MS degrees from Columbia University, with graduate study at Yale and the University of Southern California. Director of the College Elementary School from 1929 until 1956, she was actively involved in numerous educational and cultural organizations in the region. She was professor of education from 1935 until her retirement as professor emeritus in 1960. In 1963 the school was renamed the Amanda Hebeler Elementary School (later named the Washington Center for Early Childhood Education). The school was closed in the spring of 1981. Today, Hebeler Hall at the university is named in her honor.
In 1954, Spurgeon painted a large modernist mural for the Ginkgo Petrified Forest Museum now known as Ginkgo Petrified Forest Interpretive Center near Vantage, on the Columbia River. She designed and executed the twenty-foot-wide interior mural, while architect Lionel Pries designed the exterior decorations at the entrance to the building. The petrified forest was discovered in 1931 by a fellow CWCE faculty member, geologist George F. Beck, whom she later memorialized in a portrait now in the university's collection.
After the mural was completed, she and Amanda spent three summer months in 1955 touring various cities in Italy.
Spurgeon went on to be a major force in the university's art department, and was a beloved teacher even though some of her students whimsically referred to her as "the general" for her strict professionalism. Her influence was acknowledged by her students in 1959, when the staff of the university's yearbook, the Hyakem, dedicated the book to her, stating, "Even more than a teacher is probably the best description that could be written of Miss Sarah Spurgeon, associate professor of art on Central's faculty. Even more than a teacher, a true inspiration to her present and her former students in this artist and art educator... And, too, we want to dedicate our 1959 annual to this teacher who, no matter how busy she is, always makes it a point to have plenty of time, ample time, to listen with real understanding and sympathetic interest to a student's problems, troubles, joys, sorrows, successes ... dreams."
Her life partner, Amanda, passed away in 1969, and Spurgeon retired in 1971. A final tribute came in 1978 when Central Washington University celebrated the dedication of the Sarah Spurgeon Gallery with an exhibit featuring fifty-five of her former students.
Her last years were plagued with poor health, and she relied on former students and friends to assist her, especially the prominent regional artists Jane Orleman and her husband, Richard C. Elliott. Spurgeon passed away in October 1985, surrounded by loved ones and in the arms of her intimate friend, jewelry artist Ramona Solberg.
Spurgeon's mural for the University of Iowa as well as her mural and decorative work for the Ginkgo Petrified Forest Museum have been destroyed.
Neither Sarah's nor Amanda's obituary contained any mention of the other's name.
---
My published books:


---
The Lavender Palette: Gay Culture and the Art of Washington (2020), David F. Martin