Partner Robert Fizdale

, buried together
Queer Places:
Juilliard School, 60 Lincoln Center Plaza, New York, NY, 10023, USA
Germaine Tailleferre's Villa, Grasse, Francia
Oakland Cemetery, Sag Harbor, New York 11963, Stati Uniti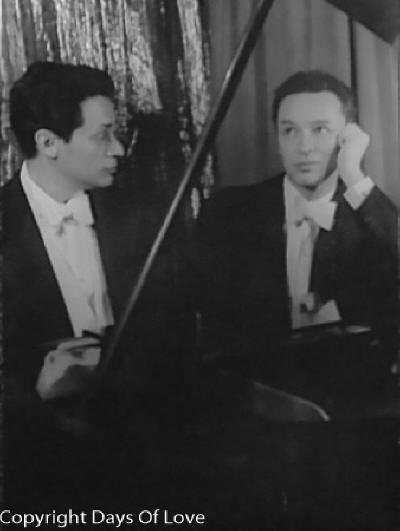 Arthur Gold[1] (6 February 1917- 3 January 1990) and Robert Fizdale (12 April 1920 - 6 December 1995) were an American two-piano ensemble; they were also authors and television cooking show hosts.

Gold and Fizdale met during their student years at the Juilliard School.[2] They formed a lifelong gay partnership and shared interests in music (forming one of the most important piano duos of the 20th century), travel, and cooking.

It has often been said that Gold and Fizdale revolutionized the art of performing as a two-piano duo. While this may be a subjective statement, it must objectively be stated that they did commission and première many of the most important works for this ensemble in the second half of the 20th century, including works by John Cage ("A Book of Music" (1944) which is one of Cage's earliest experiments in using the prepared Piano),[3] Paul Bowles, Virgil Thomson, Ned Rorem and many other important American Composers.

They were fixtures in New York's artistic community, being friends with literary and cultural figures such as Truman Capote, James Schuyler, George Balanchine, Jerome Robbins, among others.


In February 1946, Arthur Gold and Robert Fizdale had a concert at Town Hall, in New York City. The audience did not resemble others in concert halls, since most of the people were either artists or members of the international society, including Perry Empiricos, the son of the Greek shipping magnate; Georges Bemberg, whose family in Argentina had caused three revolutions; the beautiful Peggy O'Brien and her famous debutante daughter, Esme; Edelgey Dinshaw and his sister; the wealthy Oliver and Isa Jennings; Arturo López Willshaw, another faboulous Argentinian multimillionaire; Alice De Lamar with her entourage; as well as the various princesses and marquesas who surrounded Pavel Tchelitchew. Peggy Guggenheim was the patroness of the concert. Two major works were performed, written especially for the occasion by Paul Bowles and John Cage, both of whom Guggenheim admired and encouraged. There was a party afterward at the apartment of Oliver Smith, in attendance also Jane Bowles and John Bernard Myers. As the party was breaking up, Peter Lindamood accidentally pushed the actress Stella Adler down the stairs. She was wearing a Gainsborough-sized hat, and despite the dramatic tumble, when Stella picked herself up, everything was in place, including the hat!

[4] arrived in Paris with a letter of introduction from Marcelle de Manziarly to Germaine Tailleferre of Les six who invited them to a lunch with Francis Poulenc and Georges Auric. This lunch ended with Auric and Tailleferre taking the score of Thomson's "The Mother of Us All", which Thomson had given as a gift, turning it upside down on the piano and having Poulenc singing all of the roles (including Susan B. Anthony) in nonsense English syllables which were supposedly an imitation of Gertrude Stein's Libretto while Tailleferre and Auric improvised a four-hands version of Thomson's score.[5]

After this memorable day, Tailleferre invited the couple to her home in Grasse to spend two months while she was writing her ballet ''Paris-Magie'' and her opera ''Il était Un Petit Navire''. She wrote two-piano versions of both works and gave them to the duo as a gift. These manuscripts were later donated to the Library of Congress after the death of Robert Fizdale. Tailleferre later dedicated two other works to Gold and Fizdale: her Toccata for Two Pianos and her Sonata for Two Pianos.[6] Francis Poulenc also wrote his own Sonata for Two Pianos for "the Boyz" (as he called them), a commission which was paid by their mutual friend the American Soprano and arts patron Alice Swanson Esty, according to Poulenc's correspondence.

The duo also recorded a number of recordings featuring works by Les six, Vittorio Rieti, and other composers, as well as a series of Concerto recordings with Leonard Bernstein and The New York Philharmonic, including the Poulenc Concerto for Two Pianos, The Mozart Two Piano Concerto and Saint-Saëns's "Carnival of the Animals".

Bobby Fizdale was born Robert Fish, the son of John and Rose Fish of Chicago. Had a brother Walter.

Both Gold and Fizdale were of Russian Jewish descent.[7]

In the late 1970s, Arthur Gold began to have problems with his hands which made it difficult for him to perform, so the duo began to write biographical works, including "Misia: the Life of Misia Sert" (William Morrow 1981), "The Divine Sarah: a Biography of Sarah Bernhardt" (Knopf 1991).

The duo also began writing food articles for ''Vogue'' magazine and began a television cooking show. In 1984 they published "The Gold and Fizdale Cookbook" (Random House 1984), which is dedicated to their friend George Balanchine, "In whose kitchen we spent many happy hours..."

In 1996, after the death of Fizdale, his estate donated the personal papers, recordings and other memorabilia to the Juilliard School, where they are kept in the school's Peter Jay Sharp Special Collections Room in the Juilliard Library. Gold and Fizdale are buried alongside each other at Oakland Cemetery (Sag Harbor, NY).

---
My published books:


---