Partner Alexandra Danilova
Queer Places:
Saint Petersburg Conservatory, Theatre Square, 3, Sankt-Peterburg, Russia, 190000
10 Ridge Rd, Weston, CT 06883, Stati Uniti
Oakland Cemetery, Sag Harbor, New York 11963, Stati Uniti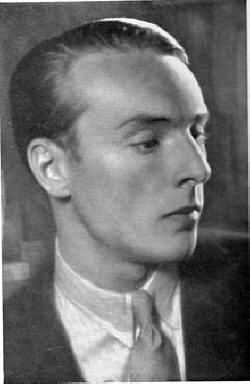 George Balanchine (born Giorgi Melitonovich Balanchivadze; January 22, 1904 – April 30, 1983) was a choreographer. Styled as the father of American ballet,[1] he co-founded the New York City Ballet and remained its Artistic Director for more than 35 years.[2]
Balanchine took the standards and technique from his time at the Imperial Ballet School and fused it with other schools of movement that he had adopted during his tenure on Broadway and in Hollywood, creating his signature "neoclassical style".[3] He was a choreographer known for his musicality; he expressed music with dance and worked extensively with leading composers of his time like Igor Stravinsky.[4] Balanchine was invited to America in 1933 by a young arts patron named Lincoln Kirstein, and together they founded the School of American Ballet. Along with Kirstein, Balanchine also co-founded the New York City Ballet (NYCB).[2]
In 1923, Balanchine married Tamara Geva, a sixteen-year-old dancer. After his divorce from Tamara Geva, Balanchine was partnered with Alexandra Danilova from 1926 through 1933. He married and divorced three more times, all to women who were his dancers: Vera Zorina (1938–1946), Maria Tallchief (1946–1952), and Tanaquil LeClercq (1952–1969). He had no children by any of his marriages and no known offspring from any extramarital unions or other liaisons.
Biographer and intellectual historian Clive James observed that Balanchine, despite his creative genius and brilliance as a ballet choreographer, had his darker side. In his Cultural Amnesia: Necessary Memories from History and the Arts (2007), James writes that:
the great choreographer ruled the New York City Ballet as a fiefdom, with the 'droit du seigneur' among his privileges. The older he became, the more consuming his love affairs with his young ballerinas ... When [ballerina Suzanne Farrell] fell in love with and married a young dancer, Balanchine dismissed her from the company, thereby injuring her career for a crucial decade.
---
My published books:


---
https://en.wikipedia.org/wiki/George_Balanchine#References