Queer Places:
Yale University (Ivy League), 38 Hillhouse Ave, New Haven, CT 06520
Harvard University (Ivy League), 2 Kirkland St, Cambridge, MA 02138
Pine Grove Cemetery Conway, Franklin County, Massachusetts, USA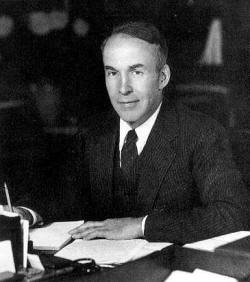 Archibald MacLeish (May 7, 1892 – April 20, 1982) was an American poet and writer who was associated with the modernist school of poetry. Identified with the Lost Generation. MacLeish studied English at Yale University and law at Harvard University. He enlisted in and saw action during the First World War and lived in Paris in the 1920s. On returning to the United States, he contributed to Henry Luce's magazine Fortune from 1929 to 1938. For five years MacLeish was the ninth Librarian of Congress, a post he accepted at the urging of President Franklin D. Roosevelt.[1] From 1949 to 1962, he was Boylston Professor of Rhetoric and Oratory at Harvard University. He was awarded three Pulitzer Prizes for his work.
MacLeish was born in Glencoe, Illinois. His father, Scottish-born Andrew MacLeish, worked as a dry goods merchant and was a founder of the Chicago department store Carson Pirie Scott. His mother, Martha Hillard, was a college professor and had served as president of Rockford College.[2] He grew up on an estate bordering Lake Michigan. He attended the Hotchkiss School from 1907 to 1911. For his college education, MacLeish went to Yale University, where he majored in English, was elected to Phi Beta Kappa, and was selected for the Skull and Bones society. He then enrolled in Harvard Law School, where he served as an editor of the Harvard Law Review.[3]
In 1916, he married Ada Hitchcock, a musician.[23] MacLeish had three children: Kenneth, Mary Hillard, and William, the author of a memoir of his father, Uphill with Archie (2001).[24]
In 1923 MacLeish left his law firm and moved with his wife to Paris, France, where they joined the community of literary expatriates that included such members as Gertrude Stein and Ernest Hemingway. They also became part of the famed coterie of Riviera hosts Gerald Murphy and Sara Wiborg Murphy, which included Hemingway, Zelda and F. Scott Fitzgerald, John Dos Passos, Fernand Léger, Jean Cocteau, Pablo Picasso, John O'Hara, Cole Porter, Dorothy Parker and Robert Benchley. He returned to America in 1928. From 1930 to 1938 he worked as a writer and editor for Henry Luce's Fortune magazine,[7] during which he also became increasingly politically active, especially with anti-fascist causes. By the 1930s, he considered Capitalism to be "symbolically dead" and wrote the verse play Panic (1935) in response. While in Paris, Harry Crosby, publisher of the Black Sun Press, offered to publish MacLeish's poetry. Both MacLeish and Crosby had overturned the normal expectations of society, rejecting conventional careers in the legal and banking fields. Crosby published MacLeish's long poem Einstein in a deluxe edition of 150 copies that sold quickly. MacLeish was paid US$200 for his work.[8]:183 In 1932, MacLeish published his long poem Conquistador which presents Cortés's conquest of the Aztecs as symbolic of the American experience. In 1933, Conquistador was awarded the Pulitzer Prize, the first of three awarded to MacLeish.[7] In 1934 wrote a libretto for Union Pacific [ru], ballet by Nicolas Nabokov and Léonide Massine (Ballet Russe de Monte-Carlo), premiered in Philadelphia with a great success. In 1938 MacLeish published as a book a long poem "Land of the Free", built around a series of 88 photographs of the rural depression by Dorothea Lange, Walker Evans, Arthur Rothstein, Ben Shahn and the Farm Security Administration and other agencies. The book was influential on Steinbeck in writing The Grapes of Wrath.
In 1949 MacLeish became the Boylston Professor of Rhetoric and Oratory at Harvard University. He held this position until his retirement in 1962. In 1959 his play J.B. won the Pulitzer Prize for Drama. From 1963 to 1967 he was the John Woodruff Simpson Lecturer at Amherst College. In 1969, MacLeish met Bob Dylan, and asked him to contribute songs to Scratch a musical MacLeish was writing, based on the story The Devil and Daniel Webster by Stephen Vincent Benét.[15] The collaboration was a failure and Scratch opened without any music; Dylan describes their collaboration in the third chapter of his autobiography Chronicles, Vol. 1.[16][17]
MacLeish greatly admired T. S. Eliot and Ezra Pound, and his work shows quite a bit of their influence. He was the literary figure that played the most important role in freeing Ezra Pound from St. Elisabeth's Hospital in Washington DC where he was incarcerated for high treason between 1946 and 1958. MacLeish's early work was very traditionally modernist and accepted the contemporary modernist position holding that a poet was isolated from society. His most well-known poem, "Ars Poetica," contains a classic statement of the modernist aesthetic: "A poem should not mean / But be." He later broke with modernism's pure aesthetic. MacLeish himself was greatly involved in public life and came to believe that this was not only an appropriate but an inevitable role for a poet.
---
My published books:


---
https://en.wikipedia.org/wiki/Archibald_MacLeish