Partner Robert Alton, John Darrow
Queer Places:
720 N Lemon St, Anaheim, CA 92805
20 W 55th St, New York, NY 10019
22522 Pacific Coast Hwy, Malibu, CA 90265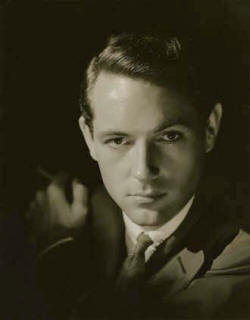 Charles Powell Walters (November 17, 1911[1] – August 13, 1982)[2] was a Hollywood director and choreographer most noted for his work in MGM musicals and comedies from the 1940s to the 1960s.
Charles Walters was born in Anaheim on November 17, 1911, the son of Joe Walter and Winifred Taft Walter, who had moved from Tomah, Wisconsin. He changed his last name to Walters in the 1930s because he was "tired of misspellings".[1] Walters was educated at Anaheim Union High School (Class of 1930) and briefly attended the University of Southern California, Los Angeles. "I've danced as long as I can remember," he said. "That's all I can remember, is dancing. That's all I wanted to do. Oh, we tried art, and the family wanted me to be a lawyer, but all I wanted to do is dance... And I'd never had a dancing lesson. Who had heard of Fred Astaire and Clifton Webb in Anaheim? Nobody. So I was a freak more or less, a man just didn't dance in those days. At least in Anaheim." That "freak" was itching to get out of there, to head to New York, but his family insisted he attended the University of Southern California. He lasted only a year before running off with the musical road show of Fanchon and Marco, and finally made it to New York in 1933.
Shortly after graduating high school in 1931 Walters joined a touring Fanchon & Marco revue as a chorus boy and specialty dancer. After keeping a correspondence with producer, dancer and choreographer Leonard Sillman, Sillman agreed to cast Walters in the revue Low and Behold (1933) which also featured Tyrone Power, Eve Arden and Kay Thompson. The show never reached Broadway, but producer Charles Dillingham hired Sillman as a producer and Walters as a performer for a new Broadway revue, New Faces of 1934 spotlighting up-and-coming talent. Walters had a few dance numbers with Imogene Coca which drew good notices for both. Sillman hired Walters and Coca for another show, ''Fools Rush In'' which flopped. Walters and Sillman parted ways following the fiasco but both remained good friends until Walters's death. On Broadway, Walters danced in Parade (1935)[3] with frequent partner Dorothy Fox, and the Cole Porter-Moss Hart Jubilee (1935) where he introduced "Begin the Beguine" and "Just One of Those Things".[2] Walters also appeared in the revue The Show is On (1937),[3] directed by Vincente Minnelli, then was in Between the Devil (1937–38) and I Married an Angel (1938).[3]
He was noticed by Robert Alton, then a top Broadway choreographer. Alton was influential in securing Walters the part of the prince in Cole Porter's "Jubilee," as well as offering the inspiration for Walters' own dancing style. "I learned so much from that man," Chuck would say. "Style and fluidity, and so amenable." That Bob Alton was gay had been affirmed by several who knew him, including Broadway designer Miles White. That he took a particular shine to the young, tall, blue-eyed, handsome Chuck Walters (who Dorothy Kilgallen said looked like "a brunette Duke of Windsor") has been merely guessed at. But the two would remain lifelong friends, and their career paths would continue to intersect. Walters' cussess in "Jubilee" led to a wide range of shows, including being directed by George Balanchine in "I Married an Angel" in 1938. Dorothy Kilgallen coyly wrote that Chuck "looks gay on a stage, and he is." The New York World Telegram headlined an article about him, "Glamour Girls' Partner Prefers to Dance Alone," explaining that he didn't like sharing the spotlight.
Walters was credited as choreographer on the Broadway show Sing Out the News (1938–39). He appeared in Cole Porter's popular Du Barry Was a Lady (1939–40), then choreographed an even more popular Porter work, Let's Face It! (1941–43). He did the dances for Banjo Eyes (1941–42), and went to RKO to work on the "dance ensembles" for RKO's Seven Days' Leave (1942).
By January 1938, Chuck had met and fallen in love with John Darrow, the same man who had been briefly a juvenile movie star in the late 1920s and then a regular at George Cukor's Sunday gatherings. Darrow had moved to New York after the flush of youth had faded and become a radio agent; he and Walters lived together in a fashionable duplex in Murray Hill. Lucius Beebe laid it on the line in a July 1938 "Stage Asides" column for the Herald Tribune. Describing their "bachelor" quarters as "finished with chocolate walls, plum-covered carpets, white woolly string rugs and zebra-striped sofa pillows," Beebe revealed that Walters and Darrow had dinner together "almost every evening," rejecting the "round of perpetual gayety... of the town's professional celebrities." Two 1941 revues, "Let's Face it" and "Banjo Eyes," brought Walters considerable notice. Darrow, who had expanded his agency to Hollywood, landed him a four-week choreography gig at MGM on DuBarry Was a Lady. Walters hadn't planned on turning to movies, but that's what happened.
Walters went to MGM under contract as a dance director. Among the movies he worked on were Presenting Lily Mars (1943) (where he danced with Judy Garland at the end), Du Barry Was a Lady (1943), Best Foot Forward (1943) and Girl Crazy (1943) (where he again danced with Garland, in "Embraceable You"). Walters also worked on Broadway Rhythm (1944) and did uncredited choreography on Gaslight (1944) and Since You Went Away (1944). He then did Meet the People (1944), Meet Me in St. Louis (1944), and Thrill of a Romance (1945). Walters was dance director on Ziegfeld Follies (1945) and did uncredited directing of the segment "A Great Lady Has an Interview". He directed the 10-minute short Spreadin' the Jam (1946). He did choreography for Her Highness and the Bellboy (1945), Week-End at the Waldorf (1945), Bud Abbott and Lou Costello in Hollywood (1945) (in which he appeared), Till the Clouds Roll By (1946), and Summer Holiday (shot 1946, released 1948). He returned to Broadway to choreograph St. Louis Woman (1946).
Producer Arthur Freed, who was not gay, never had as his purpose the creation of a team of gay artists for MGM, nor were all the members of the Arthur Freed unit gay. Freed did want a first-rate team, however, and hired without regard to sexual orientation. A large number of the gifted people on it turned out to be gay, including composers Cole Porter, Frederick Loewe, Robert Wright, and Chet Forrest, choreographers Robert Alton and Jack Cole, and directors Charles Walters and the closeted Vincente Minnelli. Walters was linked with Robert Alton, with whom he enjoyed a long-standing affair. Influential gay choreographers included Charles Walters, Robert Alton and Jack Cole (who created Jane Russell's number with the massed body-builders in Gentlemen Prefer Blondes).
Walters' first credited directorial effort was the musical Good News (1947) with June Allyson and Peter Lawford. He then did, Easter Parade (1948) with Fred Astaire and Judy Garland, He also directed Astaire and Ginger Rogers in The Barkleys of Broadway (1949).[2] which was a mammoth hit for the studio, earning a profit of over $5 million, establishing Walters as a director. Walters also directed Garland and Gene Kelly in Summer Stock (1950). He followed this with his first non-musical comedy Three Guys Named Mike (1951), then the Esther Williams vehicle Texas Carnival (1951). Walters went to Broadway to direct Garland's appearance at the Palace (1951–52) which ran for 266 performances. He went back to Hollywood to do The Belle of New York (1952), which starred Astaire and Vera-Ellen, and was a notable flop. He received a Best Director Oscar nomination for the 1953 film Lili, starring Leslie Caron, for which Caron was also Oscar nominated. Walters did another two with Williams, Dangerous When Wet (1953) and Easy to Love (1953). In between these he tried his first drama, Torch Song (1953) with Joan Crawford. Walters and Caron tried to repeat the success of Lili with The Glass Slipper (1955), but it was not as popular. However a Frank Sinatra-Debbie Reynolds comedy, The Tender Trap, (1955) was well liked, as was the Bing Crosby-Sinatra-Grace Kelly musical High Society (1956). Walters directed some popular comedies, Don't Go Near the Water (1957) with Glenn Ford, Ask Any Girl (1959) with Shirley MacLaine and David Niven, and Please Don't Eat the Daisies (1960) with Doris Day and Niven. He also helped choreograph the number "The Night They Invented Champagne" in Gigi (1958) and did some uncredited directing on Cimarron (1960) and Go Naked in the World (1961). Walters then had two flops, Two Loves (1962) with MacLaine and Billy Rose's Jumbo (1962). He recovered with The Unsinkable Molly Brown (1964), which earned Debbie Reynolds her only Oscar nomination.
In 1947, Walters was given the assignment to direct his first picture, Good News, after proclaiming to Freed that he'd directed and choreographed it in high school. Wisely, Walters had concentrated his energies on the nonmusical parts of the film, learning the job of director, while turning over the picture's two big production numbers, the now-famous "Pass That Peace Pipe" and "The Varsity Drag", to his old friend and mentor, Robert Alton. Alton fulfilled Walters' hopes: the numbers are energetic, creative, and beautifully staged. Together they crafted one of the top MGM musicals, assuring Walters' future as a director. Walters had made the transition smoothly, in fact, after Good News, Walters was signed to direct Easter Parade, one of the quintessential Freed musicals. Rivalry with Minnelli was inevitable. Several times Walters was called in to help on Minnelli film, most notably for the "The Night They Invented Champagne" number in Gigi.
Walters was well liked in Hollywood. Joe Pasternak secured him to direct Judy Garland in Summer Stock in 1950, his first film outside the Freed unit. One critic has called it "a relaxed, discreet exhibition of both Garland's and Walters' total mastery of visual and vocal effect." Critics commented on Walters' particular gidt for directing women: Leslie Caron in the enchanting Lili (1953), Grace Kelly in High Society (1956), Doris Day in Please Don't Eat the Daisies (1960, in which he also found small parts for Patsy Kelly and Margaret Lindsay), and Debbie Reynolds in The Unsinkable Molly Brown (1964). When Joan Crawford, not having made a musical in nearly 20 years, proved anxious during Torch Song (1953), he agreed to dance on-screen with her, playing a clumsy, bumbling nitwit: exactly the antithesis of Charles Walters; the most suave, graceful, and elegant of all gay directors.
George Cukor was close with Charles Walters' lover, the actor-turned-agent John Darrow; among Cukor's letters there's a note from Walters campily signed "Madeleine Carroll." Significant among the Freed unit was Charles Walters, who, after Vincente Minnelli and Stanley Donen, was the unit's most important director, helming four of its best pictures, including Easter Parade, as well as shooting retakes on Gigi. Earlier, he'd also been choreographer on several pictures, including Meet Me in St. Louis and Ziegfeld Follies. Most of the new names in the choreography field in the late 1940s had had formal training, including ballet, and most were, in fact, gay: Charles Walters, Jack Cole, Robert Alton, Richard Barstow, Lester Horton, Don Loper, Jerome Robbins. So many male dancers were gay that Arthur Laurents attributed Gene Kelly's occasional homophobic diatribes to the fact that he was "in dance, and that made him suspect." Remarkable, then, was Charles Walters' overtness when he arrived in Hollywood in 1942, when the shock of the Code clampdown had still not fully worn off. But Walters' knack for salvaging musical numbers made him valuable.
He was able to build a house with John Darrow in Malibu and continue living pretty much as they had in New York. Walters, like Cukor, found overly circumspect types pretentious. Hosting gay friends at their Malibu home, Walters and Darrow were anything but disguised, and friends remember the ribaldry bouncing off the walls. Darrow, especially, was outrageous, often focusing his cutting humor on his partner. "Darrow always wanted to be the center of attention over Chuck," said Alan Cahan. "I'd have dinner with them, and Chuck would say something, and Darrow would say, "Oh, what do you know, you faggot? I don't know how Chuck put up with it." Still, they were together some thirty years, although late in life there was a separation. In his 60s, Chuck met a younger man and brought him in to live with him; he referred to him as his "adopted son." But Darrow, despite the nastiness, would remain close to his heart; a few months after Darrow's death in 1980, Walters told an interviewer he'd lost his "dearest friend."
Walters' last theatrical film was for Columbia, Walk, Don't Run (1966), which was the last film for Cary Grant. He continued to work in television, doing episodes of The Governor & J.J. and Here's Lucy. He directed Lucille Ball in two TV movies, Three for Two (1975) with Jackie Gleason, and What Now, Catherine Curtis? (1976). Brent Phillips' book, Charles Walters: The Director Who Made Hollywood Dance, illuminates Walters' private life as a gay man.
Walters died on August 13, 1982, in his home in Malibu, California.[2] He has a star on the Hollywood Walk of Fame at 6402 Hollywood Blvd.
---
My published books:


---
Woods, Gregory. Homintern . Yale University Press. Edizione del Kindle.
Behind the Screen: How Gays and Lesbians Shaped Hollywood, 1910-1969, William J. Mann, 2001