Partner Charles Northrup
Queer Places:
406 Jefferson Ave, Toledo, OH 43604
8723 Sunset Blvd, West Hollywood, CA 90069
152 Rodeo Dr, Beverly Hills, CA 90212
141 N Beverly Glen Blvd, Los Angeles, CA 90077
East Hillside Cemetery Glen Head, Nassau County, New York, USA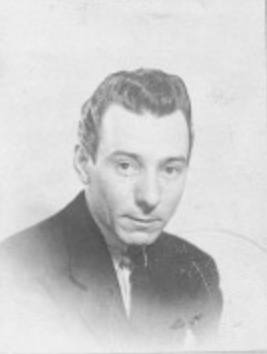 Don Loper (August 28, 1907 – November 21, 1972)[1] was an American costume and necktie designer,[2] as well as a screenwriter, choreographer, associate producer, actor,[3] and assistant to MGM musicals producer Arthur Freed. A flamboyant figure himself Loper at one time owned 20 identical black silk Edward ian suits, which he were with a rose in his lapel, a white pleated shirt, black tie and dancing pumps even at 10 A.M. "I don't feel comfortable in informal clothes," he said.
He began his career as a dancer and was teamed with Ginger Rogers in the film Lady in the Dark (1944).[3] He played himself in an episode of I Love Lucy titled "The Fashion Show" in 1955. The show's gayest moment — with gay designer Don Loper playing himself during a fashion show in which Lucy has to fight a painful sunburn to appear — wasn't explicit, nor would one expect it to be considering the era. According to actress Shelia MacRae who was also on that show Loper was posibly the first-ever openly gay man to ever appear on TV as themselves, and not pretend to be straight.
He was born Lincoln George Hardloper in Toledo, Ohio, to Charles and Miriam Hardloper. His father Charles's family name was Hardloper, but at some point he changed the surname to Loper. "Don" may have even been a reference to his distant Latin origins; he claimed to be Portuguese, and on his paternal grandmother's side, this was true at some point. Her family, de la Penha, was likely from Portugal but had been living in Holland since at least the mid-17th century. In a 1958 interview he claimed his full name was Don Loper de la Pena. His family, his parents and older brother Richard, lived in Toledo until they moved back to New York (his parents had moved from New York to Ohio in 1903) sometime in the 1930s. During that time, his father owned a shop at 406 Jefferson St. in Toledo. Loper claimed that at the age of three he was dancing "seriously," and by seven he was designing dresses and store windows at his father's shop. His family appeared to be at least comfortable, if not quite wealthy, because he reportedly went to school in England (in some of his accounts it's Paris) between the ages of 9-12. Upon his return to the United States, he began dancing with the Chicago Civic Ballet, and a few years later he claims to have married a childhood sweetheart, Violet Hughes, to whom he remained married for the next eight years. He married at age 17 (she was 16). They married in 1925 in Monroe, Michigan, just over the border from their home state of Ohio. The extremely young couple moved to Manhattan and in 1930 were living in an apartment at 618 53rd street that they rented for $55 a month.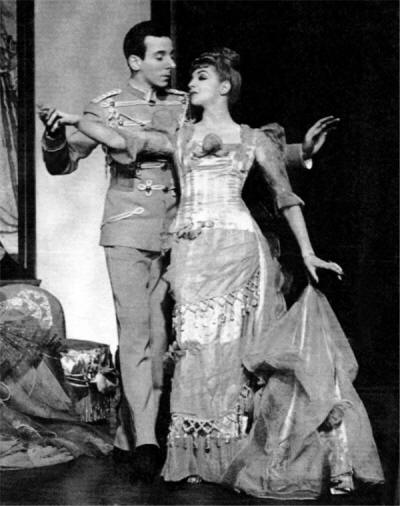 Loper and Barrat are Broadway-bound in the 1939 production of One for the Money.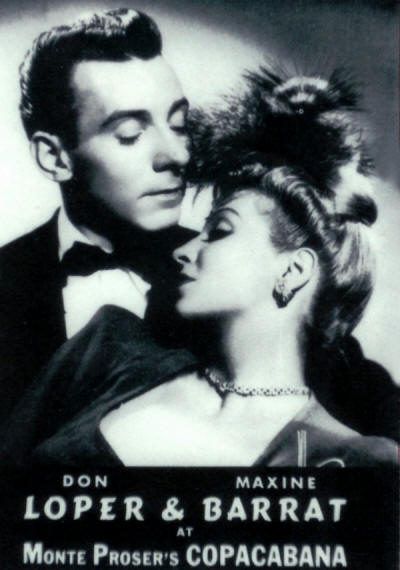 The dance team of Loper and Barrat has been credited for popularizing the samba in the 1940s.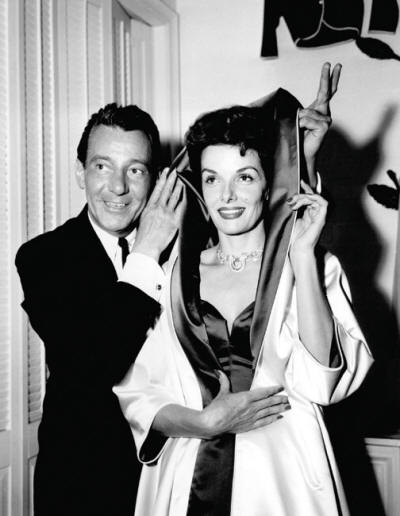 Loper with Jane Russell in 1955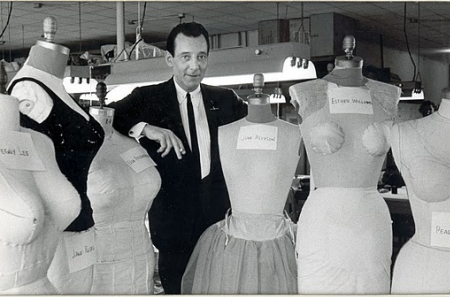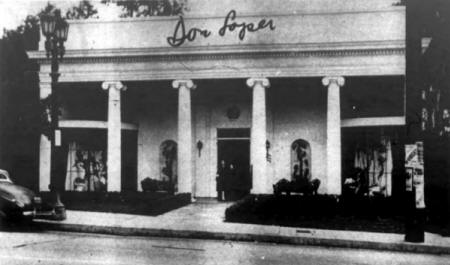 Loper's first building, located at 8723 Sunset Boulevard, an addess which no longer exists.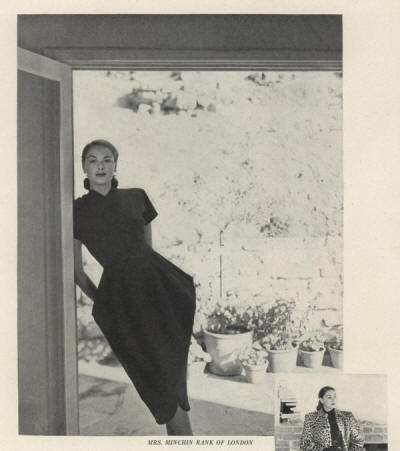 "Mrs. Rank in the barrel silhouette, black rayon crépe, horizontally seamed to taper the bodice, bell out over the hips. Right: She wears a leopard coat, cut like a man's shirt, lined in fireman red. Both made-to-order at Don Loper.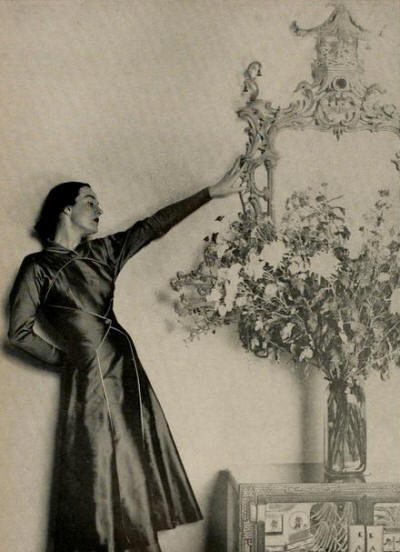 "Don Loper's version of the the increasingly important costume dress… a Regency breakaway coat with separate skirt, in pure silk serge; iridescent black rose or black pearl." The Californian, August 1948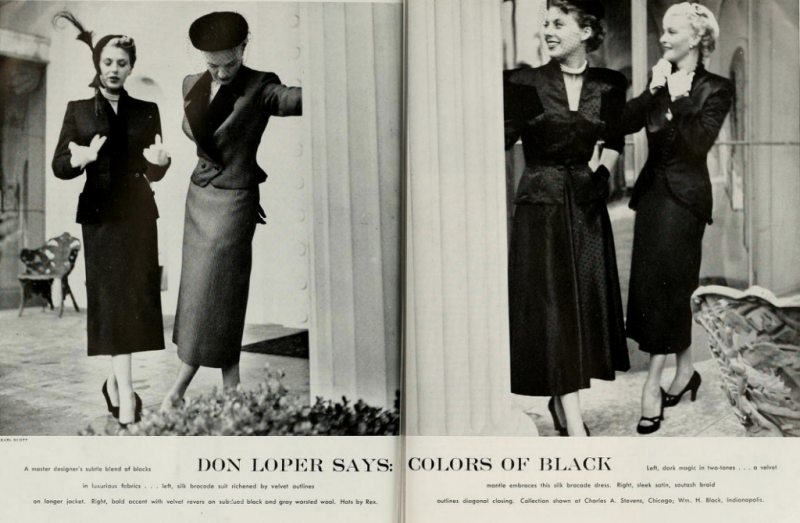 In the 1920s and 30s, Loper was apparently living in New York and trying to make it on Broadway (in some accounts he did make it on Broadway and in others he blames an uncle for keeping him off Broadway because he felt it was no place for his nephew for whatever reason), with the exception of a brief stint managing a restaurant and then directing a dancing school for girls in Hempstead (The Academy of the Arts and Dance in Hempstead, which had on its rolls a Vye Loper) and then in 1934 leading an orchestra called The Congressional Recorders out of the Congress Restaurant in New York, whose program aired in some markets right before or after Lights Out, then working as a dancer/producer/costume designer, dancing with partner Beth Hardy (1937) and later Maxine Barrat (1938 onward).
In the 1930s and early 40s, he did work as a dancer and costume and set designer across the U.S. and possibly Europe, but mostly in New York. By 1942 he had settled into a somewhat regular dancing/producing gig at the Copacabana in New York City with his partner Maxine Barrat, producing a show for which he also directed and designed the costumes called "Flying Down to Rio – and Back", also designing clothes for his society lady friends on the side. Loper designed most of Barrat's onstage costumes, as well as her real life wardrobe.
Loper is also known for introducing Judy Garland to her future husband, director Vincente Minnelli (Meet Me in St. Louis).[4] Loper is known for his work on It's a Pleasure (1945), Sofia (1948) and Lady in the Dark (1944).
Though he was reportedly offered a designer job at MGM after Adrian left, he was only persuaded to move to Hollywood for dancing. He moved to Los Angeles around 1943 to dance in motion pictures, where, as a self-described quintuple threat (dancing, choreography, costume design, direction and production design) he became instant fodder for the Hollywood gossip columns. In his first major picture, "Lady in the Dark," he danced with Ginger Rogers. He and Ginger Rogers were apparently good friends, having known each other back in New York from her time on Broadway.
Loper continued to work in Hollywood as a dancer and general creative person until 1946, when he opened his own couture salon on Sunset Boulevard with business partner Charles Northrup. His initial intent for his empire, which he designed and decorated himself, was not just a store for wealthy women looking for a designer wardrobe. "It's a very exciting new idea," he said. "We're calling it Design Associates, Inc. We give a complete service for independent studios— clothes and sets. Our board of arbitration breaks down the script and decides who's right to do the picture. I'm corny enough to think the play's the thing. We hope our place will be a sort of clearing house that will bring all the big designers to Hollywood. They can bring their own cutters or fitters—anything that makes them happy. What I want to do is have the great couturiers get together on ideas the way they did in Paris. It's going to be a hard pull in Hollywood—they're not 'simpatico' to each other. "I don't think a gal should be dressed by one person," he added. "In a way, she's a collector. You wouldn't have just Renoirs in your house."
He had a custom department, as well as ready to wear, as well as accessories like Seymour Troy shoes and millions of dollars of Van Cleef & Arpels jewelry. By 1951, he was moving into a new salon and had little patience for other designers. "Most actresses are badly dressed. All except the ones in Loper gowns, of course. But few of my customers buy strictly from me." But those first five years at the Sunset salon were key in establishing Loper as a world-class, sought after designer. Because Loper was brilliant at hyping himself up, the press got a preview of this over-the-top, beyond-borderline offensive fashion emporium. The opening of the first salon in October 1946 was a true Hollywood affair. Howard Greer sent Loper a dress form made of flowers. Stars and designers turned out for the event. According to Hedda Hopper: If Don Loper's clothes are as beautiful as the decor in his place on Sunset, he'll give Adrian, Howard Greer and the other designers some competition. His shop, which 15 guests already have tried to rent for a home, was jammed at cocktail time Thursday; Joan Crawford in a black plumed hat a la Lillian Russell; Lucille Bremer, thin but striking; Oleg Cassini, lost without Gene Tierney; Sally Cobb, one of the handsomest girls present; Natalie Thompson, with a new shade of hair that's fine for Technicolor but startling to encounter in public… When I asked Don where he snagged his beautiful iron chairs, he said, "Romance got them for me."
Loper, also an interior designer (having worked on the Brown Derby and the Beverly Hills Hotel) as well as a clothing designer and entertainment Renaissance man, took over the space from William Haines, famed Hollywood actor-turned-interior designer and antique dealer.
In 1947, Loper decorated the new ballroom at the Beverly Hills Hotel. In 1948 he designed a complete wardrobe for Lana Turner for about $30,000. Said Hedda Hopper, "Created exclusively for Lana, it will consist of champagne lace over champagne satin. Topping it will be a prim little champagne lace hat threaded with oak velvet. (I'm jealous.)"
In 1951, Loper moved to his new salon in Beverly Hills at 152 Rodeo Drive, which has since been torn down and is now part of a large real estate office (at one point it was the William Morris agency). At the time, however, he absolutely purred over it. The Niagara Falls Gazette reported in September of 1951 that "The new Don Loper salon in Beverly Hills is the last word in plush–from the thick black carpet to the elegant metal draperies (also in black). 'Sexy, isn't it?' he asked, beaming. 'Cost me a fortune. But I'll get it back in no time.'"
Loper branched out into menswear and accessories and enjoyed a very successful career. He lived in Beverly Hills with his "business partner" Charles Northrup, "in a big mansion surrounded by seven servants." According to an article in AP, December 1958, "It is the only home in Beverly Hills," says Loper, "with two swimming pools –– one for Chuck and me and the other for the staff." Loper believes in 18th century living. His apartment in New York is lit entirely by candles… He doesn't dance professionally anymore but still is rated the best dancing partner at any Hollywood party. "I keep in practice," he says, "because these Paris designers are bound to smarten up one of these days and design clothes that make women look womanly. They could hurt me then."
He died on November 22, 1972 at UCLA Medical Center, California, from complications following tracheostomy cuff balloon slippage.[3][8] Loper's works, some of which were designed for stars like Ella Fitzgerald[5] and Lucille Ball[6] are featured in the Los Angeles County Museum of Art[7] and the California African American Museum.[5] Loper would design stewardess uniforms for Pan American Airways.
---
My published books:


---