Queer Places:
Art Students League of New York
The Pink House, 25 Butler Ave, Oak Bluffs, MA 02557
Lillian Cotton Impey (April 17, 1887 - October 9, 1962) was an American artist known for her portraits, especially of high-society figures and well-known actors, writers, and artists of her day. Janet Flanner's review of the 1932 American Women's Show reminded that a number of talented American artists were then active: "The work of Lillian Cotton, Gwen Le Gallienne, Janet Scudder, Ivy Troutman, and Lillian Fisk, among others, showed an amazonian quality of strength that did not surprise or fail to please. As a group, theirs was by all odds the best amalgamated work of the year". This same letter included an assessment of work by Salvador Dali, Jean Cocteau (ink drawings), and Francis Rose, the newly discovered protégé of Gertrude Stein.
Lillian Cotton was born in Boston, Massachusetts, to Nathaniel Hugh Cotton (1853-1941) and Harriet Emma Clapp (1860–1943). Hers was a prominent Boston family. Cotton spent her childhood in Boston and developed an interest in art as a young child, drawing detailed portraits in sketchbooks as early as age ten. She attended the Boston Art Museum School, and later, between 1915 and 1917, she studied at the Art Students League of New York under Robert Henri and George Bellows. Under these realist painters, Cotton developed her technique, and began exhibiting work as early as 1918. Cotton further pursued her study of art in Paris, working under Andre Lhote, Lucien Simon, and Émile-René Ménard. In Paris, Cotton met and married Arthur Elia Impey, a British army officer (after her marriage, Cotton sometimes signed her work "LC Impey," though she is better known as an artist as Lillian Cotton). The couple spent the majority of their time in Paris, in particular Montparnasse, where Cotton had a studio, but often traveled to the United States to visit family and for Cotton to exhibit work.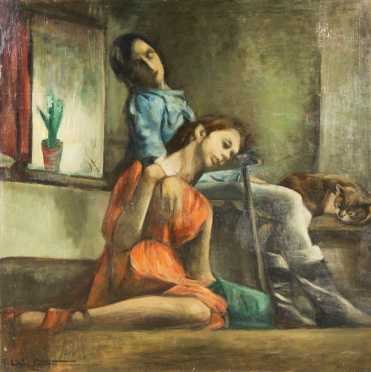 Lillian Cotton, (1901-1962). Boston, New York, Paris. Possibly Natalie Barney and Romaine Brooks. An elegant composition of two women loosely embraced, with a cat looking on as in so many of Lillian Cotton's portraits from her Paris years.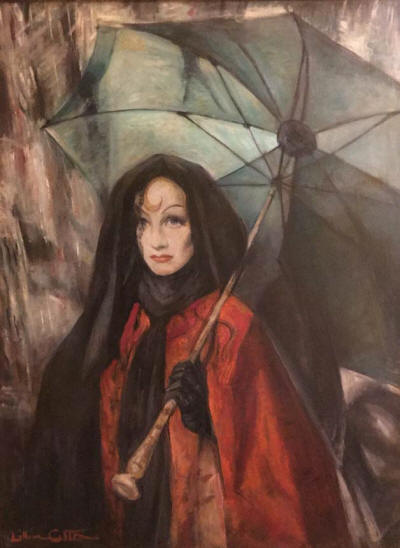 LILLIAN COTTON "PORTRAIT OF MARLENE DIETRICH" OIL ON CANVAS, SIGNED AMERICAN, C.1930S 40 X 30 INCHES
In the 1920's and 30's, Cotton painted prolifically in her studio in Montparnasse, and socialized with the network of British and American expatriates known as "The Lost Generation" as well as European artists and writers amongst the various salons of Paris, including Gertrude Stein's salon. During this time, Cotton exhibited her portraits in Paris and in New York, returning to the States several times for openings including at the Fearon Gallery on 24th Street, Lucy Lamar Galleries on 57th Street, Condon Riley Gallery on 67th Street, and in her hometown of Boston at Copley Gallery on Newbury Street. In Paris her work was shown extensively, throughout the late 20's and 30's, including in several Salon of the Society Nationale des Beaux Arts seasonal shows between 1927 and 1937.
Cotton was most famous for her portraits, especially those of high-society figures and well-known actors, writers, and artists of the day. Her subjects included Greta Garbo, Marlene Dietrich, Lauren Bacall, Veronica Lake, June Walker, Marcel Marceau, Norman Trevor, Stephen James Joyce, Mrs. Thomas Carnegie, Alfred Lunt, Wheeler Williams, Louis Bromfield, and Virginia Berresford. Cotton also painted and sketched portraits of family members, children, and unidentified subjects, and remarked that she preferred to work with women. Cotton was noted for her sound construction and simple and direct style of portraiture, that nevertheless conveyed feeling and a psychological presentation of her subjects. Though less frequently, Cotton also produced landscapes and still-life compositions. Cotton exhibited work between 1918 and 1959 in New York City, Boston, Philadelphia, Washington, DC, and in Paris, notably at the Metropolitan Museum of Art, the Corcoran Gallery, and the Salon d'Automne. She gained mention and won numerous awards for her work, including two from the National Association of Women Artists. She was a member of that organization, as well as a member of the Société Nationale des Beaux-Arts, the New York Society of Women Artists, and the Pen and Brush Club, among others.
In the 1940s she bought a cottage at Oak Bluffs, MA, for less than $200. It was after the Depression and the Camp Ground was in rather shabby shape. Cotton, who was active at the Old Sculpin Gallery in Edgartown — now the Martha's Vineyard Art Association — was eager to rehabilitate the property and add her artistic flare. Selecting a bold pink color, Cotton set about renovating the cottage, even painting the interior of the house a matching pink shade. The story goes that Lillian Cotton stayed in the cottage the entire time it was being painted pink lest someone try to stop the painting. When she finished, Cotton named the home "Catalaya" after a variety of pink orchid. And the choice, though striking at the time, set the Camp Ground tradition of colorful houses in motion.
Lillian Cotton died in New York City in 1962.
Cotton's favorite subjects were other artists, especially other women. Her teenage years sketchbook (available at Harvard University, Schlesinger Library) shows a series of female forms and faces, including some portraits of women embracing, indicating an early interest that continued on throughout her painting career. Cotton and her husband socialized with several prominent lesbian couples in the 30's, a lifestyle that would have been shocking at the time in any other city. It is hard to say definitively who the women in this painting are, but given Cotton's association with Natalie Barney and her partner Romaine Brooks, and their likenesses, they are the subjects of a portrait sold at auction in 2017. Barney and Brooks were in Cotton's circle of friends.
An extensive archive of Lillian Cotton ephemera, including photographs, scrapbooks, sketch books, related geneological material is available for view at the Schlesinger Library on the History of Women in America at Radcliffe Institute for Advanced Study, Harvard University.
---
My published books:


---