Partner Frank Coombs
Queer Places:
Winchester College, College St, Winchester SO23 9NA
University of Oxford, Oxford, Oxfordshire OX1 3PA
The Storran Gallery, 106 Brompton Rd, Knightsbridge, London SW3 1JJ, Regno Unito
Long Critchel House, Long Crichel, Wimborne BH21 5LF, Regno Unito
Slade Hill House, Froxfield, Petersfield GU32 1EB, UK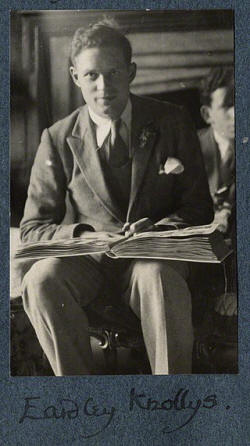 (Edward) Eardley Knollys (November 21, 1902 - September 6, 1991) was a member of the Bloomsbury Group of artists [1] - variously an art critic, art dealer and collector, active from the 1920s to 1950s. He only himself began to paint in 1949, and had his first solo exhibition at the age of 58 in 1960,[2] by which time he was already a "minor legend in British art".[3]
Born in Alresford, Hampshire to Cyprian Robert Knollys, a land agent descended from a junior branch of the family of the Earl of Banbury and his wife Audrey Hill, he was educated at Winchester College and Christ Church, Oxford.[4] Knollys, along with his life partner Frank Coombs ran the The Storran Gallery at 106 Brompton Road, opposite Harrods, from 1936 and 1944.[5] They sold works by artists such as Amedeo Modigliani, Maurice Utrillo and Chaïm Soutine. Coombs was killed in a World War II air raid in Belfast in 1941, which led to the bereaved Knollys closing the gallery in 1944.[6][7]
In 1945, Knollys, Edward Sackville-West, 5th Baron Sackville and the music critic Desmond Shawe-Taylor jointly bought a Georgian rectory in Long Crichel, Dorset, where along with the gay activist and eye surgeon Patrick Trevor-Roper, literary critic Raymond Mortimer and James Lees-Milne, they established "what in effect was a male salon, entertaining at the weekends a galaxy of friends from the worlds of books and music".[7][8][9] Milne recruited Knollys to join him at the National Trust during World War II, and over the next 15 years accompanied him on many of the trips to country houses recorded in his published volumes of diaries.
In 1965, Knollys inherited a large collection of artworks from Edward Sackville-West, which he added to and on his death in 1991, bequeathed to the Bulgarian emigre and picture framer Mattei Radev, a former lover of E.M. Forster. The collection, now known as The Radev Collection, consists of more than 800 works of Impressionist and Modernist art.[6]
After doing significant work for the National Trust, Knollys, now well into his fifties, retired and decided to finally follow his friend Le Bas's repeated advice to become a painter in his own right. Knollys had dabbled before, but now painting became his full time pursuit. He moved out of Long Crichel, the Dorset home he had made with Shawe-Taylor, Mortimer and Sackville-West, and into Slade Hill House in Hampshire with the picture framer Mattei Radev, who would remain Knollys's close friend for the rest of his life. He devoted himself to painting still lifes and landscapes in a style derived largely from the Bloomsbury painters, whose work he had handled as a dealer. But Knollys' delight in the possibilities of strong, even hectic colour keys was also indicative of his delight in the wilder aspects of Post-Impressionism, particularly the Fauves, whose utter rejection of local colour he shared. His paintings also show a keen knowledge of the Pont-Aven school and the Nabi group of painters, particularly the Breton pictures of Gauguin, which Knollys especially admired. Knollys wrote in an introductory note to one of his early exhibition catalogues: "I have always loved strong, bright colours – muddy ones seem to me symbols of gloom. This led me to the Pont Aven and Fauve painters, and they remain my favourites… I try to drive along the splendid road they opened – in my own car of course and with some personal diversions."
Several photos from the 1920s of Knollys and friends by Lady Ottoline Morrell are in the National Portrait Gallery, London.[10]
---
My published books:


---