Wife Jane Emmet de Glehn, Partner John Singer Sargent
Queer Places:
École des Beaux-Arts, 14 Rue Bonaparte, 75006 Paris
73 Cheyne Walk, Chelsea, London SW3 5TT, UK
Old Rectory, North St, Wilton, Salisbury SP2 0HQ, UK
Manor House, Stratford Tony, Salisbury SP5 4AT, UK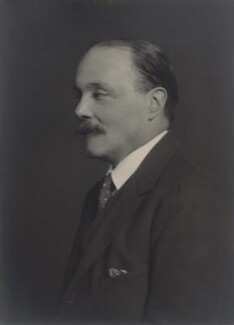 Wilfrid Gabriel de Glehn (sometimes 'Wilfried') RA (1870 – 11 May 1951) was an Impressionist British painter, elected to the Royal Academy in 1932. Wilfrid de Glehn and his wife Jane Erin Emmet were subjects of a painting by John Singer Sargent at the fountain at Villa Torlonia, Italy. Both artists, she was a cousin of the novelist Henry James. Wilfrid de Glehn was a friend of William Bruce Ellis Ranken.
De Glehn's father was Alexander de Glehn of Sydenham, London. His mother was French.[1] Louise Creighton, a women's rights activist and author, and Alfred de Glehn, a French steam locomotive designer, were Alexander's sister and brother. Wilfried von Glehn (he changed his name in May 1917[2]) was born in Sydenham in south-east London. After schooling at Brighton College with his brother Louis, he studied art at the South Kensington School of Art, and the École des Beaux-Arts in Paris. He was then hired by Edwin Austin Abbey and John Singer Sargent to assist them on their Boston Public Library mural project at Morgan Hall (c.1890–1893). De Glehn would exhibit his own work first in Rome in 1894 and then in Paris in 1895; he was also elected an Associetaire of the Société des Artistes Français. He first exhibited at the Royal Academy in 1896.
In January 1903, Wilfrid de Glehn went to the United States to help with the installation of the celebrated murals (monumental in scale), executed by Edwin Austin Abbey and John Singer Sargent for the Boston Public Library. Beside helping with the work in Boston, de Glehn also was eager to secure recognition (and future commissions) for himself in the United States, and with Sargent's help, he was given his chance: the prestigious Durand-Ruel gallery in Manhattan invited the British painter to exhibit his work that same spring. While the two men were in New York, consulting with the library's architects, they paid their respects at Bay Emmet's studio, where de Glehn was introduced to her cousin Jane. After Sargent returned to Europe in June, Bay invited de Glehn to stay on and spend the summer at her farm in Connecticut, where he could paint at his leisure; and during that time his acquaintance with Jane Erin Emmet depened into a romantic engagement, which they announced in September. The couple were married in New Rochelle in May 1904. The marriage took everyone by surprise. All branches of the Emmets "were stunned by the engagement, believing that the 30 years old Jane would remain single, as Lydia had." Sargent was equally nonplussed. "My God! What a trick to play to your sincere well wisher. I will up and marry in the attempt to be quits."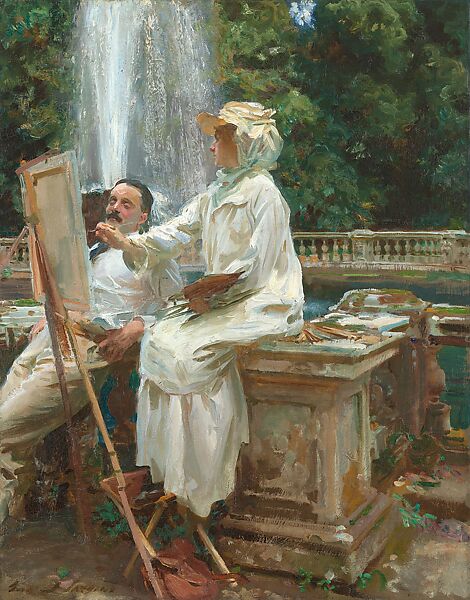 The Fountain, Villa Torlonia, Frascati, Italy, 1907, by John Singer Sargent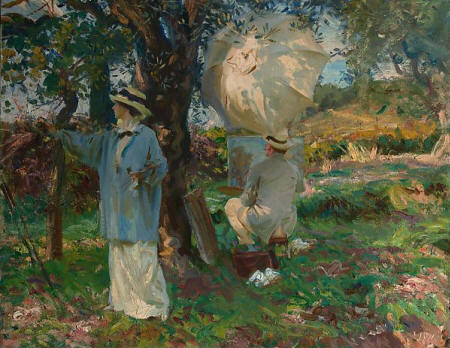 The Sketchers by John Singer Sargent, Mary Foote and Wilfred de Glehn, taken during a sketching trip in the Italian Lakes in 1911.
Following their wedding, the couple honeymooned in Cornwall, England, vacationed in Paris and Venice, and made a permanent home in Chelsea, London.[1] However, they travelled extensively, often accompanying Sargent on his trips through Europe. When World War I intervened, husband and wife joined the staff of a British hospital for French soldiers, Hôpital Temporaire d'Arc-en-Barrois, Haute-Marne, France in January 1915. The following year, de Glehn was commissioned and served with the Royal Garrison Artillery. He was seconded to the front in Italy in 1917. In May 1917 his family shed the Germanic 'von Glehn' surname. Because of his fluent French, he spent the last part of the war as an interpreter.
After the War, Wilfrid's deteriorating health made it increasingly difficult for him to travel, but he and Jane still welcomed guests to Stratford Tony. Their neighbour, Cecil Beaton would often walk across the fields to visit, and when Wilfrid was ill (as he increasingly became), would read to him. On one occasion, the legendary photographer even arrived with Greta Garbo in tow.
de Glehn held solo exhibitions at the Leicester Galleries and in New York (1920). For the next decade the couple would spend summers in Cornwall and winters in France. Although some experts rank de Glehn alongside Sargent, he is considered as something of a late British Renoir, for his deft use of sunlight and shadow. He died in 1951, at the age of 80, at his home, The Manor House in Stratford Tony, Wiltshire, to which he had moved in 1942 after the Chelsea house had been destroyed in the Blitz.[1] His home was the subject of several paintings, as was the Old Rectory in Wilton, which he had previously rented.[1] An oil painting of Venice, painted as a wedding present, was featured in BBC's Antiques Roadshow in December 2014 and was valued by expert Dendy Easton at £20–30,000.[3]
---
My published books:/p>


---
Anesko, Michael. Henry James and Queer Filiation . Springer International Publishing. Edizione del Kindle.