Partner Guido Sommi Picenardi
Queer Places:
Popocatépetl, State of Mexico, Mexico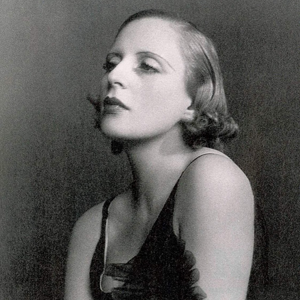 Tamara Łempicka (born Maria Górska; 16 May 1898 – 18 March 1980), also known as Tamara de Lempicka, was a Polish painter active in the 1920s and 1930s, who spent her working life in France and the United States. She is best known for her polished Art-Deco portraits of aristocrats and the wealthy, and for her highly stylized paintings of nudes.
Born in Warsaw, Lempicka briefly moved to Saint Petersburg where she married a prominent Polish lawyer, then travelled to Paris. She studied painting with Maurice Denis and André Lhote. Her style was a blend of late, refined cubism and the neoclassical style, particularly inspired by the work of Jean-Dominique Ingres. She was an active participant in the artistic and social life of Paris between the Wars.
In the summer of 1918, Tamara de Lempicka moved to Paris, where there were already more than 200,000 Polish and Russian emigrants. While she studied painting, her husband seemed to have lost the will to do anything. In the end, he took a job in a bank. They moved into a flat in Montparnasse, at 5 Rue Guy de Maupassant, 75116 Paris. She was befriended by Adrienne Monnier, lesbian proprietor of the bookshop La Maison des Amis de Livres. Early in the 1920s she was taken to Italy by another woman, possibly her first lesbian lover. (It may be that this was Ira Perrot.)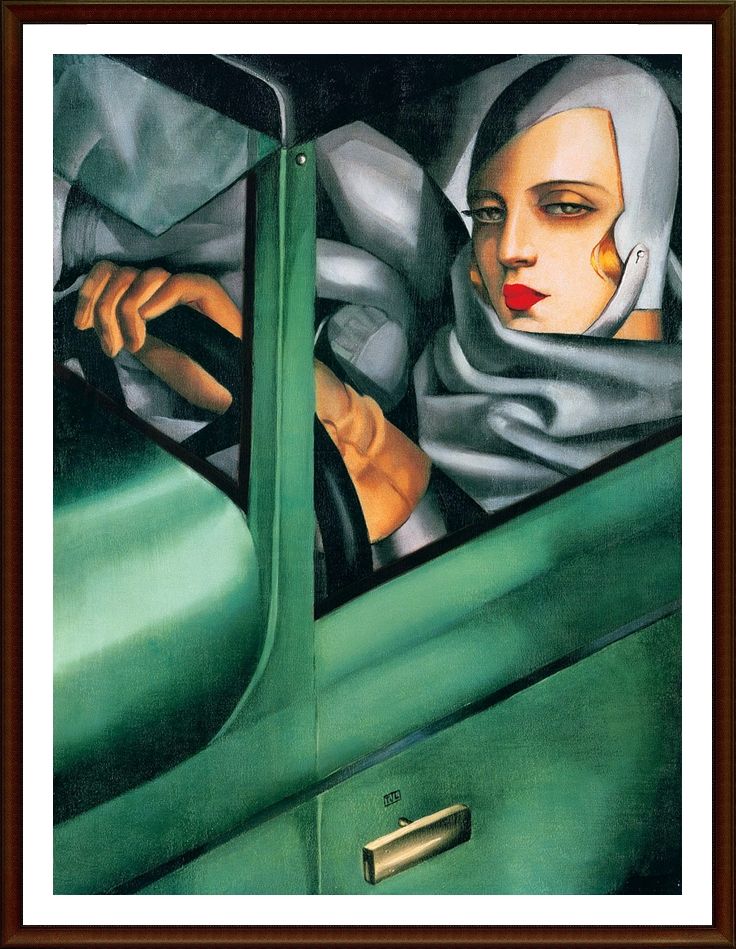 Selfportrait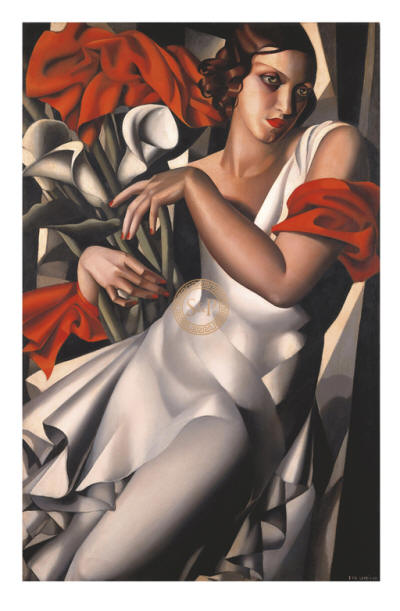 Ira Perrot by Tamara de Lempicka

André Gide by Tamara de Lempicka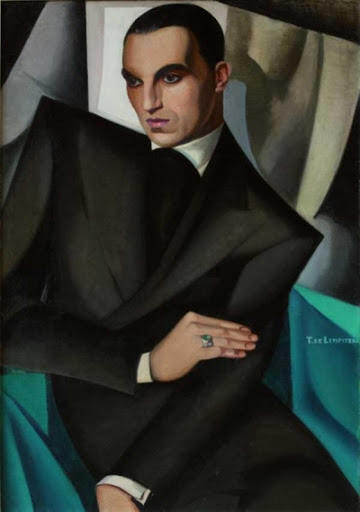 Guido Sommi Picenardi by Tamara de Lempicka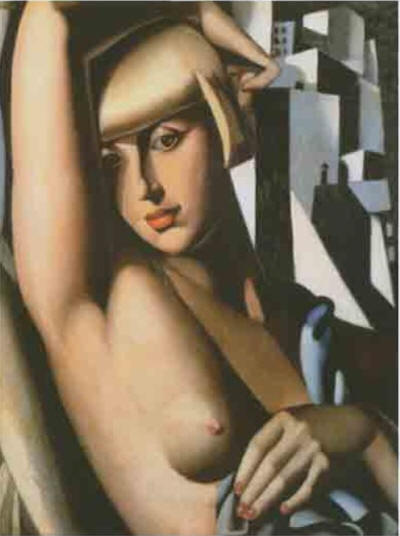 Suzy Solidor by Tamara de Lempicka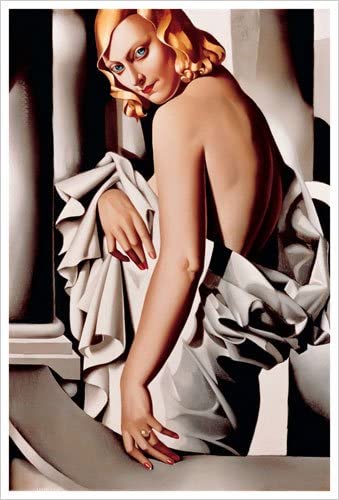 Marjorie Ferry by Tamara de Lempicka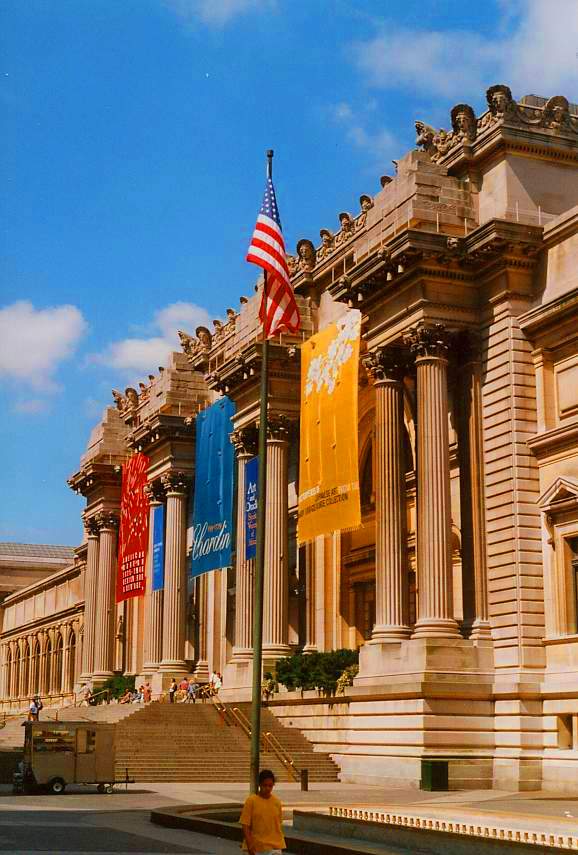 Metropolitan Museum of Art, NYC
Tamara de Lempicka met Natalie Barney early in 1923, but found her salons pretentious. By contrast, she found Gertrude Stein's sufficiently lively and glamorous, yet lacking in that effortful clawing at high artistic achievement. Of her new friends Stein and Ernest Hemingway, she said, 'he wanted to be a woman and she wanted to be a man'. She also made friends with André Gide and Jean Cocteau. Gide commissioned a portrait from her in 1924.
In the mid-1920s in Italy Tamara de Lempicka fell in love with a bisexual marquis, Guido Sommi Picenardi.
In 1928 she became the mistress of wealthy art collector from the Austro-Hungarian Empire, Baron Raoul Kuffner.
In 1933 she had a sexual relationship with Suzy Solidor (Suzanne Rocher), a singer in the club La Boîte de Nuit and a bad novelist.
In 1933 Tamara de Lempicka traveled to Chicago where she worked with Georgia O'Keeffe, Santiago Martinez Delgado and Willem de Kooning.
After the death of his wife in 1933, the Baron married Lempicka in 1934, and thereafter she became known in the press as "The Baroness with a Brush."
Following the outbreak of World War II in 1939, she and her husband moved to the United States and she painted celebrity portraits, as well as still-lifes and, in the 1960s, some abstract paintings.
In 1940 they crossed the United States to California, where they leased King Vidor's villa in Coldwater Canyon, and Lempicka made friends with the likes of Charles Boyer, Greta Garbo and Tyrone Power. In 1942 they moved to New York and bought a $240,000 apartment on East 57th Street.
On fairly regular trips to Europe she could experience again the atmosphere of the good old days – as when lunching at the Ritz in Paris with Jean Cocteau and Prince Yusupov, and meeting the latter's 'son', Victor Manuel Contreras – but she was always, also, anxious to keep up with the times.
Her work was out of fashion after World War II, but made a comeback in the late 1960s, with the rediscovery of Art Deco. When Larry Rivers discovered her work in the 1970s and, in homage to her, painted a 'Resurrection of Tamara de Lempicka', she rejected his overtures.
She moved to Mexico in 1974, where she died in 1980. At her request, her ashes were scattered over the Popocatapetl volcano.
She placed high value on working to produce her own fortune, famously saying "There are no miracles, there is only what you make." de Lempicka took this personal success and created a hedonistic lifestyle for herself, accompanied by intense love affairs within high society.[36]
Famous for her libido, she was bisexual.[37] Her affairs with both men and women were conducted in ways that were considered scandalous at the time. She often used formal and narrative elements in her portraits, and her nude studies produced overpowering effects of desire and seduction.[38] In the 1920s she became closely associated with lesbian and bisexual women in writing and artistic circles, such as Violet Trefusis, Vita Sackville-West, and Colette. She also became involved with Suzy Solidor, a night club singer at the Boîte de Nuit, whose portrait she later painted.[39]
Kizette rarely saw her mother, but was immortalized in her paintings. Lempicka painted her only child repeatedly, leaving a striking portrait series: Kizette in Pink, 1926; Kizette on the Balcony, 1927; Kizette Sleeping, 1934; Portrait of Baroness Kizette, 1954–1955, etc. In other paintings, the women depicted tend to resemble Kizette. In 1927, she won first prize at the Exposition Internationale des Beaux-Arts in Bordeaux for a painting of her daughter entitled Kizette on the Balcony. Four years later, she would win a bronze medal at the Exposition Internationale in Poznan, Poland, for another portrait of her daughter, Kizette's First Communion.[40]
---
My published books:


---
https://en.wikipedia.org/wiki/Tamara_de_Lempicka
Woods, Gregory. Homintern . Yale University Press. Edizione del Kindle.