Queer Places:
5627 S Dorchester Ave, Chicago, IL 60637
St Mary and St Peter Churchyard Weedon Lois, South Northamptonshire Borough, Northamptonshire, England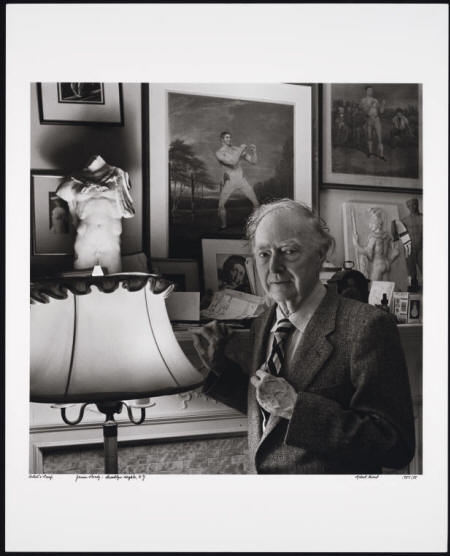 James Otis Purdy (July 17, 1916 – March 13, 2009) was an American novelist, short-story writer, poet, and playwright who, from his debut in 1956, published over a dozen novels, and many collections of poetry, short stories, and plays. His work has been translated into more than 30 languages and in 2013 his short stories were collected in The Complete Short Stories of James Purdy.
He has been praised by writers as diverse as Edward Albee, James M. Cain, Lillian Hellman, Francis King, Marianne Moore, Dorothy Parker, Dame Edith Sitwell (an important early advocate), Terry Southern, Gore Vidal (who described Purdy as "an authentic American genius"), Jonathan Franzen (who called him, in Farther Away, "one of the most undervalued and underread writers in America"), A.N. Wilson, and both Jane Bowles and Paul Bowles. Purdy was the recipient of the Morton Dauwen Zabel Fiction Award from the American Academy of Arts and Letters (1993) and was nominated for the 1985 PEN/Faulkner Award for his novel On Glory's Course (1984). In addition, he won two Guggenheim Fellowships (1958 and 1962), and grants from the Ford Foundation (1961), and Rockefeller Foundation. He worked as an interpreter and lectured in Europe with the United States Information Agency.
Purdy was born in Hicksville, Ohio in 1914. His family moved to Findlay, Ohio when he was about five years old where he graduated from Findlay High School in 1932. He was further educated at Bowling Green State College (now Bowling Green State University), the University of Chicago and the University of Puebla in Mexico.
Within a short time of his arrival at the University of Chicago in 1935 to pursue graduate study in English, Purdy must have become acquainted with the South Chicago environs of the University that were to provide the settings of his three urban novels. At any rate, a relatively small section of South Chicago within walking distance of the University, extending from 63rd Street on the south, 55th Street on the north, State Street on the west, and Washington Park, Jackson Park and Lake Michigan on the east were eventually to become the principal setting, the microcosmic world, of 63: Dream Palace, Malcolm and Eustace Chisholm. Soon after arriving in Chicago, Purdy met three people — Gertrude Abercrombie, Wendell Wilcox, and Marian ("Miriam") Bomberger Bard (later Andreas) who were to loom larger than others in his novels, as they must have in his life.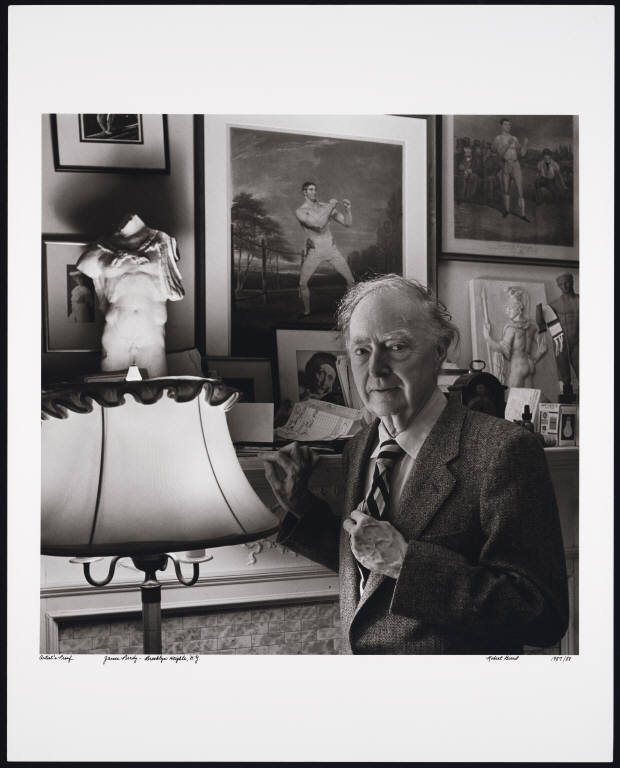 Featured in Particular Voices: Portraits of Gay and Lesbian Writers by Robert Giard [Rights Notice: Copyright Jonathan G. Silin (jsilin@optonline.net)]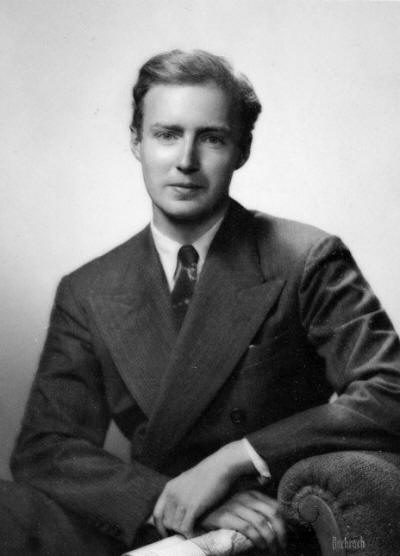 The first was Gertrude, who soon introduced him to the other two. In 1935 Gertrude was a young, talented, nymphomaniacal artist later portrayed with her husband Frank Sandiford as the painter Eloisa Brace and her ex-con husband Jerome in Malcolm, and as the painter Maureen O'Dell in Eustace Chisholm. Gradually she was recognized as a distinctive and original surrealist; she has in recent years been honored in Illinois with two retrospective exhibitions of her work and is the subject of a monograph currently in progress. Gertrude met James where he lived with six other "funnies" in a "pretty gay" house at the corner of 57th and Dorchester near the University.
Becoming a good friend of James, with whom she would take long evening walks "window shopping" around the city, she soon introduced him to another friend of hers, the then unsuccesful author Wendell Wilcox, whose failure as a writer and well know fascination with the occult are portrayed in Parkhearst Cratty of 63: Dream Palace, Mr. Cox (cf. Wilcox) of Malcolm, and in Eustace Chisholm, the title character of Eustace Chisholm and the Works. James and Wendell remained close friends till 1956 when James's publicly insulting Wendell and his wife Esther at a dinner party led to a break from which their friendship never recovered. Though Wendell was an unsuccessful author when James first knew him, by 1956, when the break in their friendship came, he was known as the author of a novel, Everything is Quite All Right (1945), and of some 25 short stories published in such magazines as The New Yorker and Harper's Bazaar, while James was still without a major publication to his credit, a frustrating if not infuriating consideration that, along with their sharp political differences and Wendell's well known needling ways, may have made their long rivalry finally intolerable to James.
Besides Gertrude Abercrombie, Wendell Wilcox, and the Andreases, Purdy portrays himself in the Chicago novels, in much of his fiction. Indeed one of his former friends, Samuel Steward, has said in a telephone interview, "James is the hero of all his books." Thus, even in 63: Dream Palace, the least autobiographical of the urban novels, Fenton Riddleway's nineteen year old innocence, his recent arrival in Chicago from an obscure town in West Virginia, his extreme poverty and desperate loneliness recall the putative plight of Purdy himself in the Windy City, coming as he did poor and almost friendless from small-town Ohio.
The playwright Edward Albee adapted Malcolm for the stage, but it was a notable flop, perhaps because Albee cut out the black characters in the book. This cuts out the very meat of the book, for the story makes no sense without the final affair between Malcolm and the young jazz singer, which echoed Purdy's relationship with Billie Holiday. The American song composer, Richard Hundley, composed many beautiful songs to poems of James Purdy, his friend of many decades in New York.
Purdy is one of the most underrated American writers. I believe he is one of the masters of 20th century literature and In a Shallow Grave is a gem, about a disaffected and disfigured war veteran and his love for a hired male caretaker and the fugitive who comes into both their lives is spiritual, carnal, and profound. And Purdy´s command of the language and his use of American colloquial speech is nothing short of poetry. --Rick R. Reed
I saw a film version of In a Shallow Grave years ago starring Michael Biehn (who I had a massive crush on) and Patrick Dempsey, and sought out the book it was based on. In doing so, I stumbled upon my favorite writer. Purdy, more than any other writer, echoes in my more serious work. This is surreal, Southern Gothic writing at its best. Moody, romantic, and eerie. The romance at the heart of the tale between a disfigured war vet and a hired hand is one of the most aching ever novelized, gay or straight. --Eric Arvin
On 6 August 2015, the American author and playwright James Purdy left New York for the last time. Bound for Denmark, he travelled in a small flip-top leather case with a combination lock. This was inside the rucksack of Maria Cecilia Holt, Harvard doctor of theology, who was asked to produce the necessary papers while going through security at Boston Logan airport. "I'd collected James's ashes from his literary executor," she explains. "It had been quite traumatic. So I presented security with the papers and the ashes and they said, 'Ma'am, we're sorry for your loss.' I began to cry. I wanted to say, 'It's not my loss, it's yours. America is losing a great writer. He's leaving the US for ever – and no one even cares.'" Holt gave the ashes to Charles Lock, professor of English literature at Copenhagen University, who put them on his bookshelf – and that's where they have been for three-and-a-half years. However, on 13 March 2019, exactly 10 years after Purdy's death at the age of 94, Lock travelled with the remains to the graveyard of St Mary's Church in Weedon Lois, Northamptonshire, where they were interred next to the grave of the English poet Edith Sitwell, in accord with Purdy's final request. "The idea was appealing in its sheer oddness," said Lock, who was asked to help by Purdy's literary executor. "I don't think there's another American writer of such importance buried in Britain. TS Eliot, of course, but he'd long been a British subject."
---
My published books:


---
American Literature in Belgium Gilbert Debusscher, Marc Maufort Rodopi, 1988