Partner William Flanagan, Terrence McNally, William Pennington, Jonathan Richard Thomas
Queer Places:
Trinity College, 300 Summit St, Hartford, CT 06106, Stati Uniti
Choate Rosemary Hall, 333 Christian St, Wallingford, CT 06492, Stati Uniti
Lawrenceville School, 2500 Main Street, Lawrenceville, NJ 08648, Stati Uniti
Rye Country Day School, 3 Cedar St, Rye, NY 10580, Stati Uniti
Valley Forge Military Academy and College, 1001 Eagle Rd, Wayne, PA 19087, Stati Uniti
238 West 4th Street, New York, NY 10014
50 W 10th St, New York, NY 10011
Actors Studios, 432 W 44th St, New York, NY 10036, Stati Uniti
Edward Albee Foundation, 91 Fairview Ave, Montauk, NY 11954, Stati Uniti
Edward Franklin Albee III (March 12, 1928 – September 16, 2016) was an American playwright known for works such as The Zoo Story (1958), The Sandbox (1959), Who's Afraid of Virginia Woolf? (1962), and A Delicate Balance (1966). Three of his plays won the Pulitzer Prize for Drama, and two of his other works won the Tony Award for Best Play.
His works are often considered as frank examinations of the modern condition. His early works reflect a mastery and Americanization of the Theatre of the Absurd that found its peak in works by European playwrights such as Samuel Beckett, Eugène Ionesco, and Jean Genet.
His middle period comprised plays that explored the psychology of maturing, marriage, and sexual relationships. Younger American playwrights, such as Paula Vogel, credit Albee's daring mix of theatricality and biting dialogue with helping to reinvent the post-war American theatre in the early 1960s. Later in his life, Albee continued to experiment in works such as The Goat, or Who Is Sylvia? (2002).
Edward Albee was born in 1928. He was placed for adoption two weeks later and taken to Larchmont in Westchester County, New York, where he grew up. Albee's adoptive father, Reed A. Albee, the wealthy son of vaudeville magnate Edward Franklin Albee II, owned several theaters. His adoptive mother, Reed's third wife, Frances (Cotter), was a socialite.[1][2] He would later base the main character of his 1991 play Three Tall Women on his mother, with whom he had a conflicted relationship.[3]

Edward Albee by Carl Van Vechten. Silver print, the image measuring 254x184.2 mm; 10x7 1/4 inches, with Van Vechten's embossed blind stamp, on recto, and his copyright hand stamp, and the title, date, and inventory number, in ink, in an unknown hand, on verso. 1961. An uncompromising advocate for gay rights and an out gay man, Edward Albee was best known as a playwright who wrote critical depictions of intimacy in modern life, including the iconic "Who's Afraid of Virginia Woolf?" Albee was discriminated against by critics of the time for his sexuality, but despite these setbacks, he refused to hide his sexuality and over his career was awarded 3 Pulitzer Prizes for Drama.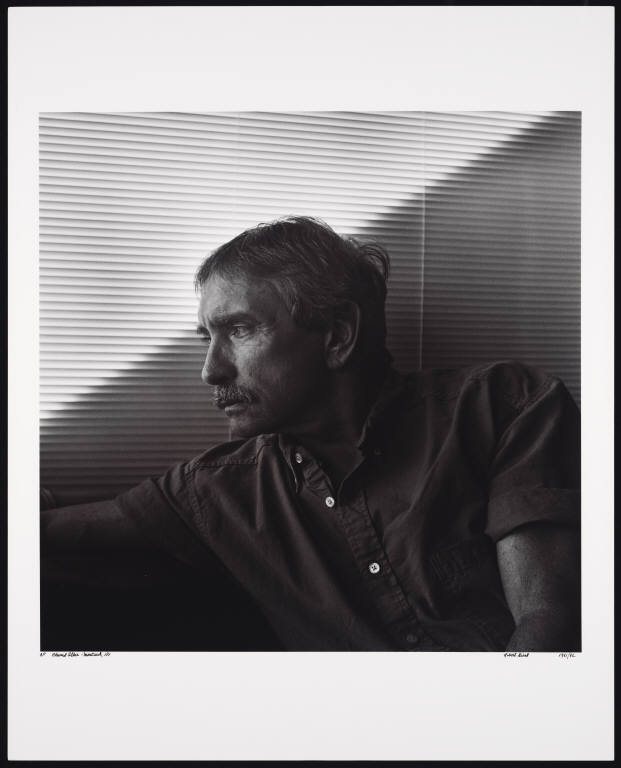 Featured in Particular Voices: Portraits of Gay and Lesbian Writers by Robert Giard [Rights Notice: Copyright Jonathan G. Silin (jsilin@optonline.net)]

The Actors Studio, NYC
Albee attended the Clinton High School, then the Lawrenceville School in New Jersey, from which he was expelled.[1] He then was sent to Valley Forge Military Academy in Wayne, Pennsylvania, where he was dismissed in less than a year.[4] He enrolled at The Choate School (now Choate Rosemary Hall) in Wallingford, Connecticut,[5] graduating in 1946. His formal education continued at Trinity College in Hartford, Connecticut, where he was expelled in 1947 for skipping classes and refusing to attend compulsory chapel.[5]
Albee was openly gay and stated that he first knew he was gay at age 12 and a half.[26] Albee was briefly engaged to Larchmont debutante Delphine Weissinger, and although their relationship ended when she moved to England, he remained a close friend of the Weissinger family. Growing up, he often spent more of his time in the Weissinger household than he did in his own, due to discord with his adoptive parents.
Albee left home for good when he was in his late teens. In a later interview, he said: "I never felt comfortable with the adoptive parents. I don't think they knew how to be parents. I probably didn't know how to be a son, either."[6] In a 1994 interview, he stated that he left home at age 18 because "[he] had to get out of that stultifying, suffocating environment."[3] In a 2008 interview, he told interviewer Charlie Rose that he was "thrown out" because his parents wanted him to become a "corporate thug" and did not approve of his aspirations to become a writer.[7]
On a six-month trip to Europe in 1952, Albee became romantically involved with the composer William Flanagan, and on their return to New York they shared an apartment. Albee moved into New York's Greenwich Village,[4] where he supported himself with odd jobs while learning to write plays.[8] He and Flanagan socialized with aspiring composers, writers, and artists at various haunts in Greenwich Village, especially gay bars, where they drank heavily. It was at one of their favorite gay bars in 1954 that Albee noticed that someone had scrawled "Who's Afraid of Virginia Woolf?" on a mirror, which amused him at the time and obviously stuck in his mind.
Albee's first play, The Zoo Story, which was written in three weeks,[9] was first staged in Berlin in 1959 before eventually premiering Off-Broadway in 1960.[10] Before Albee left for Germany, he and Flanagan separared after seven years together, also because Albee had met Terrence McNally in February 1959 at a party, beginning a relationship lasting five years.[28] The relationship ended in 1963 when McNally became involved with actor Robert Drivas.
Albee's next play, The Death of Bessie Smith, similarly premiered in Berlin before arriving in New York.[11]
Albee's most iconic play, Who's Afraid of Virginia Woolf?, opened on Broadway at the Billy Rose Theatre on October 13, 1962, and closed on May 16, 1964, after five previews and 664 performances.[12] The controversial play won the Tony Award for Best Play in 1963 and was selected for the 1963 Pulitzer Prize by the award's drama jury, but was overruled by the advisory committee, which elected not to give a drama award at all.[13] The two members of the jury, John Mason Brown and John Gassner, subsequently resigned in protest.[14] An Academy Award-winning film adaptation of the controversial play was released in 1966 starring Elizabeth Taylor, Richard Burton, George Segal, and Sandy Dennis. In 2013, the film was selected for preservation in the United States National Film Registry by the Library of Congress as being "culturally, historically, or aesthetically significant".[15]
In 1963 Albee adapted the novella of Carson McCullers, The Ballad of the Sad Café. Albee began a full-lenght play, Tiny Alice (1964), on a ship returning home from a European vacation with his new lover, William Pennington, an interior decorator, with whom Albee lived together for several years.
Albee established the Edward F. Albee Foundation, Inc. in 1967, from royalties from his play Who's Afraid of Virginia Woolf?. The foundation funds the William Flanagan Memorial Creative Persons Center (named after the composer William Flanagan, but better known as "The Barn") in Montauk, New York, as a residence for writers and visual artists.[24] The foundation's mission is "to serve writers and visual artists from all walks of life, by providing time and space in which to work without disturbance."[25]
In 2001, Occupant, about the life of his friend, the famed sculptor Louise Nevelson, was produced Off-Broadway by the Signature Theater for a limited run starring Ann Bancroft.
Albee insisted that he did not want to be known as a "gay writer", stating in his acceptance speech for the 2011 Lambda Literary Foundation's Pioneer Award for Lifetime Achievement: "A writer who happens to be gay or lesbian must be able to transcend self. I am not a gay writer. I am a writer who happens to be gay."[27] His longtime partner, Jonathan Richard Thomas, a sculptor, died on May 2, 2005, from bladder cancer. They had been partners from 1971 until Thomas's death.
Albee died at his Montauk, New York, home on September 16, 2016, aged 88.[28][21][29]
---
My published books:

---
https://en.wikipedia.org/wiki/Edward_Albee