Husband Reeves McCullers

Queer Places:
1519 Stark Ave, Columbus, GA 31906, Stati Uniti
423 13th St, Columbus, GA 31901, Stati Uniti
Columbus High School, 1700 Cherokee Ave, Columbus, GA 31906, Stati Uniti
311 East Blvd, Charlotte, NC 28203
806 Central Ave, Charlotte, NC 28204
119 N Cool Spring St, Fayetteville, NC 28301
New York University, New York, 10003, Stati Uniti
Juilliard School, 60 Lincoln Center Plaza, New York, NY 10023, Stati Uniti
Columbia University (Ivy League), 116th St and Broadway, New York, NY 10027
February House, 7 Middagh St, Brooklyn, NY 11201, Stati Uniti
321 W 11th St, New York, NY 10014
Dakota Apartments, 1 W 72nd St, New York, NY 10023, Stati Uniti
131 S Broadway, Nyack, NY 10960, Stati Uniti
Oak Hill Cemetery, 140 N Highland Ave, Nyack, NY 10960, Stati Uniti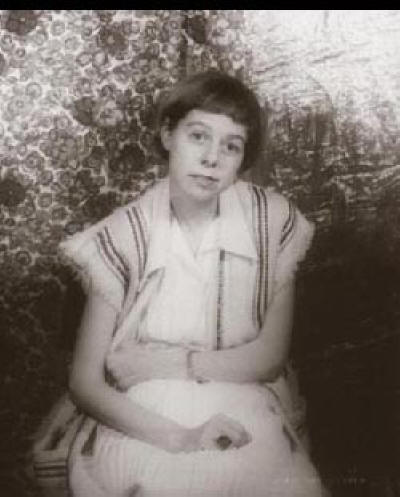 Carson McCullers (February 19, 1917 – September 29, 1967) was an American novelist, short story writer, playwright, essayist, and poet. Her first novel, ''The Heart Is a Lonely Hunter'', explores the spiritual isolation of misfits and outcasts in a small town of the U.S. South. Her other novels have similar themes and most are set in the deep South. She had erotically charged relationship with both Elizabeth Bowen in the 1950s.

McCullers' oeuvre is often described as Southern Gothic and indicative of her southern roots. However, McCullers penned all of her work after leaving the South, and critics also describe her writing and eccentric characters as universal in scope. Her stories have been adapted to stage and film. A stagework of her novel ''The Member of the Wedding'' (1946), which captures a young girl's feelings at her brother's wedding, made a successful Broadway run in 1950–51.

She was born Lula Carson Smith in Columbus, Georgia in 1917 to Lamar Smith, a jeweler, and Marguerite Waters.[1] She was named after her maternal grandmother, Lula Carson Waters. She had a younger brother, Lamar, Jr. and a younger sister, Marguerite.[2] Her mother's grandfather was a planter and Confederate war hero. Her father was a watchmaker and jeweler of French Huguenot descent. From the age of ten she took piano lessons; when she was fifteen her father gave her a typewriter to encourage her story writing.

Smith graduated from Columbus High School. In September 1934, at age 17, she left home on a steamship bound for New York City, planning to study piano at the Juilliard School of Music. After falling ill with rheumatic fever she returned to Columbus to recuperate, and she changed her mind about studying music.[3] Returning to New York she worked in menial jobs while pursuing a writing career; she attended night classes at Columbia University and studied creative writing under the Texas writer Dorothy Scarborough and with Sylvia Chatfield Bates at Washington Square College of New York University. In 1936 she published her first work. "Wunderkind", an autobiographical piece that Bates admired, depicted a music prodigy's adolescent insecurity and losses. It first appeared in ''Story'' magazine and is collected in ''The Ballad of the Sad Cafe.''[4]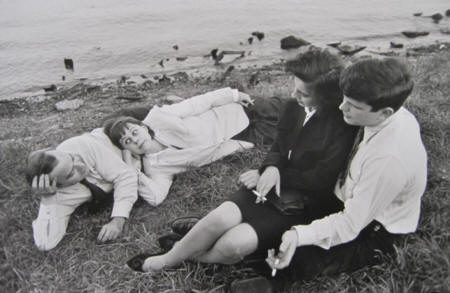 George Davis and Carson McCullers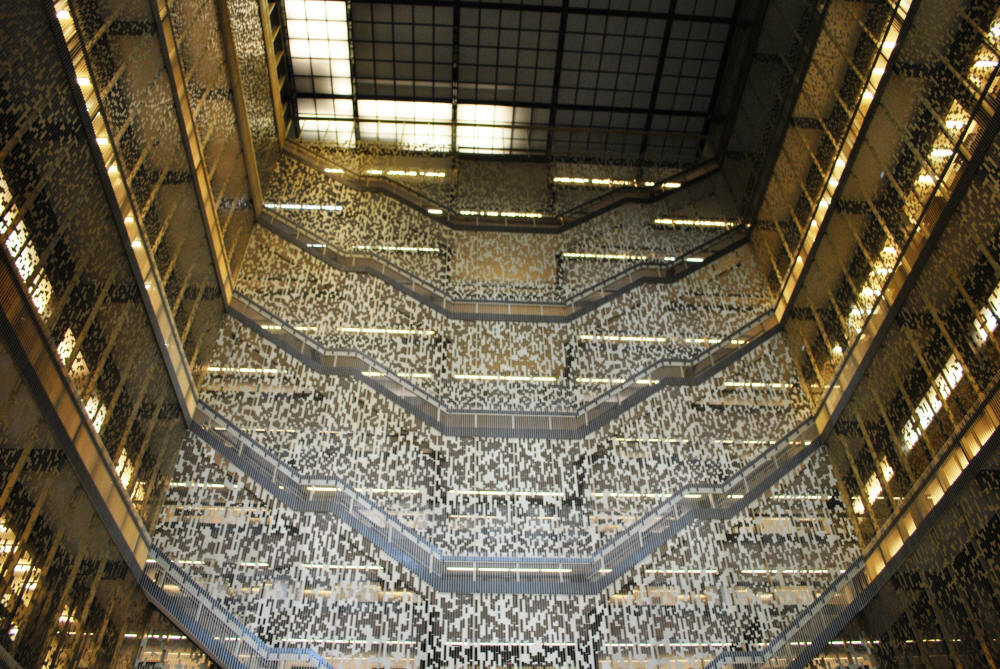 Elmer Holmes Bobst Library, 70 Washington Square S, New York, NY 10012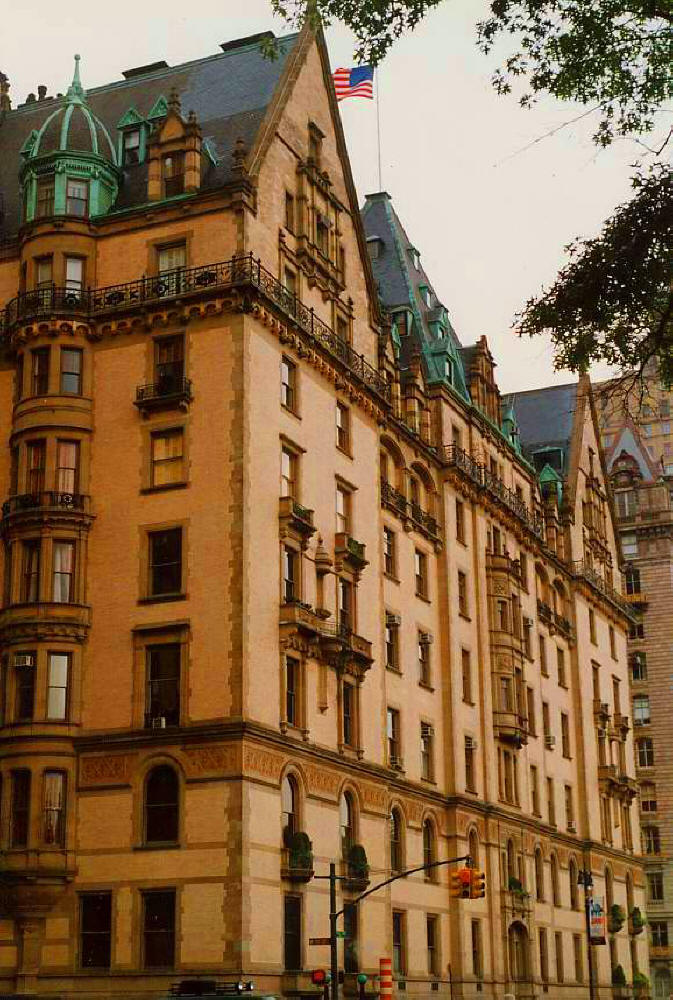 Dakota Apartments, 1 W 72nd St, New York, NY 10023, Stati Uniti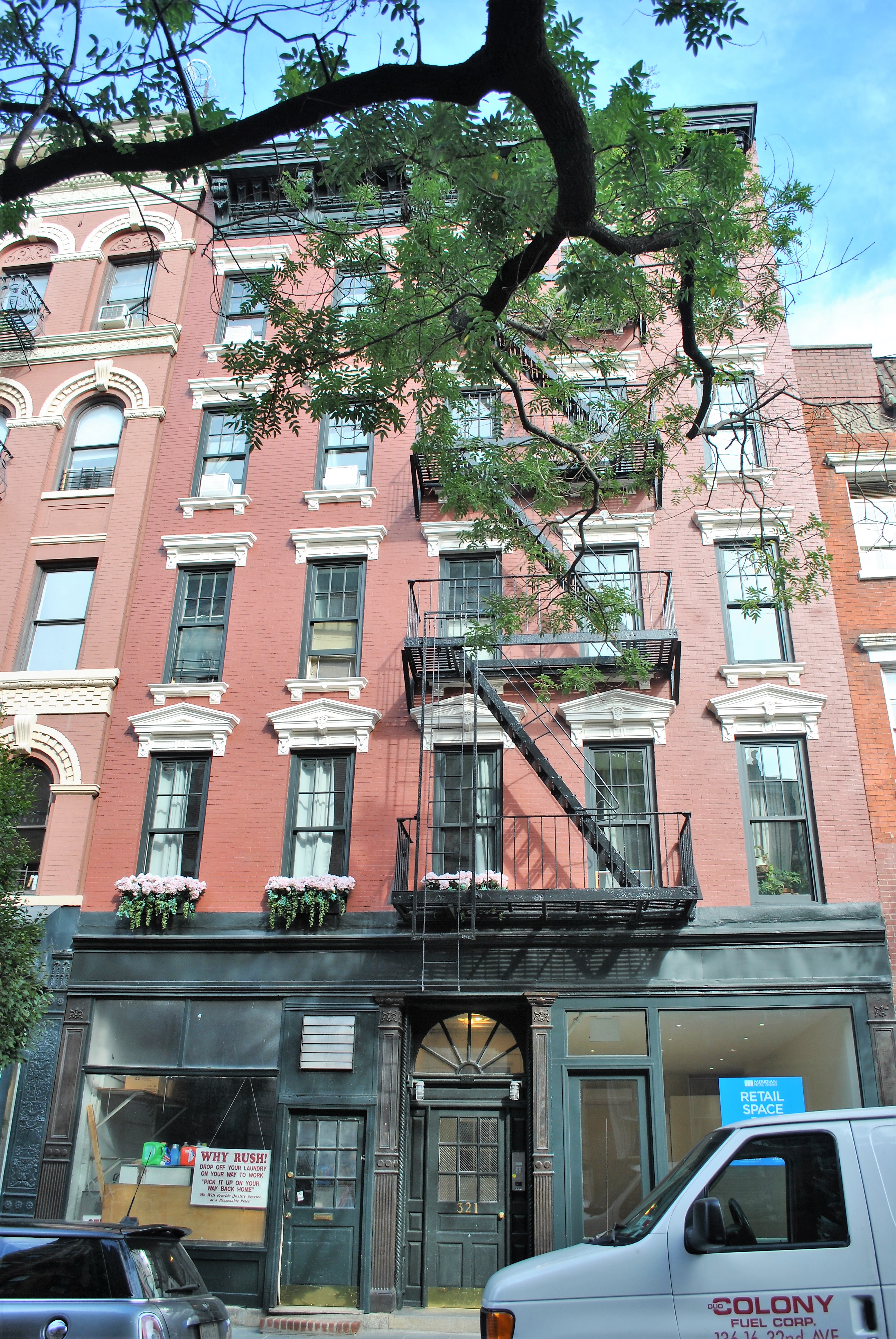 321 W 11th St
From 1935 to 1937, as her studies and health dictated, she divided her time between Columbus and New York. In September 1937, aged 20, she married an ex-soldier and aspiring writer, Reeves McCullers. They began their married life in Charlotte, North Carolina, where Reeves had found work.

Maxim Lieber was her literary agent in 1938 and intermittently thereafter. In 1940, at the age of 23, writing in the Southern Gothic or perhaps Southern realist traditions, McCullers completed her first novel, ''The Heart Is a Lonely Hunter''.[5][6] (The title was suggested by her editor and was taken from a Fiona MacLeod poem, "The Lonely Hunter"). At the time the novel was thought to suggest an anti-Fascist message.[7]

McCullers published eight books; the best known are The Heart Is a Lonely Hunter (1940), Reflections in a Golden Eye (1941) and The Member of the Wedding (1946). The novella The Ballad of the Sad Café (1951) depicts loneliness and the pain of unrequited love; at the time of its writing, McCullers was a resident at Yaddo, the artists' colony in Saratoga, New York. It was dramatized by Edward Albee and closed on Broadway after 123 performances.

In The Member of the Wedding, McCullers describes the feelings of a young girl at her brother's wedding. The Broadway stage adaptation of the novel had a successful run in 1950–51 and was produced by the Young Vic in London in September 2007. Challenged by a critic that her novel contained no drama, McCullers started the adaptation when she was visiting Tennessee Williams on Nantucket Island. Comforted by being part of a threesome (Williams, Williams's companion Pancho Rodriguez, and herself), McCullers created a play that eventually earned her over a million dollars on Broadway.

Many know her works largely by their film adaptations. The Heart Is a Lonely Hunter was adapted as a film with the same title in 1968, with Alan Arkin in the lead role. ''Reflections in a Golden Eye'' was directed by John Huston (1967) and starred Marlon Brando and Elizabeth Taylor. Huston, in his autobiography, ''An Open Book'' (1980), said: "I first met Carson McCullers during the war when I was visiting Paulette Goddard and Burgess Meredith in upstate New York. Carson lived nearby, and one day when Buzz and I were out for a walk she hailed us from her doorway. She was then in her early 20s, and had already suffered the first of a series of strokes. I remember her as a fragile thing with great shining eyes, and a tremor in her hand as she placed it in mine. It wasn't palsy, rather a quiver of animal timidity. But there was nothing timid or frail about the manner in which Carson McCullers faced life. And as her afflictions multiplied, she only grew stronger."

Carson and Reeves McCullers divorced in 1941. After separating from Reeves she moved to New York to live with George Davis, the editor of ''Harper's Bazaar''. She became a member of February House, an art commune in Brooklyn.[8] Among her friends were W.H. Auden, Benjamin Britten, Gypsy Rose Lee and the writer couple Paul Bowles and Jane Bowles. After World War II McCullers lived mostly in Paris. Her close friends during these years included Truman Capote and Tennessee Williams. During this period of separation, Reeves had a love relationship with the composer David Diamond, and the two lived together in Rochester, NY.[9]

She fell in love with a number of women and pursued them sexually with great aggression, but seems not to have succeeded in having sex with any of them. Her most documented and extended love obsession was with Annemarie Schwarzenbach of whom she once wrote "She had a face that I knew would haunt me for the rest of my life." In her autobiography, McCullers reports that the two shared one kiss. McCullers' passion, however, was not reciprocated, and the two remained friends with McCullers dedicating her next novel, Reflections in a Golden Eye, to her.[10] Sarah Schulman writes: "There is the infamous obsession with Katherine Anne Porter and a much-implied ongoing "friendship" with Gypsy Rose Lee. But if Carson ever actually had sex with a woman, even Tennessee Williams didn't hear of it. According to McCullers's brilliant biographer, Virginia Spencer Carr, Carson did brag to her male cousin that she'd had sex with Gypsy once. But if that was the case, she never mentioned it to any of her gay friends. In the absence of reciprocated lesbian love and the inability to consummate lesbian sex, McCullers still wore a lesbian persona in literature and in life. She clearly wrote against the grain of heterosexual convention, wore men's clothes, was outrageously aggressive in her consistently failed search for sex and love with another woman, and formed primary friendships with other gay people." In 1945, Carson and Reeves McCullers remarried. Three years later, while severely depressed, she attempted suicide. In 1953 Reeves tried to convince her to commit suicide with him, but she fled and Reeves killed himself in their Paris hotel with an overdose of sleeping pills.[11] Her bittersweet play ''The Square Root of Wonderful'' (1957) drew upon these traumatic experiences. The potential suicide of Carson's father may have foreshadowed if not influenced these events. This break from the reported story of his sudden death by heart attack was first published in 2003 by Virginia Spencer Carr in the preface to her updated biography, ''The Lonely Hunter''. The suggestion was further explored in "A Member of the Family," an article on Lamar Smith, by Daniel Bellware in the Fall 2017 issue of ''Muscogiana'' published by Columbus State University.[12]

McCullers dictated her unfinished autobiography, ''Illumination and Night Glare'' (1999), during the final months of her life. Her home from 1945 to 1967 in South Nyack, New York, was listed on the National Register of Historic Places in 2006.[13]

McCullers suffered throughout her life from several illnesses and from alcoholism. She had rheumatic fever at the age of 15 and suffered from strokes that began in her youth. By the age of 31 her left side was entirely paralyzed. She lived the last twenty years of her life in Nyack, New York, where she died on September 29, 1967, at the age of 50, after a brain hemorrhage. She was buried in Oak Hill Cemetery.[14]

McCullers's childhood home in Columbus, Georgia, is now owned by Columbus State University and is the central location of the university's Carson McCullers Center for Writers and Musicians.
McCullers's physician and longtime friend, Dr. Mary E. Mercer, bequeathed the house in Nyack to Columbus State University's Carson McCullers Center for Writers and Musicians, the same center that owns and operates out of McCullers's childhood home in Columbus, Georgia. After Dr. Mercer's death in late April 2013, the McCullers Center inherited not only the house but also many artifacts and documents that shed light on the last ten years of McCullers's life.

Because of the generosity of Dr. Mercer, Columbus State University is one of the very few universities to own two homes of a single author and now houses the world's most extensive research collection on McCullers. An endowment in Dr. Mercer's name also has been created to continue these efforts in the curation and preservation of McCullers's legacy.
---
My published books:


---
https://en.wikipedia.org/wiki/Carson_McCullers