Partner Kip Kiernan, Pancho Rodríguez y González, Frank Merlo
Queer Places:
St Paul's Episcopal Church, 318 College St, Columbus, MS 39701
St George's Episcopal Church, 106 Sharkey Ave, Clarksdale, MS 38614
1917 Snowden Ave, Memphis, TN 38107
1780 Glenview Ave, Memphis, TN 38114
University of Iowa, Iowa City, IA 52242
Washington University in St. Louis, 1 Brookings Dr, St. Louis, MO 63130
University of Missouri, Columbia, MO 65211
The New School, 72 5th Ave, New York, NY 10011
Actors Studios, 432 W 44th St, New York, NY 10036
Hotel Chelsea, 222 W 23rd St, New York, NY 10011
San Remo Café, 93 Macdougal St, New York, NY 10012
The Algonquin Hotel Times Square, 59 W 44th St, New York, NY 10036
235 E 58th St, 10022, New York, NY
15 W 72nd St, New York, NY 10023
Manhattan Plaza, 400 W 43rd St, New York, NY 10036
Hotel Elysée, 60 E 54th St, New York, NY 10022
632 St Peter St, New Orleans, LA 70130
431 Royal St, New Orleans, LA 70130
722 Toulouse St, New Orleans, LA 70130
538 Royal St, New Orleans, LA 70130
Hotel Monteleone, 214 Royal St, New Orleans, LA 70130
La Concha Hotel, 430 Duval St, Key West, FL 33040
1431 Duncan St, Key West, FL 33040
31 Pine St, Nantucket, MA 02554
Captain Jack's Wharf, 73 Commercial St, Provincetown, MA 02657
Atlantic House, 6 Masonic Pl, Provincetown, MA 02657
Rancho Pancho, 773 Commercial St, Provincetown, MA 02657
Casa Cuseni, Via Leonardo Da Vinci, 5 – 7, 98039 Taormina ME
Calvary Cemetery and Mausoleum, 5239 W Florissant Ave, St. Louis, MO 63115
Thomas Lanier "Tennessee" Williams III (March 26, 1911 – February 25, 1983) was an American playwright. Along with Eugene O'Neill and Arthur Miller, he is considered among the three foremost playwrights of 20th-century American drama.sup id="cite_ref-ReferenceA_1-0" class="reference">[1] Through internationally acclaimed works of "serious" literature published at midcentury, novelist Hubert Creekmore and Thomas Hal Phillips and playwright Tennessee Williams, for example, crafted wily individuals challenging the precepts of heterosexual normalcy.
After years of obscurity, he became suddenly famous with The Glass Menagerie (1944), a play that closely reflected his own unhappy family background. This heralded a string of successes, including A Streetcar Named Desire (1947), Cat on a Hot Tin Roof (1955), and Sweet Bird of Youth (1959). His later work attempted a new style that did not appeal to audiences, and alcohol and drug dependence further inhibited his creative output. His drama A Streetcar Named Desire is often numbered on short lists of the finest American plays of the 20th century alongside Eugene O'Neill's Long Day's Journey into Night and Arthur Miller's Death of a Salesman.[1]
Much of Williams' most acclaimed work was adapted for the cinema. He also wrote short stories, poetry, essays and a volume of memoirs. In 1979, four years before his death, Williams was inducted into the American Theater Hall of Fame.
Throughout his life Williams remained close to his sister Rose who was diagnosed with schizophrenia as a young woman. In 1943, as her behavior became increasingly disturbing, she was subjected to a lobotomy with disastrous results and was subsequently institutionalized for the rest of her life. As soon as he was financially able, Williams had her moved to a private institution just north of New York City where he often visited her. He gave her a percentage interest in several of his most successful plays, the royalties from which were applied toward her care.[24][25] The devastating effects of Rose's illness may have contributed to Williams' alcoholism and his dependence on various combinations of amphetamines and barbiturates.[26]

Donald Windham, Tennessee Williams and Edmund Gwenn, by George Platt Lynes

Tennessee Williams, 1939, by Gisèle Freund

Tennessee Williams (Thomas Lanier Williams 1911-83) Playwright London, 15 June 1948 Vintage print Vogue, The Condé Nast Publications Ltd

Frank Merlo and Tennessee Williams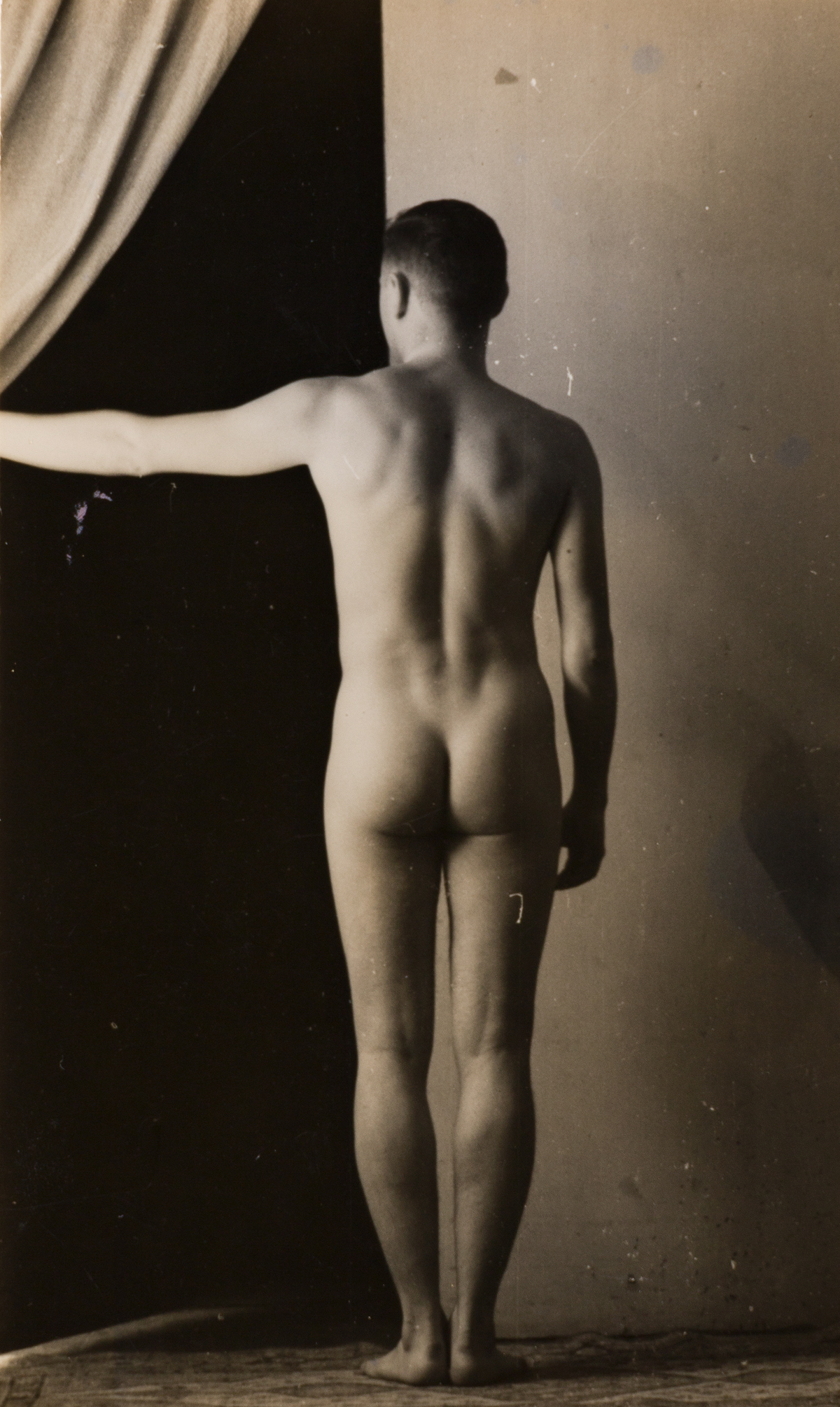 PaJaMa (PAUL CADMUS, JARED FRENCH, AND MARGARET FRENCH) Tennessee Williams. Silver print, the image measuring 149.2x88.9 mm; 5 7/8x3 1/2 inches, with Jared French's initials, title, and date, in pencil, and with a Collection of Paul Cadmus hand stamp and a Collection of Jon Anderson hand stamp, on verso. 1943.

Hotel Chelsea, New York City

235 E 58th St

Manhattan Plaza, 400 W 43rd St, New York, NY 10036

The Actors Studio, NYC

Key West

Hotel Elysee
After some early attempts at relationships with women, by the late 1930s Williams had finally accepted his homosexuality. In New York City he joined a gay social circle which included fellow writer and close friend Donald Windham and his then partner Fred Melton. In the summer of 1940 Williams initiated an affair with Kip Kiernan, a young Canadian dancer he met in Provincetown, Massachusetts. When Kiernan left him to marry a woman, he was distraught, and Kiernan's death four years later at 26 delivered another heavy blow.
On a 1945 visit to Taos, New Mexico, Williams met Pancho Rodríguez y González, a hotel clerk of Mexican heritage. Rodríguez was, by all accounts, a loving and loyal companion. However, he was also prone to jealous rages and excessive drinking, and so the relationship was a tempestuous one. Nevertheless, in February 1946 Rodríguez left New Mexico to join Williams in his New Orleans apartment. They lived and traveled together until late 1947 when Williams ended the affair. Rodríguez and Williams remained friends, however, and were in contact as late as the 1970s.
Williams spent the spring and summer of 1948 in Rome in the company of a teenaged Italian boy, called "Rafaello" in Williams' Memoirs, to whom he provided financial assistance for several years afterwards, a situation which planted the seed of Williams' first novel, The Roman Spring of Mrs. Stone.
When he returned to New York that spring, he met and fell in love with Frank Merlo, an occasional actor of Sicilian heritage who had served in the U.S. Navy in World War II. This one enduring romantic relationship of Williams' life lasted 14 years until infidelities and drug abuse on both sides ended it. Merlo, who became Williams' personal secretary, taking on most of the details of their domestic life, provided a period of happiness and stability as well as a balance to the playwright's frequent bouts with depression[27] and the fear that, like his sister Rose, he would fall into insanity. Their years together, in an apartment in Manhattan and a modest house in Key West, Florida, were Williams' happiest and most productive. Shortly after their breakup, Merlo was diagnosed with inoperable lung cancer and Williams returned to take care of him until his death on September 20, 1963.
Approximately six months after seeing Cat on a Hot Tin Roof by Tennessee Williams in 1955, which would go on to win the Pulitzer Prize for drama in the same year in which Faulkner won for A Fable, William Faulkner and Williams met at a party hosted by Jean Stein. Williams attended with "a young friend of his from Italy". Monique Lange, who was present at the party, told plainly that "Tennessee Williams and his Italian boyfriend were there." Later, when Lange decided to leave the party, "she asked [Faulkner] if he minded if she went with the others to another party". The "others" were Williams and his boyfriend. Faulkner apparently "laughed" at her for asking his permission to leave and dismissed her, saying, "Go with your queers".
As he had feared, in the years following Merlo's death in 1963, Williams was plunged into a period of nearly catatonic depression and increasing drug use resulting in several hospitalizations and commitments to mental health facilities. He submitted to injections by Dr. Max Jacobson – known popularly as Dr. Feelgood – who used increasing amounts of amphetamines to overcome his depression and combined these with prescriptions for the sedative Seconal to relieve his insomnia. During this time, influenced by his brother Dakin, a Roman Catholic convert, Williams joined the Catholic Church. He was never truly able to recoup his earlier success, or to entirely overcome his dependence on prescription drugs.
Edwina Dakin passed away in 1980 at the age of 95. Her health had begun failing during the early 1970s and she resided in a care facility from 1975 onward. Williams had rarely seen his mother in her later years and still retained a strong animosity towards her; friends described his reaction to her death as "mixed".
As Williams grew older, he felt increasingly alone and terrified of old age and losing his sexual appeal to younger gay men. In the 1970s, when he was in his 60s, Williams had a lengthy relationship with Robert Carroll, a Vietnam veteran and aspiring writer in his 20s. Williams had deep affection for Carroll and respect for what he saw as the younger man's talents. Along with Williams' sister Rose, Carroll was one of the two people who received a bequest in Williams' will. Williams described Carroll's behavior as a combination of "sweetness" and "beastliness". Because Carroll had a drug problem (as did Williams), friends such as Maria St. Just saw the relationship as "destructive". Williams wrote that Carroll played on his "acute loneliness" as an aging gay man. When the two men broke up in 1979, Williams called Carroll a "twerp", but they remained friends until Williams died four years later.
Tennessee Williams, during an interview with George Whitmore in 1976, when asked the question, 'Do you think there is any such thing as a homosexual conspiracy in the theater?' had replied, 'In England, under H.M. Tennent, the theater was dominated by great homosexual talents. H.M. Tennent was one of the leading producers of London's West End Theater. And I think Binky Beaumont did exercise a considerable tyranny … I think the theater was, in London [in the 1940s and 1950s], dominated by homosexuals, mainly because they offered the most talent. They don't anymore.' Whitmore prompted him: 'Of course there are innumerable homosexual producers in New York', to which Williams unhelpfully replied, 'Probably. I don't know. I'm not interested in the sex lives of producers. They're not attractive enough to interest me.'
On February 25, 1983, Williams was found dead in his suite at the Hotel Elysée in New York at age 71. The Chief Medical Examiner of New York City reported that Williams had choked to death from inhaling the plastic cap of a bottle of the type that might contain a nasal spray or eye solution.[30]
He wrote in his will in 1972: "I, Thomas Lanier (Tennessee) Williams, being in sound mind upon this subject, and having declared this wish repeatedly to my close friends-do hereby state my desire to be buried at sea. More specifically, I wish to be buried at sea at as close a possible point as the American poet Hart Crane died by choice in the sea; this would be ascrnatible [sic], this geographic point, by the various books (biographical) upon his life and death. I wish to be sewn up in a canvas sack and dropped overboard, as stated above, as close as possible to where Hart Crane was given by himself to the great mother of life which is the sea: the Caribbean, specifically, if that fits the geography of his death. Otherwise—whereever fits it [sic].".[31] But his family buried him at Calvary Cemetery (St. Louis), Missouri.[32]
Williams left his literary rights to The University of the South in Sewanee, Tennessee, an Episcopal school, in honor of his grandfather, Walter Dakin, an alumnus of the university. The funds support a creative writing program. When his sister Rose died in 1996 after many years in a mental institution, she bequeathed $7 million from her part of the Williams estate to The University of the South as well.[33]
---
My published books:

---
https://en.wikipedia.org/wiki/Tennessee_Williams
Men Like That, A Southern Queer History, by John Howard
Woods, Gregory. Homintern . Yale University Press. Edizione del Kindle.
Gordon, Phillip. Gay Faulkner (p.200). University Press of Mississippi. Edizione del Kindle.
The Hub of the Gay Universe, An LGBTQ History of Boston, Provincetown, and Beyond, by Russ Lopez, 2019